How many times have you "tried" to clean out your home with lack luster results.
With the feeling that in the end all you did was move things from one location to the next without really decluttering and removing items from your home.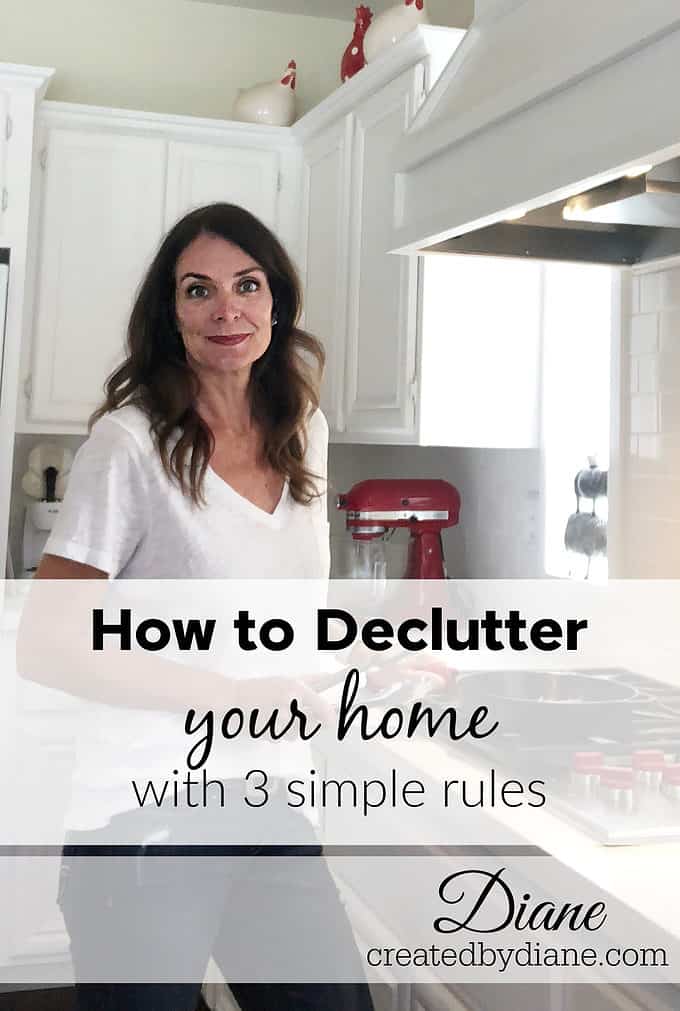 Each week it seems we all bring things into our homes and not much leaves. So I set out to change that in our home.
I think more of what I want and what I don't.
I also decided I no longer wanted everything overfull!
I wanted my home to have less stuff.
A lot started when we remodeled the downstairs of our home a couple years ago and it really set things into play, I LOVE our kitchen, bright and white (see more about the before and after on our kitchen here) and when we had to move everything to do the work, I did not want to put back stuff I just didn't want.
So needless to say I've made numerous trips to the donations center nearby. One day I filled my SUV 3 times. Really it's not a small SUV either, and my home is really getting to be a place where that doesn't have all that clutter, I won't ever be a true minimalist, but I don't need so much "stuff".
(I see so many people saying they spend hours and hours, decorating for Christmas or whatever) or spending time doing things that maybe I've done before but know in my head do not make me happy anymore or make the people in my life happy.
I'm all about the HAPPY!
Take a look at my 3 go-to tips for CLEANING OUT once and for all!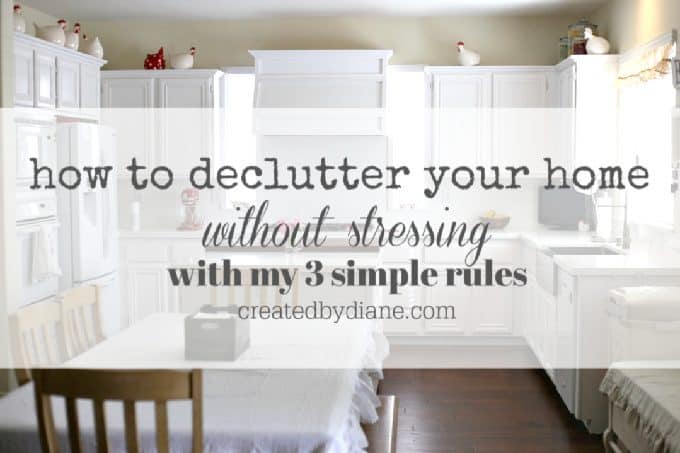 Time is the gift you'll never have enough of. I know that. I feel it, often. Most of my friends have kids away at college. I can't tell you how happy I am that mine are under my roof a little while longer, and no matter how much noise they make, (if you have someone in your family that plays fortnite you're bound to understand) or how many times they ask me to heat them up food and hurry they are running late. I always tell myself to enjoy it, it won't last forever and one day my home will be…
more "quiet".
It's kind of funny how it goes for years of noisiness… to calm.
Something that "BOOK" you know the manual you get when you have kids tells you everything you need to know about, the one that NO ONE gets (Ha, Ha).
It never mentions how fast it all goes. But my dad has been telling me for years, how fast the time goes. I think this saying is VERY true "The days go slow, but the weeks fly by". Not sure who said it, but I believe it now more than ever.
Although my husband keeps me on my toes… he recently broke his collarbone, so the heating of meals and fluffing pillows and handling of ice packs keep me pretty busy and my daughter now has a fractured foot, and I'm glad that we enjoyed a great Christmas and I'm even happier there was little to clean up.
HERE is my two cents on some things:
Life isn't about the "big" events, moments or a single day. Life is about all the moments in-between, that is what makes up a whole life, so I hope I can spread the cheer of live your best life, live the life you want, stop overthinking things, overdoing things you don't want to do and enjoy the time you have with the people you want to spend it with.
I'm blessed to have both my parents, healthy and in their 80's.
I want to spend time with people I truly like.
I say no a whole lot more than I ever did before.
I don't need "stuff" just piling up around me. I'm so happy to have it all cleared out. And I'm excited to share my tips with you:
I came up with three things that I know have really helped me in clearing out.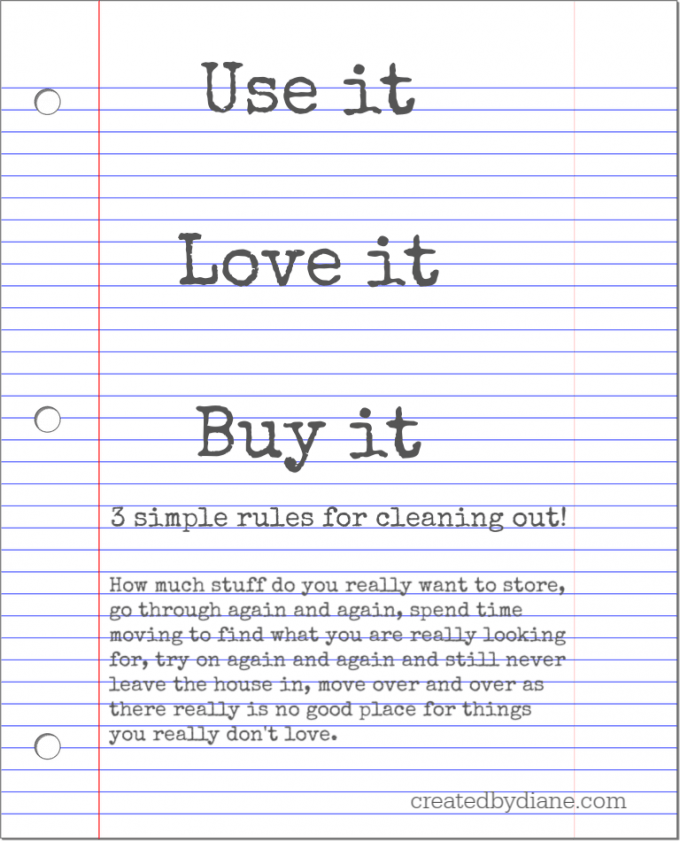 We hold onto "things" for all sorts of reasons.
I REALLY wanted to clean out, once and for all. That party it key, if you don't want to clean out, then the rules won't work, I'm sure you could come up with a hundred excuses why you need to keep things, so try these rules when you really want to clean out.
1) use it:
do you actually use it? Could you do without it, do you have other things just like it, how many do you really need?
2) love it:
do you love it so much, you'd actually miss it.
3) buy it:
this one is two-fold, would you buy this item again today, or do you keep it because you spent money on it and hate to get rid of it if it was a gift you received, would you actually buy it?
Think about it, why have your home full of stuff you would not want, or buy or pick out for yourself, guilt is a terrible thing, so don't hold onto so much stuff just because someone gave it to you. If you wish you could save it, take a photo of it, or take a photo of you holding or using the item, that way you can preserve the memory without storing it.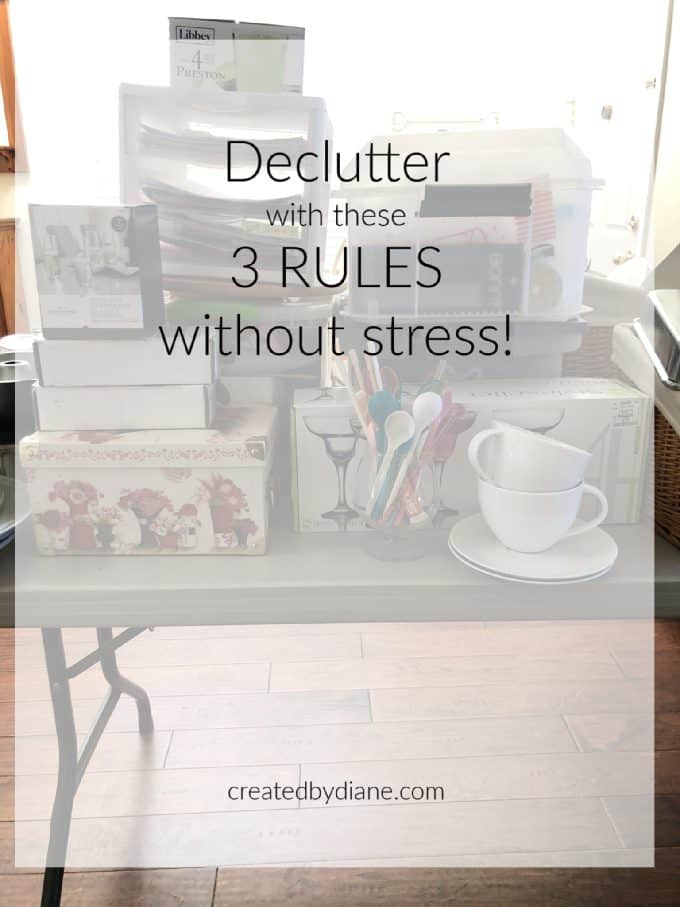 To begin decluttering an area. Having a clear table with some boxes or bags for unwanted items is a great place to start that way you can easily keep things organized. As soon as you fill a bag or box load it in your car and donate it by the next day. REALLY don't drive around for days with it in your trunk. Find a couple of places to donate and then no matter what direction you're heading in you can drop off the items easily.
Have you ever gone to new model homes, they look amazing. The rooms are simplified, the decor isn't typically overdone. I know no one lives in the homes yet, but everything should have a place and every day your home will be nice and cleaned up if you put things back in their place and don't keep items you don't want or have space for.
Be decisive when cleaning out. Trust your gut instinct. Most items you spend a lot of time thinking about are most likely just need to go. If you love something you know that right away! Don't make the mistake of holding onto so much stuff when whoever gave it to you would mind at all if you no longer stored it, carted it around, dusted it off now and then, only to "try" to preserves some sort of obligation that they aren't even giving a second thought to!
Write the three rules on paper:
take them where you'll be cleaning out and say the rules for the all the items you touch. It's amazing how easy it is to clean out when you have 3 simple rules to guide you to a less cluttered home.
Now after cleaning out my house I made sure to keep it up, I keep a tall laundry basket in the garage next to my car and every week I end up putting things in it that don't fit, we don't use, or I don't really love!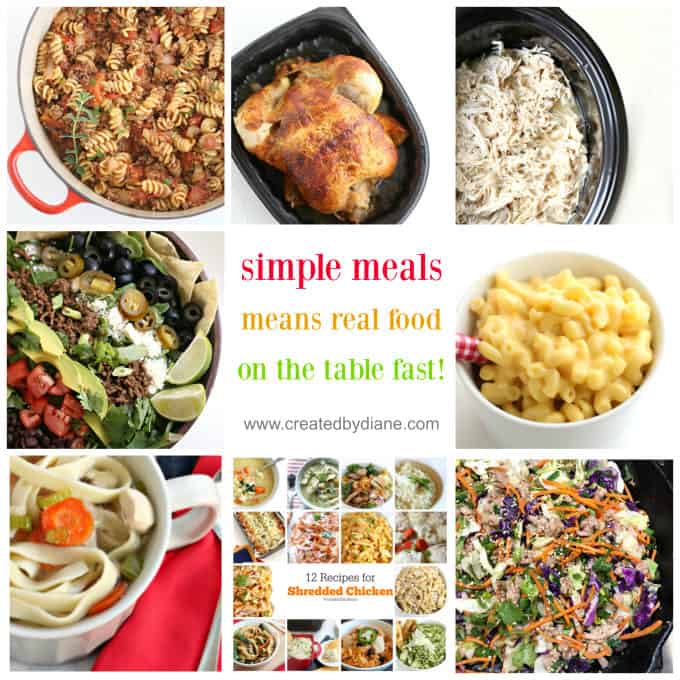 If you're looking for some SIMPLE MEALS to make while you're busy cleaning out. Take a look at my:
BRING more HAPPY into YOUR life!