There is no better grab and go food after Thanksgiving that these Turkey and Stuffing Waffles. Perfect for a quick breakfast, late night snack or anytime.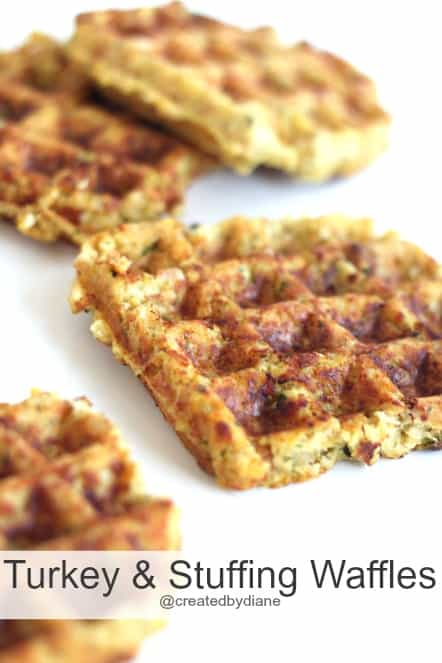 One of the best parts of Thanksgiving leftovers is the sandwiches,
but this waffle incorporates the deliciousness of turkey and stuffing into a crispy
grab and go food.
These are hard to resist.
If you don't have leftover turkey, chicken will work great too.
Just think  you could be running out the door for Black Friday shopping and you don't want to be hungry, heat up some of these waffles and bring them with you.
These will fit perfect into lunch boxes too.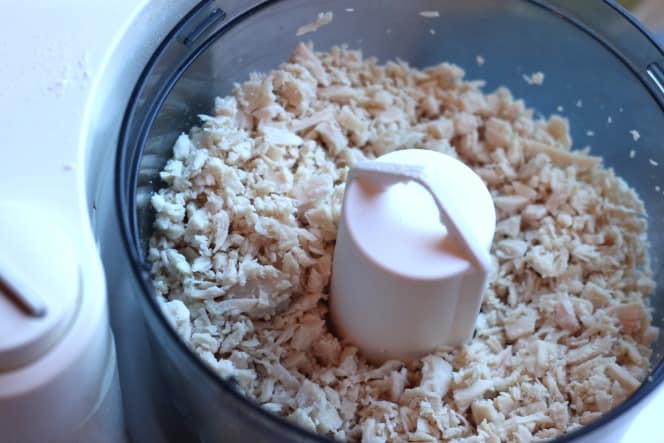 place the turkey in the food processor and pulse it until it's all in small pieces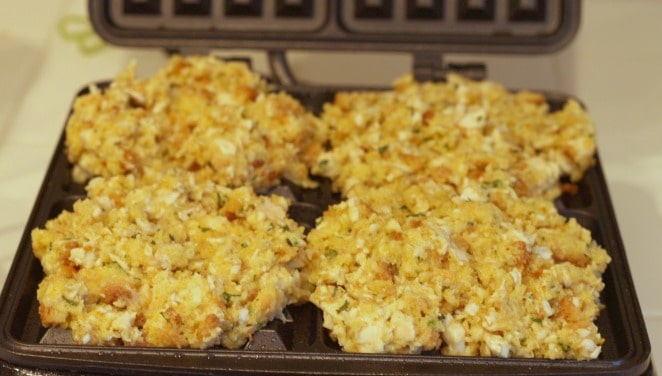 mix the turkey with stuffing and eggs,
the eggs will help the stuffing not become too heavy.
They will cook up crisp in the waffle iron.
Remove them when they are done cooking and place them on a cooling rack. If you place them on a plate, they will steam and get soft.
If you want them more crisp, let them cool for two minutes then serve.
Alternatively serve hot with gravy and cranberry sauce.
These will turn turkey or chicken leftovers into a great weeknight dinner that will be enjoyed anytime!

Turkey and Stuffing Waffles
Ingredients
2 cups turkey (that was processed in the food processor)
1 6 oz package stuffing (1 1/2 cups water to prepare stuffing)
2 eggs
Instructions
Mix up the stuffing and water
add the turkey and eggs, mix until well blended,
place 6 tablespoon onto each area of waffle iron,
cook until golden brown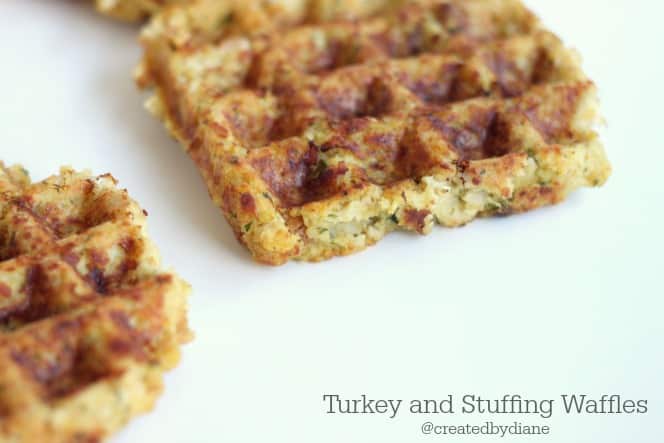 Leftovers will never be looked at the same again!