This pasta dish did a fast disappearing act after it was served and to tell you the truth so did the second servings. I may just be the deliciously creamy cheesy sauce, everyone found irresistible. They all said it was delicious, they loved every bite and wanted more.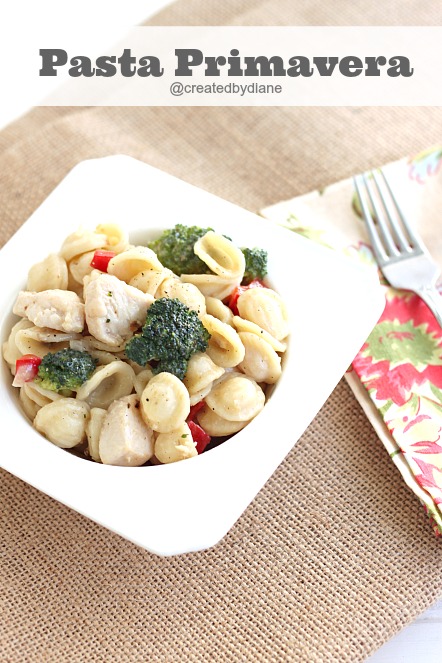 Pasta, chicken, mushrooms, red pepper, broccoli and that great sauce I mentioned.
With this recipe, you will be able to have dinner on the table in 30 minutes.
Even the picky one here devoured two bowl and that NEVER happens,
so grab the ingredients and skillet and let's get cooking…..
Then you will have lots of time to enjoy all types of other things,
I'm sure you have a mental list a mile long. I know I do!
Pasta Primavera
Ingredients
1 lb orecchiette pasta or your favorite pasta shape
2 chicken breasts cut into 1" cubes
1 1/2 cups broccoli florets
1 cup sliced mushrooms
1/2 red pepper diced
2 tablespoons diced onion
2 cups water
1 tablespoon chicken bouillon
1 tablespoon corn starch
1 cup cheddar cheese
Instructions
boil pasta according to package directions
in saucepan saute chicken, add in broccoli, mushrooms, red pepper and onion.
stir until chicken is cooked and vegetables are al dente
add water, chicken bouillon, corn starch whisk in small bowl
add sauce to chicken and vegetables and whisk in cheese
pour chicken and vegetables over pasta and serve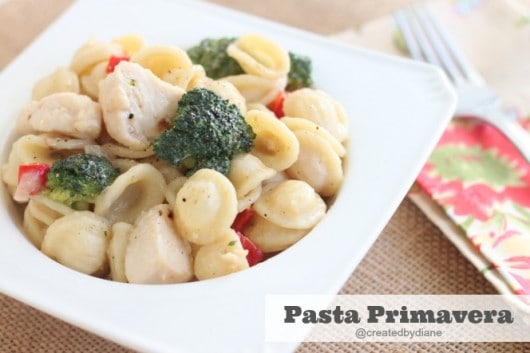 Simple easy weeknight meal, perfect for Back to School time.
I can't believe it's Back to School time already!
But I sure am glad I have another easy meal to get on the table fast that everyone enjoys, because once school starts things get awful hectic! Often I feel like a chicken with it's head cut off, running around practically in circles. The car doesn't stay in the garage for more than a few minutes and I'm off again. Oh how I already miss the more relaxed days of summer!
Summer is too short.
I'm missing it already and my kids are only back in school one day.
Well, one kid is. The other has me busy waiting on him hand and foot at the moment. He broke his ankle…yep….the day before school started…..#nofun!