Avocado alfredeo may just become your new favorite way to enjoy carbs!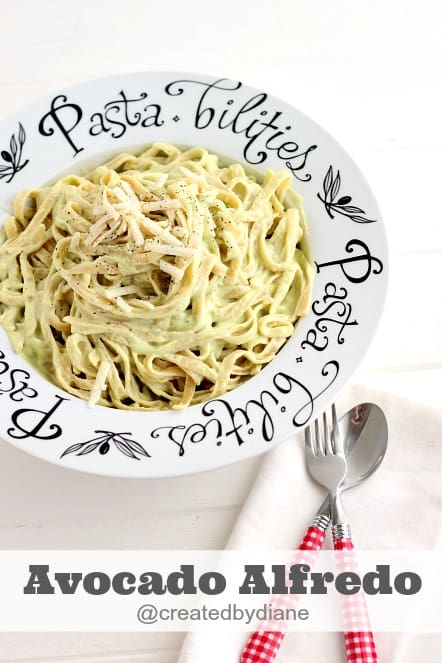 We love pasta around here,
and one look at this cute bowl and I knew I just had to have it.
It's all about the Pasta-bilities…
you can find lots of PASTA here Lemon Pasta Salad, Luau Pasta Salad, Crab Pasta Salad, BLT Pasta Salad,  Feta Basil Balsamic Pasta Salad, Mexican Pasta Salad, Pasta Primavera,  Buffalo Chicken Pasta, Creamy Crab Pasta Sauce, Pesto Pasta Salad,  Pepper Jack Mac and Cheese
like I said, we love pasta.
On todays menu:
Avocado Alfredo,
Alfredo sauce has long been a favorite of mine, and what's not to love about it?
It's creamy and cheesy and delicious,
adding avocado into make it even creamier and more delicious.
I kept it pretty simple, but you could jazz it up with some lime juice, cilantro and even jalapeños if you want it to have more of a kick.
But some days there is just a need for  a GIANT bowl of simple pasta,
this is one of those days.
Grab your avocado and get cooking!

Avocado Alfredo
Ingredients
1 pound fettuccine
2 tablespoons butter
1-2 teaspoons garlic (minced) I use Gourmet Gardens, it's super convenient
1 1/2 cups heavy cream
1 cup parmesan cheese
1 avocado (diced)
1 teaspoon salt
Instructions
Cook fettuccine according to package instructions.
While the pasta is cookies, in medium saucepan or skillet combine butter and garlic, and cook on medium heat for a minute, then whisk in heavy cream and parmesan cheese.
Add diced avocado and salt,
cook for 3-4 minutes or until the avocado has melted and the sauce thickens.
(if you avocado is on the firmer side and you'd like the sauce really smooth, press the avocado through a fine strainer before adding, or pour sauce through strainer when finished cooking)
Toss pasta in the sauce and serve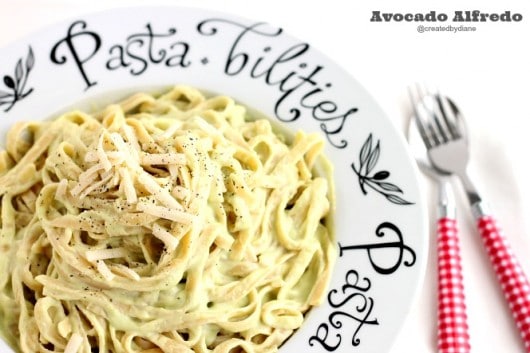 The entire pound of pasta fits in this bowl, it may look like one serving….but really even I would have trouble finishing the whole thing.
But I do love leftovers for breakfast, and it seems someone else in my family like that too!