When life hands you lemons….
Lemon Vodka Pasta Sauce
Don't miss one delicious recipe from Created by Diane and get my FREE e-cookbook click here!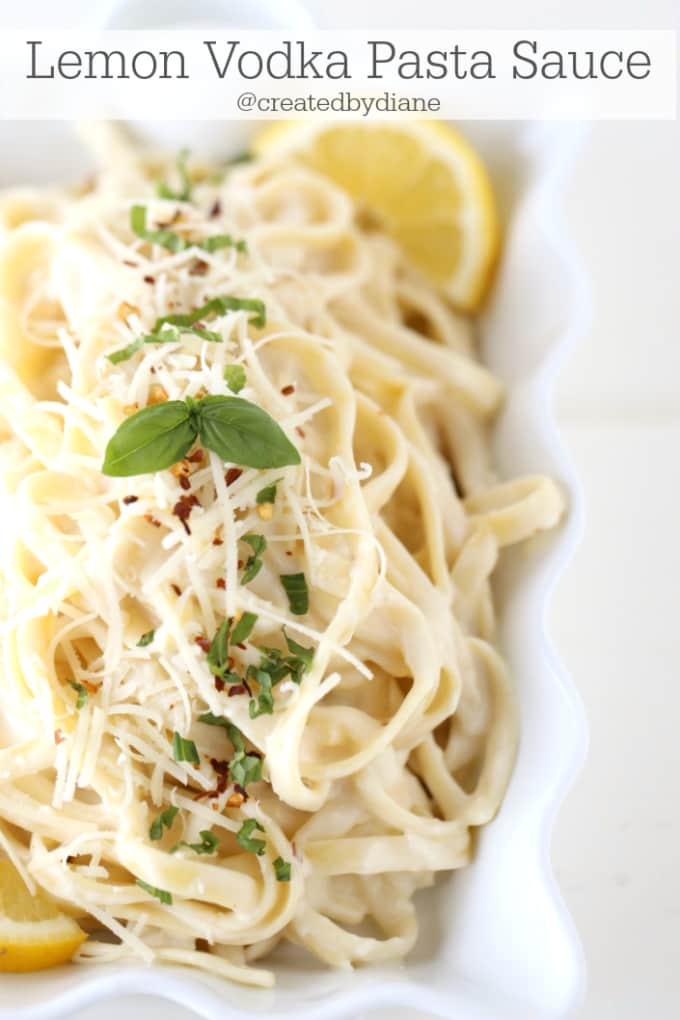 make this unbelievably delicious pasta sauce. That is the PERFECT thing to do with lemons!
Now this isn't your typical vodka sauce, that usually has tomato sauce in it, now this sauce is for LEMON LOVERS.
I think lemons are an irreplaceable item in my kitchen, and I'm so happy that my mom has a Meyer Lemon tree, but her tree won't have any lemons until January, and since Meyer Lemons are my all time favorite and when someone brought me a whole bunch last week, I just about fell off my chair…
I couldn't wait to make something super yummy with them.
This is it!
This is my NEW Favorite for sure.
Tangy, creamy, silky this is so delicious I have no idea what took me so long to come up with this recipe. I'm glad I did. It's a keeper, everyone told me so!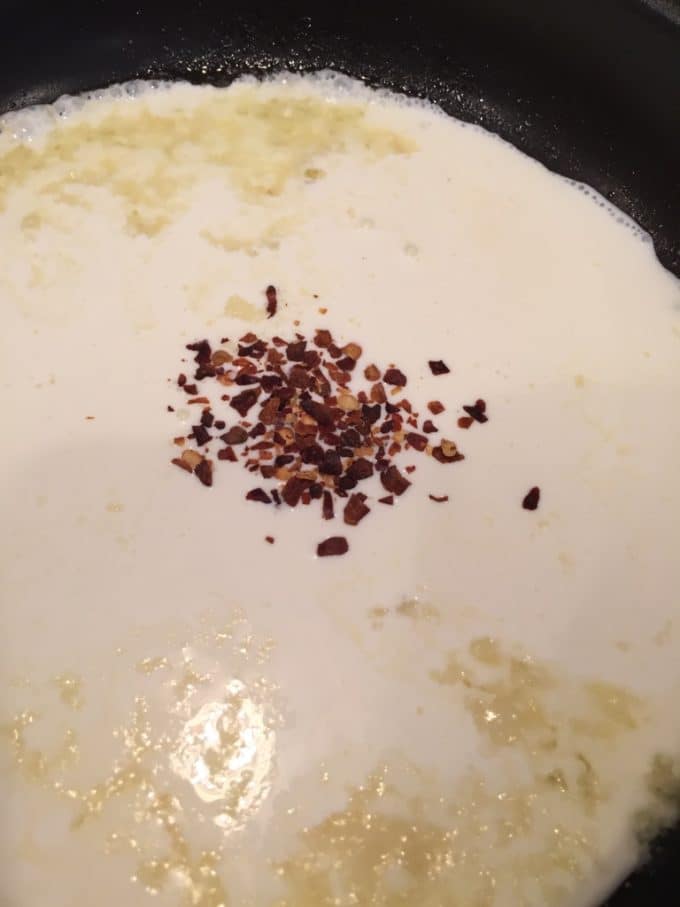 While the pasta is cooking, begin the sauce.
In a saucepan add butter with garlic, then whisk in flour, heavy cream, milk, and vodka.
Add in crushed red pepper, then while whisking add in lemon juice.
Cook over medium heat until it comes to a simmer.
Pour sauce over pasta and serve with additional lemon, parmesan cheese, basil and crushed red pepper.
If you like things spicy, add in more crushed red pepper.
You can make this sauce with any variety of lemons, if you use tangy lemons add a little more butter to balance the flavor, parmesan cheese will also balance the super tanginess depending on the lemon variety.

Lemon Vodka Pasta Sauce
Ingredients
1 lb pasta
2 tablespoons butter
1 tablespoon crushed garlic (or garlic paste)
1 tablespoons flour
1/2 cup heavy cream
1/2 cup milk
1/2 cup vodka
1/2 cup lemon juice
1/4 teaspoon crushed red pepper
*garnish with parmesan cheese and fresh basil if desired
Instructions
Cook pasta according to package directions.
In a skillet heat butter, garlic, and flour and high while whisking in heavy cream, milk, and vodka.
Turn heat to medium. and whisk in lemon juice, and crushed red pepper. Cook for 4-5 minutes.
Pour sauce over pasta, top with parmesan cheese, fresh basil and crushed red pepper.
If you LOVE Lemon, give my Lemon Scones a try, you'll LOVE THEM!

Thanks so much for stopping by to see this recipe!
Sharing this post is appreciated and encouraged. Use the share buttons at the top and bottom of the post, there are many options to all your favorite social media channels and you can also email it to a friend. Print out the recipe to enjoy it on your next kitchen adventure. Please don't copy and paste the full post, it's prohibited without written consent from me. Recipes including wording and photographs are Copyright of createdby-diane.com.
Please enjoy this recipe and click here to sign up for email updates to receive recipes in your inbox.