Icing cookies does NOT have to be difficult, I'm sharing with you my fast easy way to get your cookies iced along with easy recipes. How to ice cookies without a piping bag…Icing the easy way!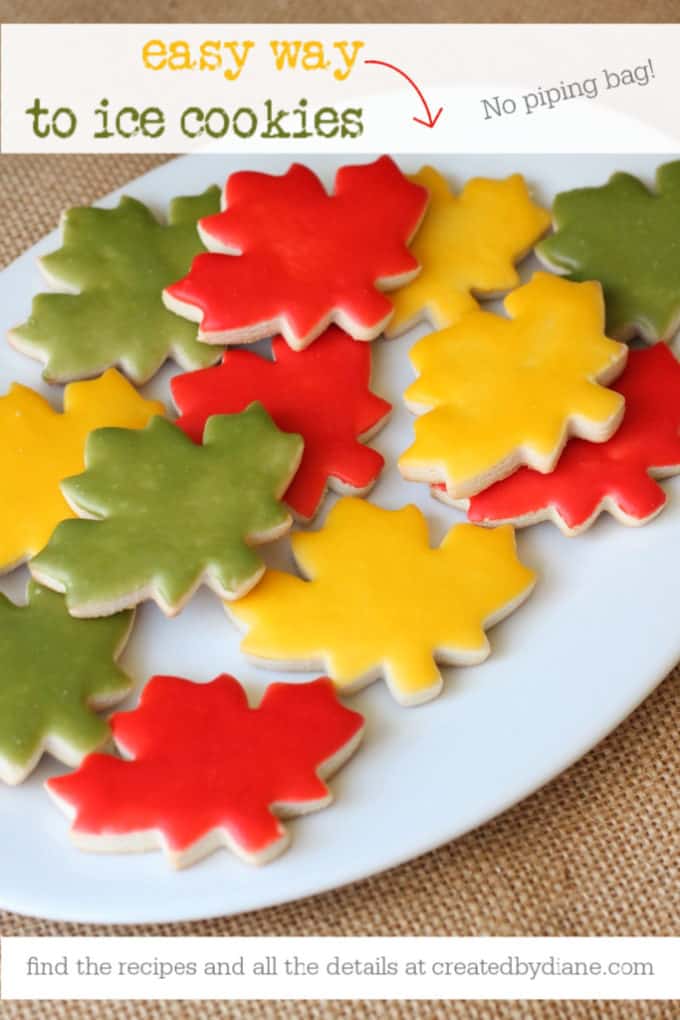 You'll find lots of info in this post, recipes, tips, tricks and how-to's
I love how pretty iced cookies look,
but often they are just so time-consuming.
One day when I was in a real hurry to ice cookies,
I thought about how fast it seems a donut shop could get icing on all those donuts they sell so early in the morning…
and I decided to simplify and conquer.
Be sure to watch my VIDEO on icing the cookies below
Then get my recipe for the icing and give it a try
And don't miss my cookie guide and all the cookie posts at the bottom, it's a must for cookie bakers!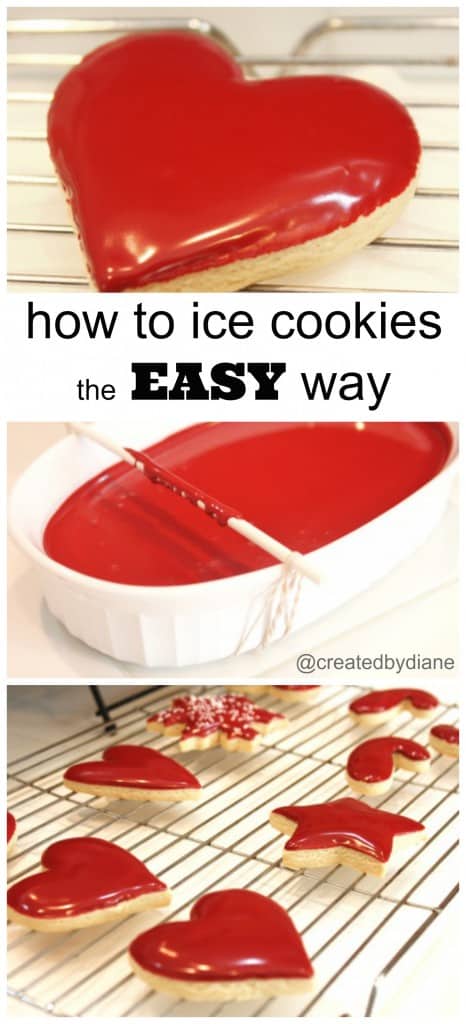 These cookies were iced the EASY way, no piping bag.
I wouldn't have believed it myself if you would have told me so.
Nope, just dipped them into the glaze icing, and voila!
Below you will find a VIDEO I added so you can see exactly how to do this!
I'm so happy that I figured out a new way to ice cookies, especially since I had 6 dozen cookies baked and ready to be iced with an annoying pain that was preventing me from icing them.
This dippable icing will save so much time!
It did take me a couple of tries to get the icing correct along with the method of how to dip them and have the extra icing run off the cookies without making a complete MESS.
It did take me a couple of tries to get the icing correct along with the method of how to dip them and have the extra icing run off the cookies without making a complete MESS.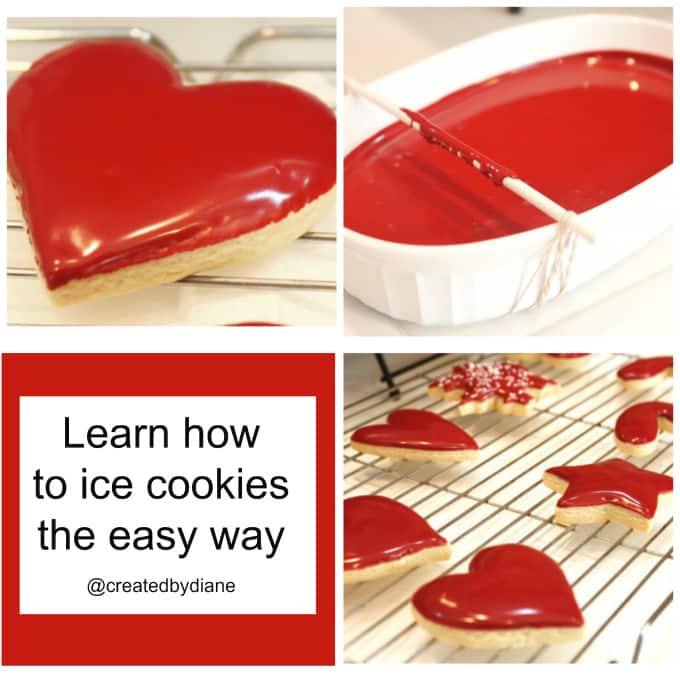 I placed the icing in an oval dish and strapped a lollipop stick with a rubber band going under the dish attached to each side of the stick.
I love how pretty the cookies are that have been piped on look!
But I'm dealing with some shoulder pain right now so, this is how I have been icing cookies. I was surprised by how quickly it went,
I finished dozens of cookies in a matter of minutes. (this has become my go-to method shoulder pain or not, to ice cookies)
I was surprised by fast this method is. I finished dozens of cookies in a matter of minutes.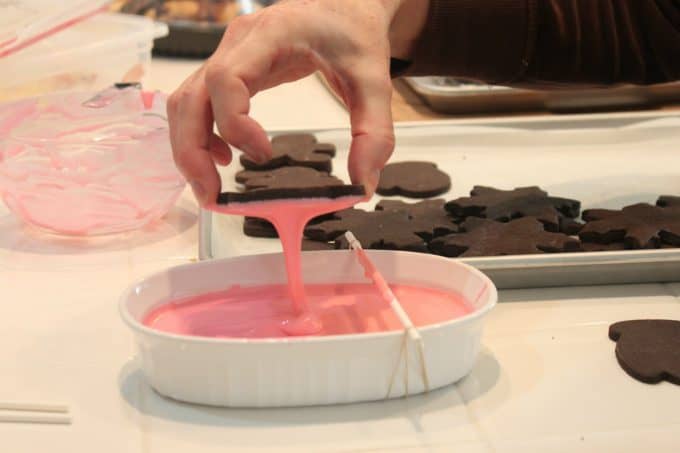 What is the easiest way to ice cookies?
This dip and swipe method is fast and efficient.
How do you ice cookies like a professional?
You can use the dip and swipe no piping bag method, or you can use a piping bag for more detailed icing.
I did not scrape the icing off of the cookie. I dipped the top edge of the cookies into the icing and then ran the majority of the excess of the icing off by holding the cookie about 1/4 inch away from the lollipop stick, as I moved the cookie from where I dipped it to the other side of the dish.
Then I turned the cookies over onto a drying rack. After icing these, I realized if the cookies were just a little bit thicker, my fingers wouldn't get in the icing.
The cookies I did with the red icing were just a bit thicker and it worked, no icing on my fingers!
The lollipop stick helps remove the majority of the excess icing without having to wait for the excess to drip off without messing up the icing you want to remain on the cookie.
It also allows for an even layer of icing to remain on the cookie, and when turning the cookies upright, no drips went over the edges of the cookies (iced in red, as that was the correct consistency of icing) the pink was too runny and ran over the edges that is why I'm showing you both.
Hopefully, the photos will help you to achieve the consistency needed for smoothly finished cookies.
Dipping icing….instead of piping… GENIUS!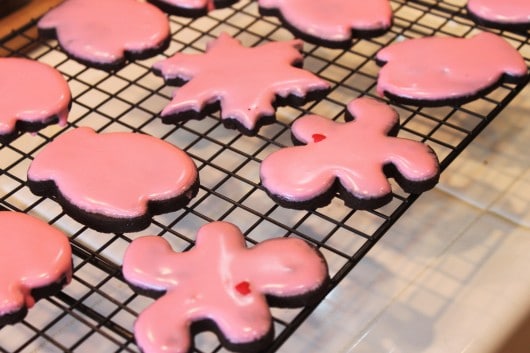 The pink icing was the first batch I had tried to dip into the icing and it was a little bit runny, so some areas ran over the edge of these Chocolate Cut-out cookies which by the way are Super-Delicious, no wonder they are called the End-All for Chocolate Cookies.
I used special dark chocolate cocoa, that is why they are extra dark. The recipe if from Lilaloa.  The second time I tried dipping the cookies was the red icing in the beginning of this post, I made the glaze icing a bit thicker and it worked out great. So a little trial and error or the icing allowed me to see the difference.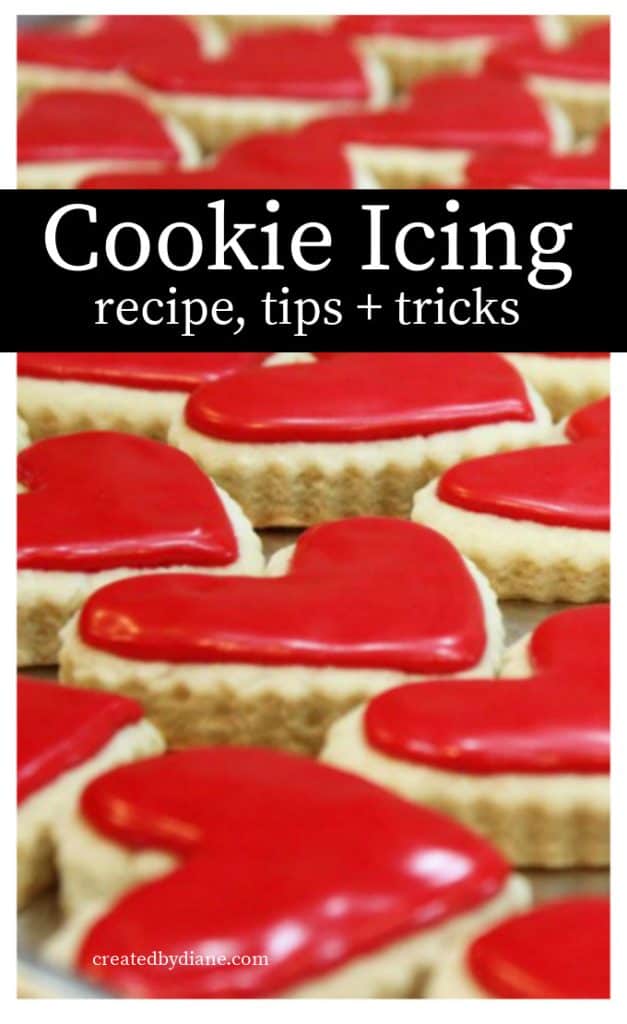 * Cookies that are a little thicker (like the ones on top iced in red) were less messy as there was more cookie to grab onto and my fingers didn't need to touch the icing.
**Glaze icing dries hard if you let the icing air dry for 12 hours before stacking
cookies or packaging them.
*** no piping the edge required
****Will work with Royal Icing as well
*How do I get red icing RED, I use Americolor Food Coloring.
HERE IS A VIDEO ON ICING CONSISTENCY, this is helpful for you to see how easy is it to make the icing thicker or thinner so you have the consistency you desire most.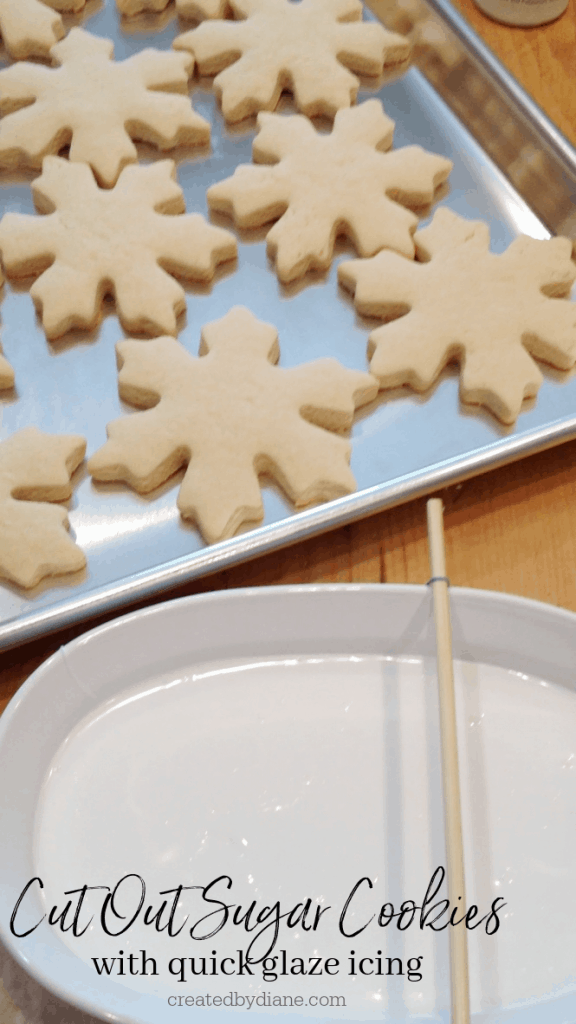 For best results and no goofed up icing, allow the iced cookies to dry on baking sheets for 12 hours (then test one cookie with a toothpick to see that the icing is hardened).
Then you can stack the cookies on a tray or wrap them up if you prefer.
There are other options to apply glaze icing to cookies…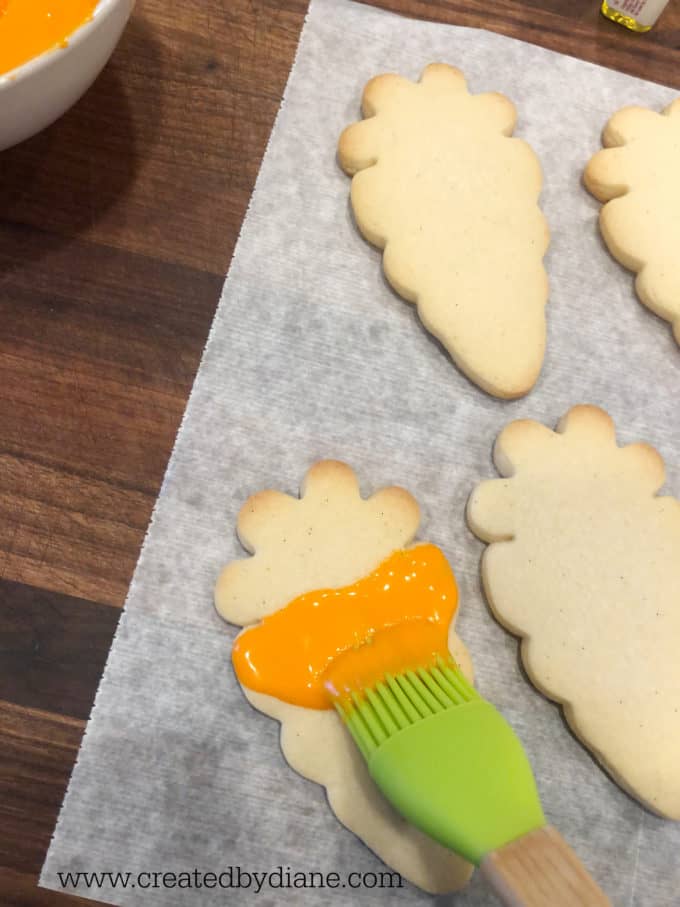 You can use a silicone brush to slather the icing on the cookies, it works well.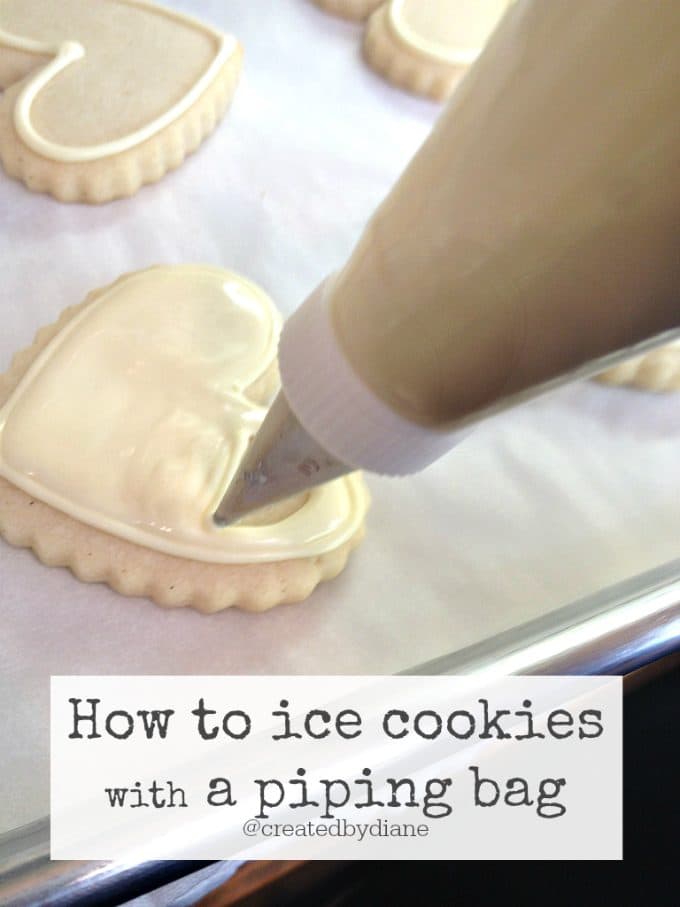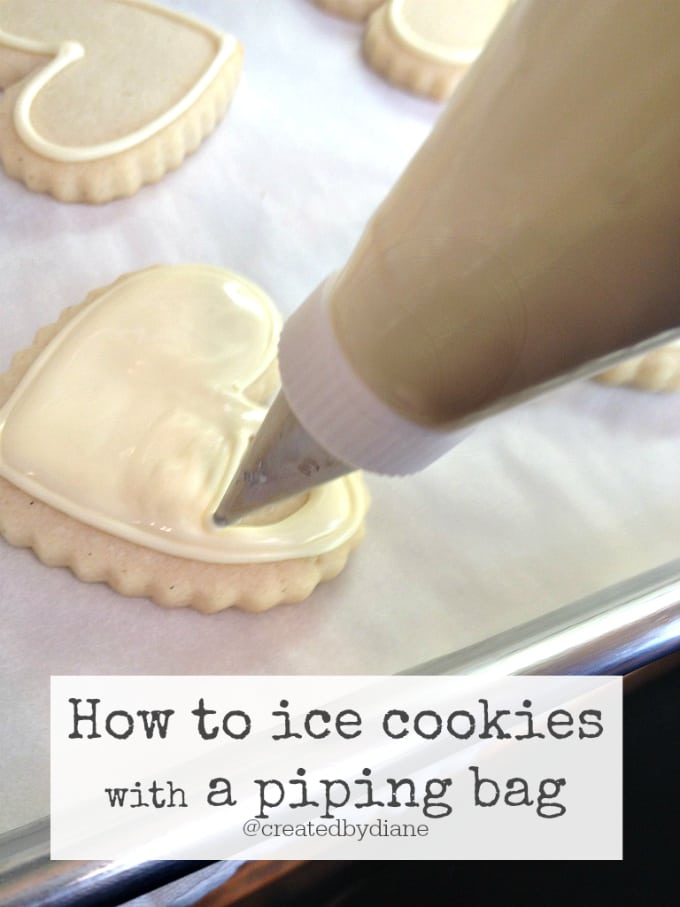 And if you're looking for info on using piping bag to ice cookies check this out.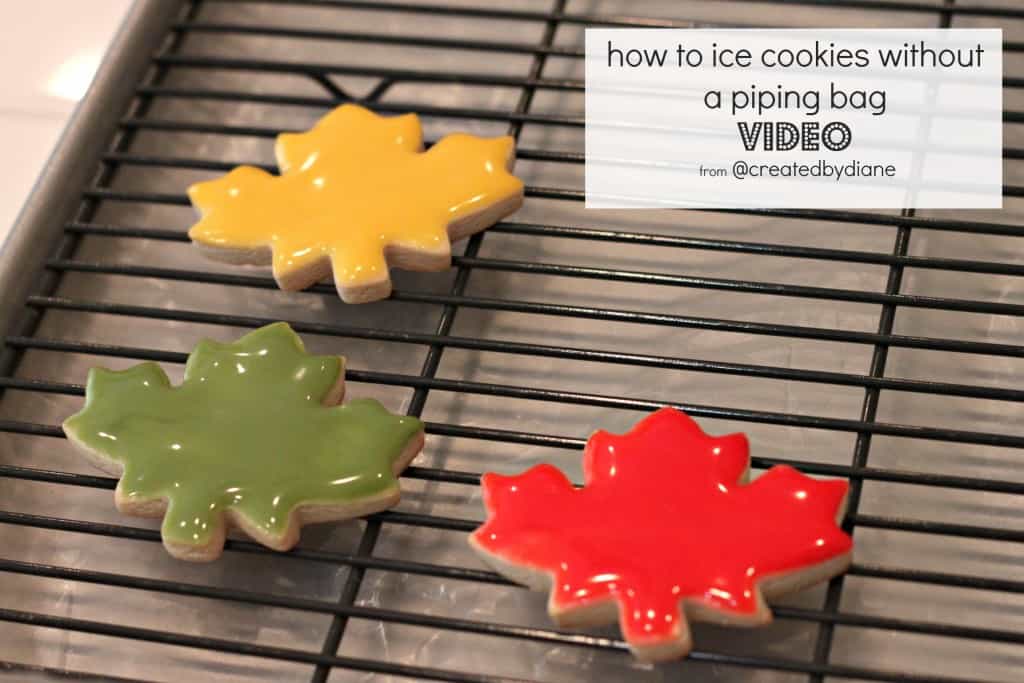 WATCH VIDEO BELOW…
Keep scrolling after the recipe, there is more info on cookies below!
What types of icing is best for cookies?
I use two different types of cookie icing, glaze icing, and royal icing. Americal buttercream frosting can also be used on the cookies, allowing it to firm up before stacking.
Glaze Icing Recipe
a smooth glaze icing that is great on cookies or a cake, drizzled over a bundt and over scones, madeleines, drop cookies. The perfect accompaniment to lots of desserts.
Author:
Diane Schmidt Created by Diane
Ingredients
4 cups powdered sugar
1 tablespoon corn syrup
2 tablespoons water (more may be needed)
1 teaspoon vanilla extract (or flavor of your choice)
a few drops of food coloring (I use Americolor gel colors)
Instructions
Mix the powdered sugar along with corn syrup and water and extract until it's smooth and creamy.
The glaze worked best when it was not runny. I ran my spatula through the icing and drew a line, it took about 5 seconds for it to fill back in where I drew the line. Adjust the water so it's fluid, but not runny.
Extract and food coloring are both in liquid/gel form, so adjust accordingly if you add more, you may need more powdered sugar.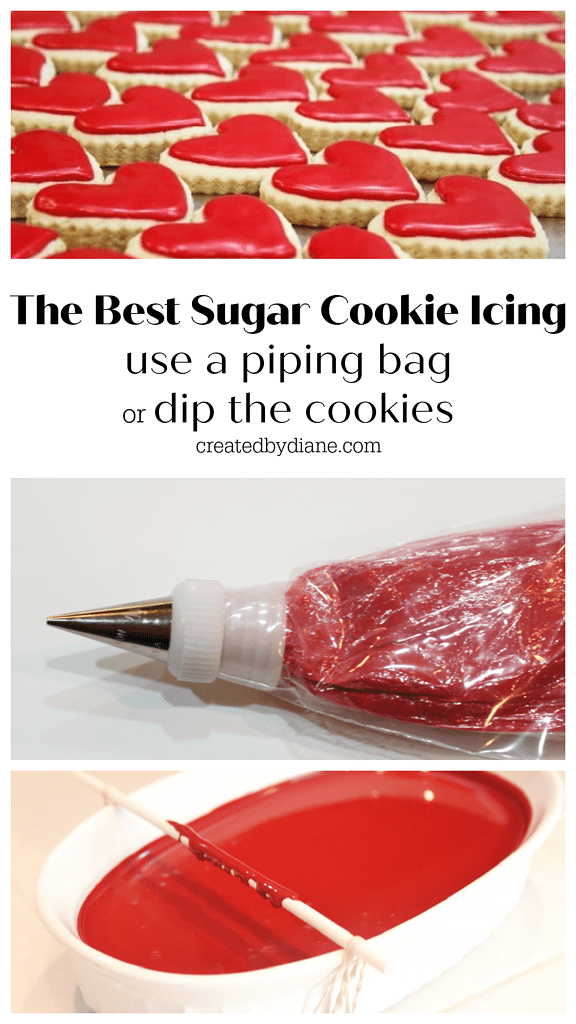 If by chance you are looking for a low-carb option, THIS is where you will find my low-carb cookie and frosting recipes.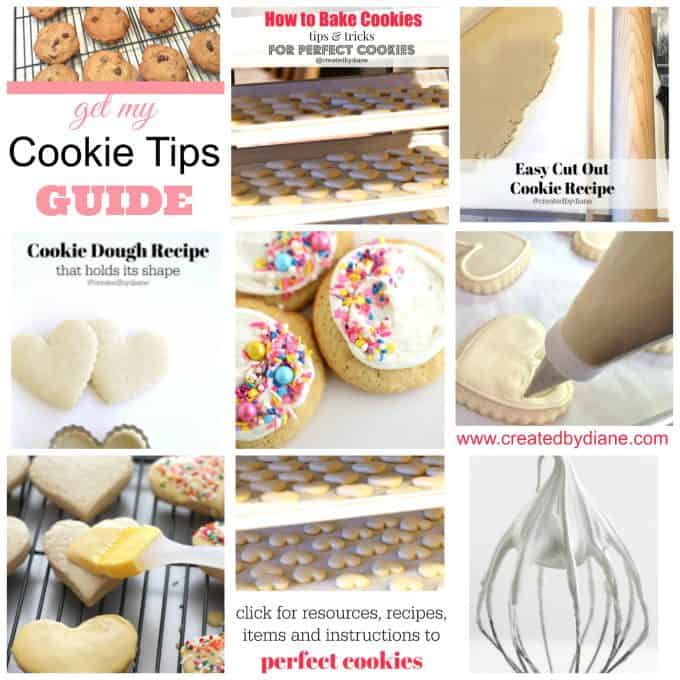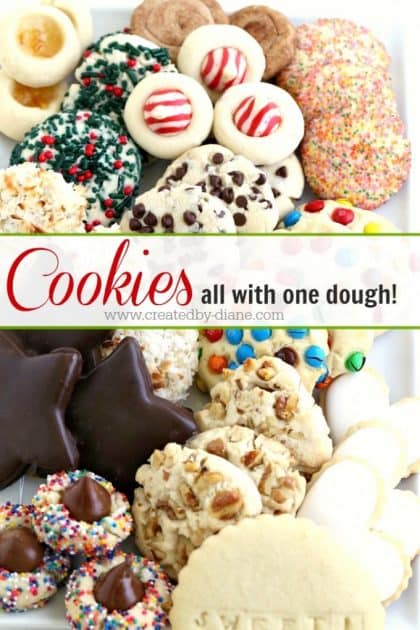 Take a look at this, make these Cookies all with ONE dough.
How to bake perfect cut out cookies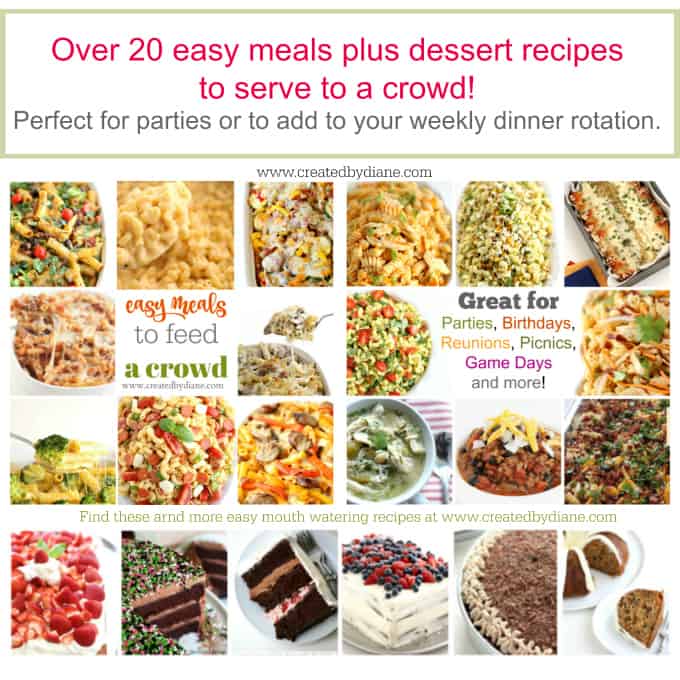 Follow Created by Diane on Pinterest to see some delicious recipes!
If you like this or any other recipe on Created by Diane be sure to share the post with the ones you love. You can click on the "share" buttons on the top and the bottom of each post, you can share it on social media or in an email.
Thanks for being such loyal readers, I truly appreciate it!
~Diane