Whether you're eating low carb yourself or know someone who is, by choice or by need…
there are so many people with diet restrictions but that doesn't mean they can't enjoy a delicious treat!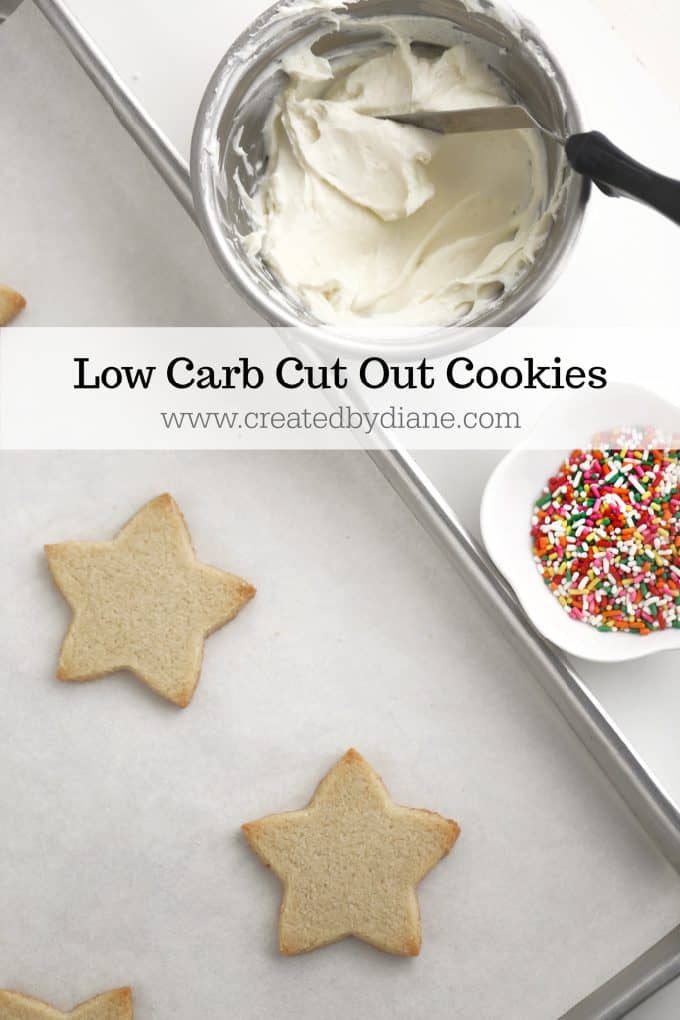 Cut out cookies are often loaded with sugar, these have zero sugar in them,
they don't even use regular flour.
While that may be new to some of you, most people who are eating low carb, keto, gluten-free or diabetic are used to different ingredients that the traditional flour and sugar cookie dough.
Just in time to make for that someone special!
I recall making diabetic cookies years ago, some for my grandfather, then years later some for my father-in-law, they were both diabetic, the cookies I made were just ok, there weren't lots of ingredients to change things up like there are today.
So I've made batches and batches of these to be sure everyone will like them, and they do.
These won over even the non-low carb eaters.
I'm not sure what they were expecting, most people who tried the cookies didn't know they weren't made without flour and sugar, some knew and said they taste great, like real cookies!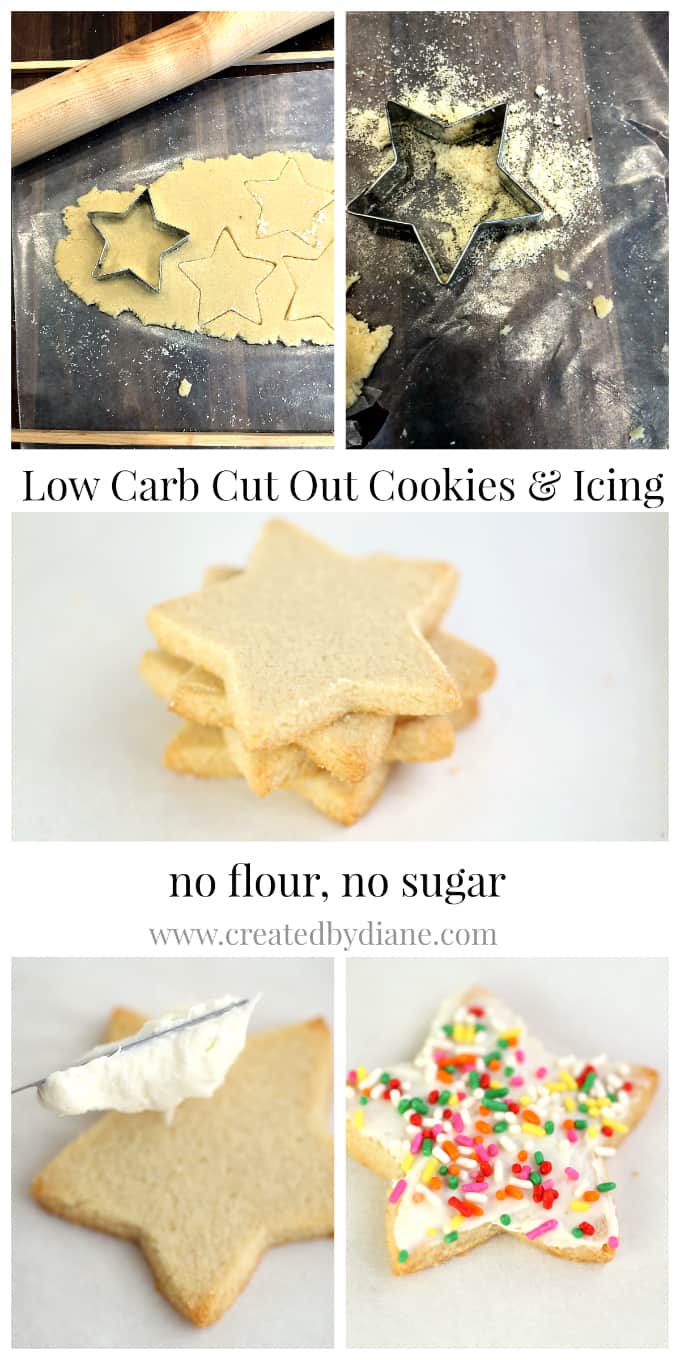 First, let's talk sweeteners. I've done some research and so many sweetener alternatives raise blood sugar. I wanted to be sure the cookies I made had the least impact on blood sugar I could make. Which lead me to use erythritol. Erythritol is made from sugar alcohol, has zero calories and does not raise blood sugar, is produced naturally which won't interfere in dental health I read. That's a WIN-WIN! It was discovered in 1848, I have no idea what took so long for me to find out about it, but I'm glad I know now. (I've been using it for about a year now in place of regular sugar).
For the flour replacement, I used almond flour. I made the cookies using the almond flour out of the bag, and even tried it ground up finer, which is the way I prefer, I used a food processor to grind the flour smoother, and actually made the dough in the food processor. Which took only a minute to whip up. If you don't have/want to use a food processor that's ok, I made a few batches just mixing the ingredients and they were really good too. I just prefer the lighter, finer texture of putting the almond flour in the food processor.
Now onto the frosting. We all know frosting is primarily made from sugar, it's usually really sweet. The recipe I made is creamy and delicious without being overly sweet and again no real sugar was used. It's made with cream cheese and it's super-yummy!  The cream cheese icing does get a little more translucent as it dries (if you leave them at room temperature for a day) you can store them in the fridge especially if you want it to stand out, add white food coloring or a color of your choice and add more icing if you want it to look opaque in color.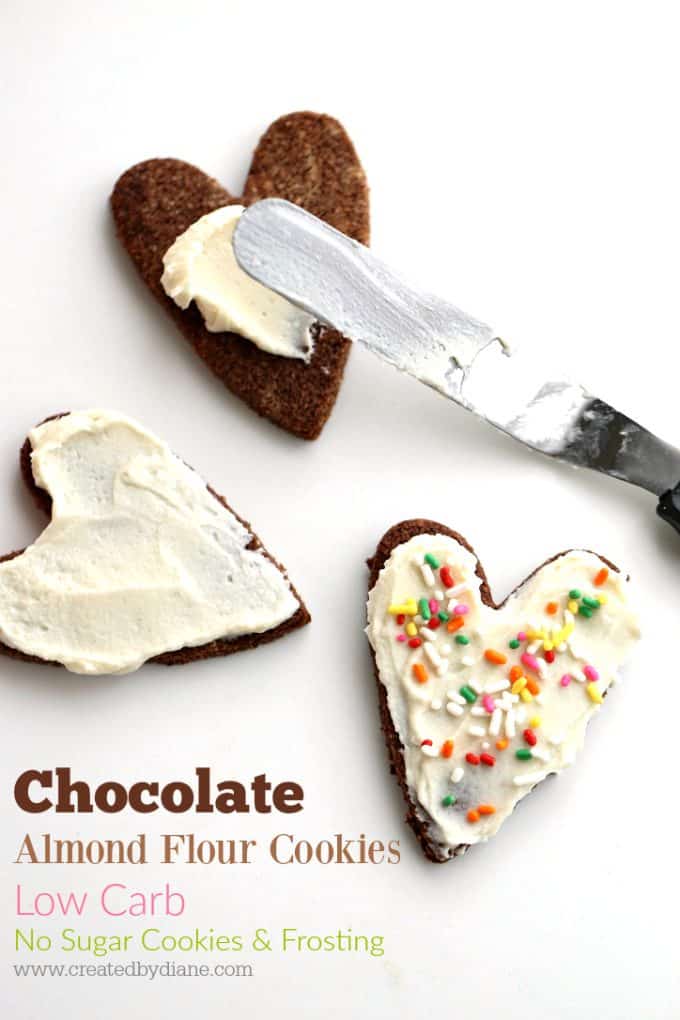 I also include in the instructions on how to make chocolate almond flour cookies, so if you like chocolate these are a great option without added sugar.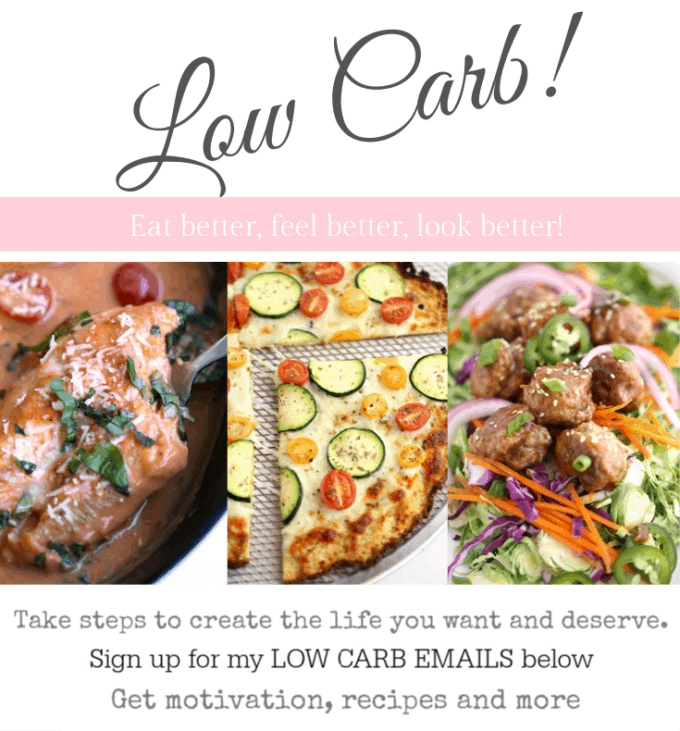 I compiled TONS of information on Low-Carb eating, starting with my 7-page guide full of recipes and so much more, if you're interested in low carb eating, sign you for my low-carb emails HERE!
Low Carb Cut Out Cookies and icing recipes
Ingredients
1/2 cup unsalted butter (if using salted butter reduce salt in the ingredient list)
1/2 cup granulated Swerve sweetener (erythritol)
1/2 an egg (whisk a large egg and use 2 tablespoons of the egg mixture)
1 teaspoon vanilla extract
2 cups almond flour
1 teaspoon baking powder (I use Clabber girl with is gluten-free)
1/2 teaspoon salt
*additional almond flour as needed for cookie cutter or to re-roll dough is it's wet/sticky
cream cheese icing
4 oz cream cheese (room temperature)
3 tablespoons butter (room temperature)
2 tablespoons granulated (or powdered Swerve Sweetener-erythritol)
1/2 teaspoon vanilla extract (or your favorite flavor and a drop of food coloring if desired)
Instructions
In a food processor, process butter and sweetener until it's creamy and well blended.
Add in egg and vanilla, almond flour, baking powder, salt and pulse to blend completely.
If the dough is really wet/sticky add a tablespoon more of almond flour at a time until it's workable.
I found that 2 cups of almond flour was plenty.
The dough will pull away from the sided of the food processor, remove dough and roll it into a ball.
Then roll it out in between wax paper sheets to 1/4 " thick. I use two wood dowels to be sure my cookies are even.
Bake cookies on parchment lined baking sheets at 325° for 9-10 minutes just until the edges start to turn golden (not dark brown) remove cookie tray from oven and allow cookies to cool completely on baking sheet. They will continue to cook and firm up.
Icing
Whip the cream cheese and butter along with sweetener until smooth, if you have any lumps, press it through a fine sieve before applying to cookies.
Using an offset spatula spread icing over cookies and dust with cinnamon or sprinkles if desired (yes sprinkles are full of sugar, I just couldn't help myself they are so colorful! You could top them with crushed nuts, cocoa powder, unsweetened coconut for a fun topping.
Notes
For CHOCOLATE Cookies, reduce the almond flour by 2 tablespoons and add 2 tablespoons to 1/4 cup dutch process cocoa.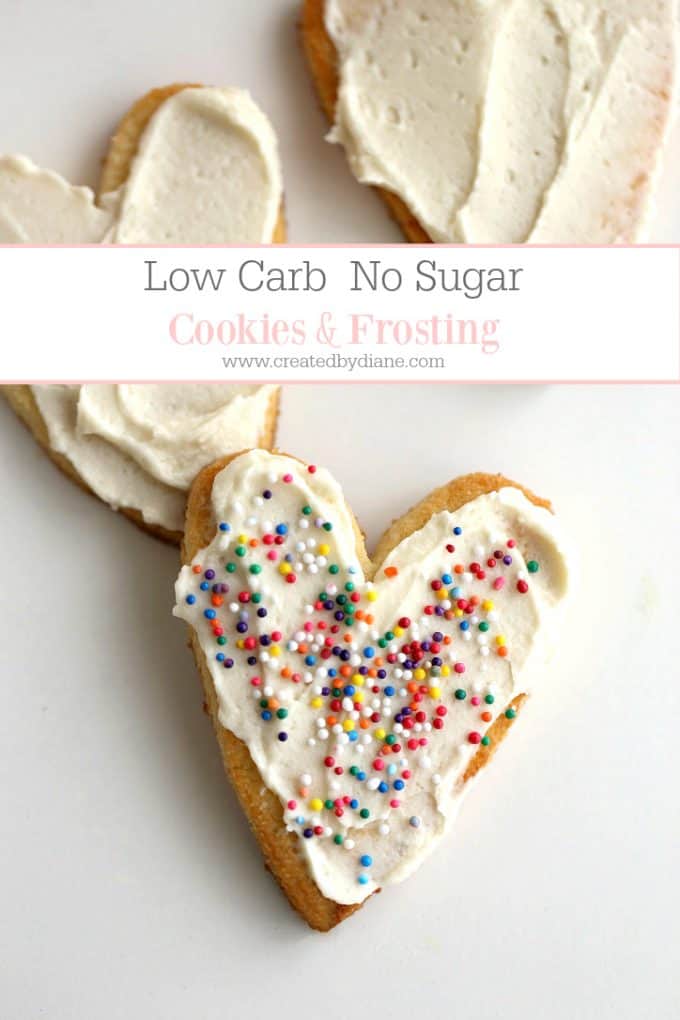 The website is to inspire and help you with practical ideas. My opinions are not intended as medical advice.
I disclaim any and all liability of any kind with respect to any act or omission wholly or in part in reliance on anything contained in this website.