Scones are one of my favorites… and these Blueberry Scones are full of delicious blueberries with sugar on top, they bake up with a nice crust on the outside and they are tender inside.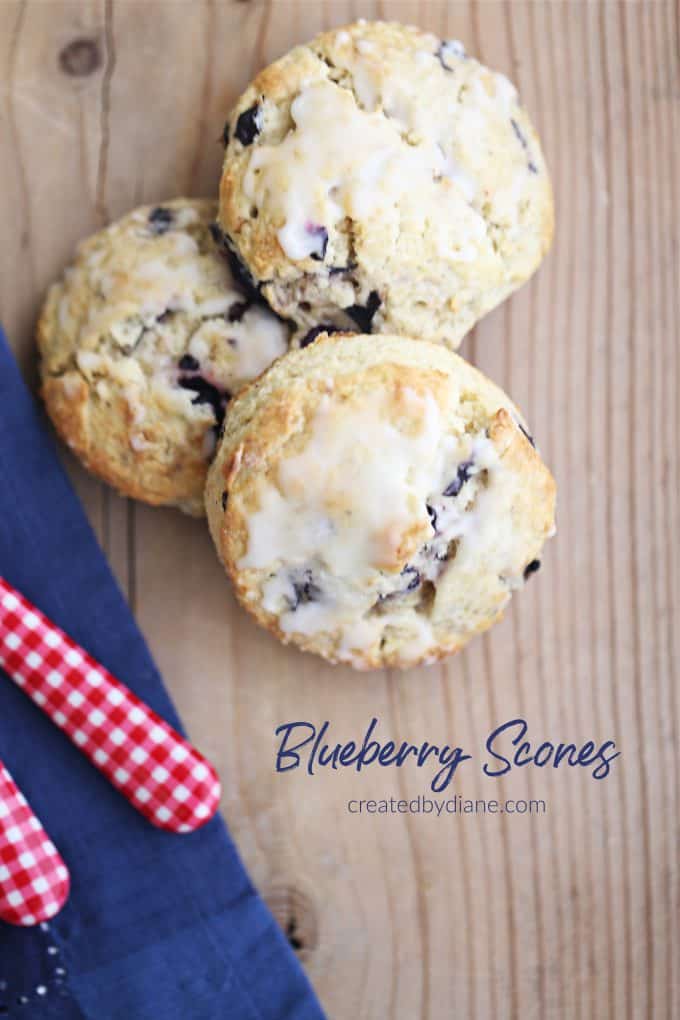 It's no secret I love blueberries,
I've made blueberry scones many times, not sure why I never took photos and blogged them, so today is the day!
I love using fresh blueberries, if they aren't available frozen blueberries are fine, I prefer to freeze them myself so I'm sure they have a great flavor.
I've added some options to make these have a delicious lemon flavor as well. Fresh lemon juice is a perfect addition to these blueberry scones, in the batter and then the icing. But if you don't want lemon in your scones simply don't add it.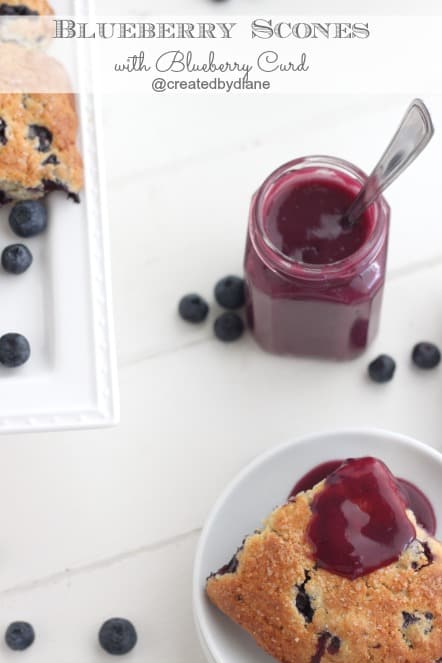 You most definitely will want to make some Blueberry Curd to go on top of these beauties, so click on over for that recipe.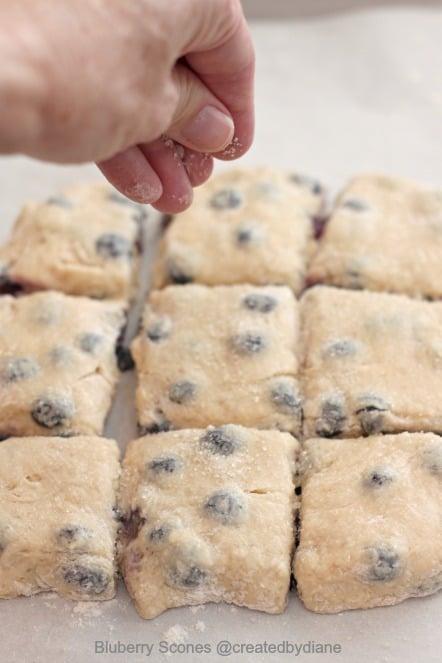 You can use a biscuit or cookie cutter, or pat or roll the dough into a circle or square and cut the scones with a knife into squares or triangles. Alternatively, you can scoop the dough with a cookie scoop and bake them like drop biscuits as well.
Add some sugar to the tops of the scones for a nice crunch or brush the tops with the additional heavy cream for a nice golden crust.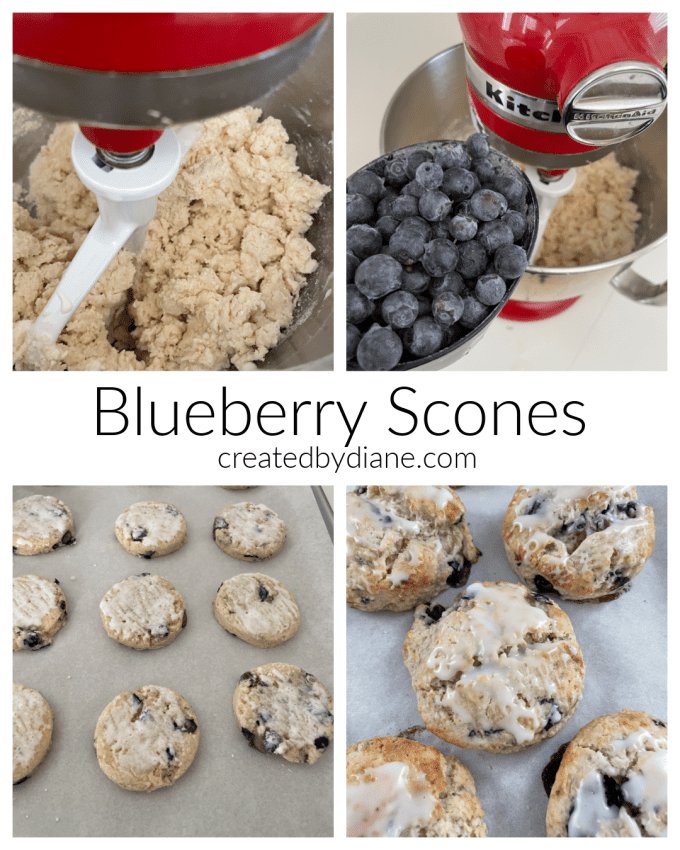 What are you waiting for, grab some blueberries and let's get BAKING!!!
How do you make blueberry scones from scratch?
Mix up the batter, then press it flat or roll it with a rolling pin to at least an inch thick, cut into the desired shape, and bake.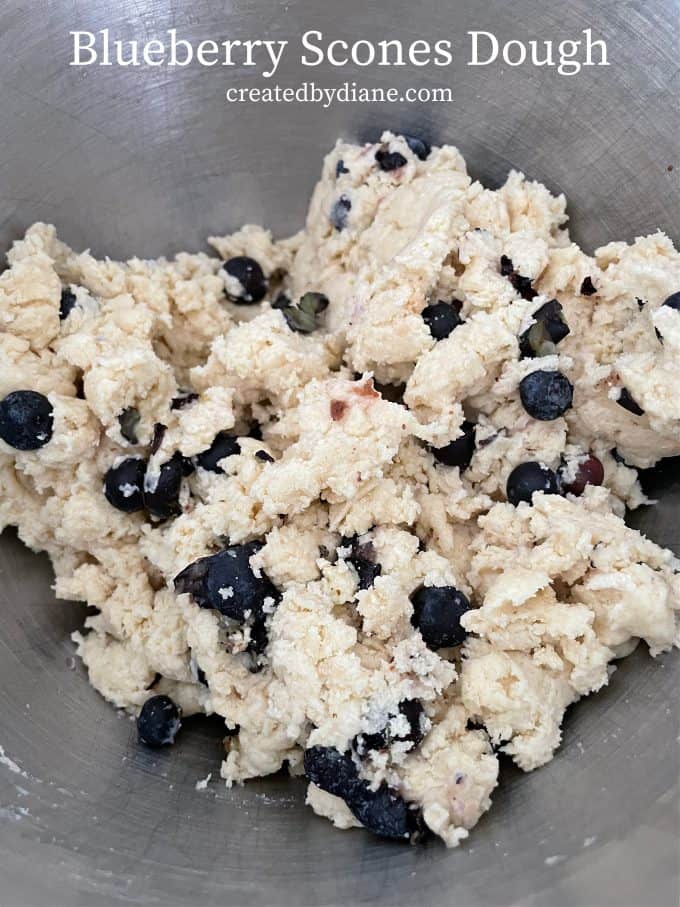 How do you keep scones moist?
One thing to remember when baking scones is do not skimp on the heavy cream, they are what makes scones tender and moist. Do not overbake them, they will dry out quickly if left in the oven too long.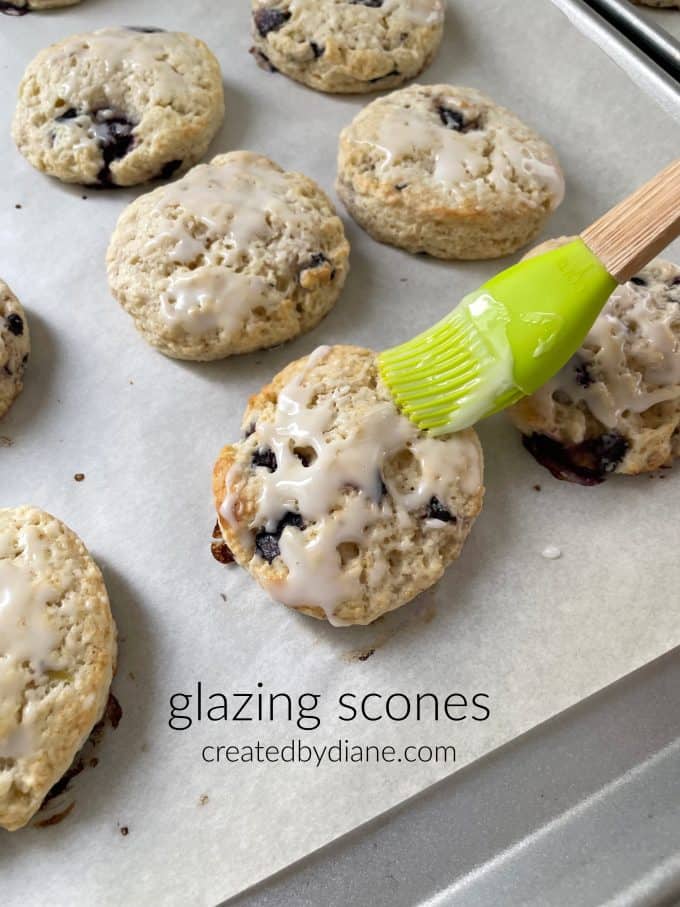 Glaze icing is easy to make, mix powdered sugar with warm slightly warm water, and add a drop at a time until you get the desired consistency you can dip the tops of the scones into the icing like this, or you can brush it on with a silicone brush, or drizzle the icing over the tops of the scones. If you want the glaze to have a lemon flavor just simply use lemon juice instead of water.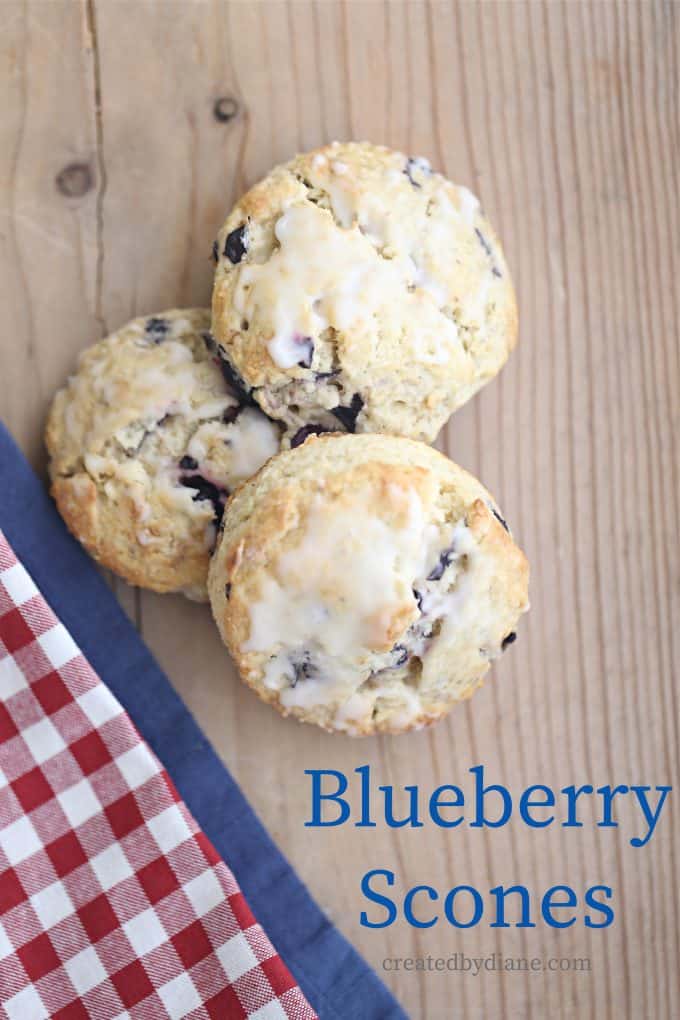 Blueberry Scones
A delicious and easy cream scone recipe filled with blueberries with an optional lemon juice to give them a little zing. A bakery lover's dream, tender, and moist, these scones have a great texture and flavor, sweet enough without being too sweet.
Author:
Diane Schmidt, Created by Diane
Recipe type:
Breakfast, Bakery, Biscuit, Snack
Cuisine:
American, English
Ingredients
3 cups all-purpose flour
1 tablespoon baking powder
1/2 cup granulated sugar
1 teaspoon salt
1 teaspoon vanilla extract
1 3/4 cups heavy cream split into two portions 1 1/2 cups for the batter, 1/4 cup for brushing on top of scones
1 cup blueberries
lemon option- add 1/4 cup fresh lemon juice and reduce the heavy cream to 1 1/4 cups to add in.
Instructions
Preheat your oven to 425°
In a medium bowl (or a bowl of a mixer) whisk the flour, baking powder, sugar, and salt together.
Add 1 1/2 cups of heavy cream and the vanilla until the mixture is combined.
Add in the blueberries, and mix gently.
Remove the dough from the bowl, roll it into a ball and then roll to 3/4" thick, by rolling with a rolling pin or pressing with your hands. I used a round biscuit/cookie cutter. Alternatively, you can cut them into squares or triangles with a knife.
Place each portion onto a parchment-lined baking sheet 2 inches apart.
Brush the tops of the scones with the remaining 1/4 cup of heavy cream.
Bake the scones for 15 minutes, if you cut smaller scones or thinner, start checking at 12 minutes. You're looking for a nicel golden brown edges. Test with a toothpick, it should come out dry, not gummy. When you pick one up, they should feel light, not heavy.
Allow to rest out of the oven for 5 minutes then serve or let them cool completely before adding icing.
Notes
Glaze icing
mix 1 cup powdered sugar with a tablespoon of warm water or lemon juice then add a few drops of water at a time until you get the desired consistency, use a silicone brush or drizzle over the tops of the cooled scones. The icing will set up as it dries so you can stack the scones.