The best things come in small packages, in this case, single layer 8″ round cake recipes. Perfect for every day celebrating, enjoying, and indulging. With just 8-10 servings these smaller portion cake recipes are bound to become your go-to cake recipes for a long time.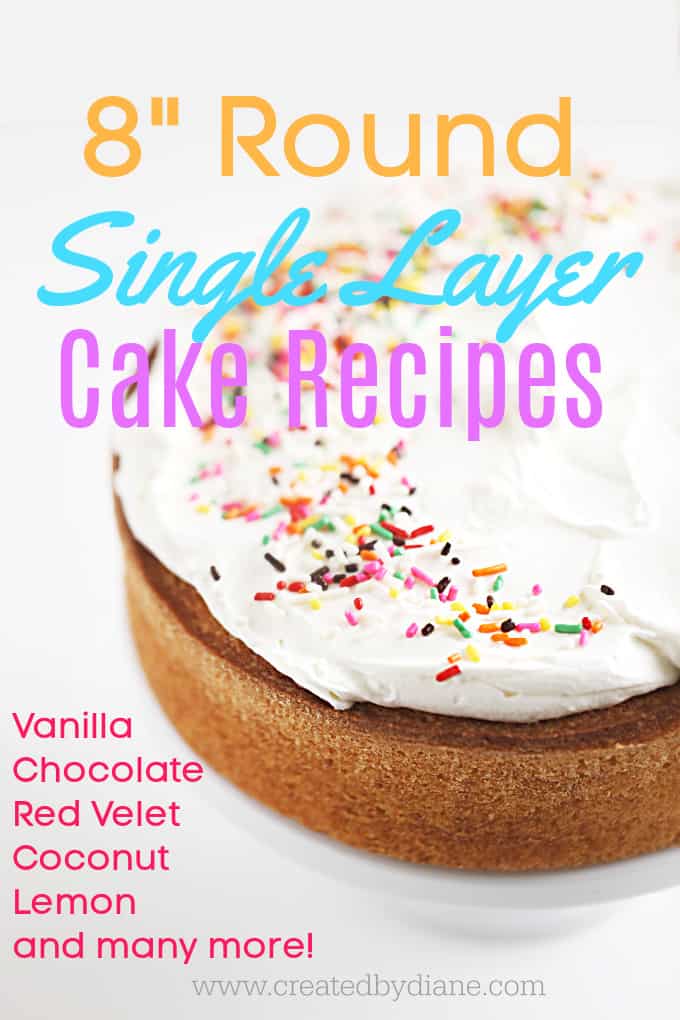 There is one thing for sure, I love cake… you too?
Well, you're in luck, I'm sharing some cake baking tips, items to use, recipes, and more!
To begin you'll need an 8″ round cake pan. The pan I use is 8″ round by 2″ high, if you have a 3″ high pan the cake will bake nicely but won't rise to the top, it's thick and cooks evenly resulting in a perfectly cooked cake.
Even cake vs domed cake, I like a smooth flat cake, vs a domed cake with a more well done outer edge and puffy center, flat cakes are easier to cut, easier to decorate, and look pretty good even undecorated. If you're not a frosting person, just sprinkle some powdered sugar or cocoa on the cake, or pour on a simple glaze icing for a nice option.
When to test a cake's doneness, it's easy to use a toothpick, when it comes out clean, or with a few pieces of dry cake crumbs you cake it done. Remove the cake from the oven, place it on the stove on a cold burner or a cooling rack to allow air to flow under the cake pan, or it will be so hot if you place it flat on a surface the cake will keep the heat and can be drier when you serve it.
After 5-10 minutes turn the cake out onto a cooling rack to cool it completely. The easiest way to do this is to place a piece of wax paper over the top of the cake, turn the cake onto your hand,(or you can use a plate) then place the bottom of the cake onto the cooling rack.
These are my favorite cooling racks, I've had them for more than 25 years… and they are not flimsy, do not close up if they get nudged on the counter, and my son used to race hot wheels cars on them when I'd tip down one side. They stack to allow more room on the counter and are nonstick and clean up easily and have a cross grid so nothing falls through the rack, like the soft edge of a cookie can easily do on racks that only have vertical lines.
Great tools for cake baking
Whether you're all about the cake or all about the frosting there are plenty of options for you here!
From chocolate, vanilla, and strawberry, and just about everything in between like lemon, coconut, and red velvet. All my 8″ cakes are linked below.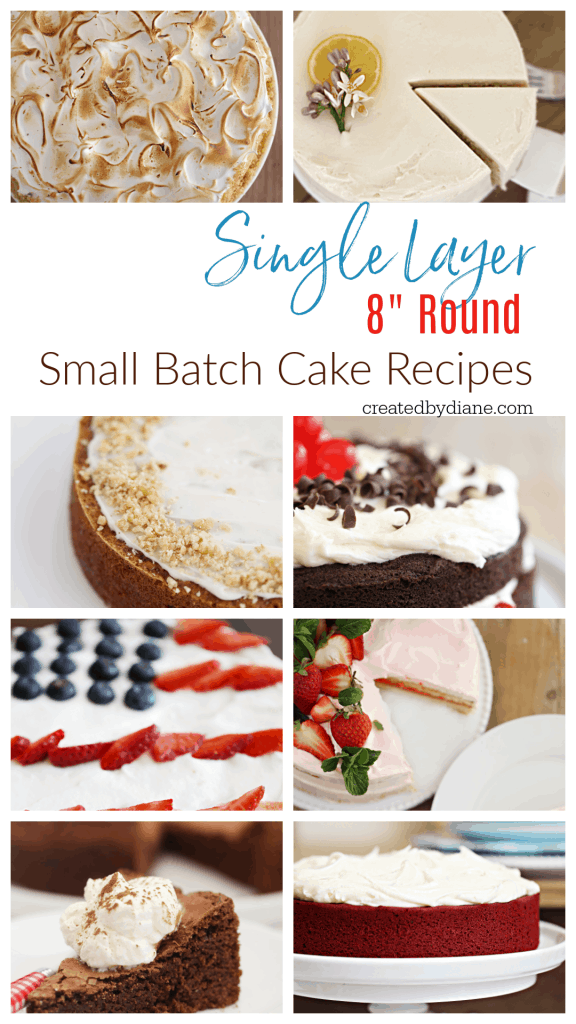 Stop waiting for a special occasion to make your favorite cake, grab the easy recipe and make it TODAY.
With a more manageable serving size compared to two-layer and sheet cakes with cake for days, these smaller portion cakes are not only as cute as can be there are perfect for every day.
CLICK on the title of the cake you'd like to see more about below:
Happy Baking!