It's no secret chocolate chips are not only great in cookies, they make the best tasting baked items like these chocolate chip scones, just try to resist slather them with butter and eating them while they're hot, I dare you.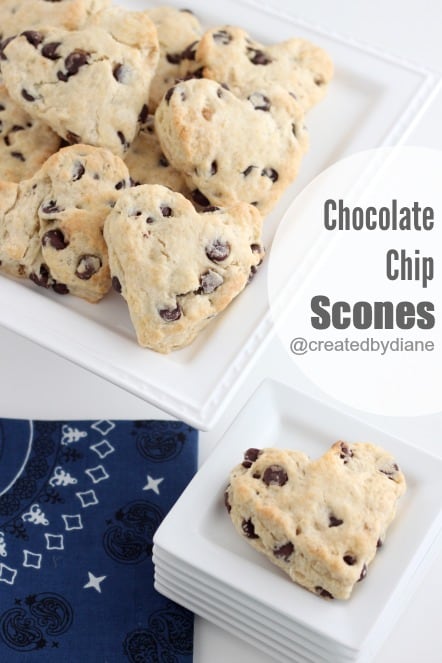 Chocolate Chip Scones
Don't miss one delicious recipe and get my FREE e-cookbook click here!
Since it doesn't seem acceptable to eat chocolate chip cookies for breakfast… says, my parents and my husband…
I found a way to get around it,
I'm sure many more people feel the same way as me, but really….cereal is no better in my opinion!
I made Chocolate Chip SCONES… Scones are perfect for breakfast, and clearly acceptable everywhere. YAY for scones!
I also think waffles and ice cream are great for breakfast too but I still can't seem to convince my dad of that one.
I think my mom would agree with me, after all, she is the one who would let me put chocolate chips on pancakes.
Did I mention how much my kids LOVE that I think chocolate chips are acceptable for breakfast,
yea they aren't young anymore.
When they were young I was a little more responsible with breakfast decisions.
These scones are not only perfect for breakfast, but they are to enjoyed all day long!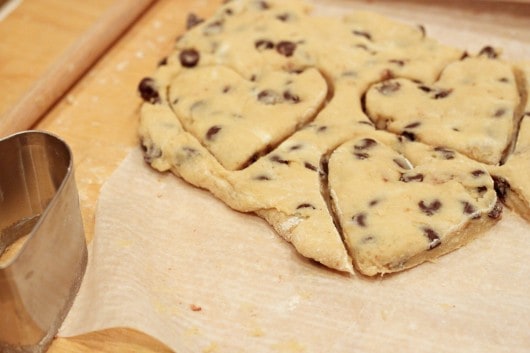 Rolling out the dough in between wax paper sheets helps the dough from sticking, lightly flour the wax paper if the dough seems too sticky.
Rolling the dough out using 1/2 inch dowels to guide the rolling pin to keep the scones an even thickness makes for evenly baked uniform scones.
I used a heart shaped biscuit cutter, but any shape will work, or cut them with a knife into squares or triangles.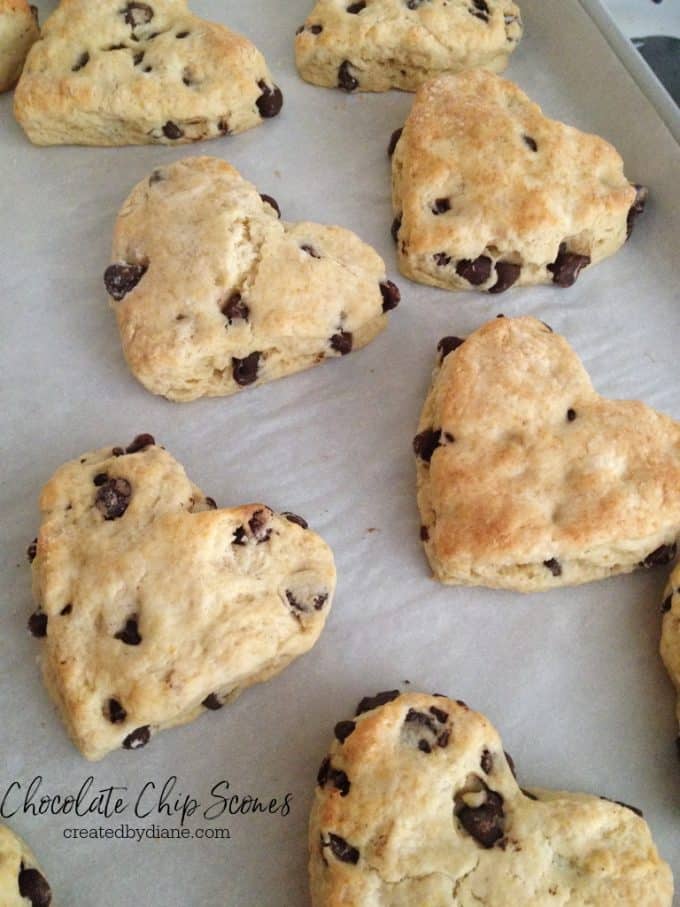 These are the type of item that is great to whip up a batch in the morning and bring to share, be it the office, a meeting, or to bring over to a friend to say hi!
They are great reheated!
If you're looking for a glaze icing for these, make it nice and thin with hot water and you're all set!
So if it is up to me, I say enjoy Chocolate Chip Scones EVERY DAY with Every meal!
I have a fun version make with pancake mix here. 
Chocolate Chip Scones
Ingredients
2 cups flour
1/2 cup brown sugar
3 teaspoons baking powder
1 teaspoon salt
1/2 cup cold unsalted butter
1/2 cup heavy cream
2 eggs
1 1/2 teaspoons butter vanilla extract (alternatively use 1 teaspoon vanilla extract and 1/2 teaspoon butter extract)
3/4 cup chocolate chips
Instructions
Preheat oven to 400 degrees
Blend flour, brown sugar, baking powder, and salt.
Cut in cold butter until mixture resembles coarse crumbs.
Add in heavy cream, eggs, extract, and chocolate chips
Mix gently until combined, knead out on a lightly floured surface.
Roll dough out between wax paper to 1/2 inch thick.
Cut with knife or cookie cutter.
Place on a parchment-lined baking sheet and bake at 400 degrees for 12-15 minutes until lightly golden and tested with a toothpick comes out clean.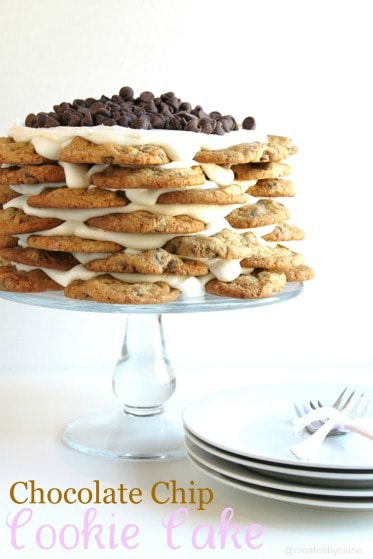 You may also like my  Chocolate Chip Cookie Cake