Need a great, creamy, and light frosting to go with those cupcakes or cake you just baked? This Sour Cream Frosting is it!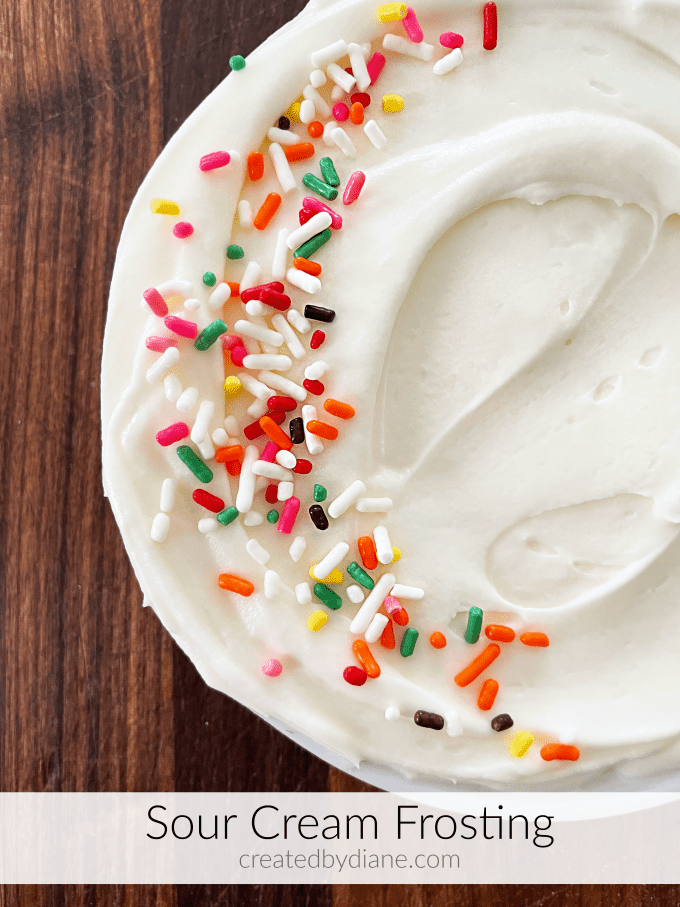 Frosting is everything when it comes to cakes and cupcakes; It will make or break them! If you have one that's too sweet, it will completely take over the flavor of the cake in question. Likewise, if it's lacking in flavor, it's almost not worth adding.
It's because of these issues that I've created so many frosting and icing recipes! And this one I'm going to show you today, is flavorful and sweet, without being tooth cracking sweet.
It's balanced with the tanginess of sour cream, which cuts through the sweetness, adding a creamy texture. And it lacks the heavy butter flavor that a lot of frostings seem to have.
This is one of my favorites because it's so versatile and goes well on a variety of cakes and cupcakes. I hope it will become one of your favorites too!
If you're looking for ways to use this frosting, look no further, I have loads of recipes that it would work so well with:
Small Batch Chocolate Cupcakes

– This is for when you have the craving for cupcakes, but don't want to make a huge batch of them! It's perfect for a quick dessert for just the family. I also have

Small Batch Vanilla Cupcakes

.

And best of all, my sour cream frosting works brilliantly with both.

Mocha Cupcakes

– A little bit chocolate, a little bit coffee! I made these with a coffee infused frosting, but it could easily be replaced with this sour cream frosting. It would offer the same creaminess you'd expect from an actual hot mocha. If you're a coffee fan, be sure to check out my Coffee Swiss Meringue Frosting.

Green Velvet Cupcakes

– The same flavor you love in red velvet, but green! I make these around St. Patty's Day – but they are good anytime dessert. Adding this frosting in place of the cream cheese frosting is adding a great twist on an old classic! 
I have a lot more where these came from, explore my websites and see what strikes you! Never be afraid to get creative in the kitchen – that's how great dishes are born!
Now, if you'd like some tips on decorating your cakes or cupcakes, I have those too. Frosting cupcakes can be challenging, especially if you're trying to make them look elegant.
Fortunately, I know a few tips and tricks to help you with this and I wrote them all down in my blog Frosting Cupcakes Tips and How To's. Additionally, there are a few more great frosting recipes within it too!
Now, let's look at this simple, yet delicious recipe for sour cream frosting!
I have used this recipe on my 5 Layer Sour Cream Cake, 2 Layer White Sour Cream Cake, and my WASC cupcakes  – all with fantastic results. But I also have lots of other cake recipes that it would do well with, explore and find what one speaks to best!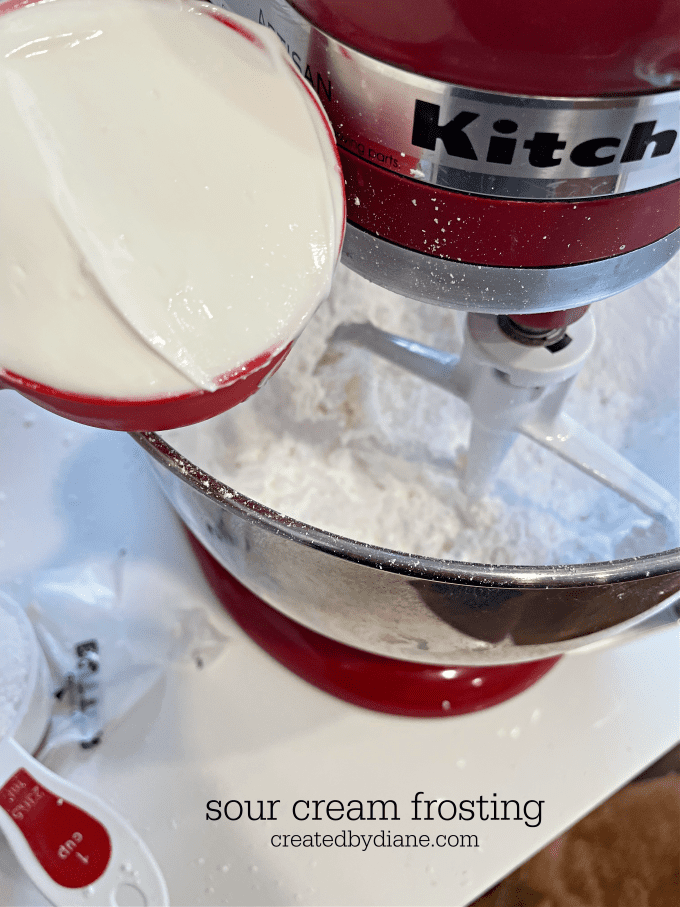 To begin, in the bowl of a mixer cream butter until smooth. I use salted butter to help balance the sweetness, but you could use unsalted as well if you prefer a more sweet frosting.
 Next, add the sour cream, powdered sugar, and vanilla.  Begin on a low speed so you don't throw powdered sugar everywhere and then slowly increase speed as the sugar becomes incorporated.
Whip until fully combined and smooth.
That's it! It should be creamy and silky smooth with no lumps.
Here are a few commonly asked questions that I hope you'll find useful!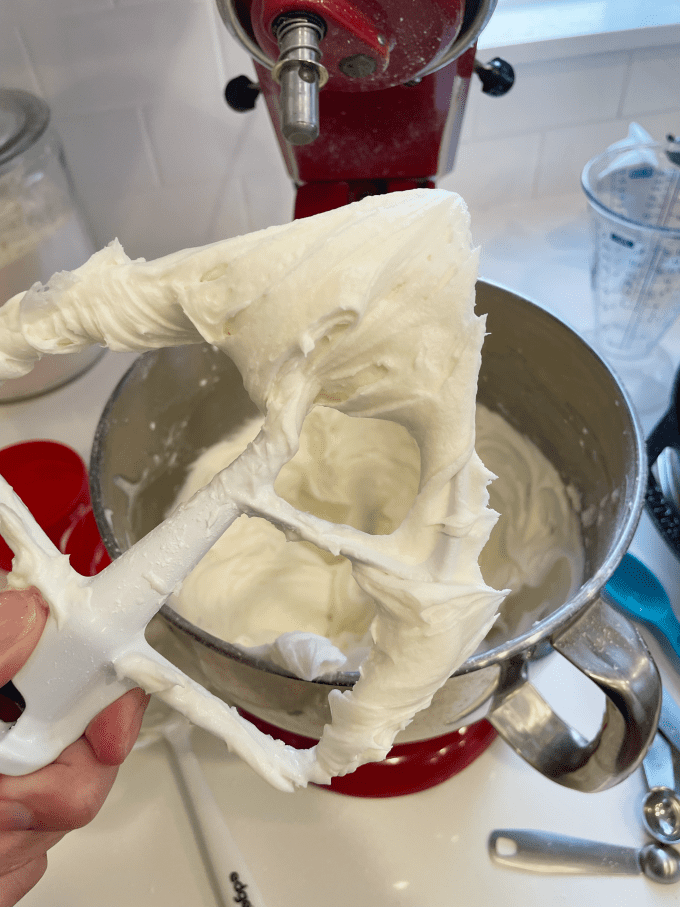 Can I use a butter substitute?
I always say butter is better. But in a pinch, you could use a butter sub as long as it comes in sticks. The tubbed butter tends to be too soft. Don't be surprised if it's not the same flavor, but sometimes in a pinch, we have to use what we have.
Help! I'm out of sour cream! Is there something else I could use?
You could, again, in a pinch, use plain full-fat yogurt on a 1:1 ratio. Or you could use one of my other frosting recipes that don't call for sour cream, check here for more frosting recipes.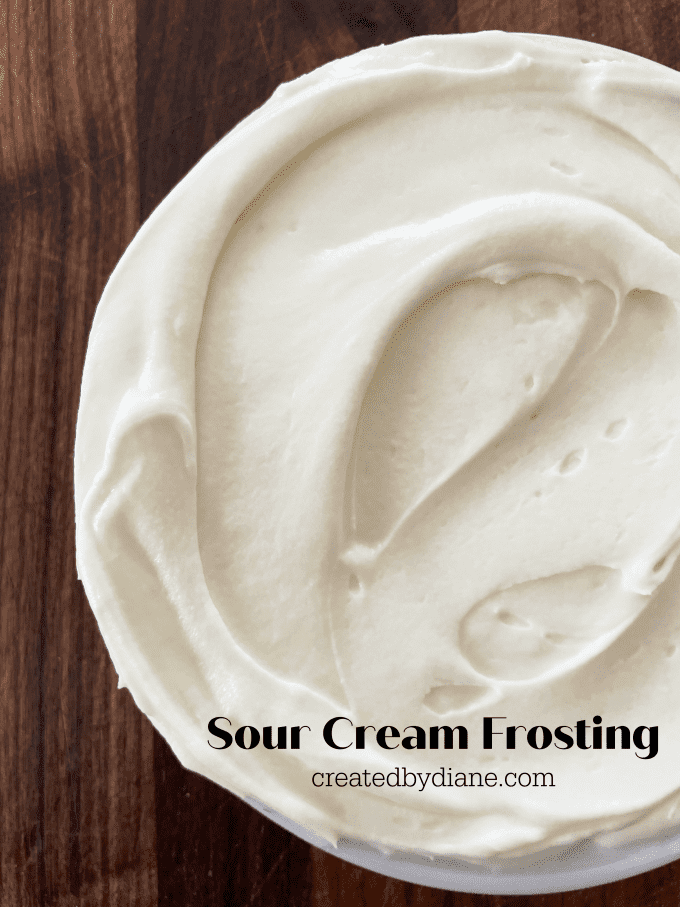 How long will this frosting keep in the fridge if I need to make it ahead of time?
Because this is a dairy-based frosting, I recommend keeping it and using it up within 5 days. 
Can I use this frosting to pipe designs on my cake?
Yes, you can. Adjust the thickness by adding a little more powdered sugar if necessary. I also have other frosting recipes that are great for decorating as well!
My recipe for Pink Raspberry Frosting is perfect for piping these sweet little Russian roses. And there are more frosting ideas decorating tips and tricks here!
Sour Cream Frosting
Sour cream is a great option for a deliciously smooth and creamy frosting that has a little bit of a tangy flavor but not being as sweet as cream cheese frosting.
Author:
Diane Schmidt, Created by Diane
Ingredients
1/2 cup butter
1/2 cup sour cream
3-4 cups powdered sugar
1 teaspoon vanilla
Instructions
In the bowl of a mixer cream butter until smooth and add in the sour cream, powdered sugar, and vanilla, and whip until fully combined and smooth.
This frosting is great on cakes, cupcakes, fillings, and to-top sugar cookies.
Notes
Use unsalted butter if you prefer sweet frosting, use salted butter, or add a pinch of salt if you prefer flavors that are more balanced and less sweet. I prefer salted butter myself.