Cream cheese frosting is just so delicious, great for carrot cake, red velvet cake, to drizzle over the top of date nut loaf, and for just about any baked items you can think of.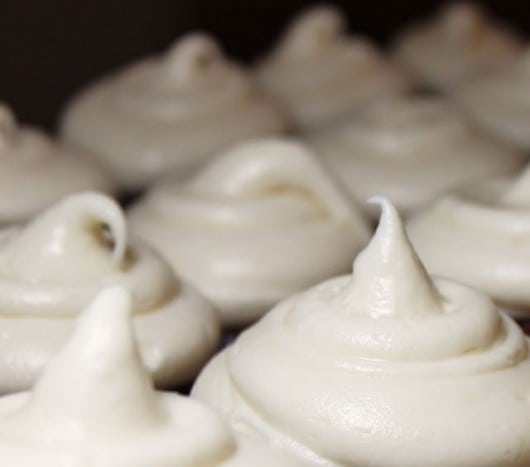 Some people think the topping on the cake is the best part, no matter if you think the cake is the best part of the frosting, this is a great frosting and can be made thin like a glaze, thick to pipe in swirls and such or somewhere in the middle to place dollops as I've made on these cupcakes.
I recently made cupcakes and everyone asked if there was more frosting. I'm not sure exactly where they were going to put more frosting, but they wanted it!
Yes, I put plenty of frosting on the cupcakes.
They just wanted me to then serve frosting… had I known prior I would have served frosting "shots".
They would have been in their glory!
I thought I'd test the theory.
The cake…Red Velvet.
The frosting…Cream Cheese Frosting.
This is an EASY frosting to make.
To see if it's all about the frosting, I decided to make the cake from a mix.
You heard right, a mix, nothing fancy, but no store-bought frosting. homemade is best int his area ALWAYS!
Then for sure, I'd know if it's all about the frosting.
They say that it's the frosting that matters.
Let's see if THEY are right!
Well, truth be told it may be all in the frosting when it comes to cream cheese frosting. 
The cupcakes above were piped with tip #808. 
Easy cream cheese frosting recipe
Ingredients
1 -8 oz package cream cheese (not straight from the refrigerator cold cream cheese will not blend well and do not use whipped cream cheese either)
1 lb butter (room temperature)
(these items whip up well with no lumps if they aren't cold)
5-8 cups powdered sugar (sifted-really sift it, that way you'll ensure there aren't lumps) you can add up to 8 cups of powdered sugar if you're looking to pipe frosting so it stands up and isn't soft you'll need to add all 8 cups.
2 teaspoons vanilla
Pinch of salt (or use salted butter)
If you're looking to whip it up more add in some heavy cream.
If you're looking to use it as a drizzle, just thin it with some warm water until it's the consistency you'd like.
Instructions
Beat the cream cheese, then add in the butter mix on high speed until smooth and well-whipped.
Add in the powdered sugar, start with 4 cups and mix well.
Then add in a cup at a time until you reach the desired consistency.
Add in Vanilla.
This generously frosts 24-36 cupcakes.
If you are more of a chocolate kind of person,
you may prefer this…..
chocolate cream cheese frosting 
one lb butter
one 8 oz package cream cheese
5-8 cups sifted powdered sugar
1/2 cup unsweetened cocoa powder
2 teaspoons vanilla
2 tablespoons heavy cream or milk