This creamy chowder loaded with shrimp and a sweet and smoky flavor is bound to become your new favorite one-dish meal. This soup is really delicious year-round!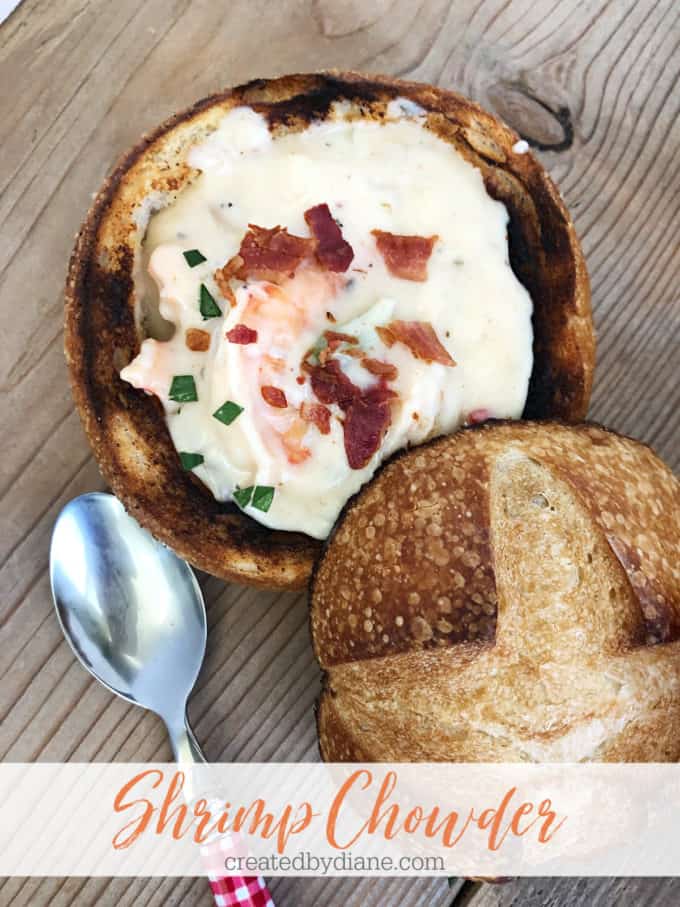 Give me all the shrimp!
I don't know about you but I love shrimp…
I really love all seafood, but shrimp is one of my favorite go-to items. I love that it's readily available and even frozen shrimp tastes good. I can't say the same with all frozen foods.
This however is made with fresh shrimp and I do think it makes the soup MORE delicious as the flavor of the shrimp cooked in the pot adds a deep flavor base for the soup. It also ensures the shrimp will not be overcooked and tough, even when reheated I've found. Using pre-cooked shrimp then adding them to the chowder will toughen them a bit and if you dare to reheat it, they'll become tougher.
You can buy shrimp with the shells on, or shells off, be sure before you put the shrimp into the pot that they are deveined, and have the tails, legs, and shells removed.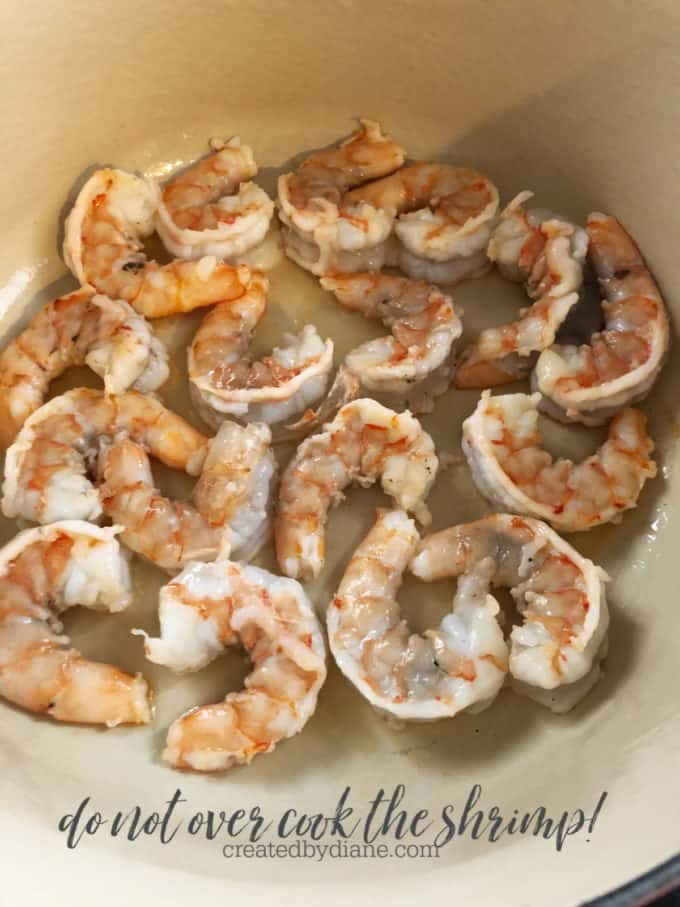 As far as the size of the shrimp goes, you can use any size. I used extra-large shrimp and left them whole for this batch, previously I've cut the shrimp into smaller pieces and it's equally delicious either way.
Use what you prefer as far as shrimp size, if you will be reheating the chowder the larger the shrimp the less tough they'll be when being heated twice.
Now as you can see in the photo above, the shrimp are almost done cooking, there is still a little "grey" color left on them… take them off the stove,
and transfer the shrimp to a bowl when they are AT THIS STAGE… they are so hot they will keep cooking and you will be putting them back in the pot when the chowder is nearly done.
This will ensure the shrimp are not overcooked or tough, they will be tender and delicious!
Other great shrimp recipes you can find on my site:
Can I use precooked shrimp?
You can, I'd brown them lightly in a little butter or oil in the pot for a minute to bring out more flavor in them as down ith the raw shrimp, remove them, make chowder, then add shrimp back to the pot at the end of cooking.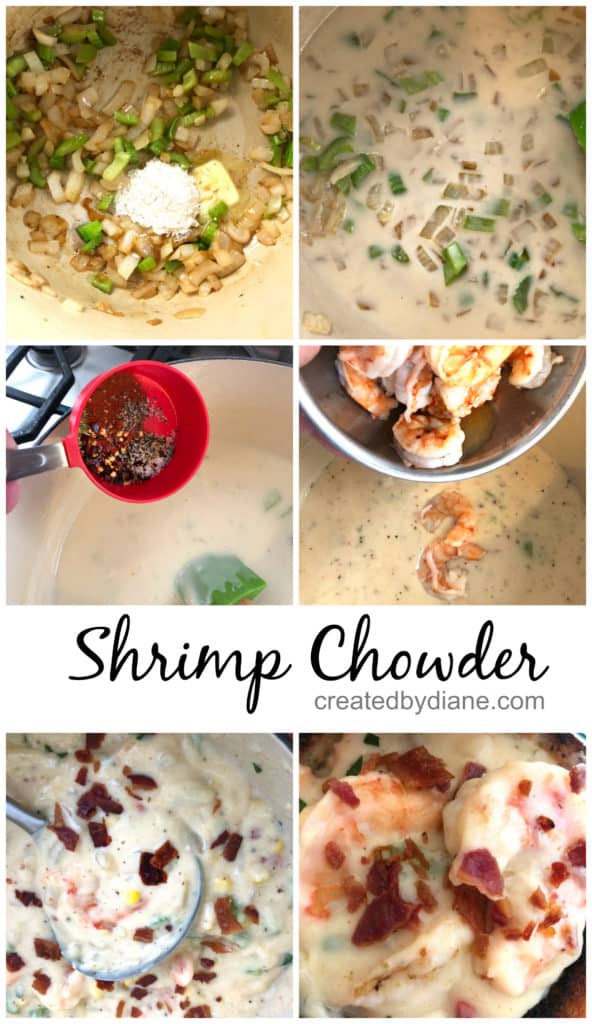 How should chowder be served?
Give me all the bread bowls… do you find them as irresistible as I do?
This soup is quite irresistible in a bread bowl, but you can easily enjoy it in a regular bowl if you must. (kidding of course!) I do eat most of my meals low carb, but every now and then I do indulge!
And don't forget you can always serve chowder with oyster crackers, oh those oyster crackers are good soup crackers, they are usually dry and firm and go well with soups and chowders.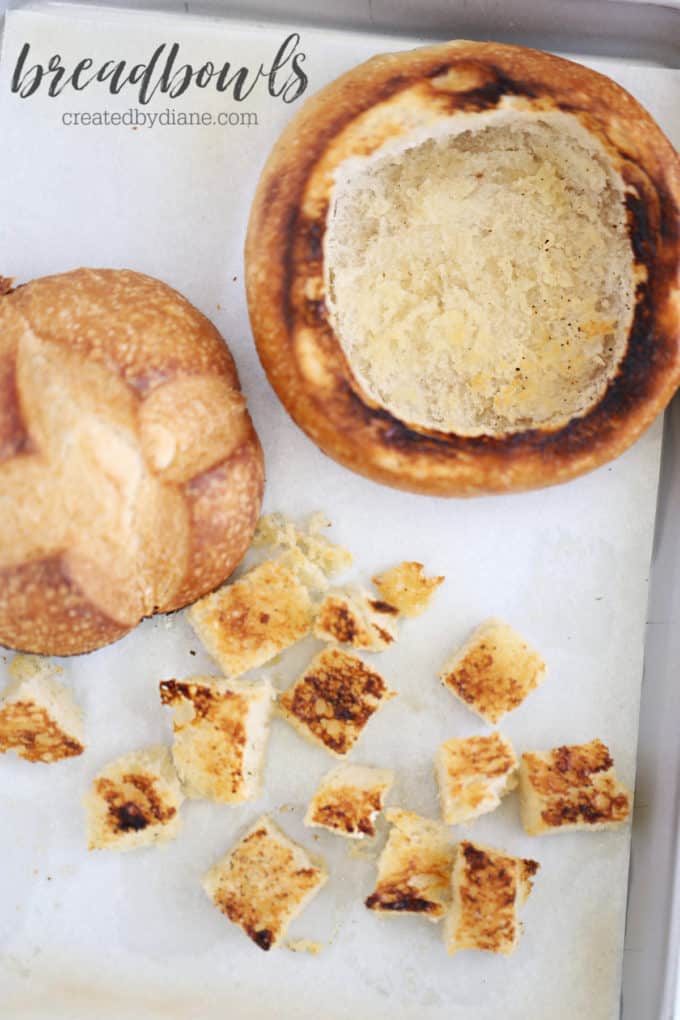 If you want to prepare bread bowls simple cut off the tops, cut a circle into the bottom and use a large spoon to scoop out the disk shape of the cent of the bread, slice it up, slather some butter on all the cut area of the bread including the top, the inside and all the cut-up pieces, then sprinkle them with some garlic powder or garlic salt and put them under the broiler for a few minutes to toast up nicely. By toasting the inside of the bread bowl, it won't get soft and soggy quickly, and you'll have plenty of bread to dunk into the chowder.
I bought the bread used for these bread bowls, but you could make some with my Artisan Bread Recipe and instead of making one large loaf, make 4 smaller loaves of bread.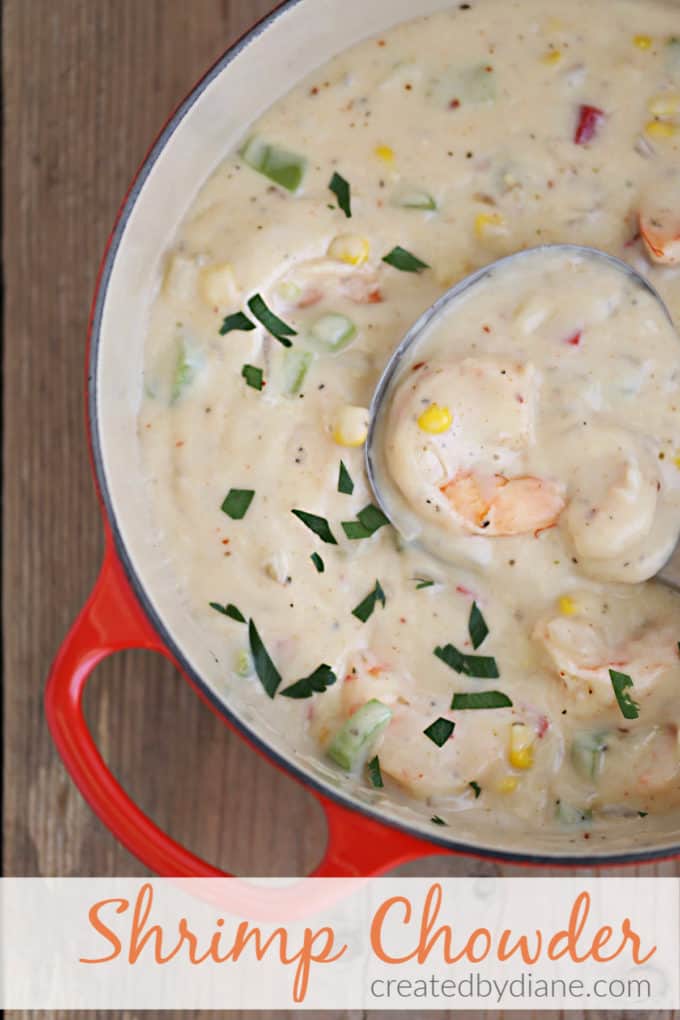 Chowder is good at any time of year if you ask me… cold weather, hot weather, I'm a soup girl and I love just about any variety and time of year. 
If you're looking for some of the fun soups, give these a try
Be sure to check out my post on MAKING HOMEMADE SOUP if you have questions or are looking for pointers for better soup making.
Shrimp Chowder
shrimp chowder thick and creamy with a sweet and smokey flavor, topped with bacon for added deliciousness
Author:
Diane Schmidt Created by Diane
Ingredients
1 lb raw shrimp, deveined with shell, tail, and legs removed. (I used extra-large, any size works, and you can cut the shrimp into pieces if you prefer)
1-2 tablespoon oil
1 cup onion, chopped
2 stalks celery, chopped
1 tablespoon butter
2 tablespoons flour
4 cups chicken broth
1 cup whole milk or heavy cream
2-4 tablespoons cornstarch
1 cup frozen or fresh corn
1/4 cup diced pepper, any variety bell pepper, jalapeno, poblano
1/4 teaspoon smoked paprika
1.4 teaspoon oregano
1/4 teaspoon crushed red pepper
pinch celery salt or celery seed
4 pieces of cooked bacon, broken into pieces
Instructions
In a 4 quart pot over high heat 1 tablespoon oil and place the shrimp on the bottom of the pot, then as soon as each one is pink on the side that is down, turn them (as soon as I placed all the ship, I was turning the first ones I put in) when the second side is pink and the shrimp are still grey in the middle remove all the shrimp to a bowl to rest, they will finish cooking in the soup.
Add oil if needed to the pot and saute the onion and celery for a minute.
Add the butter and flour and stir to coat the vegetables then slowly pour in the chicken broth and stir so that the broth thickens and stays smooth.
Mix the cornstarch with milk/cream and slowly pour this in and keep stirring the chowder so it remains thick and creamy.
Add in the corn and peppers.
Then stir in the paprika, oregano, celery salt. and crushed red pepper.
Add in the shrimp and stir everything well.
Stir in 3 slices of crumbled bacon.
Serve and top with remaining bacon pieces.
Notes
keep in mind, do not boil cream soups. Simmer with small bubbles is ok, but not more or cream soups separate and can become grainy.
If you want the meal heartier, add 1-2 peeled, diced potatoes.