This cornbread recipe is moist, delicious, and the anytime side dish that is fantastic with homemade honey butter….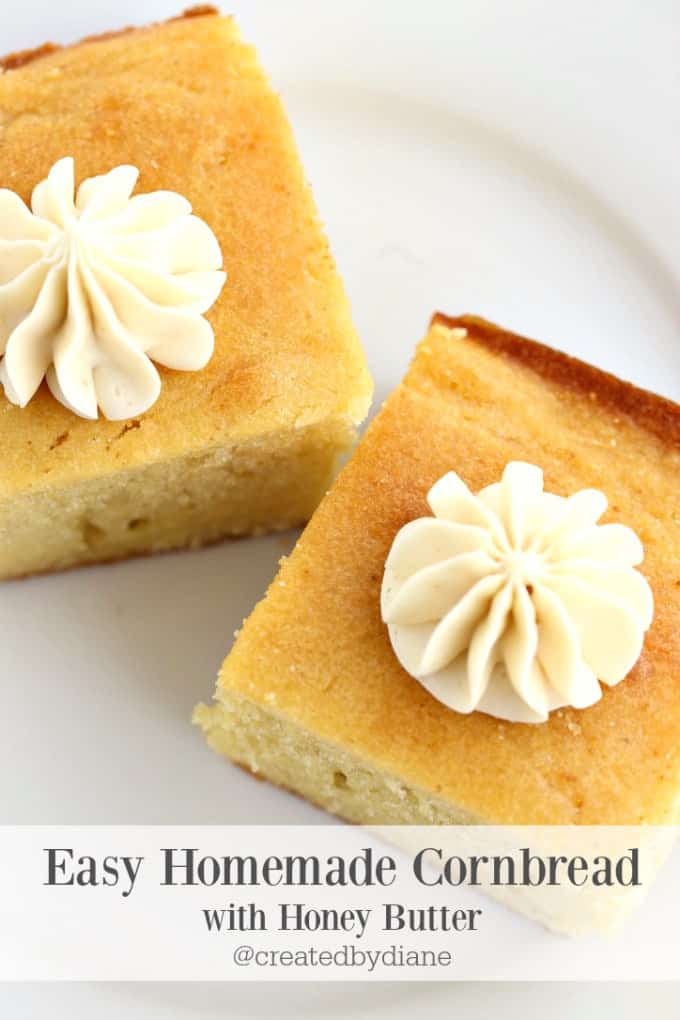 I have always loved cornbread but I don't like when it's dry and crumbly and makes me reach for a glass of water at the first bite, I like it when cornbread is moist on its own… and yes I do like it slathered in butter, be it regular or honey butter…
Let's talk about the honey butter …
the first thing I think of when I think of or eat honey butter is my husband.
When we were dating we would grab a bite to eat at a place that served bread sticks with honey butter… oh how we could devour baskets of breadsticks and TUBS of honey butter, it's no wonder they served small little tubs of honey butter if they were bigger I may have picked it up and licked it!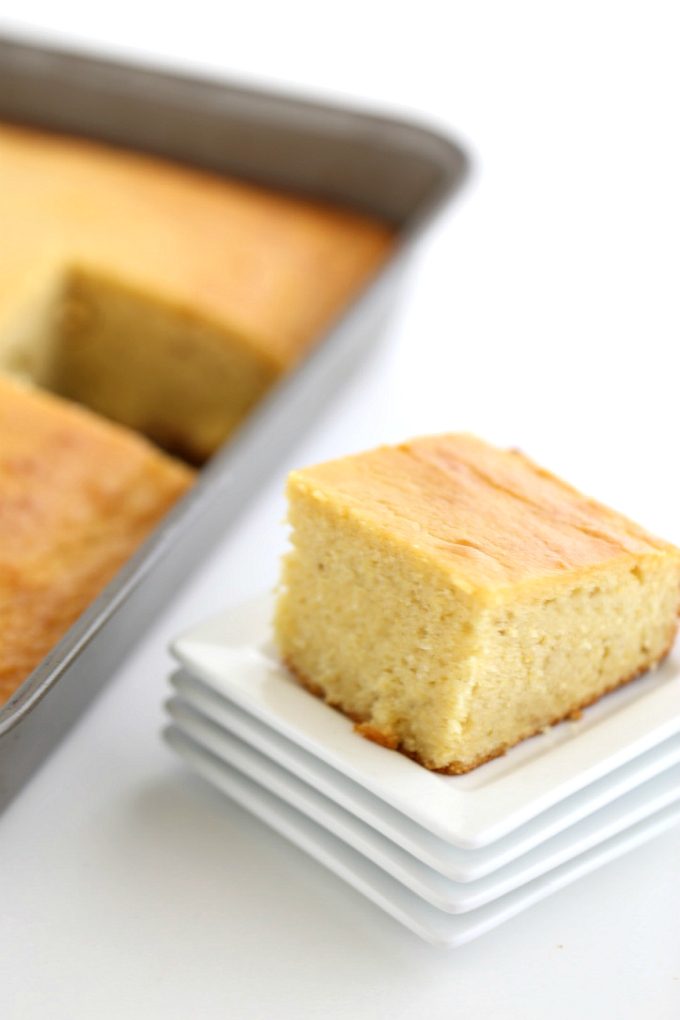 I would go crazy when my mom would make cornbread when I was young. I often search our cornbread muffins when looking over the shelves of muffins at a store. But I BEG  you to try this recipe if you love cornbread. It's PERFECT and I made many many batches for it to be just right! Just the right amount of sweetness without it being sweet, buttery and moist without it being soggy, and I do love that it bakes up really high and that this recipe fills a 9×13 pan, which is perfect.
I'm sure I don't need me to tell you but when cornbread goes with, but I will mention it just in case you haven't served cornbread lately at BBQ's, perfect to bring as a side dish to a potluck, game day, and add in some jalapenos and it's great with Mexican food.
Now cornbread is great for an on the go breakfast item, perfect to serve with a salad at lunch and really it goes with SO many dinners. Grill up some beef or chicken and serve up a couple squares of cornbread and add a vegetable.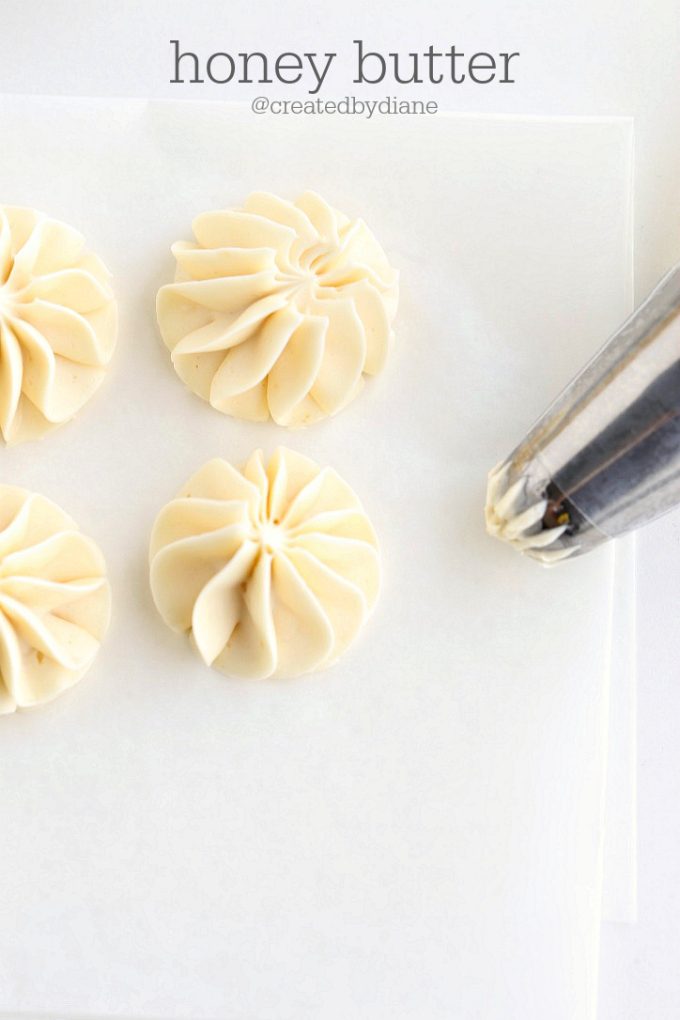 I give you all the info you need to make irresistible honey butter, be sure to print that recipe out as well as the cornbread recipe. They go perfectly together!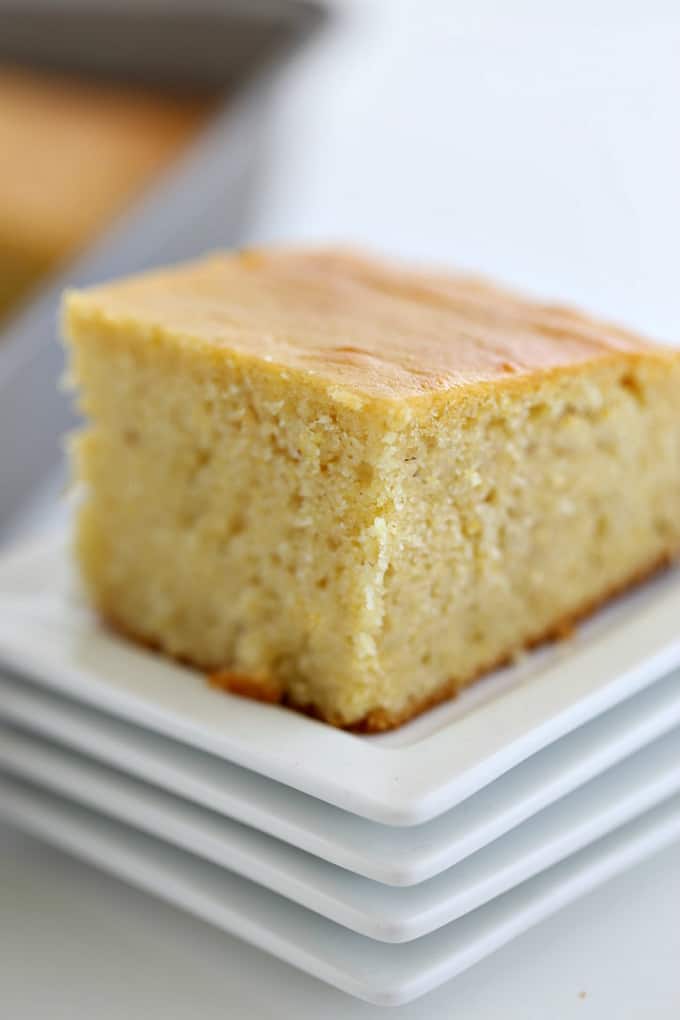 Honey Butter
sweet honey butter is perfect for slathering on bread, rolls, cornbread, muffins, croissants, and more.
Author:
Diane Schmidt, Created by Diane
Ingredients
1 cup butter (soft)
1/2 cup powdered sugar
2 tablespoons honey (you can add more honey as desired up to 1/2 cup I prefer 2T)
Instructions
For the butter to mix with the honey well, having the butter "soft" is key.
But you don't want it melted.
Allow butter to come to room temperature for an hour, then if needed to soften more put it in the microwave on defrost for 10 seconds.
In a bowl with a mixer beat butter with powdered sugar and honey.
You can serve it soft, or you can put the honey butter in a piping bag and pipe out pretty dollops of butter onto wax paper and place them in the fridge to firm up. If the butter is too soft to pipe, place the piping bag full of honey butter in the fridge for 5 minutes, the butter will firm up quickly.
Serve over cornbread.
Easy Homemade Cornbread with Honey Butter
Ingredients
1 cup cornmeal
3 cups flour
3/4 cup brown sugar
1 tablespoon baking powder
1/2 teaspoon salt
2/3 cup oil
1/3 cup melted butter
1 tablespoon honey
3 eggs + 2 yolks
2 1/2 cups whole milk
Instructions
Prepare a 13x9 baking pan by liberally greasing it with shortening (Crisco)
In a large bowl whisk cornmeal, flour, brown sugar, baking powder, and salt.
Add in oil, melted butter, honey, eggs, and yolks, and mix until it's all just combined and all dry ingredients are moistened, don't overmix.
Allow batter to rest for 5 minutes, this will allow the cornmeal to absorb moisture and help produce a moister cornbread.
Pour batter into the prepared pan.
Bake at 350° for 45 minutes or until a toothpick comes out clean. If your oven runs on the hot side test at 40 minutes.
Allow cornbread to cool for a few minutes before serving.