There is nothing quite like a big bowl of piping hot clam chowder to put a smile on your face. This easy and delicious recipe is bound to become your favorite soup year round.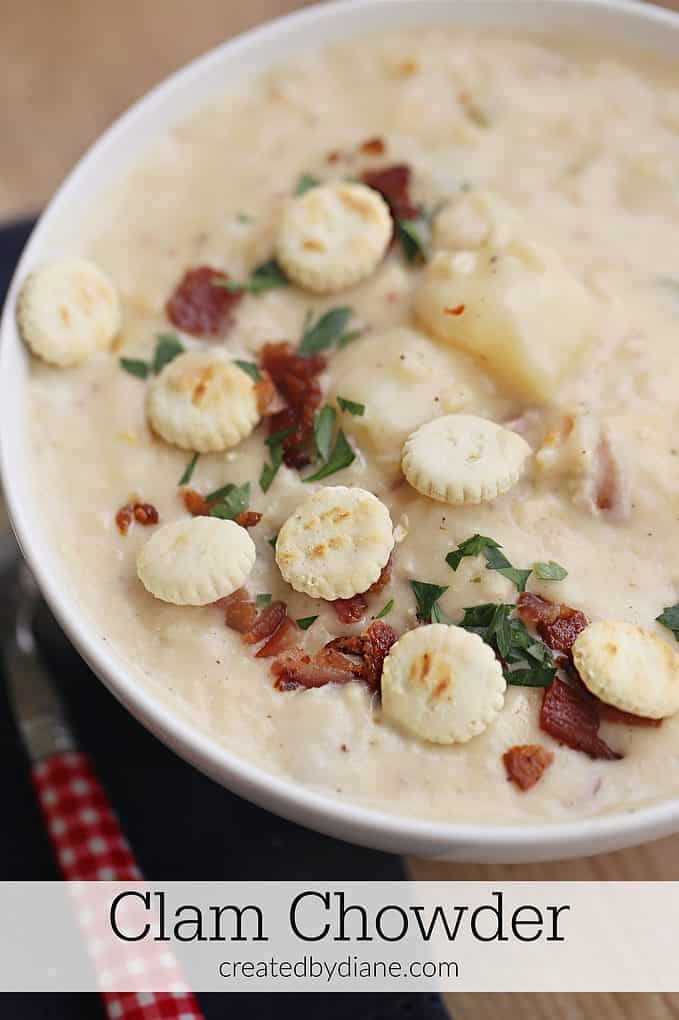 New England clam chowder has long been my favorite soup. I prefer the white clam chowder over the red Manhattan variety.
I give you options for using canned clams or fresh clams for this recipe. I often buy the large 51 oz canned clams at Costco. Which is about 3 lbs with liquid, so fresh 2 lbs would work.
If clam chowder is on the menu I typically order it. But as a true soup lover, I make it often and I'm so glad my whole family loves it as much as I do.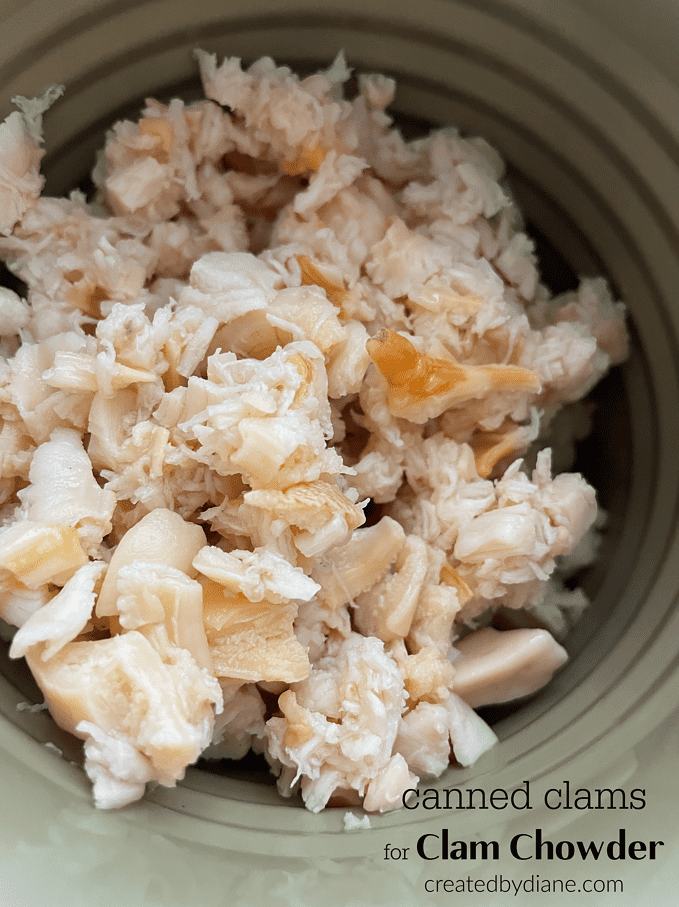 Ingredients list:
clams, canned or fresh
bacon
onion
celery
butter
flour
milk/cream
potatoes
chicken bouillon
salt and pepper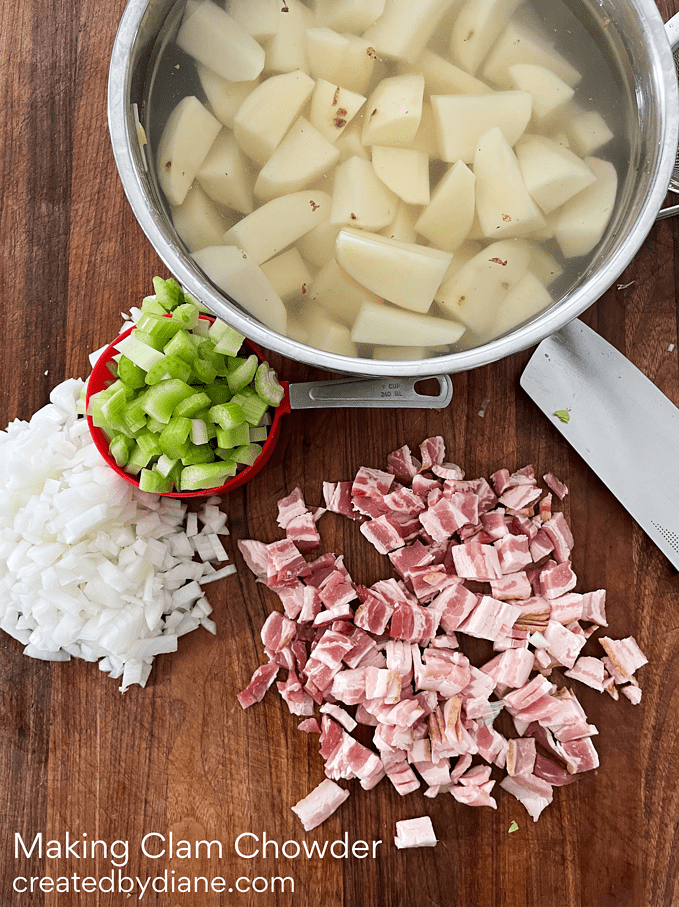 Main ingredients in chowders?
You'll often find seafood, corn, potatoes, onions, and milk in chowders. 
What can I add to make the soup richer and creamier?
Heavy cream will give it a thick silky texture, and adding butter will give it a richer flavor profile.
What is a good substitute for Clams?
Mushrooms if you're needing a non-seafood variety. You can make the soup and portion out a serving or more into a small pot to add mushrooms to that portion and then add the clams to the rest of the soup if you have people with dietary restrictions.
What to serve with Clam Chowder?
It's a meal in itself, so a
Caesar Salad
, Baguette of bread, garlic bread, and oyster crackers are all great options to serve with this thick hearty soup.
What other flavors can be added to kick up Clam Chowder?
If you're looking for some spice in your chowder, add some crushed red pepper to the soup, or top your bowl with some hot sauce. A bit of Old Bay Seasoning is a fun option as well.
Add in a cup or two of frozen corn for more texture and a fun corn chowder taste.If you're looking for more veggies to add some finely slivered brussels sprouts are a great option.
If you're looking for a sweeter chowder, the corn will do that as well as adding a few diced carrots.
Add in a squeeze of fresh lemon for a nice zing!
You can't go wrong with topping chowder with more bacon, green onions, and oyster crackers, or add some roasted vegetables like carrots, asparagus, red peppers, or Brussels sprouts are all great options.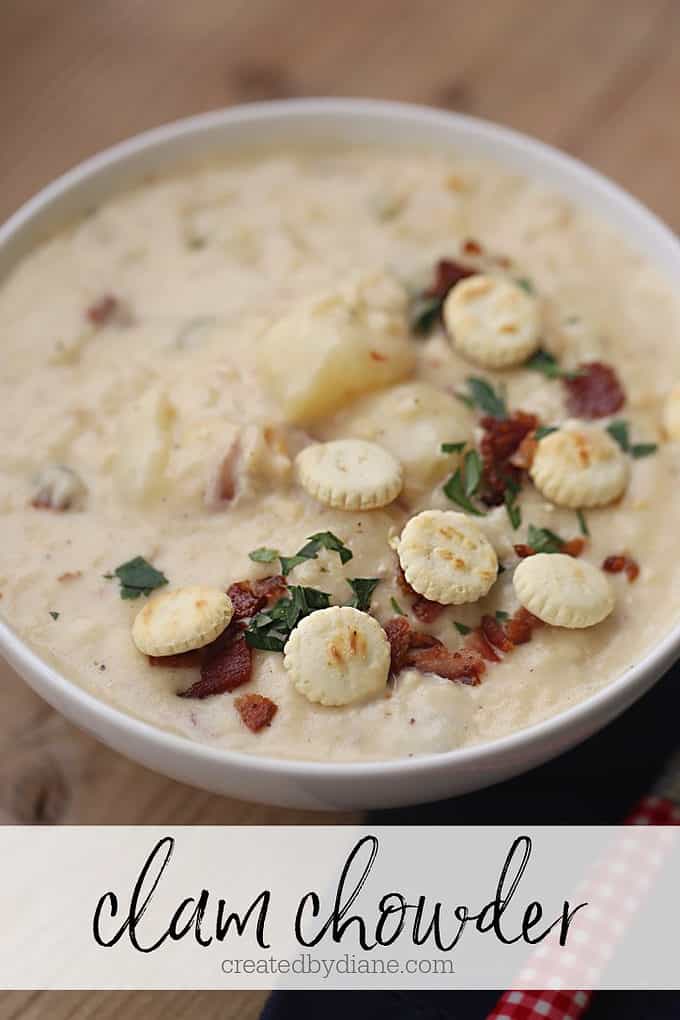 Clam Chowder
Thick and hearty New England Creamy Clam Chowder, flavored with bacon, onion,, clams, and potatoes for a soup that eats like a meal.
Author:
Diane Schmidt, Created by Diane
Recipe type:
Soup, Main Dish, Seafood
Ingredients
1-51 oz canned clams (I get the 3lb canned clams at Costco, you can buy smaller cans and use less if it's costly) or 2 lbs fresh diced clams soak in a cup or more of water with a ½ teaspoon salt.
8 oz bacon, chopped small
1 cup white onion, diced small
1 cup celery, diced small
3 tablespoons butter
3 tablespoon flour
1 quart (32 oz, 4 cups) whole milk (or half milk and half heavy cream)
6 cups peeled and diced potatoes
2 cups chicken broth (or water and 2-3 teaspoons chicken bouillon)
2-4 teaspoons chicken bouillon
1 teaspoon coarse kosher salt
1/2 teaspoon black pepper to taste.
Instructions
Drain canned clams and reserve juice for later, or save the juice if soaking fresh clams.
In a 5 quart pot.
Cook bacon in a tablespoon of oil.
Remove bacon and add onion and celery and stir to cook for 2-3 minutes.
Add flour and stir to combine.
Slowly pour in reserved clam juice and potatoes into the pot.
Potatoes should be under the liquid, if needed you can add a cup of water.
Cook potatoes until fork tender.
Add in the clams, and then slowly pour in the milk or a combination of milk and cream, keeping it at a simmer, not a full rolling boil, cream soups can separate if boiled.
Simmer until desired thickness.
Add in the cooked bacon, reserving some bacon for the top of the soup
Serve with oyster crackers or garlic bread, and fresh parsley is a nice touch too.