As the weather cools off at night one thing comes to mind. Soup! I love soup and this recipe is sure to win you over. Even if you're not a huge soup fan or know someone who prefers something "heartier" this is going to become a new favorite with all the delicious flavors of chicken parmesan in an easy to make soup ideal for cool weather, or to make a comforting meal anytime.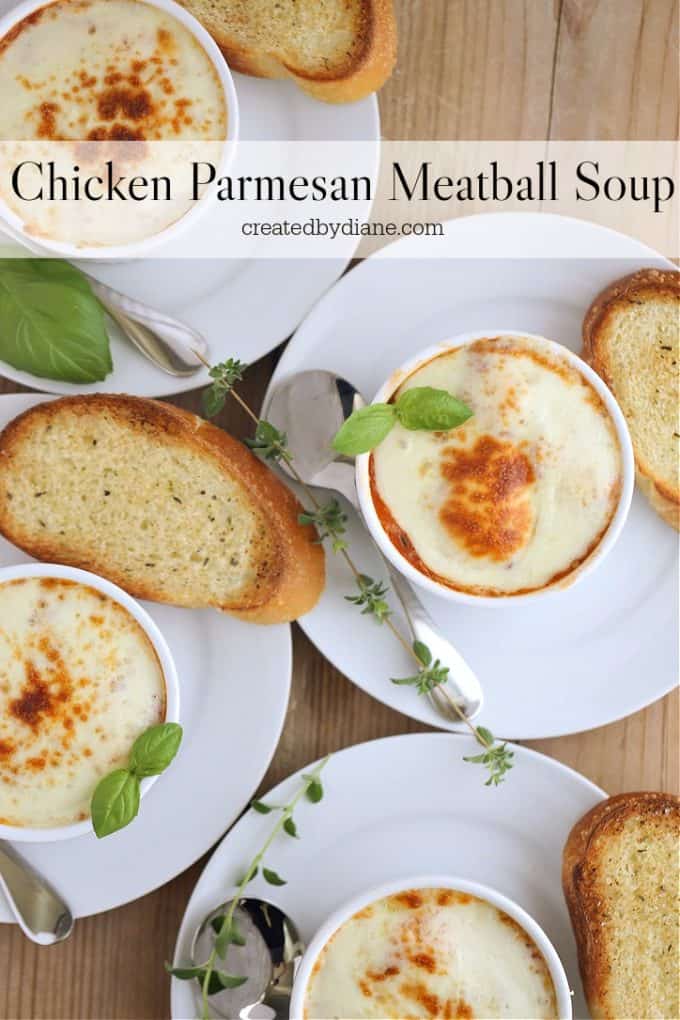 This soup begins with delicious chicken meatballs, but if you don't have ground chicken you can easily use cooked chicken, or pick up a rotisserie chicken, to add to make the meal with what you have or to shorten the cooking time. it'll be delicious!
This soup is made extra thick, just perfect for soup as a meal! 
There is some cornstarch added to thicken the broth and the addition of small pasta really makes it a meal. But there are so many options. Leave out the pasta if you're eating low-carb. 
The winner on this is a nice slice of mozzarella cheese browned over the top of the soup before serving, takes just 2 minutes until a hot broiler. Cut the cheese slightly smaller than the rim of the dish and it'll make for easy clean up.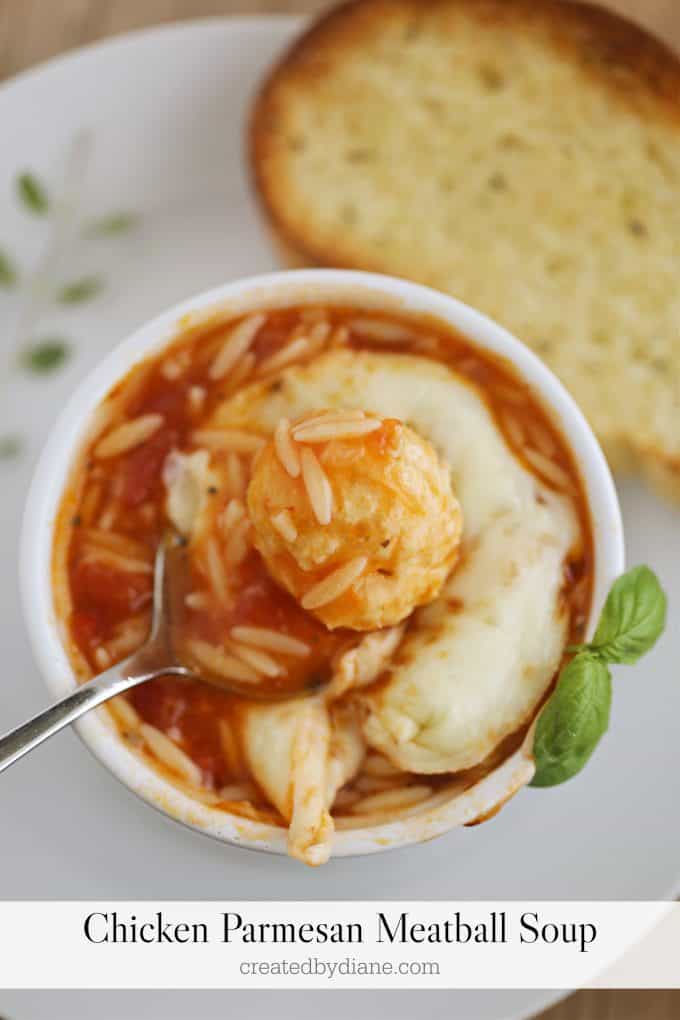 I used small bowls for serving, the soup is rich tasting and filling. 2 cups of soup is a nice serving. The recipe makes 4 servings. It can easily be multiplied for more servings.
It reheats well, and you can put it in flat leftover containers as it's so thick it won't slop around as if it were thin soup. Which everyone liked for leftovers, it makes them easy to reheat and eat.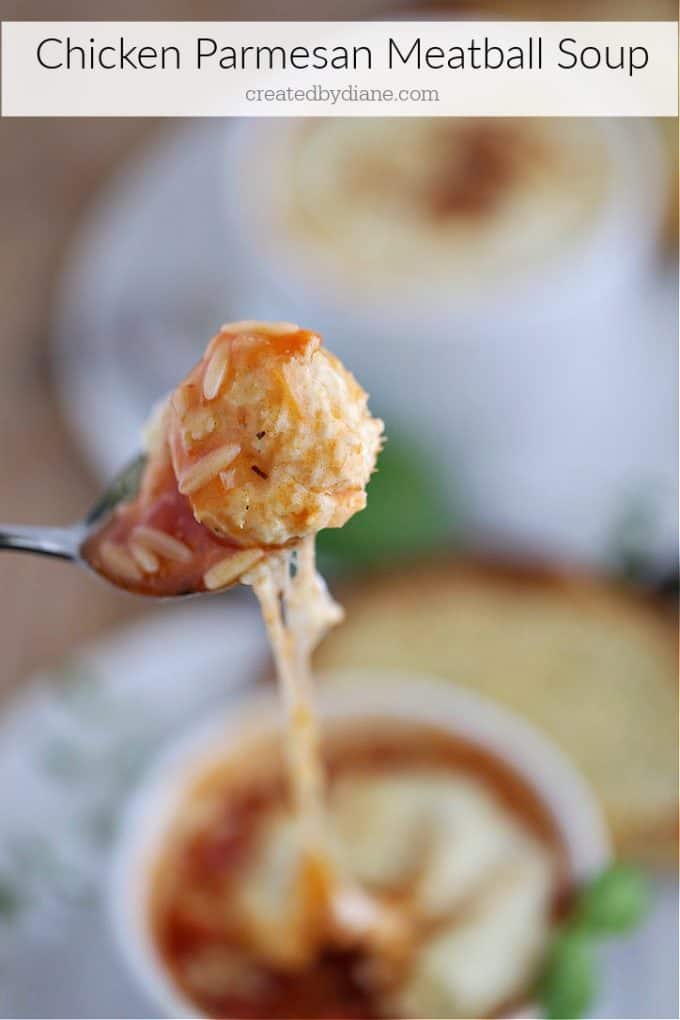 serve with garlic bread and how about a nice Caesar salad
based on my ever popular skillet chicken parmesan meatball recipe
You'll find more meatball recipes here.
If you prefer beef, just swap out gound beef for the chicken, you can also use beef broth in place of chicken broth. 
Now, if happen to be in the mood for shrimp, you can use shrimp in this dish in place of the meatballs making it a super fast meal any day of the week!
A vegetarian option for this soup would be sliced mushrooms or white beans.
Be sure to check out my Homemade Soup tips and recipes HERE.
Chicken Parmesan Meatball Soup
A delicious thick soup with chicken meatballs, pasta, and a cheesy tomato broth. It's the ultimate in comfort food.
Author:
Diane Schmidt, Created by Diane
Recipe type:
Soup, Main Dish
Cuisine:
American, Italian
Ingredients
1.5 lbs ground chicken
1 egg
3/4 cup panko breadcrumbs
1/4 cup Italian breadcrumbs
1/2 teaspoon dry oregano
1/2 onion diced
3 cloves garlic minced
1 tablespoon oil (olive oil or avocado oil)
6 cups chicken broth (or water and chicken bouillon)
1-14 oz can diced tomatoes
1/2 teaspoon oregano
2 tablespoons cornstarch mixed with 1/4 cup water (I like that this soup is super thick)
1 cup dry orzo pasta (or other small pasta)
slices of mozzarella cheese (4 for 4 servings)
Instructions
Begin by making the meatballs.
In a medium bowl add the ground chicken, egg, and both bread crumbs.
Mix until completely combined.
Roll into 1 tablespoon-sized meatballs, and place on a baking sheet. Bake at 375° for 15 minutes or until the internal temperature is 165°.
In a 5-quart pot or dutch oven, saute the onion and garlic in a tablespoon oil.
Add in the chicken broth, diced tomatoes, and oregano.
Bring the broth to a simmer (small bubbles) then slowly stir and drizzle in the cornstarch mixture, until thickened.
Add in the meatballs (that you cooked) and the pasta, and simmer on medium-low until the pasta is cooked about 8 minutes.
Ladle into oven-safe serving bowls and top with mozzarella cheese. Place them onto a baking sheet lined with parchment for easy cleanup.
Place under the broiler for 2-3 minutes or until the cheese is melted and golden,