If you're searching for a delicious new side dish this Corn Bread Pudding is just the ticket!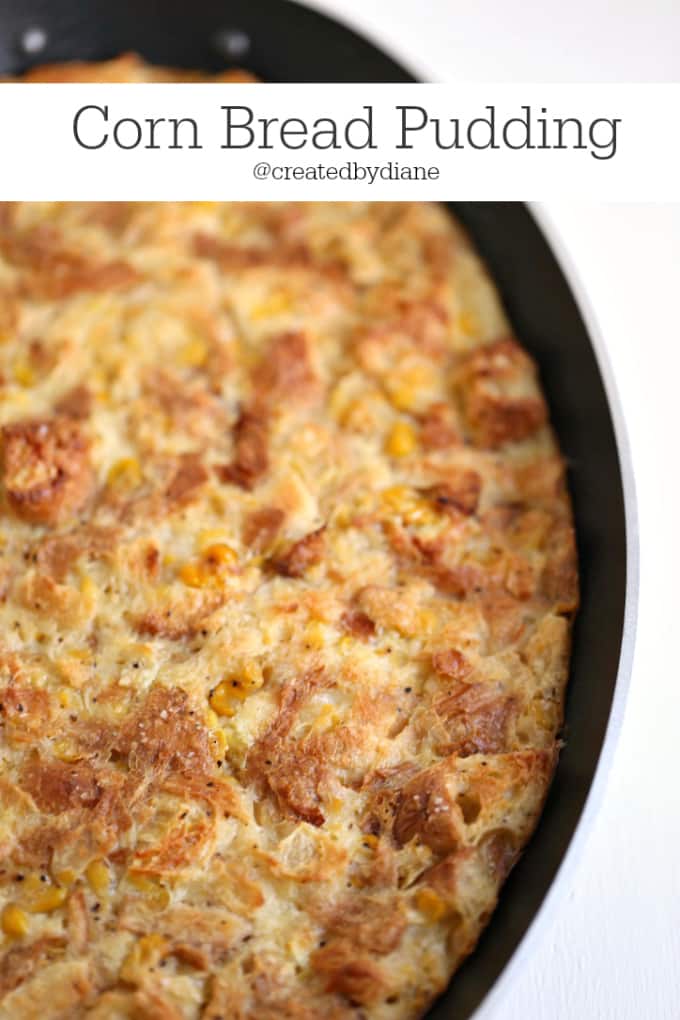 This savory bread pudding isn't made with cornbread, but with croissants. It's Corn Bread Pudding, no cornbread pudding…
keep reading you won't be disappointed,
this recipe is yummy!
Croissants are just so flaky and buttery… I'd love to eat them every single day, actually.
Search no more for something different to serve as a side dish for Holiday meals!
Because here's something different and delicious.
Sometimes you just need a change of pace from the "usual."
I love all the traditional side dishes as much as the next person, but sometimes you just need to change things up!
Of course, if you don't want to replace any of your favorites, just add this to the menu. I know you're going to love this as much as my family does.
I was really excited to create this recipe because it turned out exactly like I imagined.
I wanted to make something easy, too, something that didn't take a lot of steps or make too many extra dishes to wash.
It doesn't get any better than this!
I knew I had a winner when everyone asked for seconds – and thirds – and there wasn't a spoonful leftover.
Not a single bite!
I may need to double up on this one next time because I enjoy leftovers.
Oh, well, no luck this time. Lesson learned!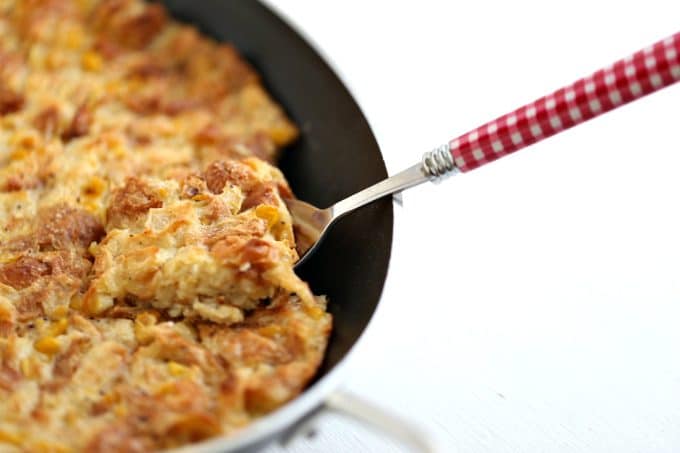 Most people think of bread pudding as a dessert. I know it's one of my favorites because it's so sweet and creamy.
Give my Apple Caramel Bread Pudding a try if you're in the mood for something wonderful!
Creamy and sweet… It's that same creaminess, but without all the sweetness, that makes it the star of the show as a SAVORY dish.
Eggs and milk form the creamy base, and the croissants add body and richness. The corn – the star ingredient here – adds a nice texture that's slightly sweet and nutty. 
Honestly, you'll wonder where this recipe has been all your life!
It's the ideal complement to festive holiday dinners – roasts, turkey, ham. I'm sure the possibilities are endless. Just think of your favorite meals and imagine this served alongside.
Even an ordinary meal becomes extraordinary with this added to the menu.
This corn bread pudding could even be served as a vegetarian main meal with a crisp mixed green salad on the side. Filling and satisfying! Double the recipe and bake up of nicely thick if you want to serve it as a hearty main dish.
Now, if you're lucky enough to have any leftovers, try a dish of this corn bread pudding with a little real maple syrup or honey drizzled over the top. It's not too sweet but is full of flavor.
Corn Bread Pudding
Ingredients
5 croissants
1 cup milk
2 eggs
1- 14 oz. can cream style corn ( or add 2 cups frozen corn)
2 tablespoons melted butter
1 teaspoon sugar
1/2 teaspoon salt
1/8 teaspoon black pepper.
Instructions
Cut croissants into one-inch pieces.
In a large bowl beat milk and eggs together.
Add in cream style corn, sugar, and melted butter, salt, pepper, and mix well.
Mix croissants into the corn mixture.
Spread into a buttered dish (I used a shallow oval dish an 8x8 square dish will work well too)
Bake at 350° for 45 minutes.