Savory Pumpkin Sauce with bacon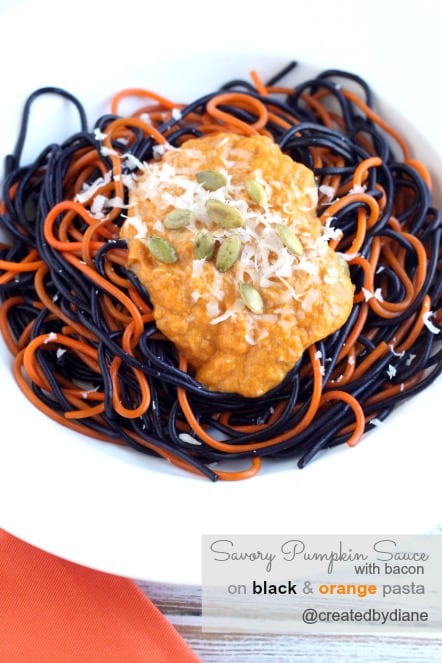 Fall is one of my favorite times of year…
I won't lie, it has a lot to do with PUMPKIN!
I look forward to making all things pumpkin this time of year. I  never know why it ever has to end.
All things pumpkin don't have to be all sweet, have you tried any savory pumpkin dishes?
I really like Pumpkin Mashed Potatoes they are a true favorite.
Good thing I don't have to only choose one favorite when it comes to pumpkin, it would be WAY too difficult to choose.
I could see the contest now…one bowl of pasta, one bowl of potatoes, another bowl of pasta, another bowl of potatoes. I'd be on a carb overload for days trying to choose.
I do really love carbs!
Since there is no reason to have to decide between the two, lets get started making this fun pasta and sauce.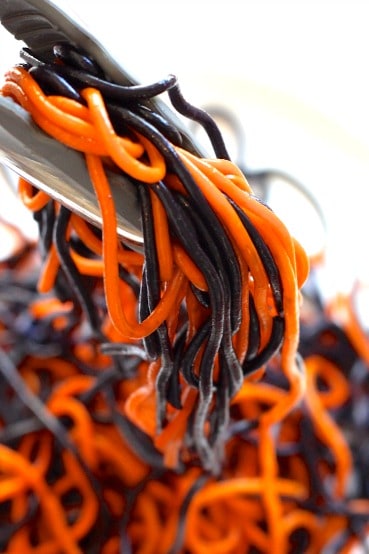 I colored  a pound of spaghetti with orange and black food coloring like I did with Red, White & Blue Spaghetti a few months ago.
I use Americolor food coloring and find that there is no after taste with this food coloring.
Savory Pumpkin Sauce with bacon
Ingredients
1 cup tomato sauce
1/2 cup pumpkin puree
1/2 cup greek yogurt (plain)
1/2 onion diced (about 1/2 cup)
1 tablespoon olive oil
4 cloves garlic minced
1 cup cooked crumbled bacon
1 cup chicken broth
1/4 teaspoon nutmeg
1/8 teaspoon crushed red pepper
Instructions
Saute onion and garlic in olive oil in skillet over medium heat.
Add in the bacon and heat thoroughly and heat it until it's crisp.
Add in tomato sauce, pumpkin, yogurt, chicken broth.
Bring to a slight boil on medium heat then turn on low, add nutmeg and crushed red pepper.
Add salt and pepper to taste.
Serve over pasta.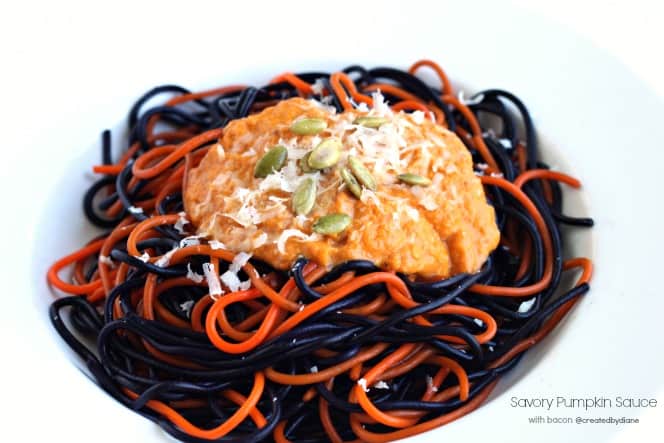 The bacon gives this sauce a slightly smokey flavor which I think is perfect  for this.
I garnished the dish with grated Romano Cheese and roasted shelled pumpkin seeds.
other pumpkin spice recipes you may like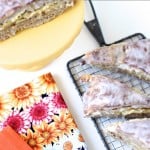 Pumpkin Spice Cheesecake Filled Scones