Thick chocolate cookies, baked to look like a scoop of ice cream, on a frosting filled cone with hot fudge and sprinkles, the perfect NO MELT hot fudge sundae!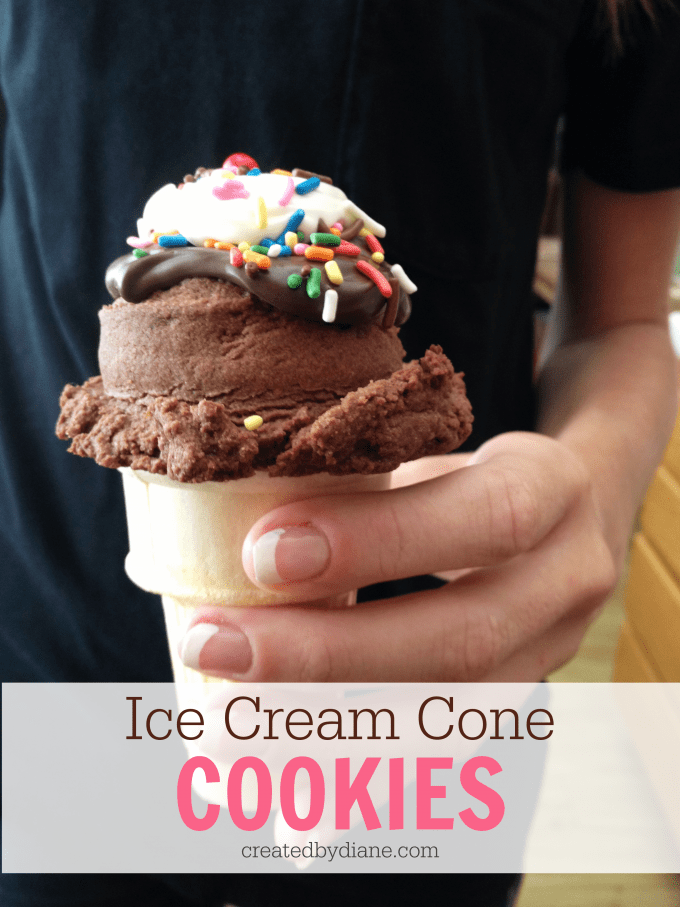 I laugh every time someone asks me if I read….
this book or that book.
I must be the only adult that doesn't read books.
It sure seems that way.
All these other adults are in book clubs and hurry to read the book to go to the "meeting" to discuss the book.
I call it a meeting because if there are no desserts served that is exactly what it is.
I prefer parties and movies!
Parties have lots of desserts and watching movies include lots of snacks.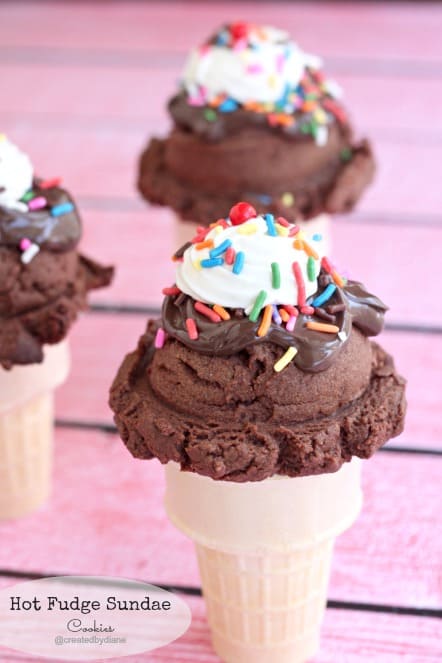 So I guess I'll never be like everyone else, and I'm just fine with that.
I prefer the sweets and a good flick to reading any day. I actually fall asleep when I read anything more than a few pages.
But don't tell my kids that, I encourage them to read and tell them how I enjoy it…it's a little white lie and it's not hurting them. But just to be on the safe side, let them think for a few more years I like reading.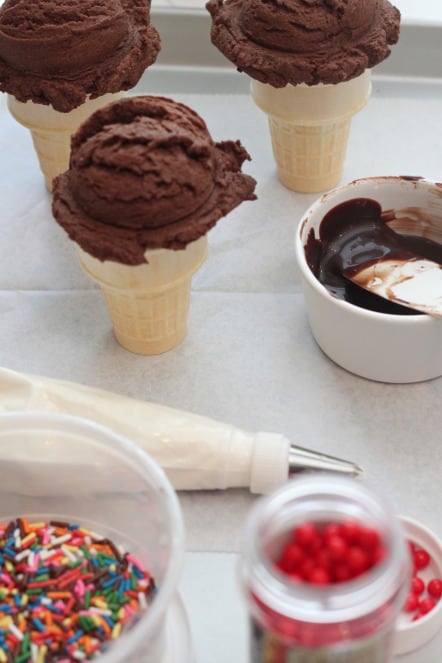 these would be FUN to have for a movie night or party don't you think?
They are cute and you could sit on the couch and eat them.
They can be prepared ahead of time, and there won't be any dripping ice cream running down your arm.
I've posted about a recipe for Chocolate Ice Cream Cone Cookies here. I also posted Vanilla Ice Cream Scoop Cookies here if you prefer vanilla cookies.
You will find how to make DELICIOUS Hot Fudge Sauce here, and my recipe for buttercream frosting here.
Alternatively, if you don't want to make the fudge or frosting from scratch, you could buy those items at the store, but really if you've never made hot fudge sauce well, you may WANT to…it's so yummy.
You will also need colored "jimmies" sprinkles and I found these cute red cherry candies for the tops.
Place some frosting inside the ice cream cones, place the cookies on top. Spread some room temperature hot fudge sauce on top of the cookies, then pipe on some frosting and add sprinkles and the cherry candy on top.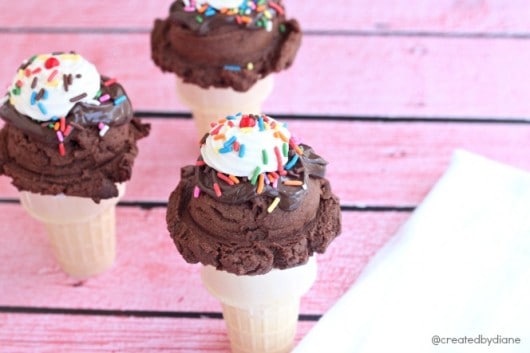 These may just be the more portable hot fudge sundaes EVER!
Well,

I don't know about you but I think they are so cute, someone should start making these and handing them out at drive-thru windows! That is for when we aren't home sitting around and reading or watching movies!