There is no need to wait until spring rolls around to make pretty dyed eggs, no need to buy a kit you probably have everything you need in your kitchen already.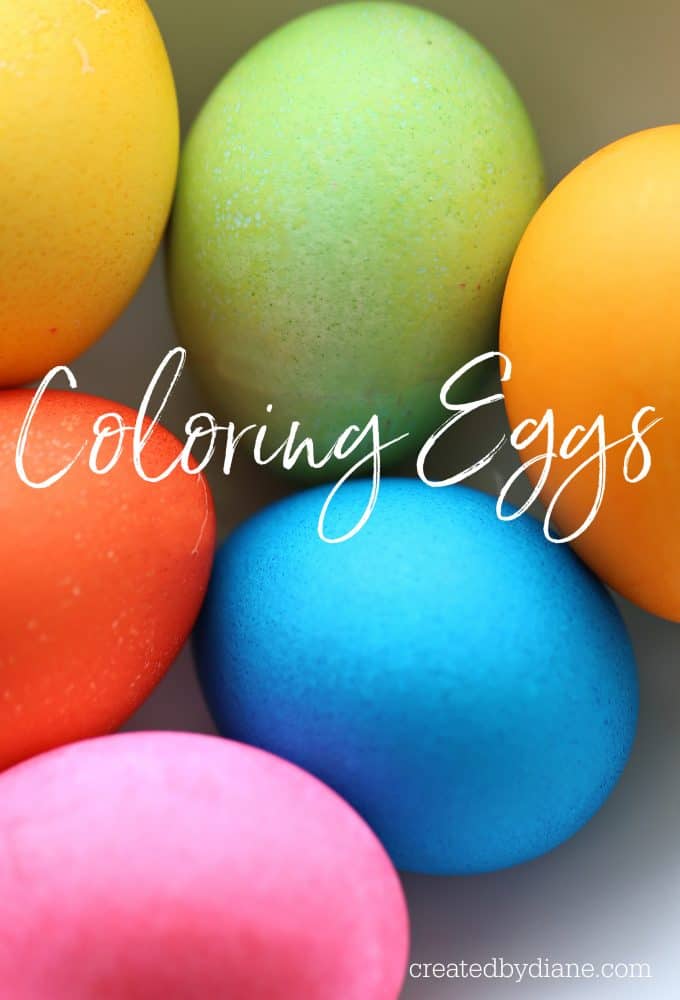 To begin you'll want to hard boil the eggs.
Then dying eggs with food color are only a couple steps away.
I have a couple of posts on hard boiling eggs, my go-to method is to use the instant pot, it's a set it and forget it method and I love it.
You can always use the traditional method on the stove. I'll give you tips for great results with that method as well.
Be sure to plunge the eggs into an ice bath.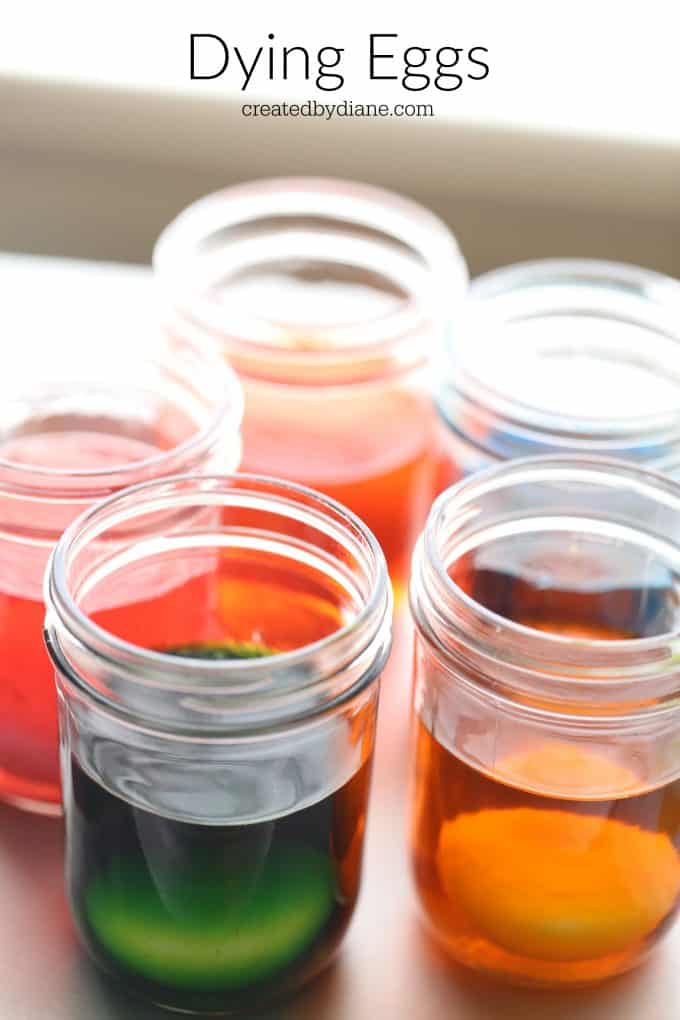 Then you'll need a few items:
Eggs -this is a given, right 🙂  You can color as many eggs as you'd like using the portions given the eggs don't absorb the water you can color many eggs with this method. Be sure the liquid covers the eggs completely, add a little more hot water if needed.
Container for dying each egg -I use 16 oz wide mouth glass jars, they allow enough room for when you place the egg in each container the liquid flows over each egg without overflowing or splashing out
Hot water -bring 1 cup of water into each jar/container
Vinegar -white distilled vinegar
food coloring -a variety of colors, or use one color and color each egg at a variety of times to create an ombre effect with the eggs.
I left my eggs in the jars for 2-3 minutes, you can leave them in longer for a deeper color, less time for more pastel coloring. Timing will depend on how concentrated the color you are using and often the shade of color lighter colors like yellow might need a minute longer while blue seems vibrant early.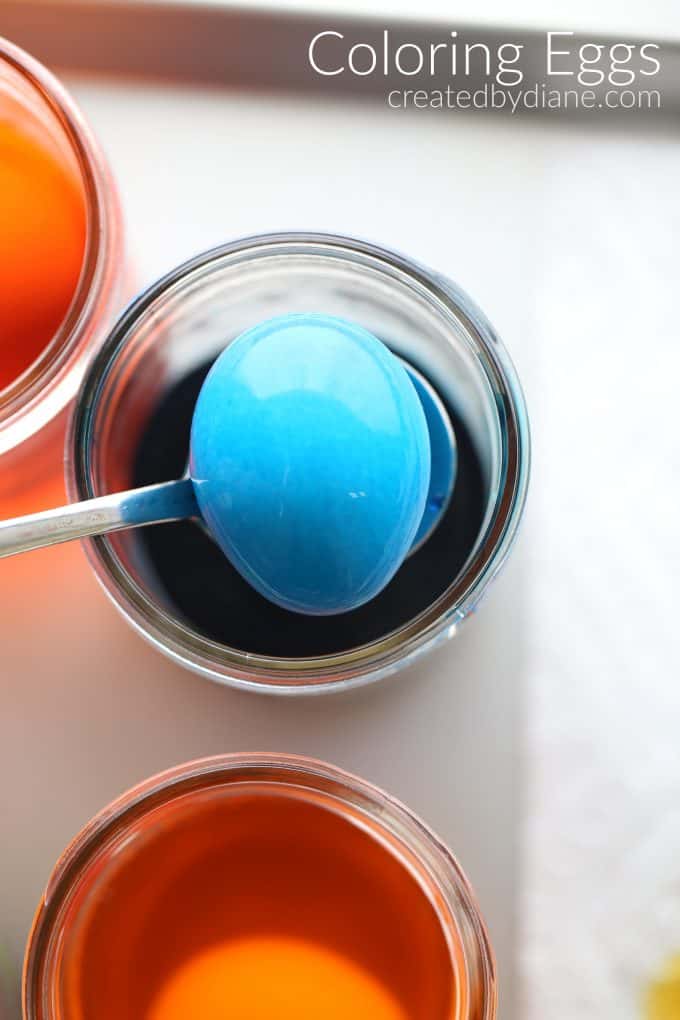 This post is all about eggs, including recipes.
This post is about Instant Pot Eggs (pressure cooking eggs). This is the Instant Pot I use, be sure to check out my other Instant Pot Recipes.
If you want to color the eggs and not the shells, take a look at these. This is great if you want to dye deviled eggs. The color possibilities are endless!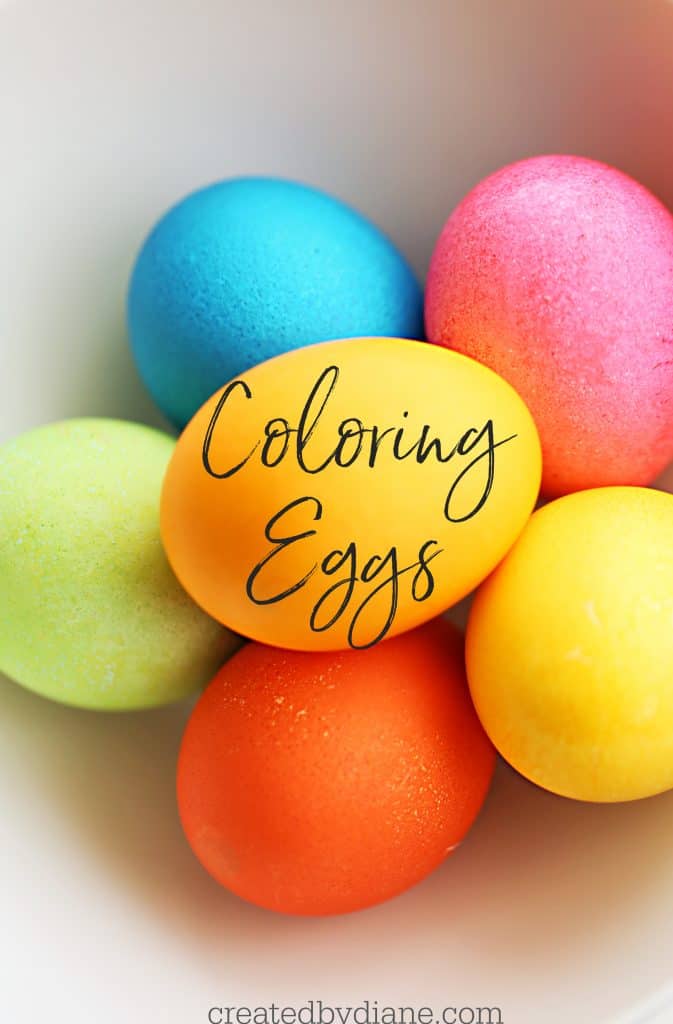 Easter egg coloring is not only fun, there is nothing quite like opening your refrigerator and seeing a whole array of beautiful colored eggs.
Why do you use vinegar when coloring eggs?
It helps intensify the colors, so the eggs look brighter.
Can you use apple cider vinegar instead of clean distilled white vinegar?
Yes, but it may affect the color as apple cider vinegar has a color.

When you remove the eggs from the coloring, just blot them on a paper towel to dry them and keep the mess to a minimum.
What can you use instead of food coloring to dye eggs?
I've used beets to color the egg white, and beets are so intense in color they will have no trouble coloring the eggshells. I have seen other use spinach, turmeric, saffron, carrots, red cabbage, blueberries, blackberries,  coffee, and tea with nice results. 
Dying Easter eggs has never been easier! With gorgeous results like these in minutes. 
I use concentrated gel food colors Chef's Masters colors and Americolor with great results.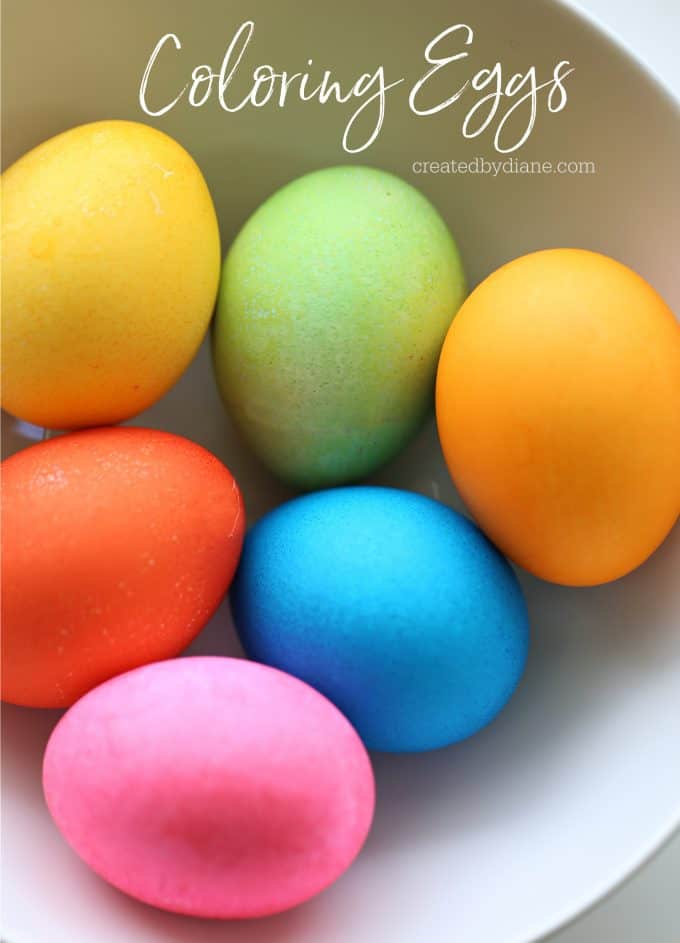 I don't care what "NEW" method, tool, or portion they come up with to color eggs, I like good old-fashioned food coloring!
I can't decide which is my favorite color, they really are all so pretty.
If you would like more egg recipes using hard-boiled eggs: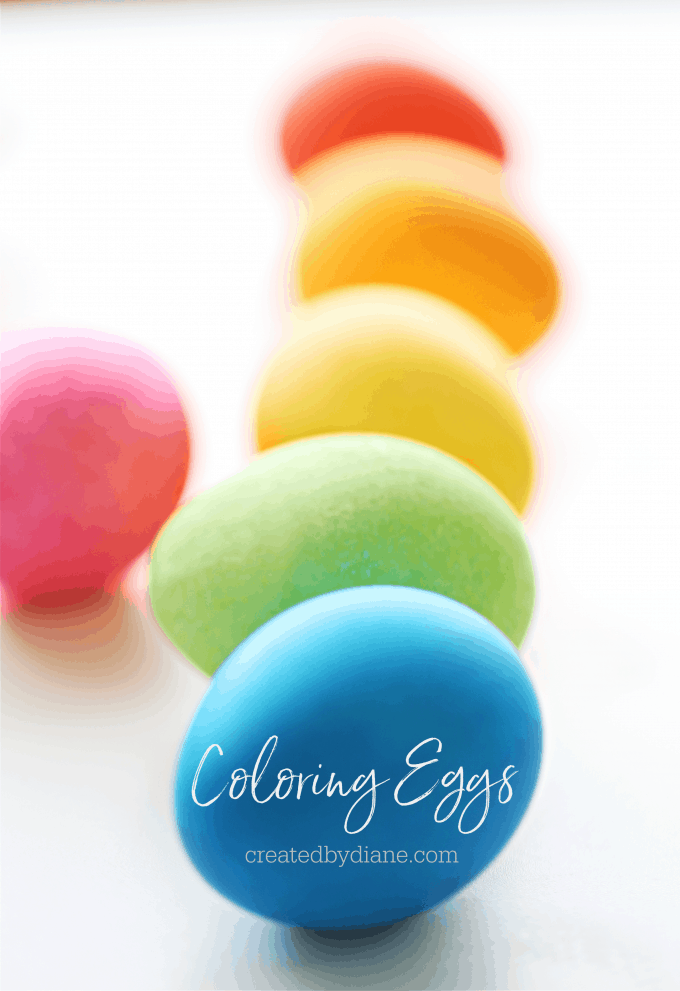 More Easter Recipes
Coloring Eggs
Coloring eggs for Easter is always fun and there is no need to buy a kit you probably have everything you need in your kitchen.
Author:
Diane Schmidt, Created by Diane
Recipe type:
Appetizer, Main Dish
Ingredients
For each color you want you'll need:
1 cup hot water
1 tablespoon white distilled vinegar
1/2 teaspoon food color (I use concentrated gel colors, any food color will work, you may need to add more for the desired color)
I suggest using a 2 cup container so there is room for each egg in the cup. I use 16 oz wide mouth glass canning jars.
Instructions
I started with 6 eggs, hard-boiled. I have lots of info on hard-boiled eggs, my preferred method is to cook them in the pressure cooker.
I used 6 colors, red, orange, pink, yellow, blue, and green.
In each jar, I placed the hot water, vinegar, and food coloring, I gently lowered an egg on a spoon into each container be careful not to splash the egg into the color to avoid a huge mess. Since there is plenty of space in the glass, it was mess-free.