If you like simple dishes, with fresh flavors this is going to become your new go-to item. Spring rolls are easy to assemble and can be filled with an array of fresh ingredients making them perfect to enjoy anytime, breakfast, lunch, snack time, and beyond.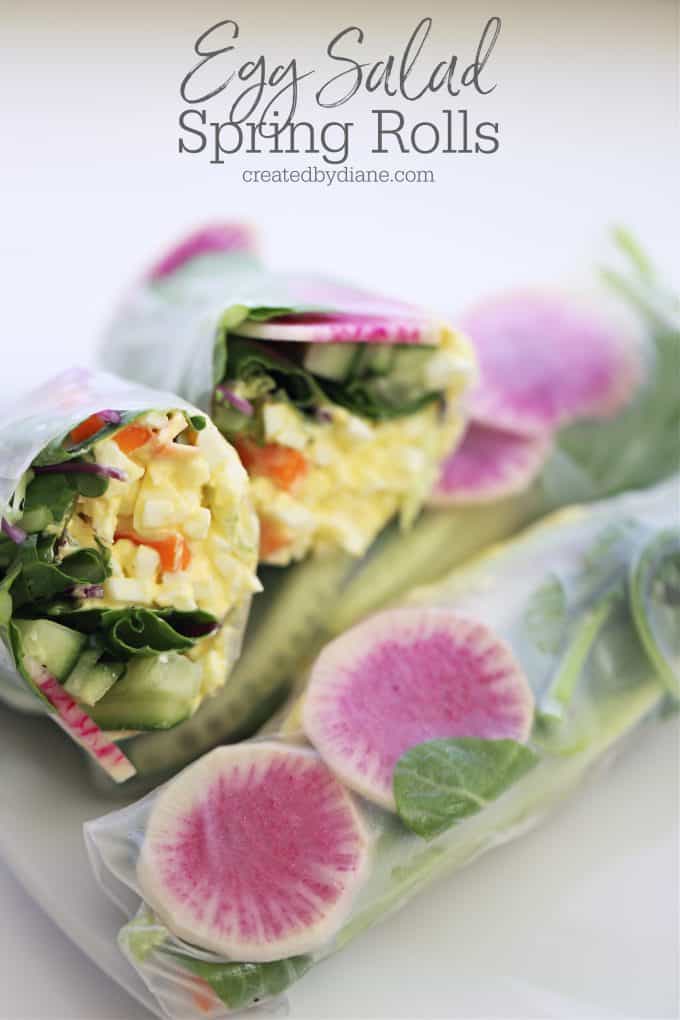 I can't get over just how pretty these simple spring rolls are.
The watermelon radishes are the star of the show, for their bright color, but if you're unable to find them, they'll look just as pretty with orange carrots and some greens popping out or you may use thinly sliced regular radishes if you choose.
Get all my tips on making egg salad.
This post on Instant Pot Hard Boiled Eggs.
And more recipes for Eggs here.
And if this recipe appeals to you may be more of my LOW-CARB recipes will too.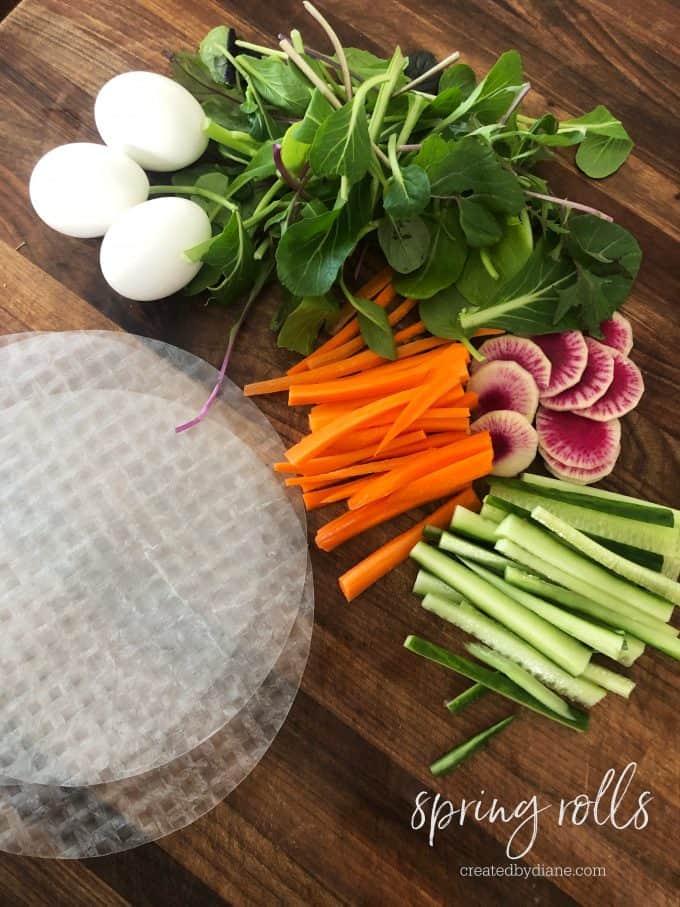 Tips on making spring rolls:
Gather all ingredients and have them ready to go, once you wet the rice paper you need to roll them up.
Place items that are cut into small pieces for easy eating, smaller pieces are easier to bite into than thick large pieces.
Use colorful ingredients to make not only great looking but great tasting spring rolls, be sure your ingredients are fresh and flavorful.
Soft leafy lettuce work well, fresh herbs are a great option, cucumber, carrot, radishes, and egg salad in this case, but other times can easily be substituted like tuna salad, seafood salad, chicken salad, chickpeas, add in quinoa for a fun addition, grilled zucchini or eggplant are other great options as well as grilled chicken.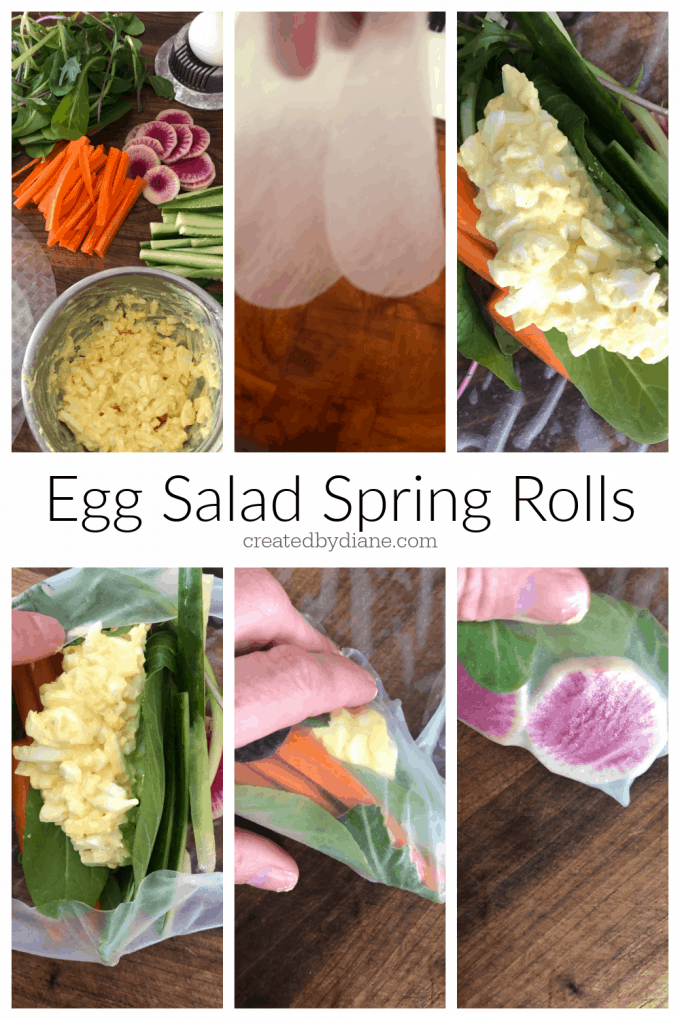 Steps to rolling spring roll
Place the rice paper sheet into a bowl or shallow plate of cold water, (warm or hot water can be used but they get stickier and are harder to work with, I prefer cool water) allow it to soak until it folds easily, but not super soft as when you begin to work with it it'll be mushier, stretch a lot and easily tear.
Place the wet rice paper sheet on a cutting board, fill it with the items, lettuce, carrot, cucumber, egg salad, radishes, whatever you want to show on the outside, place that item down first as that will be the smoothest area of the spring roll when it's rolled up. 
Fold the sides of the rice paper over the edges of the filling, then begin rolling it up like a burrito, tucking everything in nice and snug rolling and slightly stretching the rice paper so it's smooth.
As the water gets absorbed into the rice paper as you're filling and rolling it, the edges will stick to themselves and self-seal. 
Serve immediately or wrap in plastic wrap to store in the fridge until ready to serve. If you leave them unwrapped in the fridge they will dry out and get hard and chewy, not a desirable texture.
serve within 2 days for best texture and flavor.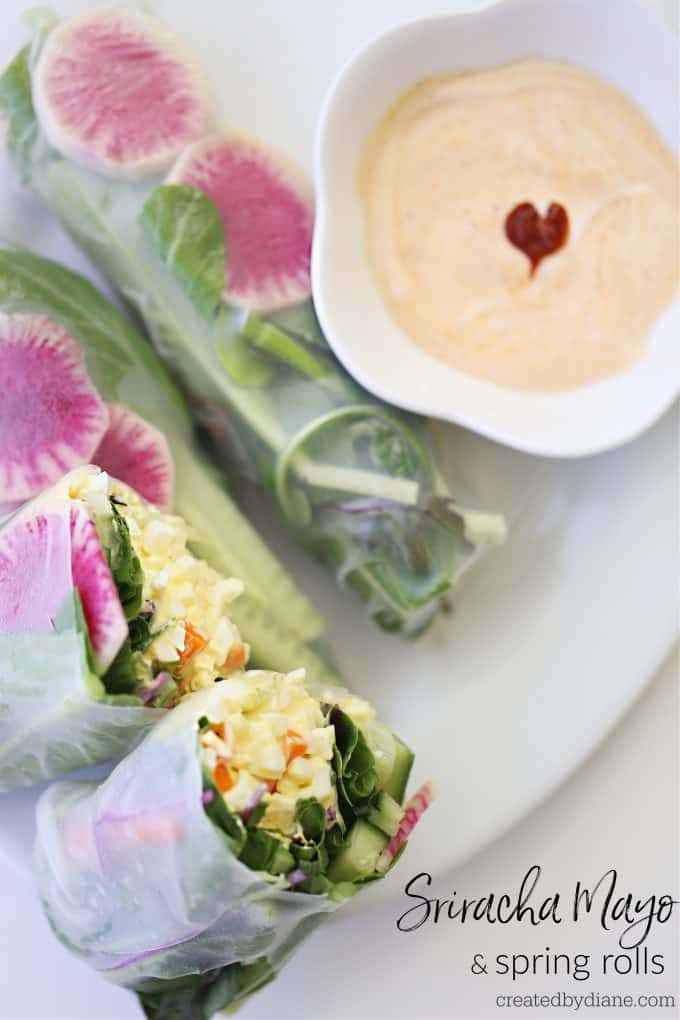 Wrap spring rolls in plastic wrap if you're not eating them right away, the rice paper will stay moist enough to not dry out, but not get soggy. I've had them in the fridge for 2 days with great results.
Sriracha Mayo
Sriracha mayo is a simple sauce and you only need two ingredients but you can add more if desired. Mix purchased mayo with sriracha sauce to taste, add lemon juice for a fun tangy kick, add salt and pepper for more savory flavor. You can also make homemade mayo find my recipe for homemade mayo here.
Items needed:
4 rice paper wraps
4-6 hard-boiled eggs
mayo
watermelon radishes, sliced thinly
leafy greens, soft greens work well for wrapping spring mix, spinach, and similar greens
carrots, cut into thin strips
cucumbers, cut into thin strips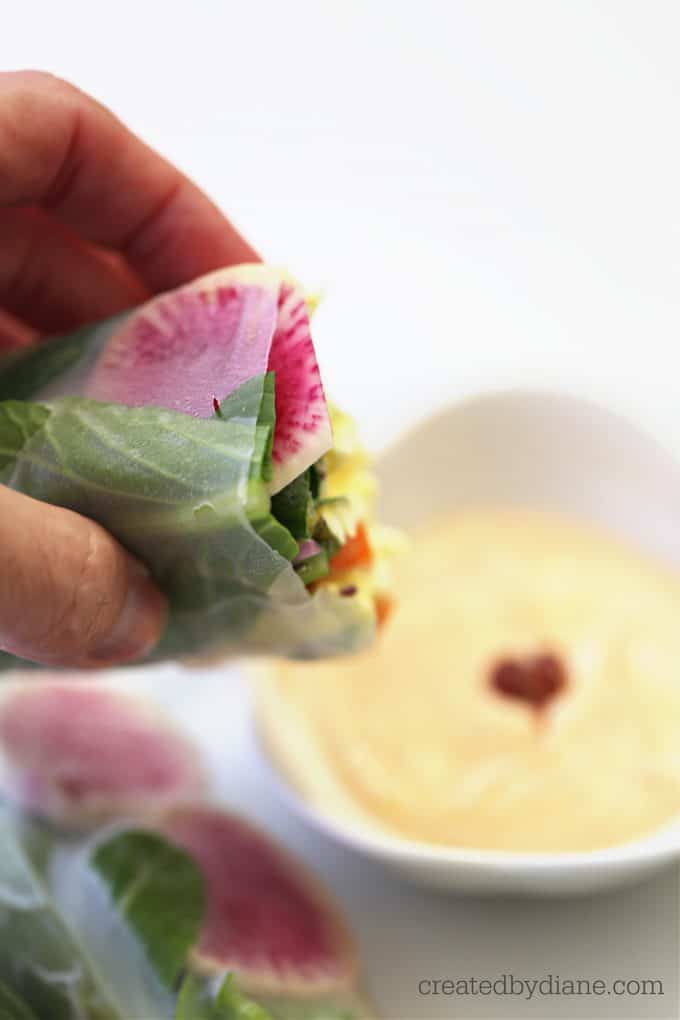 What else can I use besides watermelon radishes if I can't find them?
You can use regular radishes, green onions, or no onions.
What can I use in place of the egg salad?
You can use chicken salad, tuna salad, seafood salad, sliced hard-boiled eggs, chickpeas, quinoa, cooked shrimp, thinly sliced turkey, or roast beef (cold cut style), sliced avocado. Really any item you'd like can be added, these are highly customizable to your tastes, which is why I love them so much.
more fun recipes to try
Some more Asian Style Recipes
another fun Asian sauce to try with spring rolls, make them with chicken salad… YUM!
I use 1 +1/2 eggs per serving, the recipe is written to use 4-6 hard-boiled eggs, I use 6. But if you want smaller portions you can easily use 1 egg per wrapper.

Egg Salad Spring Rolls
A flavorful and simple wrap with rice paper, egg salad, and vegetables with a slightly spicy sauce you'll devour.
Author:
Diane Schmidt, Created by Diane
Recipe type:
Main Dish, Appetizer
Cuisine:
Vietnamese, American
Ingredients
4 rice paper wraps
4-6 hard-boiled eggs
1/4-1/3 cup mayonnaise
1/4 teaspoon dry or prepared mustard
salt and pepper, to taste
1 watermelon radish, sliced thinly
1- 1 1/2 cups leafy greens, soft greens work well for wrapping spring mix, or spinach.
1 medium carrot, cut into thin strips
1 6inch cucumber, cut into thin strips
4 rice paper wrappers (usually found in the Asian section of the grocery store)
Instructions
Make the eggs salad by combining the diced hard-boiled eggs with mayo, then adding some mustard, salt, and pepper.
Prepare all the vegetables and have everything ready on the counter lined up so it's easy to assemble the spring rolls.
Place cold water into a bowl big enough to lay down a rice paper wrapper.
When you're all ready place one wrapper at a time into the water and let it sit for a minute, once it's soft and pliable, remove it and place it on your work surface (I use a wood chopping block) then add in the ingredients, the first item you place on the wrapper will show on the outside, I place the watermelon radishes so you would see them., then the lettuce, egg salad, carrot, and cucumber.
Then wrap the ends over first, then roll it from the front to back so the wrapper sticks to itself.
Repeat until all 4 are wrapped.
Serve immediately or wrap in plastic wrap and refrigerate for up to two days.
This recipe can be easily multiplied to accommodate any amount of servings easily.
Sriracha Mayo
Sriracha mayo is creamy with a kick of spice perfect for Asian appetizers, dumplings, sandwiches and more,.
Author:
Diane Schmidt, Created by Diane
Recipe type:
Dip, Appetizer, Sauce
Ingredients
1/2 cup mayo
1 teaspoon sriracha, hot chili sauce
salt and pepper to taste
optional lemon juice
Instructions
Mix the mayo and sriracha together and add salt and pepper to taste, add a little lemon juice if you want a nice fresh lemoney flaovr.