Oh for the love of coconut, this 8″ coconut cake is not only topped with toasted coconut it's full of delicious coconut flavor and coconut added to the cake as well.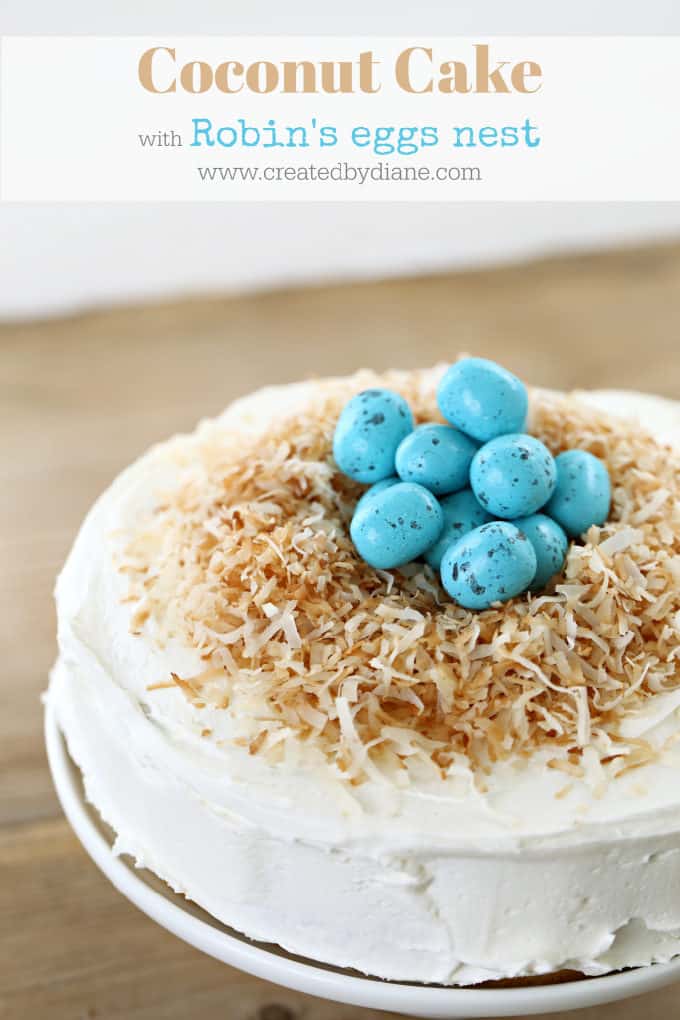 It's all decked out in a fun springtime Robin's nest with Robin Eggs, those blue eggs sure steal the show, any colored speckled egg candy will work.
Now, this may look like an Easter cake, but don't be fooled this cake is so delicious and can be served all year long, with eggs or not.
If I didn't have the eggs to place in the center, I would have just placed the coconut all around the edge and sprinkle some on top.
I love how crispy toasted coconut is, don't you ?!?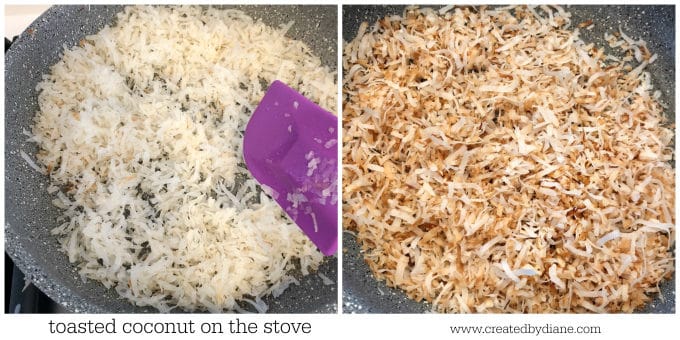 I toasted the coconut on low in a skillet on the stove, stirring while it toasted to be sure it doesn't burn. If you are doing more coconut or are more of an oven cooker, check out my post on How to toast coconut in the oven.
And if you're all about the coconut like me you may like: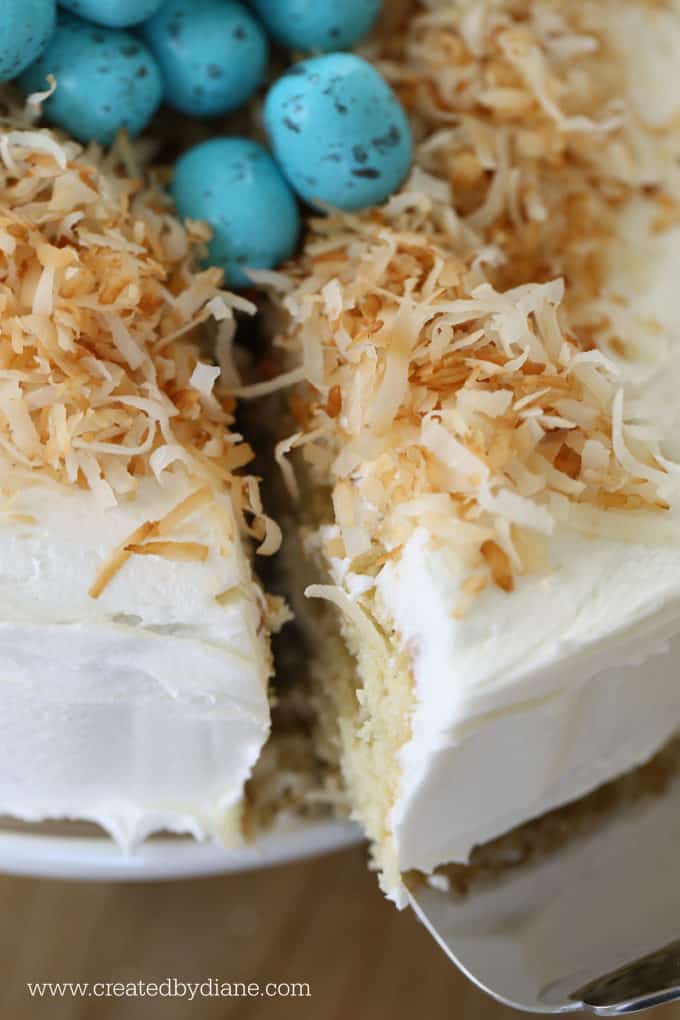 Whether you serve this at the end of a weeknight meal, or after a holiday meal, this will be requested again and again and since it's simple to make and decorate it's the perfect ANYTIME cake!
This is a single layer cake, baked in an 8″ round cake pan. I use a wet baking strip to ensure the cake bakes evenly without a domed top. If you don't have baking strips you can cut a strip of a towel, wet it and pin it around the pan, that is what I used to do.
 THESE are similar to the baking strips I now use these are better they are self-adjusting on size, the older version I have uses pins, either way, it helps to bake cakes nice and even.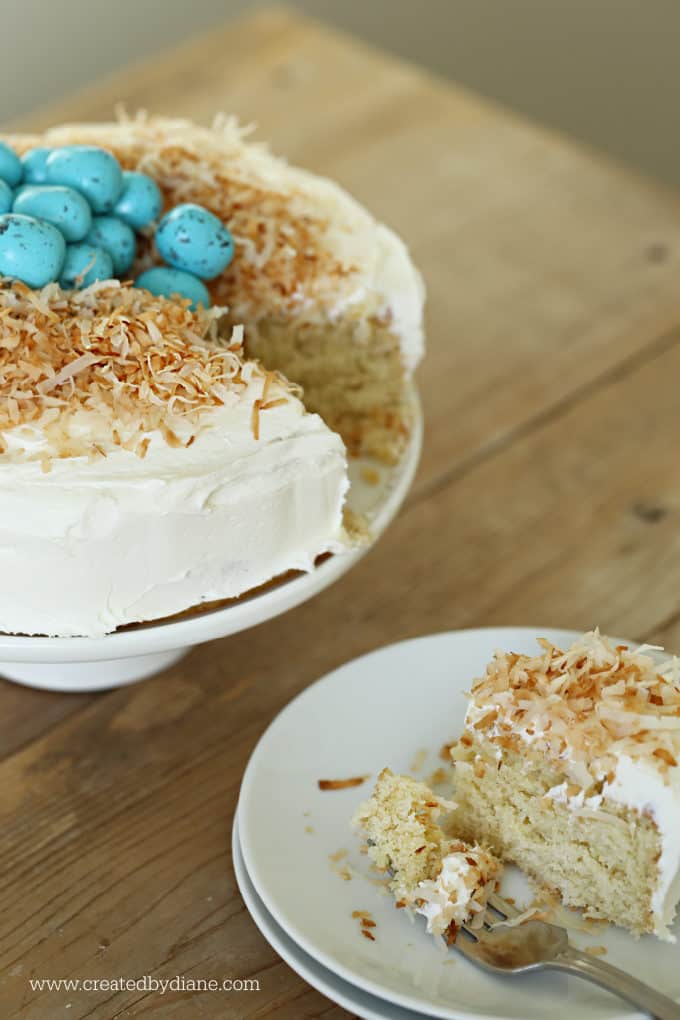 I could not wait to slice into this cake and grab the fork, the coconut aroma is amazing!
The texture of this cake is wonderful, not too light and fluffy and not overly dense either. It has lots of texture with the coconut inside the cake and the toasted coconut on top, it's a coconut lover dream!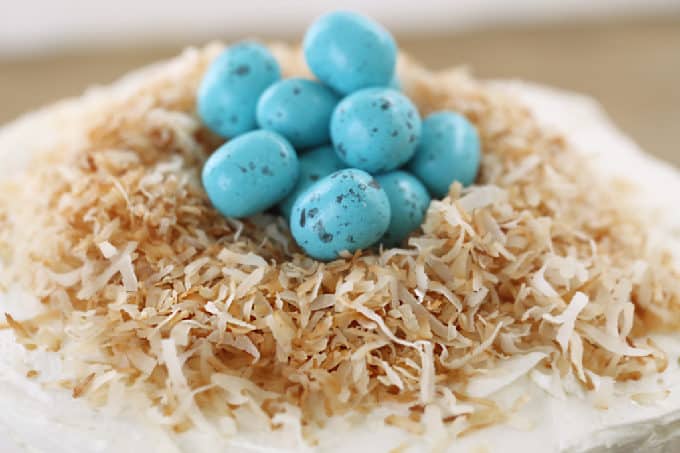 I used these beautiful Robin's egg candies in the store they are Kopper's Robin's Egg Marshmallows (they are candy coated chocolate covered marshmallows and come in a 5 oz package and I used half the package) Any speckled egg candy will look pretty on top of the toasted coconut " birds nest".
There are many varieties of speckled egg candies, malted milk balls, ccandy-coated chocolate eggs and I'm sure there are more. Jelly beans would be fun too.
More Easter/Spring Recipes:
Coconut Robin's Egg Nest Cake
Ingredients
1 cup granulated sugar
2 eggs
1-1/4 cups flour
1 1/2 teaspoon baking powder
1/2 cup milk
1/4 cup butter, melted and cooled
2 tablespoons oil (avocado or vegetable oil)
1 teaspoon vanilla extract
1 teaspoon coconut extract
1 cup gently packed sweetened shredded coconut
1 tablespoon cornstarch
Instructions
Preheat your oven to 350°.
In a medium bowl with a whisk, beat sugar and eggs until fluffy.
Add in flour, baking powder, milk, butter, oil, vanilla extract, and coconut extract.
With a knife place coconut on cutting board and chop it so it's not so thick and long, then in a small bowl mix the coconut with cornstarch, this will help ensure it separates and distributes throughout the cake when mixing and doesn't all sink to the bottom.
Stir the coconut in the cake batter.
Place the batter into the cake pan.
Place a wet baking strip or thin towel strip around the cake pan so the cake bakes evenly.
Bake the cake for 35-40 minutes testing it after 35 minutes, then each couple minutes until a toothpick comes out clean.
Allow cake to cool for 10 minutes in pan on a cooling rack.
Then turn the cake out onto a piece of wax paper, then flip cake onto a cooling rack to cool completely.
Coconut Buttercream Frosting and toasted coconut
Ingredients
1/2 cup butter
2 cups powdered sugar
1-2 tablespoons milk/heavy cream
1 teaspoon coconut extract
1-1/2 cups sweetened coconut ( for toasting to decorate cake)
1/2 cup speckled candy eggs (I used 11/2 a 5 oz container of Kopper's Robin's Egg Marshmallows)
Instructions
In the bowl of a mixer beat butter until smooth and light.
Add powdered sugar and begin to mix on low, add in milk or heavy cream and coconut extract and beat on high for a minute, then scrape the bowl to be sure all is mixed well and beat on high until it's whipped up fluffy and smooth.
In a skillet heat coconut on medium temperature and stir while toasting the coconut so it doesn't burn. When all the coconut is golden remove from heat. If you need to cool it quickly, place it on a baking sheet and put it in the fridge for it to chill, it will chill while you frost the cake, then you can top the cake with toasted coconut leaving a well to place candy eggs in the center.