This dish will KNOCK your socks OFF! It's uncomplicated, perfect for holiday breakfasts and brunch.
This Eggs Benedict Enchiladas Recipe is sponsored by Tyson Foods for TortillaLand tortillas, all opinions are my own.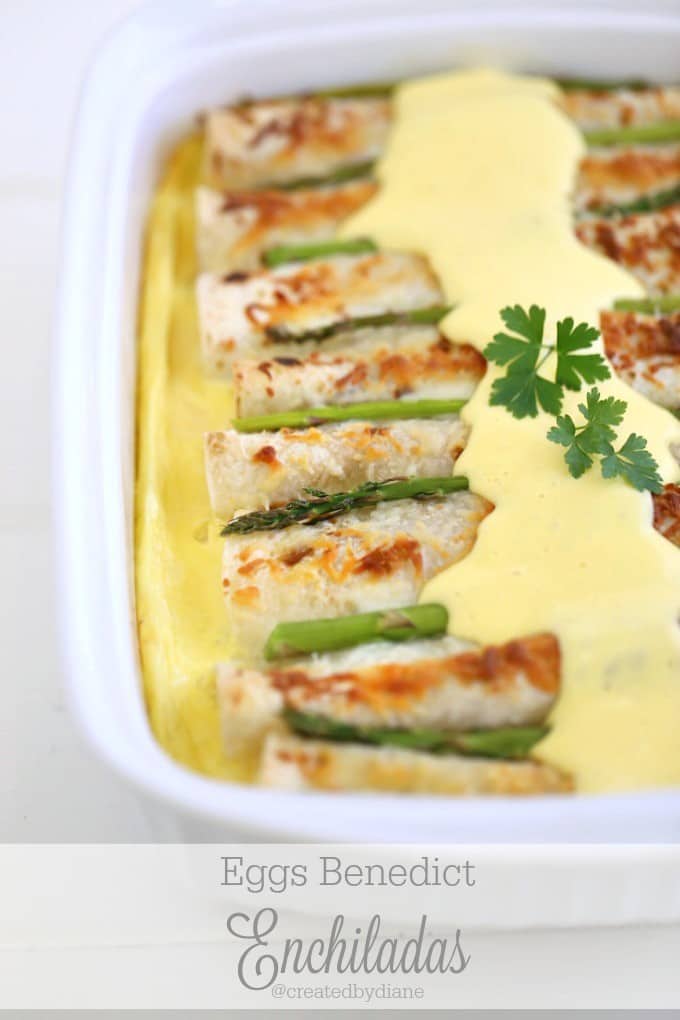 Eggs Benedict Enchiladas
Don't miss one delicious recipe and get my FREE e-cookbook click here!
Get ready for a fun twist on a classic breakfast item.
I have seen Eggs Benedict on menus for as long as I can remember, so whether you've enjoyed one or not it's a classic breakfast item.
This is one you will LOVE, it's easy to put together and will feed a crowd.
These enchiladas start with great ingredients and the hollandaise sauce is so easy, just wait until you see the secret to making it without any trouble.
Just a few minutes and this will be baking in the oven!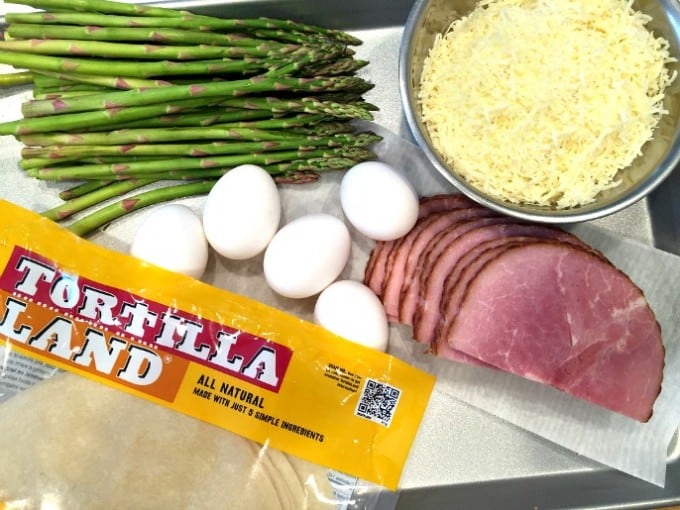 One of the best parts of this dish is the tortillas. TortillaLand tortillas come ready to cook. That means when you cook them, they taste like the FRESHEST tasting tortillas  you have ever eaten. Which I just LOVE. Another thing I LOVE is that they are available at Costco in the refrigerated section, now there are so many items at Costco I just love from the pretzel buns they carry to candy bars I pretend not to buy for myself and indulge in eating them all myself. I just love the wide aisles and plenty of stock they have!
Freshly made tortillas remind me of walking past some Mexican Restaurants in towns that hand out fresh tortillas out to passer-by-ers to enjoy. This recipe has a few shortcuts which are always a good thing in my book.
I love fresh tortillas. I love that I can enjoy them any time I like with TortillaLand tortillas. They make flour and corn tortillas. I love that they puff up as they cook. It's like a party in the pan!
I used flour tortillas for this recipes. It only takes a couple minutes to cook them up and be sure to make a few extra to snack on while you're preparing this dish! They are irresistible.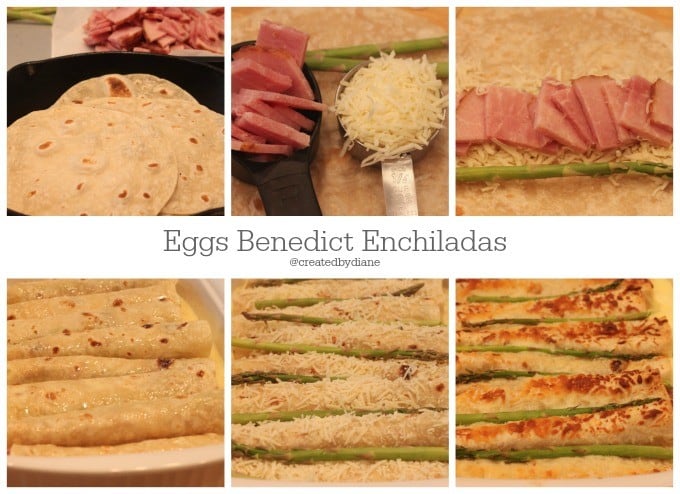 Begin by cooking the tortillas, then cut ham in pieces, get the other ingredients ready so the enchiladas are easy to wrap up with everything lined up in front of you, you'll also be using cheese. I used Monterey Jack Cheese for its milk flavor. And you'll be using fresh asparagus.
Inside each tortilla, place ham, cheese and asparagus. Roll them up and place filled tortillas into a baking dish I used a pan that was about 13×9.
Place a spear of asparagus on each side of the tortillas.
Whisk up the eggs with milk and pour the mixture over the top of the tortillas.
Top with a little more cheese and bake.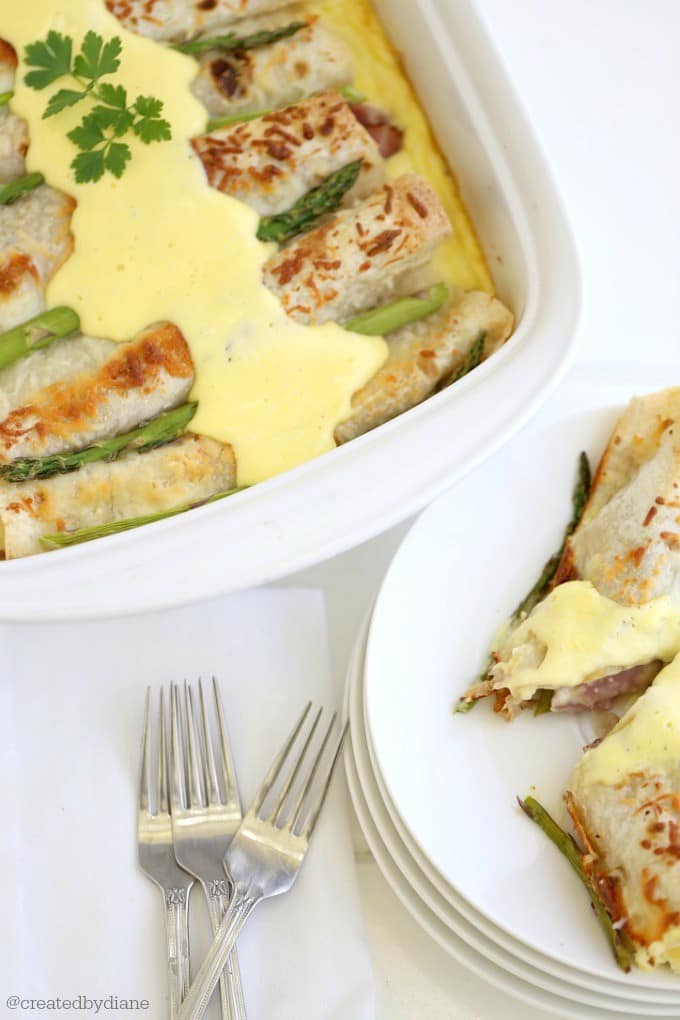 Now for the Hollandaise Sauce. Typically this sauce is whisked over hot water, but that is time-consuming and I like shortcuts. For this we're going to put the ingredients into a blender I find an immersion blender works great for small batches like this.  Make the sauce just before serving for best results. The sauce calls for egg yolks, you can add the egg whites to the egg mixture you pour over tortillas if you won't have another use for them.
Eggs Benedict Enchiladas
Ingredients
8 flour Tortilla Land Tortillas
8 oz + 1 oz for top Monterey Jack Cheese
1 lb cooked ham
½ lb Asparagus
6 eggs
1½ cups whole milk
Instructions
Preheat oven to 350°
Heat a skillet over medium heat and cook tortillas on each side until they are fully cooked.
Inside each tortilla wrap ¼ cup cheese (1oz), ⅓ cup ham (2 oz) and two spears of asparagus and roll each tortilla and place it into a 13x9 baking dish.
With an egg beater mix milk and eggs, you'll want to be sure the mixture is smooth and creamy and that there are not particles of yolk not mixed, so it will look smooth and creamy when baked.
Pour egg mixture over tortillas, top with another ¼ cup cheese (1oz)
Bake for 25- 30 minutes. You'll want to check the eggs, remove the pan from the oven as soon as the eggs are firm. Don't just set the timer and not check it until the end. I would start checking at 25 minutes (If you oven runs hot, test at 20 minutes)
Top with Hollandaise Sauce (Recipe is in the notes)
Notes
Hollandaise Sauce made with a blender (Immersion blender)
3 egg yolks (you could add the three egg whites to the mixture that is poured over the tortillas if you like)
1/4 teaspoon dry mustard
10 drops Tabasco sauce
1/2 cup butter (melted and hot)
In a tall container, add egg yolks, dry mustard and Tabasco sauce.
Blend for a few seconds.
Heat butter in the microwave until it's completely melted and hot, pot the butter in a large enough dish so it won't spill over.
Drizzle in the hot butter while the blender is running. The sauce will thicken immediately.
Make the sauce just as you will be serving so it's hot and smooth.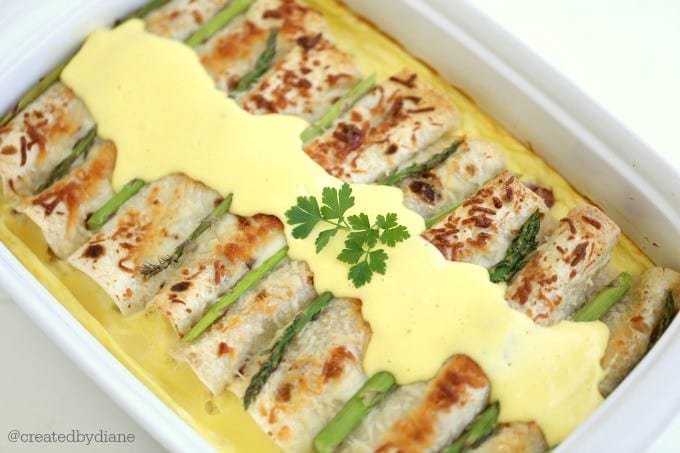 Enjoy!