Spritz butter cookies are always a hit and when they look as pretty as these spring poppies you'll want to make them fast! Spring is in full bloom and so is my kitchen! If you want some fun, easy and delicious glazed cookies take a look…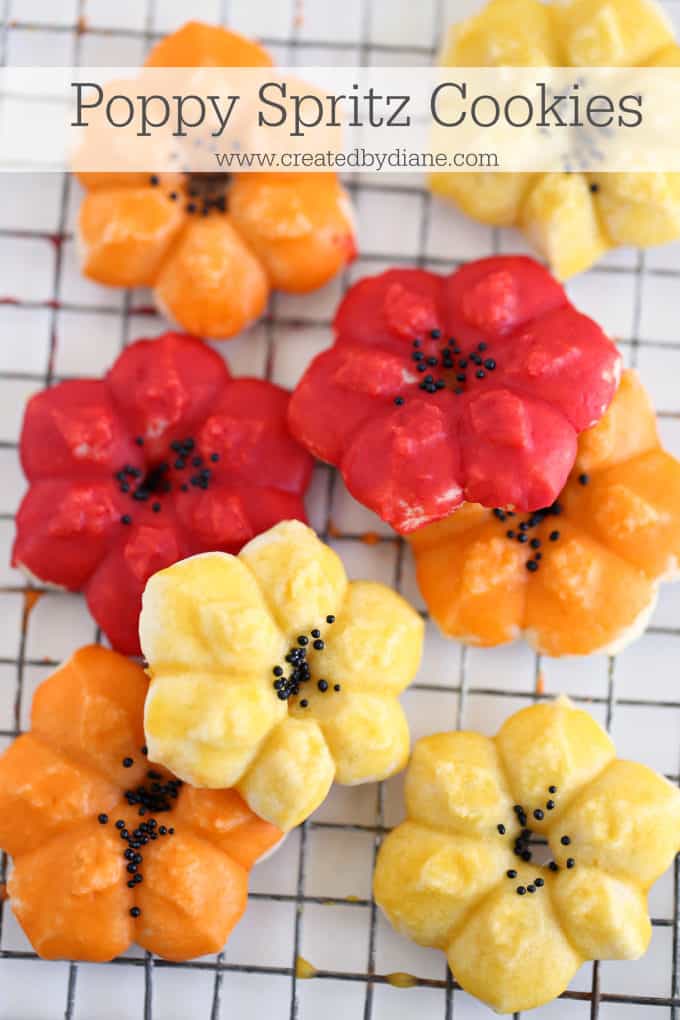 Spritz cookies are simple and delicious and you can make them into so many shapes, these poppy cookies are just the perfect cookie for spring!
These have simple icing and topped with poppy seeds to make them look even more amazing.
 There are so many things I love about these cookies,
they are easy, using a spritz cookie press you can make a lot of cookies quickly, no rolling and cutting.
the glaze is so fun, and oh so pretty and can be made in a variety of colors
they taste amazing, a yummy butter cookie that is light and delicate and practically melt in your mouth
I topped the cookies with black nonpareils, but you could use poppy seeds if you prefer either way they'll be great!
There really was no better time to make some pretty cookies if you ask me, these are poppies and since we're in super bloom here in Southern California it seemed fitting.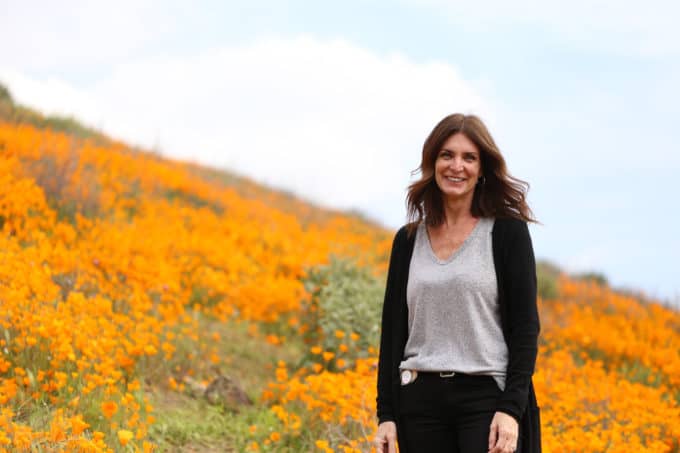 The California Poppy is the state flower (I live in California and seeing so many poppy flowers in bloom was just magical)
Walking through the poppy fields is just amazing,
the colors are so vibrant and the flowers so pretty, thanks to all the rain!
We've had two super- blooms since I've lived here, it's as if no one has ever seen flowers though, the freeways are jammed with cars, people holding up traffic slowing down while driving and taking photos they even had to close an area so to avoid all the problems (they said they aren't situated for Disneyland type traffic).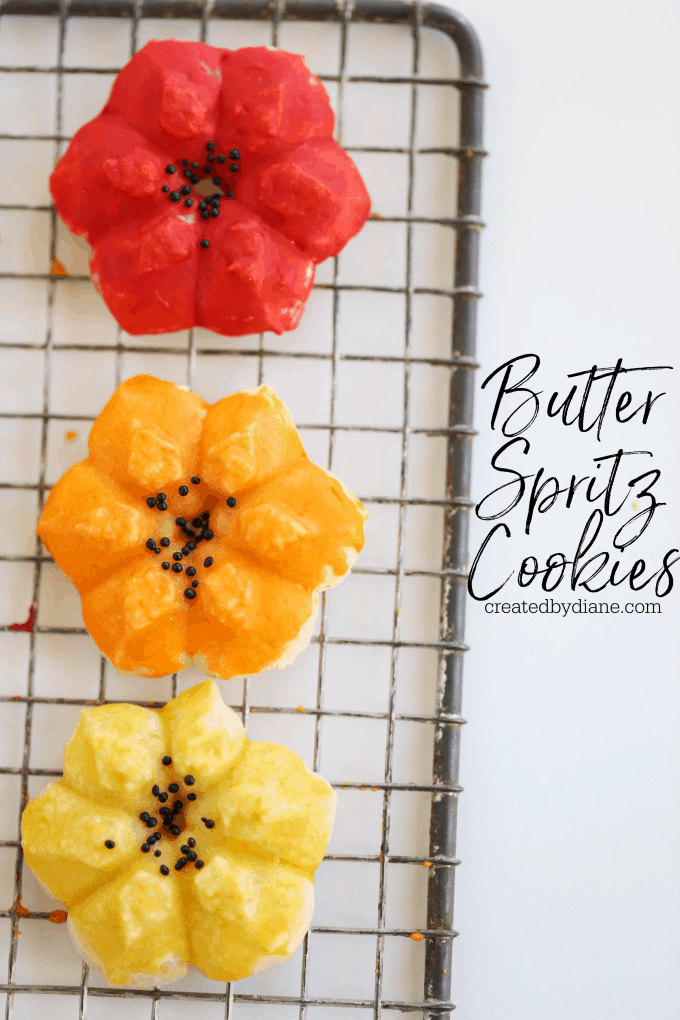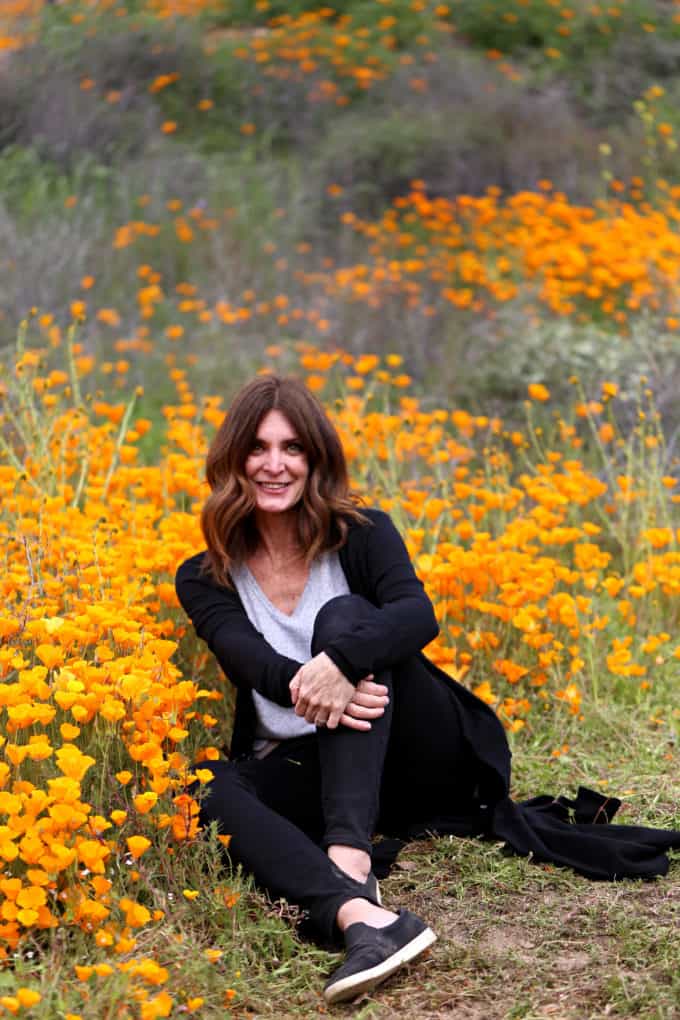 Luckily I went on a weekday in the afternoon and it wasn't crowded at all!
The blooms went on for MILES, over the rolling hills, it really is stunning.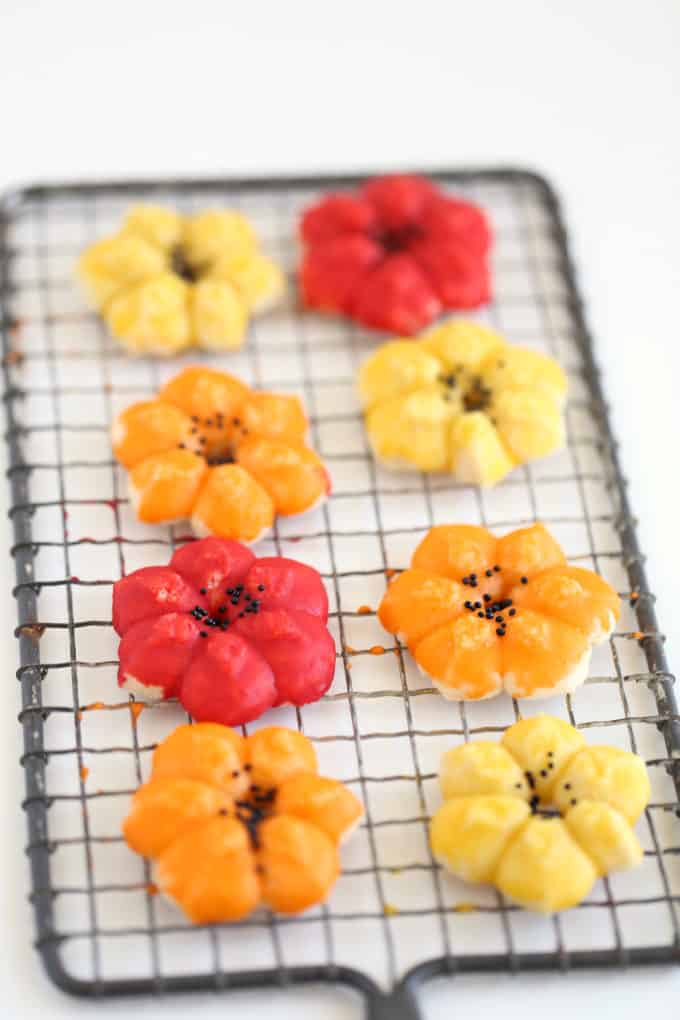 I know a lot of people only think of spritz cookies around the holidays, but they are really wonderful all year long, so break out your spritz press and get making some of these beauties!
I made a thin glaze icing and used a silicone brush to apply the glaze to the cookies then added some black nonpareils (you could use poppy seeds) onto the centers quickly before the icing dried, then place the cookies on a rack until the glaze icing dried completely before stacking them.  
There are 2 recipes one for the cookies and one for the icing before to print both.

Poppy Spritz Cookies
Ingredients
1/2 cup butter
1/3 cup granulated sugar (or 2/3 cup powdered sugar)
1/2 an egg, mix an egg in a dish, then measure out 1 and a 1/2 tablespoons egg mixture and add that to the butter and sugar mixture.
1 teaspoon vanilla
1-1/4 cup flour
this is a small batch and makes about 24 cookies. spritz cookies
Instructions
Preheat oven to 375 degrees.
In mixer bowl beat butter and sugar until whipped smooth.
On low mix in eggs portion and vanilla until incorporated.
Add in flour and mix on low, then on medium until well combined.
Place dough into a spritz cookie press with a poppy disk attached (looks like 6 diamonds in a circle)
Press the dough onto the baking sheet with the cookie press allowing at least 1-inch space between cookies.
Bake for 8 minutes. Remove cookies before the edges brown.
Allow cookies to cool completely before icing.
Thin Glaze Icing
Ingredients
1/2 cup powdered sugar
1 tablespoon corn syrup
1/4 teaspoon clear vanilla extract
2 or more tablespoons warm water
concentrated food coloring (I use Americolor Gel Colors)
Instructions
In a small bowl mix powdered sugar with corn syrup, vanilla extract (or another flavor) and water until smooth add more water until the icing drizzles easily so it'll be thin and easy to apply with a brush to the cookies.
Separate the icing into small dishes to color (I use jar lids) add a tiny drop of coloring to the icing and mix well
when cookies are completely cooled
use a silicone brush to apply icing
then add on sprinkles (or poppy seeds)
place cookies on a rack and allow icing to dry completely before stacking
Click here for my other spritz cookie recipe that makes 48 cookies. 
I use an old Miro Cookie Press, But there are many varieties for sale now. The cookie disk I used for the poppies has 6 diamond style cutouts.