Deviled Egg Dip, Super fun and easy dip that is a sure-fire HIT when entertaining. Great on sandwiches, slathered on a bagel or to dip all your favorites into.
Think of it, Deviled Eggs or Egg Salad are SO popular at parties, why not make it in a dip! So whether you want to call it Deviled Egg Dip or Egg Salad Dip…here it is…
Be sure to check out my post on EGGS here.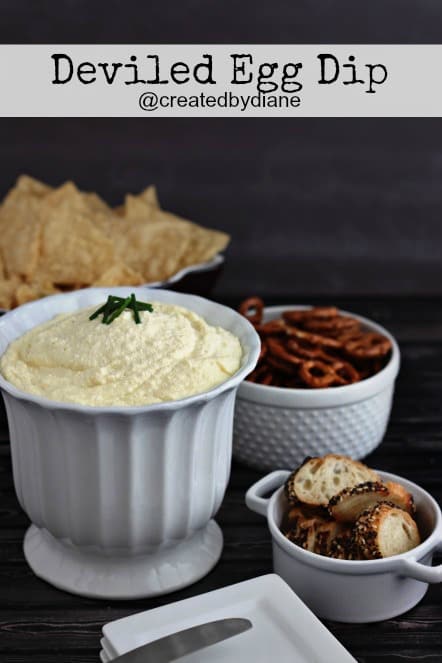 I just LOVE how versatile eggs are,
they go from breakfast to snacks to just about everything in between.
I use LOTS and LOTS of eggs each week.
In cooking and baking and my family loves hard-boiled eggs.
I also have one who is a deviled egg fanatic…really he will eat them as soon as they are put on a plate.
I think he tries to beat his record of eating the most deviled eggs each time they are made, and we aren't talking 6 deviled eggs, he eats way more than that.
Needless to say he loves egg salad sandwiches too.
I deviled to make classic deviled eggs into a dip and guess what?
It was a HUGE hit, and super cute for Halloween too.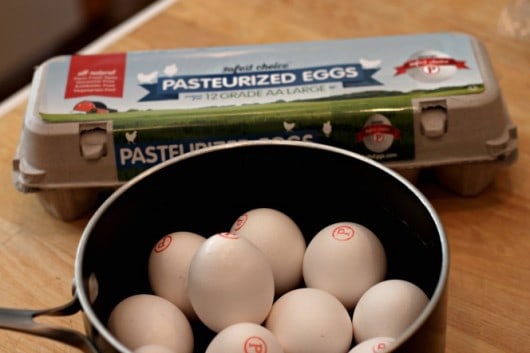 Place eggs in a saucepan, cover with water, then bring to a boil while the heat is on medium.
You don't want toe eggs to move around and crack, so once the water boils…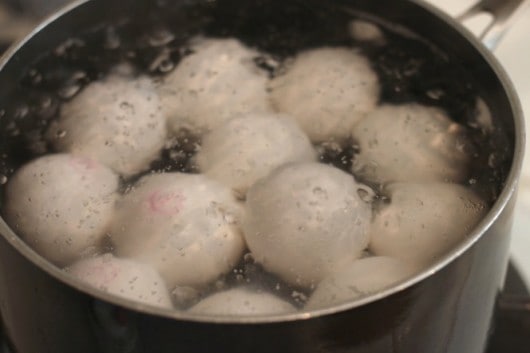 Remove them off the burner, place the lid on top of the saucepan and time it for 20 minutes.
Drain the water off the eggs, add cold water and ice and cool the eggs down.
Replace the cold water if it gets warm and add more ice.
When the eggs are all cooled. Remove the shells.
Peeling the eggs under cold water help them to peel smoothly.
Place 9 eggs, and the remaining ingredients into a food processor and blend until fairly smooth.
The texture on this dip holds onto the chips well. So you don't need to look for silky smooth.  You do want it completely blended though.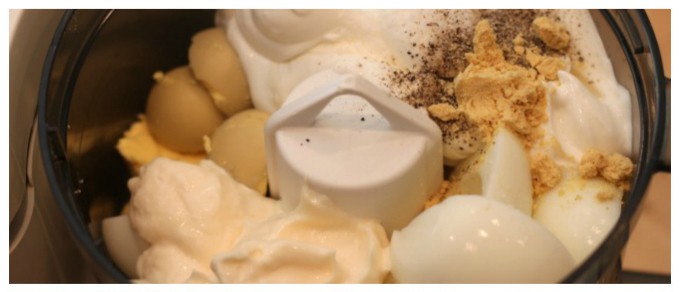 Deviled Egg Dip
Ingredients
12 eggs
1/4 cup mayonnaise
1 cup sour cream
1/2 teaspoon salt
1/8-1/4 teaspoon black pepper
1/2 teaspoon dry mustard
fresh chives for garnish
black food coloring for decorating hard-boiled eggs like ghosts
orange food coloring for making pumpkin deviled eggs
Instructions
Place eggs in a pan covered with water bring to boil over medium heat
remove the pan from heat put lid on pan and time eggs for 20 minutes
drain water, add cold water and ice to cool eggs down
replace water and ice if needed until eggs are cold
place 3 eggs aside for decorating dip
In a food processor place 9 eggs (I cut mine in half to make sure everything fits), mayo, sour cream, salt, pepper, and dry mustard
process until smooth (this dip will have some texture to it, which is great, it won' slide off the chips s easily (if you prefer it really smooth, press it through a strainer)
remove 14 cup of mixture, mix 1 drop orange coloring and the yolk from one egg (that was held aside) mix until well blended, place this mixture into to halves of an egg for the pumpkins
with the remaining 2 eggs, with a toothpick, place three dots of black coloring to create the ghost's faces. (less is more with black, just a few simple dots work best)
Spread the dip over a plate and decorate with the eggs and chives
Serve with chips, pretzels, veggies, or bread.
Adding ghosts and pumpkin eggs to this makes it a perfect appetizer for any Halloween or Fall get together.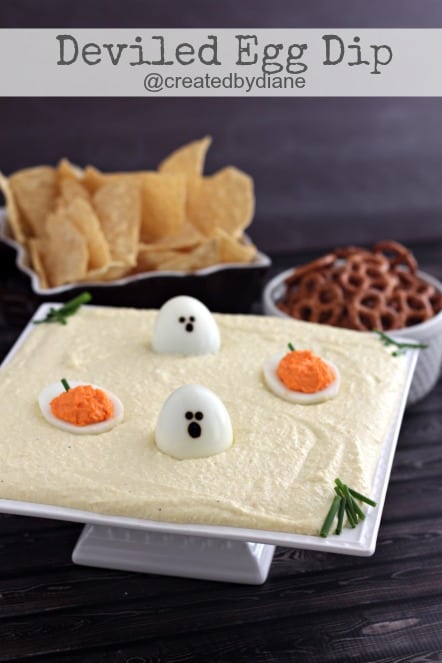 This is one FUN party dip, don't you think? It's a great spread on toast for breakfast too.
I think recipes that can used in many ways are great.
This is great for brunches and parties any time of year.
Spread it over a BLT sandwich for a fun twist on a classic.
Eggs seem to make their way into just about any item served. Breakfast, lunch and dinner, baked goods, and more. I'm not sure what I would do without a fridge full of eggs!
Safest Choice Eggs are pasteurized, there is no need to worry about Salmonella. Just the thought of it makes me worry.