Simplifying dessert, that was the goal here and it worked. This Skillet Carrot Cake is not only delicious it's a very simple carrot cake recipe that can be made effortlessly, perfect any time… and then the cake is topped with a simple cream cheese tasting frosting, but there is no cream cheese in it, so it's easy to whip up with at a moments notice!   
It's no secret that carrot cake is my favorite. It has been for so many years.
I just love the flavor of carrot cake, the spices, and the texture… a true winner!
Carrot cake is a great spice cake, it's flavored with cinnamon, ginger, and nutmeg… all amazing.
And this easy recipe is baked in a skillet… no fancy decorating needed,
it looks great and rustic in a skillet and it tastes like "home" like a big fork full of comfort food…
This cast iron skillet cake recipe is sure to become a go-to dessert recipe if you love cooking and baking in a cast-iron skillet as much as I do.
Cast Iron Skillet Cakes: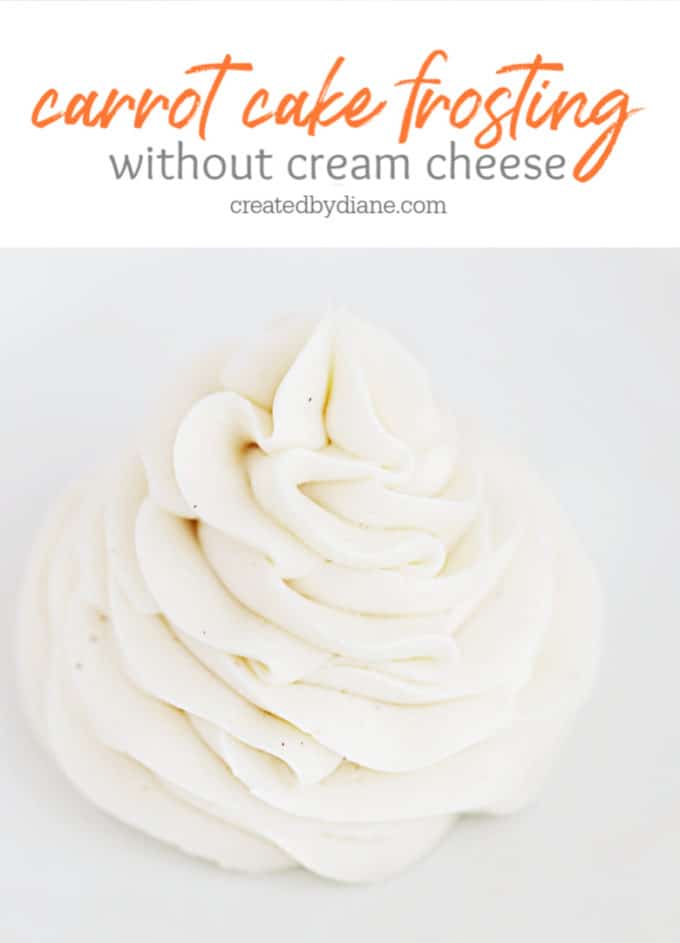 And now onto the frosting!!!
Cream cheese frosting is a perfect pairing with carrot cake, there is no denying it…
But what if you forgot to pick up the cream cheese! Tell me I'm not alone in forgetfulness!
I have a "faux" cream cheese frosting and it's simple to make.
It tastes tangy and delicious like cream cheese frosting and you'll think it's made with cream cheese too, but it's not! I had taste testers guess it was cream cheese frosting even though I said I had no cream cheese…..
And this recipe has come in so perfectly lately as I have used this recipe many times as I repeatedly forgot to pick up cream cheese!
This hack is the perfect solution to being forgetful (like me) but still want to make a cream cheese style frosting. Add more powdered sugar to make the frosting thicker, or add a little warm water to make this "pourable" like a glaze over the top of the cake that drips into the sides of the pan.
This frosting can also be kicked up with the addition of some cinnamon,  maple extract, or even add more lemon juice and pour it on as a lemony glaze for a delicious topping.


Do I have to bake this cake in a skillet?
No, there are many pan size options to bake this cake in. A 12″ pan,  2-8″ round pans, 2 loaf pans, 1 bundt pan, or a 13×9 pan or use a muffin pan for cupcakes. Adjust timing if the cake you're baking will be thinner or thicker. Check out my Carrot Bundt Cake here.
What Can I Add to Carrot Cake?
Select any one or two of these options, if you want to choose more, add a smaller amount so there is plenty of cake batter to coat everything.
 1/2 cup shredded coconut

1/2 cup crushed or chopped pineapple, drained (it's best to allow it to drain on paper towel ads we'll so the cake won't be so wet)

1 cup macadamia nuts or pecans instead of walnuts.

You can leave the nuts in or omit them.

1/2 cup raisins
2/3 cup apple sauce instead of the oil for a low-fat option
1/2 cup chopped fresh cherries or blueberries
Classic Cream Cheese Frosting Recipe
Immersion Blender with a whip attachment, great for small batch whipping.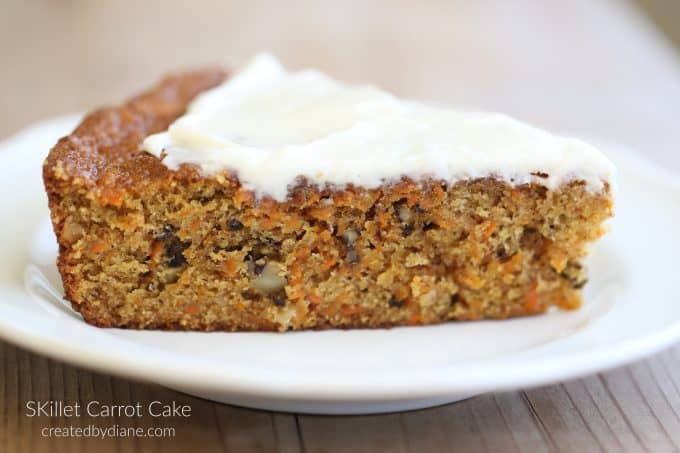 Skillet Carrot Cake
A great carrot cake recipe baked in a cast-iron skillet, rustic, homey, and beautiful the perfect dessert for all celebrating. Bake in a 12" cast iron skillet, 2-8" round pans, 2 loaf pans, 1 bundt pan, or 13x9 pan.
Author:
Diane Schmidt Created by Diane
Ingredients
2 eggs
2/3 cup oil (avocado oil or vegetable oil)
2 tablespoons vanilla extract
2 cups granulated sugar
2 cups all-purpose flour
2 teaspoons baking powder
1 teaspoon baking soda
1/2 teaspoon salt
1 teaspoon ground cinnamon
1/2 teaspoon ground nutmeg
1/4 teaspoon dry ginger
1 cup whole milk
2 cups grated carrots (about 3 medium carrots)
1 cup walnuts, chopped
Instructions
Preheat the oven to 350° and prepare your skillet or baking pan with a baking spray or shortening and flour.
n a large bowl with a mixer or whisk, beat eggs with oil, vanilla, and sugar until well blended.
Then add to it the flour, baking powder, baking soda, salt, cinnamon, nutmeg, and ginger and mix to combine well.
Stir in carrots and walnuts.
Pour in prepared skillet or baking pan.
Bake at 350° for 50 minutes *be sure to check 5 minutes before and every few minutes until a toothpick comes out clean.
Allow cake to cool for 15 minutes at a minimum before serving, It will still be hot inside, but you can serve it hot with the frosting drizzled over top, or allow it to completely cool before serving, about an hour, then spread frosting on top and serve.
FAUX Cream Cheese Frosting (small batch)
This tastes like cream cheese frosting, but there is no cream cheese in this recipe. This small batch is great for topping carrot cake, or other cakes that don't need layers of frosting.
Author:
Diane Schmidt Created by Diane
Ingredients
4 tablespoons butter
2 teaspoons milk or heavy cream
1 teaspoon vinegar
1 teaspoon lemon juice
1/2 teaspoon vanilla extract
1.8 teaspoon/pinch salt
1 1/4 cup powdered sugar
Instructions
In a bowl with a mixer or an immersion blender with whip attachment (great for small batches) with the whip attachment or a hand whisk mix butter until creamy, whip in milk/cream, vinegar, vanilla, lemon juice, and salt together.
Add in powdered sugar, and whisk it until smooth, keep whipping if it looks like it's not blending it just needs more mixing.