There are MANY advantages of leftovers and having ham as a leftover is wonderful. There are so many great ways to use it, I'm sharing with you today my favorite, Ham Fried Rice. Great for breakfast, lunch or dinner! That's a winner in my book.
*** INCLUDES a low carb Cauliflower Fried Rice Option too!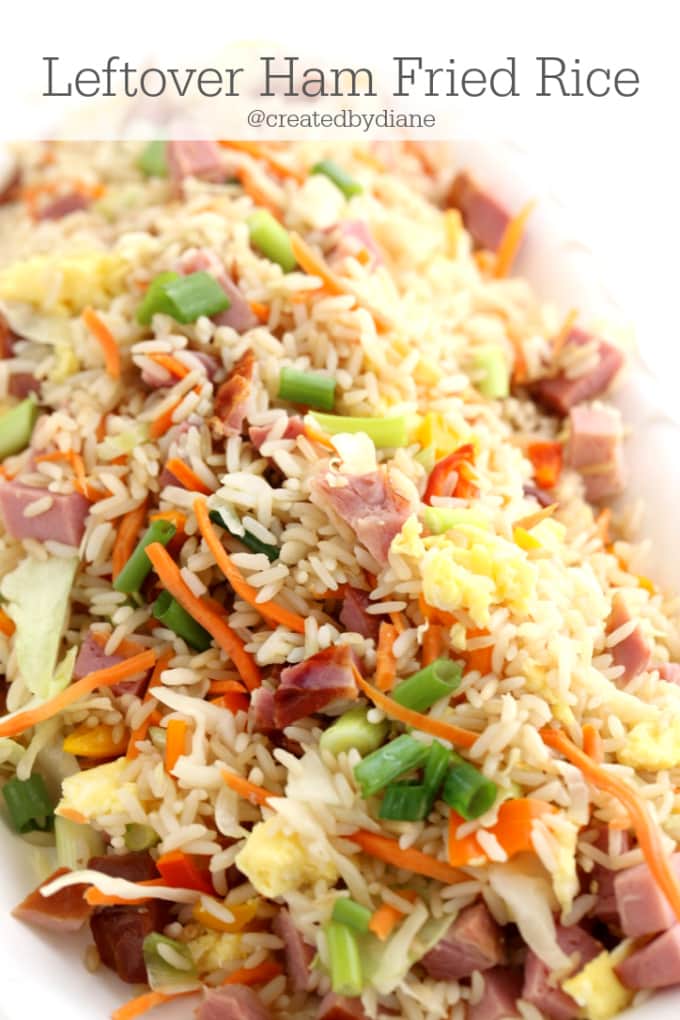 Make this with leftover ham, or you can easily purchase cooked ham at the grocery store and dice it up and make this dish anytime even if it's not anywhere near a holiday and you don't have ham leftovers.
I use plenty of eggs in my fried rice, that way I don't always feel like I'm eating dinner for breakfast…
With all the eggs, this really is a wonderful breakfast, full of protein and great to get your day going!
And yet… it's still perfect for dinner.
You can even serve this with fried eggs on top of the rice if you prefer.
Now there is one thing I typically have on hand…
and that is cans of pineapple chunks in pineapple juice.
I love sweet and salty recipes, and I love adding pineapple to this fried rice recipe.
I love Chinese food because it's so flavorful. Yummy savory, nutty, sweet, spicy, crunchy… I just adore it.
My family also enjoys Asian food, but I don't often want take-out. I'd much prefer to make my own, but some of the recipes require so much food prep and chopping, it often doesn't fit into my busy schedule.
So I've been making fried rice for years since it's so quick to prepare and satisfies our hunger for Chinese cuisine.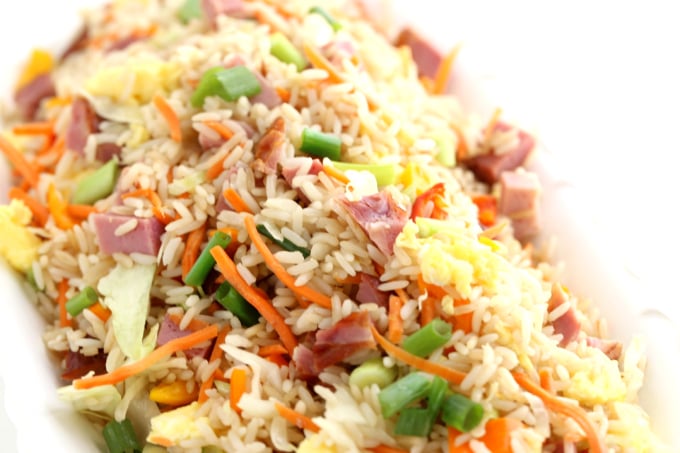 It's also a great way to clear out the refrigerator and use up leftover meats and veggies.
But oh, the flavor! I could be happy with a huge plate of this fried rice and not share it with anyone, it's that GOOD!
This year, as usual, we had plenty of leftover ham after Easter, and – as usual – everyone wanted fried rice.
I'd already anticipated this request and prepared a double batch of white rice.
It's best if you cook the rice up and refrigerate it ahead of time, as the cold grains are firmer and stand up better to frying rather than getting mushy and clumping together.
If you have any leftover fried rice, pack it up for lunch the next day. It's even better the day after, and can be eaten cold – no need to reheat.
Be sure to keep this recipe close when you make a large Holiday Ham 🙂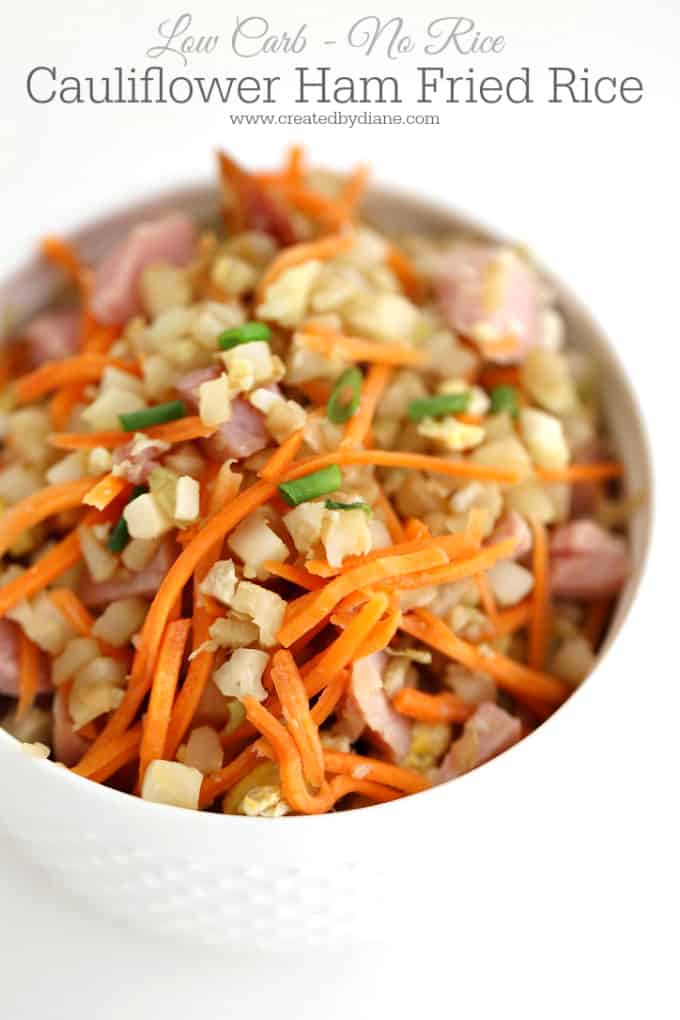 If you like eating low carb, give this a try.
Instead of rice, use crumbled cauliflower (or cauliflower rice available in the produce section or put cauliflower in a food processor until it's small pieces) Don't overcook the cauliflower,  you'll want it to have some bite to it.
Using the recipe below add 2 lbs of cauliflower rice instead of real rice.
(If you don't want as much cut the recipe in half and use 1lb  cauliflower rice)
This is one of my favorite LOW-CARB meals and it's perfect after all the holiday indulging!
More Easter/Spring Recipes:
Leftover Ham Fried Rice
Ingredients
4 cups cooked rice
5 eggs, scrambled
3 cups diced cooked ham
1 cup grated or chopped carrots
4 diced green onions
2 cups diced cabbage
1 tablespoon garlic paste (or a couple cloves minced garlic)
1 tablespoon fresh ginger
3 tablespoons soy sauce
* optional flavor to add 1-2 tablespoons oyster sauce
*add chili oil or red pepper flakes is you want to spice it up.
Instructions
Rice should be cold. If you have just made the rice, place it on a baking sheet and put it in the fridge to chill it quickly.
In a skillet cook scrambled eggs, then remove to add into dish later.
Heat a large skillet, if you don't have a large enough skillet for all the food, do it in batches.
Heat a tablespoon of vegetable oil and a tablespoon of sesame oil add in garlic and ginger. Saute in rice to coat with oil and cook until the rice begins to get golden, stir in diced carrot and green onions and cabbage.
Add in ham and stir to combine, add in soy sauce to taste, use a couple tablespoons to start with.
Add in eggs and it's ready to serve. If you want the fried rice spicy, add the flavors you like to the oil in the beginning, that will ensure it gets evenly distributed throughout the dish.
Notes
You can find many nice Chinese flavorings in most grocery stores nowadays, take a look you may find a new flavor or spice you like. Chinese chili paste is one I always have on hand and love, sesame oil and sesame seeds are always great to add to Chinese food.