Look no further for easy dinner meals, there are so many options here it'll help you get dinner on the table fast.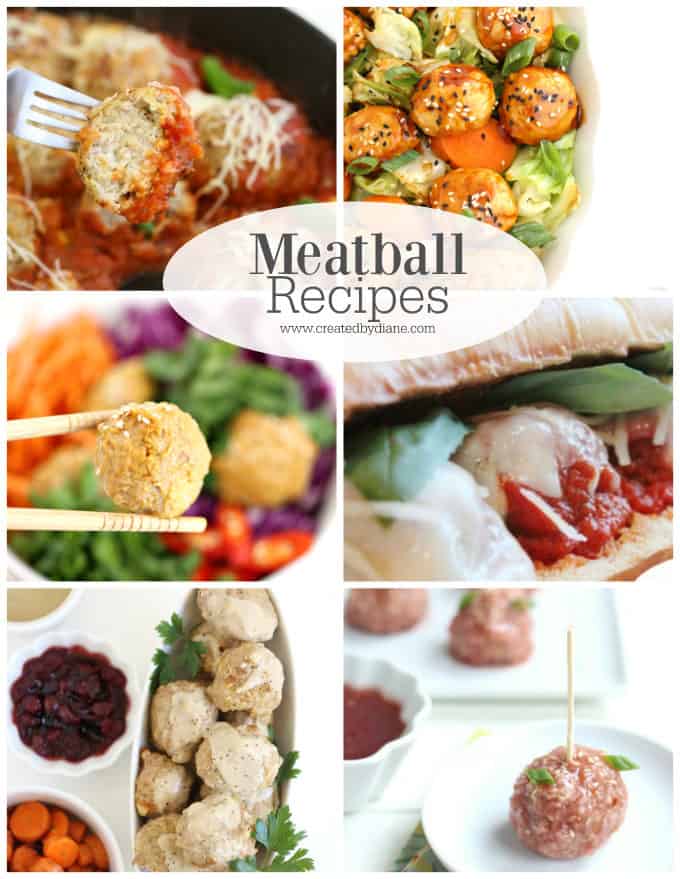 Meatballs are just about the most wonderful thing.
They take minimal ingredients,
they are made quickly and easily,
you can bake them on a sheet pan or cook them in a skillet
most meatball recipes are made in under 30 minutes!
And they are DELICIOUS.
YAY!
You can use ground beef, pork, chicken or turkey to make meatballs to switch up the flavors so easily.
If you eat low carb, you don't need to add the carbs in the mixture. But be sure to add the egg as this is what will help keep the meatballs from drying out. Grated vegetables are also great to help add some moisture especially if you are using lean or extra lean ground meat or not adding the bread crumbs which help hold moisture. Another tip is to add in a tablespoon of oil so the meat does not dry out as it cooks if it's extra lean. Even a tablespoon or two of milk will help with moisture as well.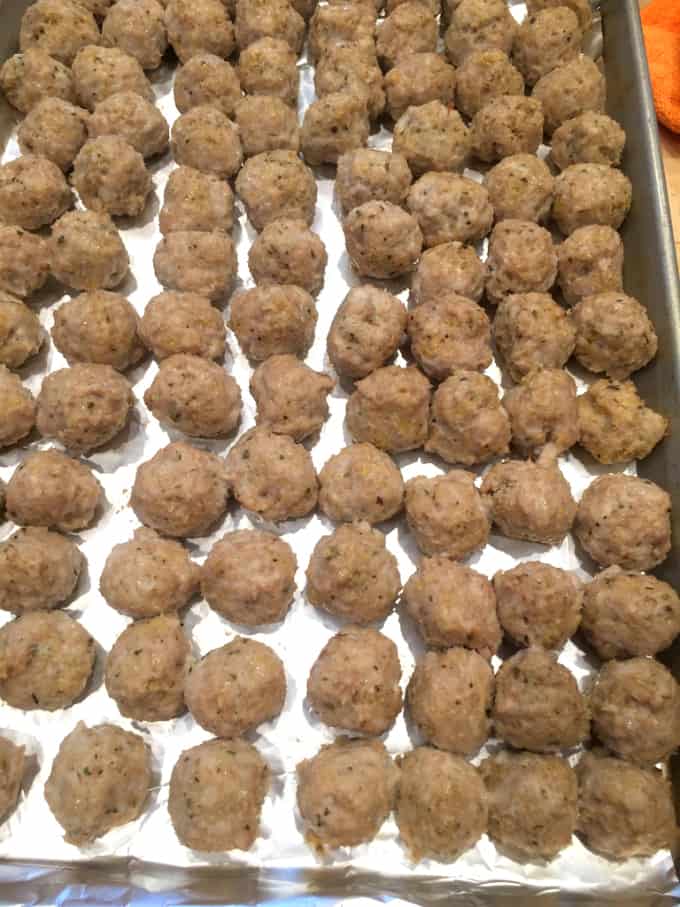 You can make meatballs just about any size you prefer, from 3 tablespoon size which you'd normally find on top of a large bowl of spaghetti in an Italian restaurant, to two tablespoon-size meatballs which I refer to as medium size to mini meatballs being one tablespoon in size. Whatever size you decide on, adjust the timing accordingly. Larger meatballs will take longer to cook than smaller meatballs, using a thermometer is the best way to check the internal temperature of meatballs.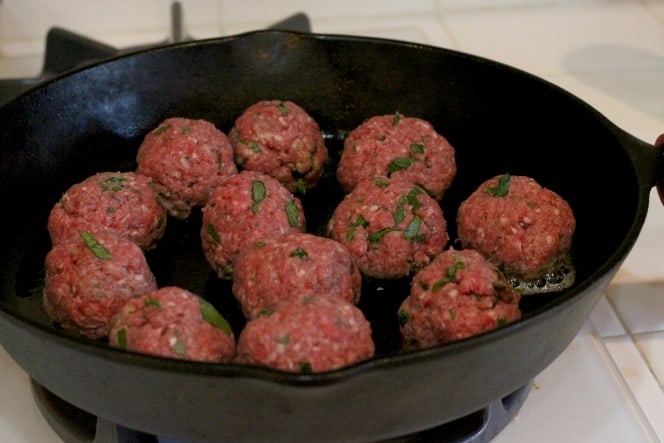 THIS is my favorite thermometer. This is my all-time favorite instant-read thermometer. And THIS is a smaller less expensive version which was my first purchase from that company and I used it for years… it takes only a few seconds to read the temperature. I have given both for gifts to many and everyone loves them. They come in a great variety of colors which helps when you're busy to figure out where it is in the kitchen quickly, we usually have one out at the grill and one inside when my husband and I are both cooking at the same time.
The internal temperature you should cook ground meatballs to 165° for chicken and turkey and 160° for beef and pork.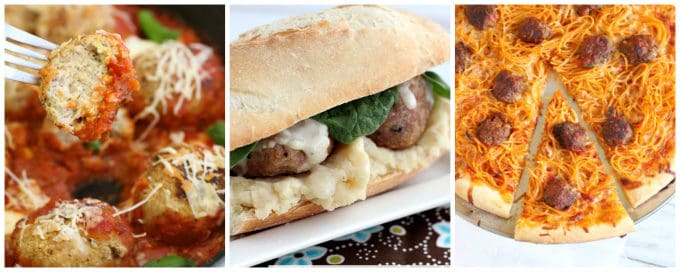 Chicken Parmesan Meatballs – One of the most popular recipes on my blog, and for good reason.
Turkey Meatballs with Mashed Potatoes Sub – Can you say comfort food.
Spaghetti and Meatball Pizza – A totally delicious pizza full of fun and great flavor.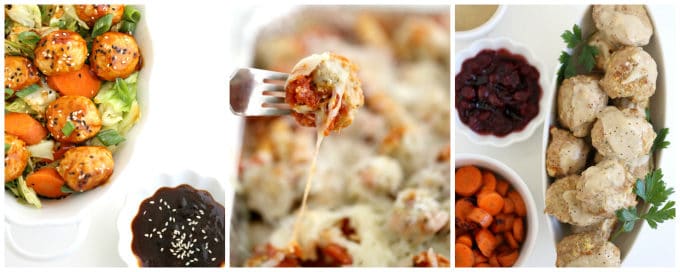 Honey Sesame Chicken Meatballs – so tasty
Chicken Parmesan Meatball Baked Ziti – a great dish to a party or a friend
Turkey and Stuffing Meatballs – this is the FASTEST way to get all the flavors of a Thanksgiving meal in under an hour.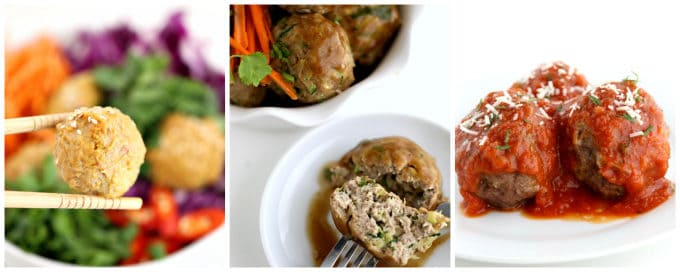 Chicken Satay Meatballs – OMG these are so great and full of flavor
Pork and Zucchini Meatballs – really delicious and moist pork meatballs
Classic Meatballs with Tomato Sauce Recipe – Classics are always a good idea!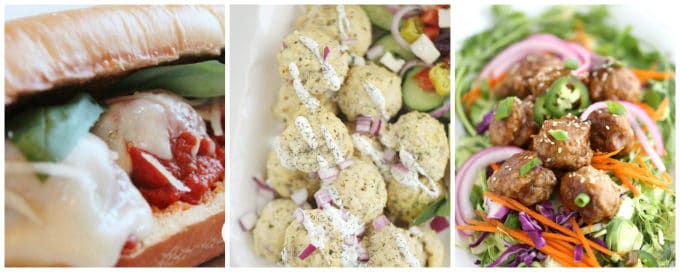 Meatball Sub – A must make, says my family….often!
Greek Chicken Meatballs – Topped with tzatziki sauce and full of great flavor
Banh Mi Meatballs – a Vietnamese sandwich turned meatball… served over veggies it's one of my go-to low carb recipes.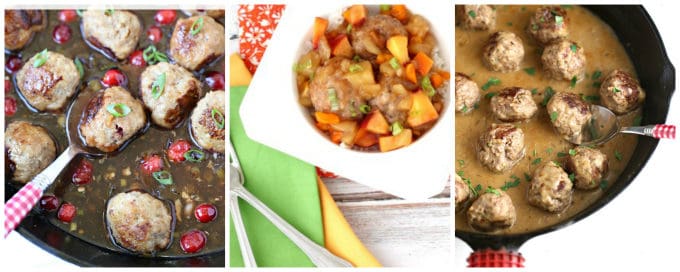 Cranberry Turkey Meatballs with Sweet and Sour Cranberry Sauce – festive and beautiful and equally delicious
Peach and Pineapple Turkey Meatballs – a delicious twist on sweet and sour meatballs
Spicy Beefy Meatballs with Onion Gravy – just about the most delicious gravy ever topping these yummy meatballs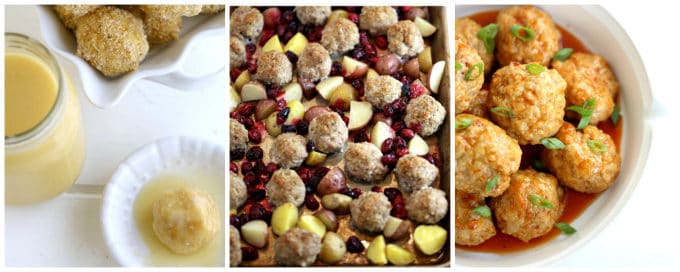 Chicken Meatballs with Lemon Wine Butter Sauce – or as I like to refer to it as Liquid Gold, it's so delicious.
30 Minutes Sheet Pan Dinner with Turkey Meatballs, Roasted Potatoes, and Cranberries.
Buffalo Chicken Meatballs – taste like buffalo wings but easier, healthier and always a favorite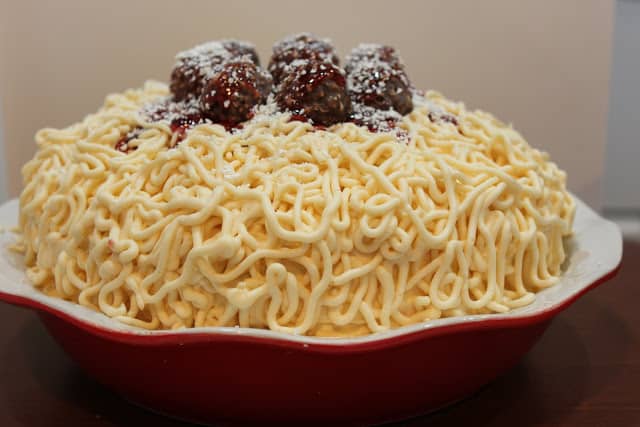 If you like meatballs above all else…
you have to make this cake!
It's so fun and delicious too.
Yes a spaghetti and meatball CAKE, just about the most perfect dessert for the perfect ending to a great meatball dinner.