When delicious comfort food is what you want, this Chicken Parmesan Meatball Baked Ziti DELIVERS!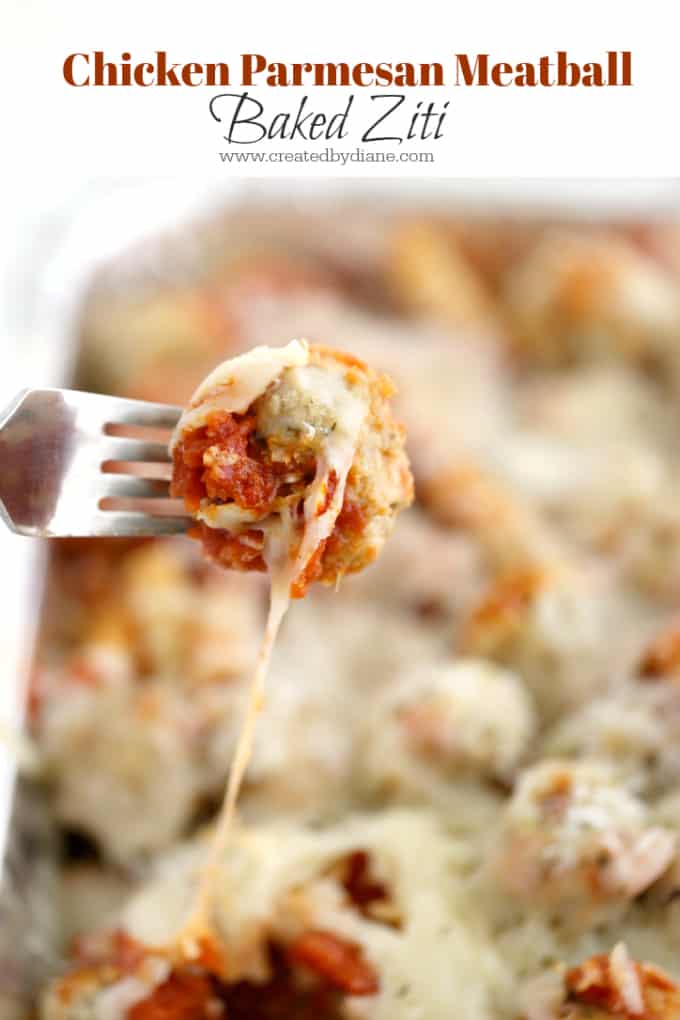 I made two trays of this meal,
one for us to enjoy and one to bring to a friend.
It was welcomed by all and got rave reviews.
The recipe is uncomplicated and feeds a crowd easily!
I rolled out some chicken meatballs, boiled up some ziti noodles and in no time at all I had trays of delicious comfort food that will please anyone.
I just love ground chicken and use it often to make chicken burgers, meatballs and to add to sauce to top pasta for a quick recipe.
Here are some more ground chicken recipes: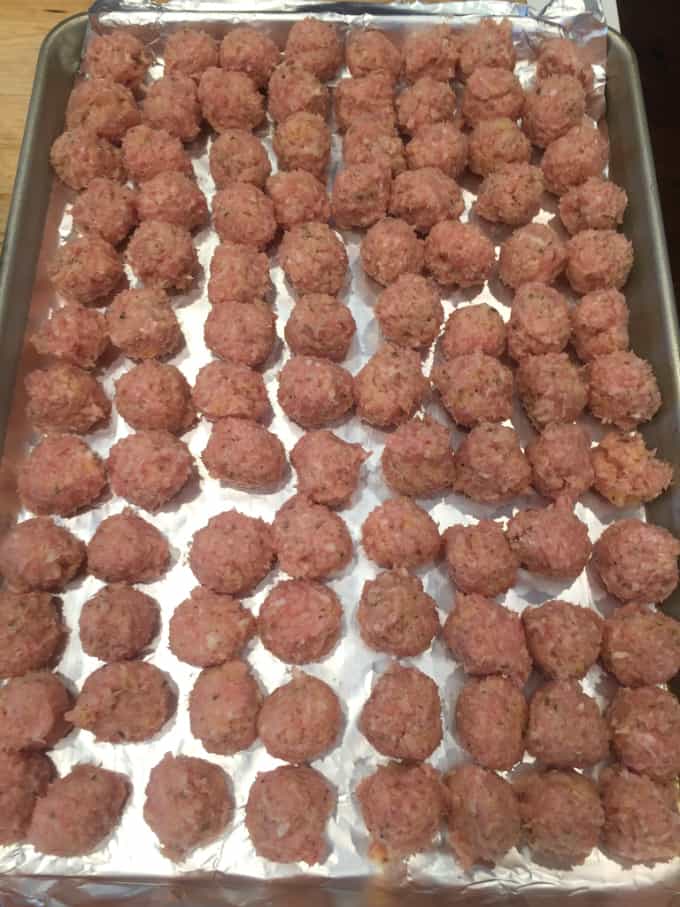 I made a double batch of the recipe below to provide TWO TRAYS of food, one for us and one to give to someone who was going through a hard time.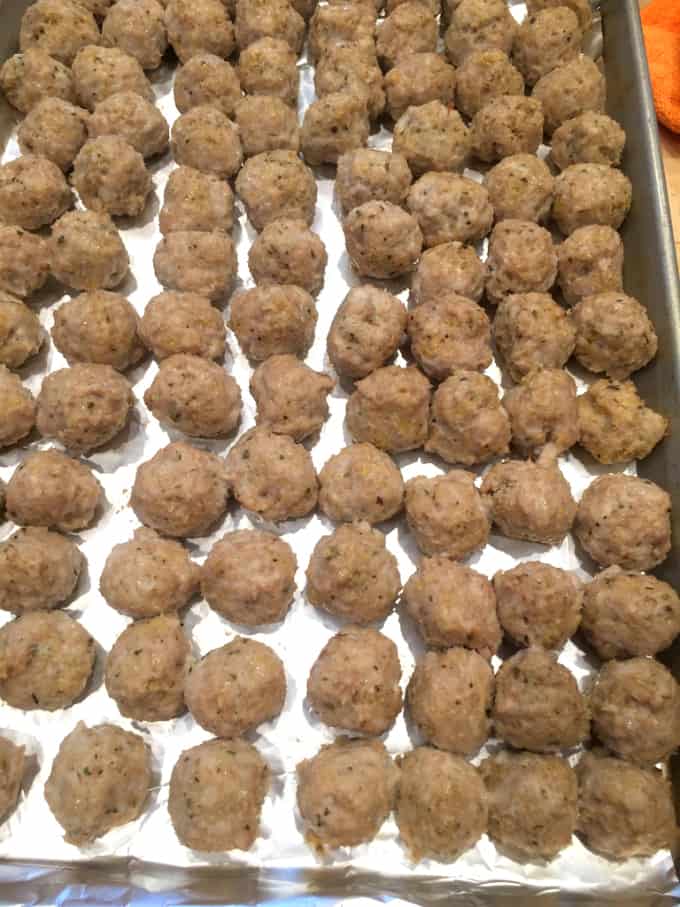 Small meatballs bake up quickly and this recipe comes together easily so go ahead and make a double batch too and share it with someone you know will enjoy it as much as you will!
This is a great dish to bring to a friend or someone in need of a meal. It's easy to make and will provide comfort all year long.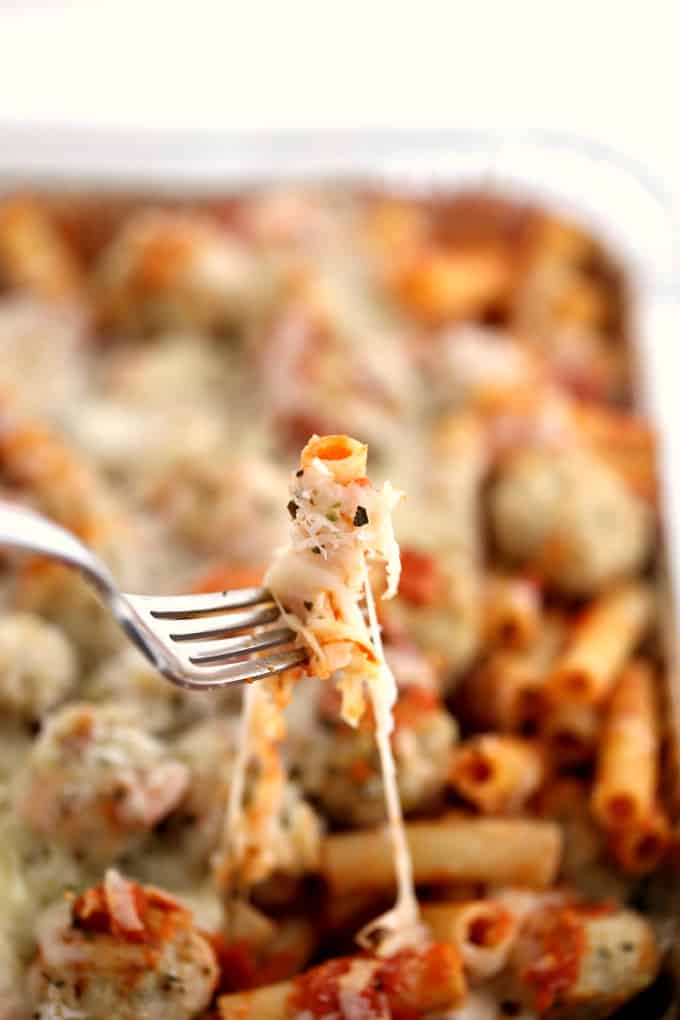 I have lots of baked ziti recipes so if you like this try one of these:
Baked ziti is great for dinner anytime and is great to bring to a get-together or party, is perfect to feed a crowd and all of them are easy to make they are not labor intensive so even if you're not a proficient cook you can still whip of one of these great recipes!
ZITI Noodles- take the time to look for ziti noodles, they are thicker than penne and bake up really well, they don't swell as the thinner penne type of noodles do, but if you can't find ziti then penne is a good substitution. But my favorite are ziti noodles.
The recipe below is for 1 tray (for 2 trays print the second recipe card)

Chicken Parmesan Meatball Baked Ziti (recipe for 1 tray)
Ingredients
2 lbs ground chicken
1 cup panko breadcrumbs
1 egg
1 teaspoon dry oregano
1 teaspoon salt
1/4 teaspoon ground black pepper
1 lb ziti noodles
24 oz marinara sauce
2 cups grated mozzarella cheese
Instructions
Cook pasta according to package directions.
Mix ground chicken, bread crumbs, egg, oregano salt, and pepper.
Roll meatballs in small meatballs about 2 tablespoons each.
Place on a foil-lined baking sheet and bake at 400° for 15 minutes or until internal temperature reaches 165°.
Mix pasta with half the sauce and layer it in a casserole pan or foil tray starting with pasta, then meatballs, then some sauce, top with cheese and then repeat the layers.
Cover with foil and bake until fully heated through and cheese is melted about 20 minutes.
BELOW is the recipe to print out for 2 trays.

Chicken Parmesan Meatball Baked Ziti 2 trays
Serves:
2 trays- 24 servings
Ingredients
4 lbs ground chicken
2 cups panko breadcrumbs
2 eggs
2 teaspoons dry oregano
2 teaspoons salt
1/2 teaspoon black pepper
2 lbs ziti noodles
48 oz marinara sauce
4 cups grated mozzarella cheese
Instructions
Cook pasta according to package directions.
Mix ground chicken, bread crumbs, egg, oregano salt, and pepper.
Roll meatballs in small meatballs about 2 tablespoons each.
Place on a foil-lined baking sheet and bake at 400° for 15 minutes or until internal temperature reaches 165°.
Mix pasta with half the sauce and layer it in a casserole pan or foil tray starting with pasta, then meatballs, then some sauce, top with cheese and then repeat the layers.
Cover with foil and bake until fully heated through and cheese is melted about 20 minutes.
THIS RECIPE MAKES 2 TRAYS, perfect for sharing or a party