the most fun with spaghetti and meatballs ever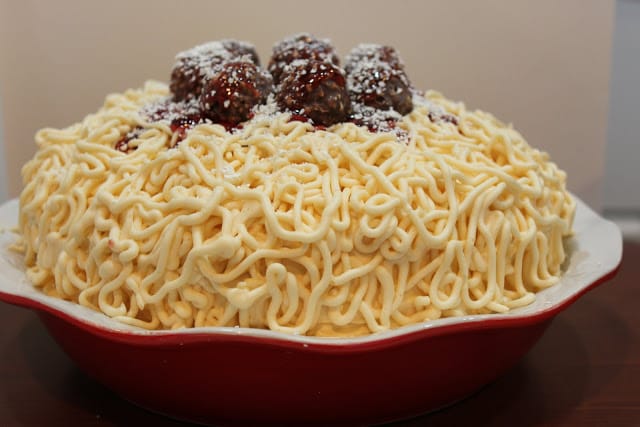 Spaghetti and meatballs is an all time favorite
meatballs
1 1/2 pounds ground beef
3 slices bread moistened with water
oregano
salt
pepper
parmesan or romano cheese
2 eggs
milk if needed
mix and roll!
bake meatballs at 350 degrees for 20-25 minutes.
There is nothing better to top off a spaghetti and meatball dinner than a dessert,
that looks the same.
Would you believe me when I told you my husband and son made this.
They did with only a little help.
French vanilla cake
with strawberry jam and buttercream mixed for the filling
piped on with a #4 tip buttercream tinted a creamy color
Ferrero rocher chocolates for the meatballs
topped with strawberry jam
grated white chocolate for cheese.
They made it for the father-son cake bake for cub scouts.
They would have preferred to make a mounted deer head for the cake entry,
but I didn't have many ideas on that one.
I think they liked the recognition the received.
First place for best use of edible materials.
My son couldn't wait to take a bite out of HIS cake!