This easy sheet pan dinner is ready in 30 minutes, it tastes delicious and you can enjoy the flavors of a great holiday meal anytime with this recipe.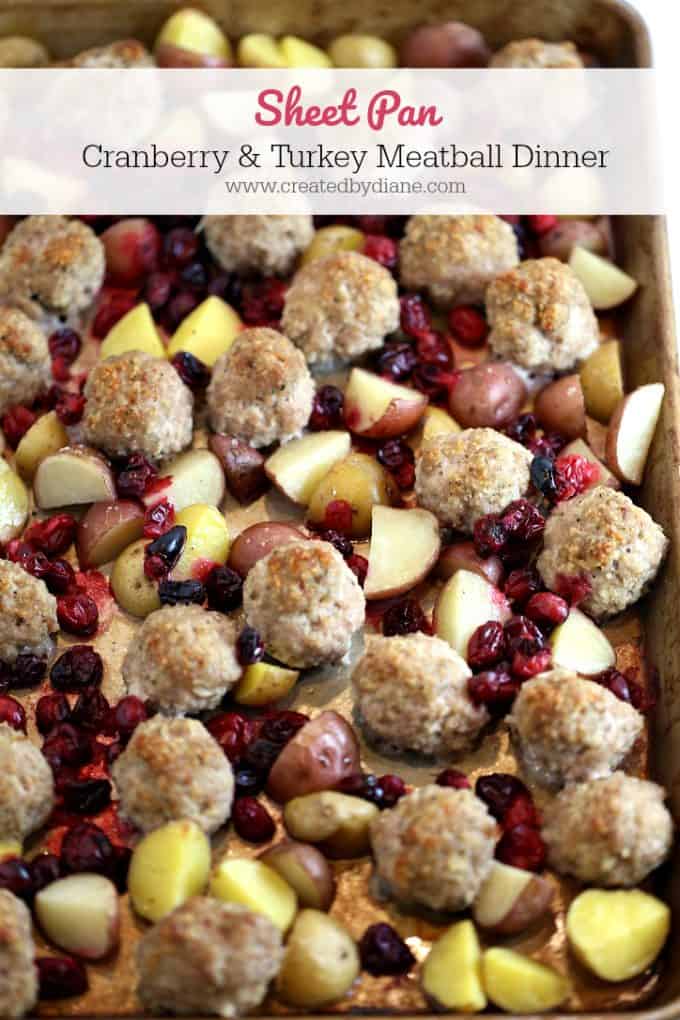 EVERYONE loves the flavors of Thanksgiving…
but we don't always have time to make such an elaborate meal.
This is perfect for a delicious compromise.
You place the meatballs, potatoes, and cranberries on a sheet pan and bake it.
Then add a veggie and dinner is served.
Really! It couldn't get much easier, could it?!?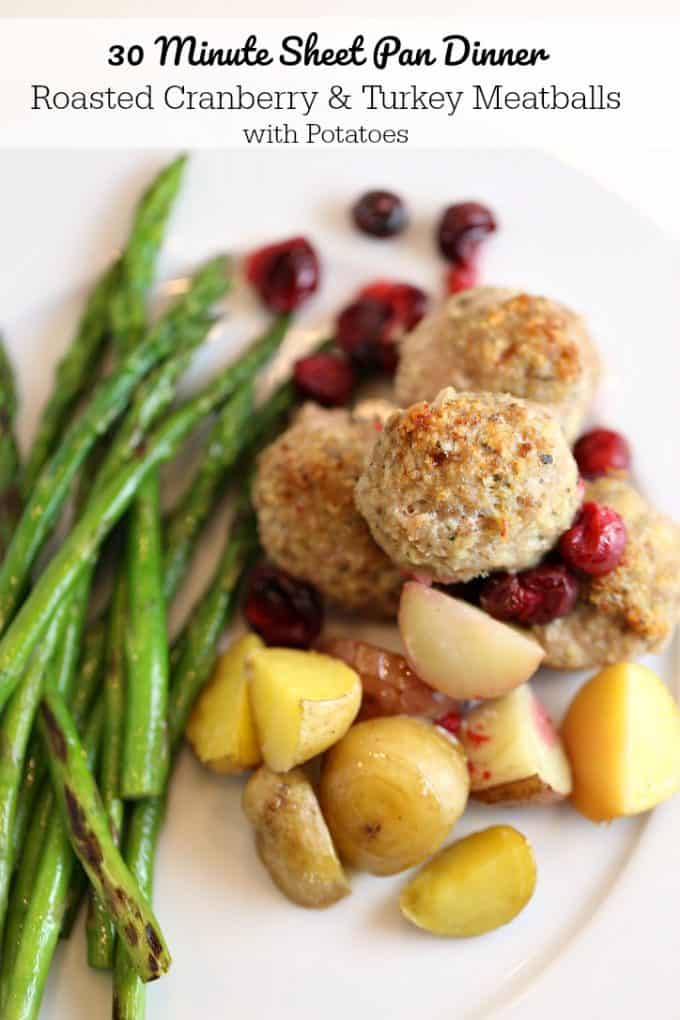 The weather is getting chilly…. it'll be in the 30's tonight and that is COLD for Southern California… where did the warm weather go? I don't even think I have a coat that will allow me to be outside for more than 3 minutes in 30° I'll just have add some layers, but I do know when it's time for comfort food and if it's quick, it'll sure get my approval.
This is that meal.
Minimal ingredients, real food, and ready fast…yum!!
Get my turkey burger recipe here and my turkey Salisbury steak recipe here!
and I have 6 great cranberry sauce recipes here.
Sheet Pan Cranberry and Turkey Meatball Dinner
Ingredients
2 lbs ground turkey
1 egg
1 cup panko breadcrumbs
1 teaspoon garlic, minced
1 teaspoon oregano
1/2 teaspoon salt
1/4 teaspoon cracked black pepper
1 1/2 lbs small potatoes, cut into quarters
1 1//2 cups cranberries (1/2 package)
Instructions
In a medium bowl mix the ground turkey with an egg, garlic, breadcrumbs, oregano, salt, and pepper.
Roll meatballs out of the mixture about 2 tablespoons each.
Place the meatballs on a sheet pan with the cut potatoes, and cranberries.
Bake at 400° for 20 minutes.
While that is cooking, make a vegetable. I cooked some asparagus in a skillet and added a little olive oil, salt, and pepper.
As soon as the meatballs reach 165° internal temperature and the potatoes are tender when pierced with a knife, you're ready to eat.