Sticky and Sweet and oh so delicious!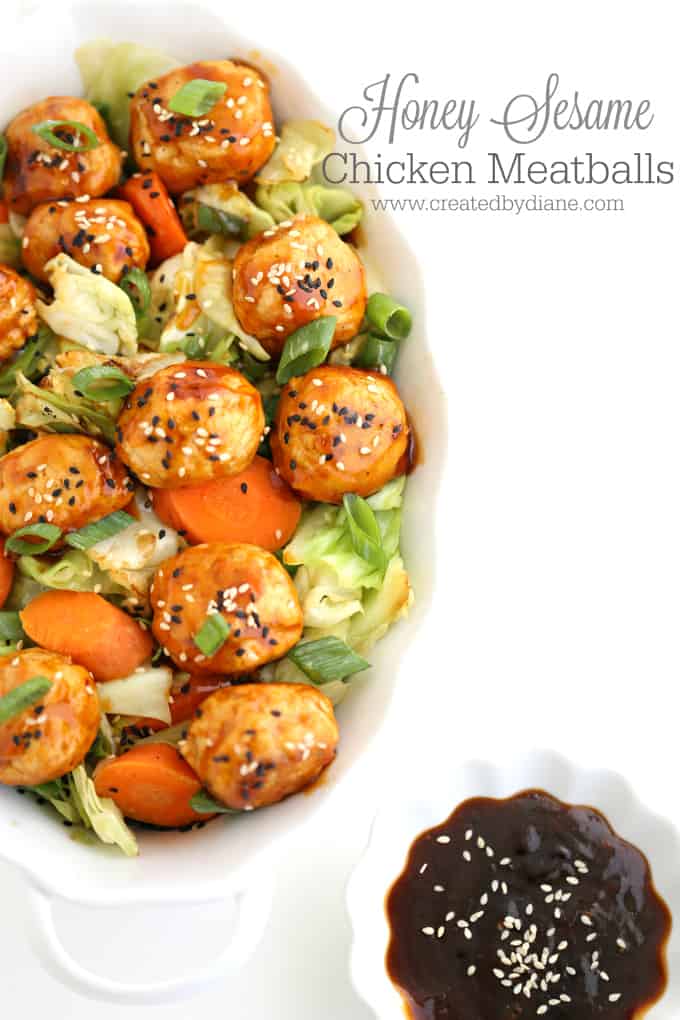 Skip the takeout and make a batch of these and have everyone running to the kitchen to gobble them up!
We have a couple of places near us that serve up some quick meals but yet it's not fast food, Waba Grill or Flame Broiler are the options nearby but we eat at home more than we eat out so if you want to try this yummy recipe, you'll be surprised how simple it really it.
I'm eating low carb, so I haven't been putting breadcrumbs in my meatballs, I simply don't have them on hand and have found if I don't keep bread items in the house, I just don't eat them.
This sauce can be put over par-cooked strips of chicken breast as well, then continue cooking in the sauce until they are fully cooked.
I buy ground chicken it's more readily available than it used to be or grind it myself if when I buy a large package of chicken breasts at a "club" store. You can easily make these with ground turkey too.
More great MEATBALL recipes: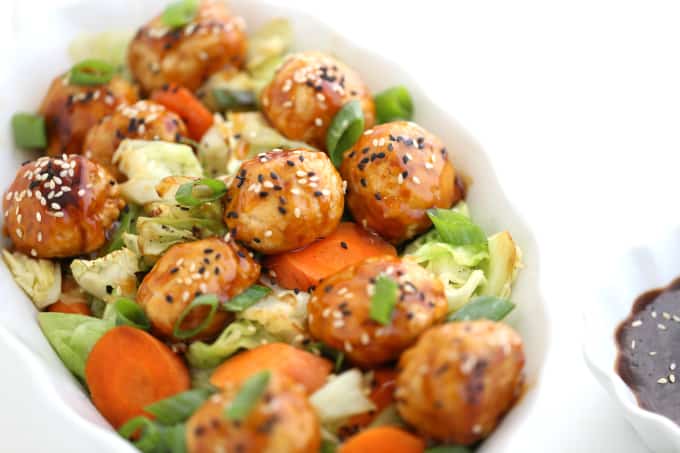 The food places I mentioned serve their dishes with rice, be sure to look at my post on how to cook rice 3 ways HERE for tips.
If you're eating low carb, just pile on the veggies, sauteed cabbage, carrots and green onions make this a complete meal!
You'll have extra sauce to pour over top of the meatballs, you could make chicken burgers and eat them on a bun and top them with the extra sauce too.
There are so many options here, mix it up and make mealtime less boring!
I use a 2 tablespoon size scoop LIKE THIS ONE to make most meatballs, I find that it's a great size, the meatballs cook quickly and I get at least a dozen out of one pound of meatball mixture.
Honey Sesame Chicken Meatballs
Ingredients
1 lb ground chicken
1 tablespoon soy sauce
1/2 teaspoon garlic paste
(add one egg and 1 cup panko breadcrumbs if you prefer and aren't eating low carb)
Honey Sesame Sauce
1/2 cup honey
1/4 cup soy sauce (or Braggs Aminos)
1/4 cup ketchup
2 tablespoons brown sugar
2 tablespoons rice vinegar
2 teaspoons sesame oil
2 teaspoons garlic paste
pinch crushed red pepper flakes
1-2 tablespoon cornstarch
Instructions
Mix ground chicken soy sauce, garlic paste (and egg and breadcrumbs if desired)
In large skillet heat meatballs on medium high heat and turn until firm, heating the meatballs the rest of the way in the sauce will help prevent the meatballs from becoming dry.
In a small saucepan heat honey, soy sauce, ketchup, brown sugar, vinegar, sesame oil, garlic.
Mix cornstarch with 1/4 cup water then whisk into hot sauce, continue simmering sauce until it thickens.
Pour sauce over meatballs and continue to finish cooking meatballs until they reach 165°.
Serving suggestion over sauteed cabbage, carrot and green onion.
Notes
You can add additional water if the sauce gets too thick, and if it's not thickening up enough for your liking add some more cornstarch mixed with water and simmer the sauce until it's the right thickness.