Spaghetti & Meatball Pizza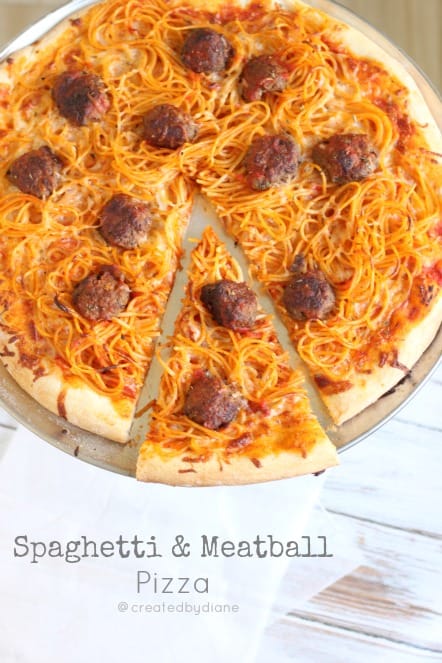 Don't miss one delicious recipe and get my FREE e-cookbook click here!
I'm sure it's you have visited my blog before it's no shock to you that I love pizza.
If this is your first time here… Welcome! You should know that I love pizza and I'm not afraid to top it off with some unusual items.
Really spaghetti and meatballs is not unusual, but you may not see it on top of pizza every day.
I just love it and its fun if you happen to have leftover spaghetti and meatballs you can easily turn it into a new fun meal with just a little effort.
I love that there are many stores local to me that sell fresh pizza dough. You can certainly make your own if that is more convenient.
With the pizza dough handled, now onto the spaghetti and meatballs. This is where I think it's ok to save time on some things and not on others. Tomato sauce, well I like making my own, but have found recently that the canned tomatoes aren't as always to my liking. The brand of tomatoes I used for years isn't available where I am now, so I use a jar sauce, Barilla to be specific. Use the sauce of your choice. But trust me on this meatball; there is no substitute in my opinion on meatballs.  They are worth the time making. I use an easy recipe and it doesn't take very long. Actually start to finish on this pizza was about 45 minutes. I boiled the spaghetti, made the meatballs and cooked them, assembled the pizza and baked it. If you have leftover spaghetti and meatballs then really it'll be about 15 minutes. I just love that!
So as I said I'm not afraid of pizza that is…
but I do get a little concerned about the pizza baking part. I tend to make a real mess!
No lie, it all has to do with the fact that I like the bottom of my pizza crust crisp.
So I slide the pizza off the pan I'm baking it on and inevitably the corn meal gets ALL OVER my oven. Really you'd think it snowed cornmeal in there. I have tried and tried, but yep, I'm a mess with corn meal. I sometimes vacuum it out of the oven when it's cool, or I try to wipe it off but usually hope and pray the oven fairy will come and help me clean it up.
For all you lucky people who have a double oven, I'm jealous. I would just LOVE that. Just think of all the cooking and baking I could accomplish with TWO ovens!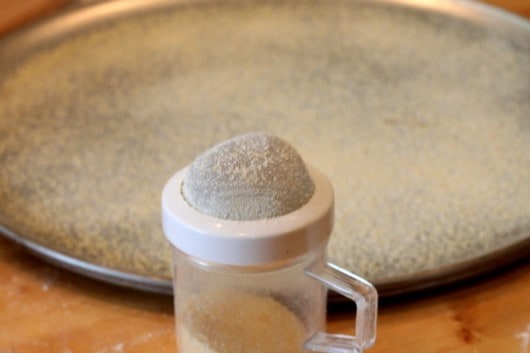 By placing a thin layer of cornmeal on the pizza baking pan, the pizza slides off easily when the pizza is almost finished cooking to crisp up the bottom.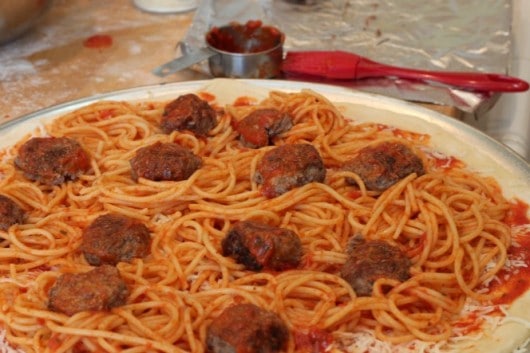 Assemble the pizza and make sure sauce is covering the meatballs so they don't dry out.
It's almost done, but the crust needs to be a bit crispier.
This is where I slide it off and well, make a mess. I often clean it up by vacuuming up the corn meal. Really I vacuum my oven.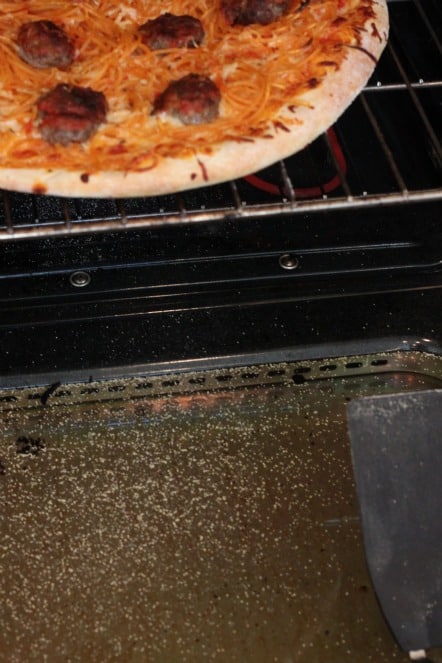 See it's a bit messy, but worth it.
Spaghetti & Meatball Pizza
Ingredients
1 18oz. pizza dough
2 cups cooked spaghetti
1/2 cup tomato sauce + 2 T sauce
1 cup grated Mozzarella Cheese
meatball recipe ( enough meatballs for 2 pizzas)
1 lb. ground beef
1 egg
1/4 teaspoon oregano
1/4 teaspoon garlic
1 tablespoon milk
2 tablespoon grated Romano Cheese
1 slice bread
Instructions
In medium bowl, place ground beef, egg, oregano, garlic, milk and cheese.
Wet the slice of bread with a little water and squeeze excess water out.
Place wet bread in bowl along with other ingredients and mix until thoroughly combined.
Putting on food service gloves to do the mixing helps, especially when the phone rings and well, that seems to happen as soon and I get my hands on the food.
Roll 2 tablespoon size meatballs and cook them in a skillet on medium until cooked through.
Spread out pizza dough onto pizza pan with corn meal sprinkled on it, so the dough doesn't stick.
Place 1/4 cup tomato sauce on top and spread evenly.
Spread Mozzarella cheese on top of sauce.
Mix the spaghetti with 1/4 cup sauce and add that to the top of the pizza. I use a fork to divide the spaghetti evenly around the pizza.
Cut 6 meatballs in half and place them onto pizza.
Brush tops of meatballs with the remaining tomato sauce.
Bake pizza in 450 degree oven for 10 minutes.
Slide pizza off pizza pan and bake directly on oven rack for 2-3 more minutes for bottom of pizza to crisp.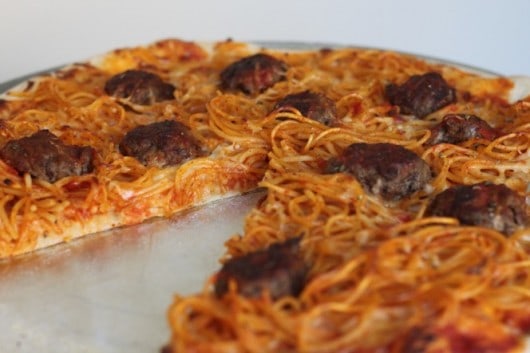 UPDATE: I have found that pizza screens are really great for baking pizza with no cornmeal and you get a crisp bottom of the pizza.

I've been using pizza screens the last year or so and love the results.
Other posts to check out:
PASTA: I have lots of pasta recipes I think you should try. Click here to see them.
COOKIES: If you are looking for something sweet, take a look here for some cookie recipes.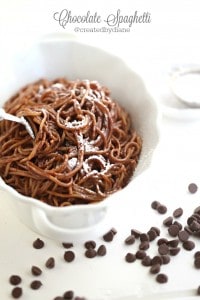 And if you like dessert… this chocolate spaghetti is just PERFECT!

Don't miss one delicious recipe and get my FREE e-cookbook click here!