There is nothing more comforting that meatballs. I could go on all day how I love them!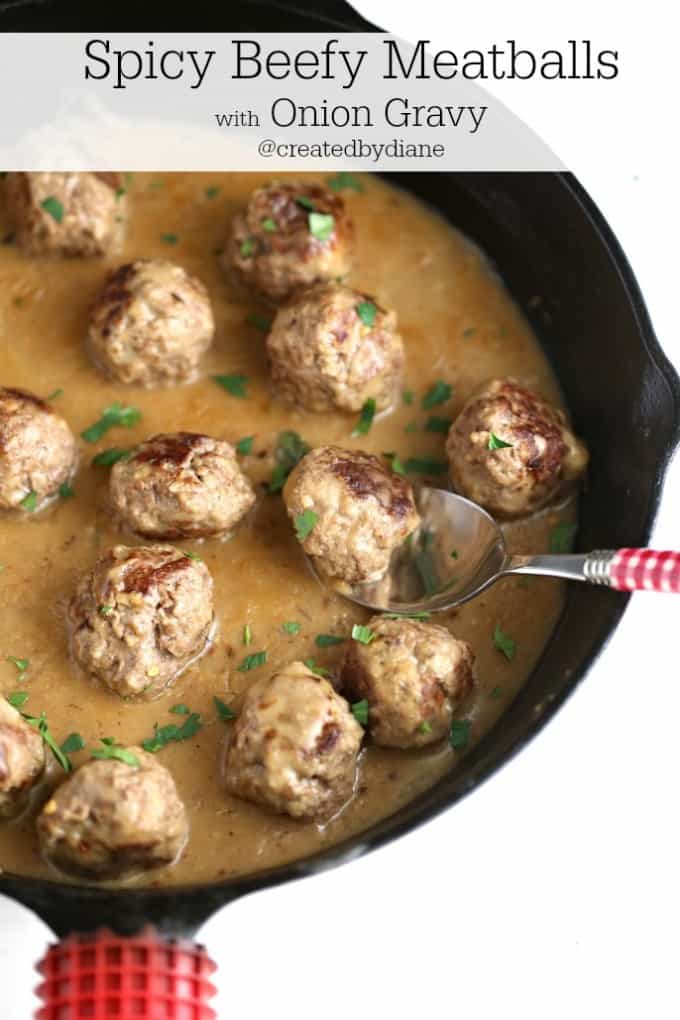 Spicy Beefy Meatballs with Onion Gravy
Pin this on Pinterest to save it for later!
Don't miss one delicious recipe and get my FREE e-cookbook click here!
Sometimes it's the simplest things that make me happy.
I had this whole skillet full of meatballs and my husband walks in the house and was talking to someone on the phone and says…
I've got to go, my wife made something some delicious food.
That's it. Men get right to the point don't they.
Anyway, it was a compliment in my book. The smell he said was so good, he just knew how delicious they would taste.
So instead of some giant put together meal,
we tucked the meatballs into some bread…
stood over the pan and ate them.
Then in came the kids and well, it was no sit-down dinner,
but it was perfect in my book!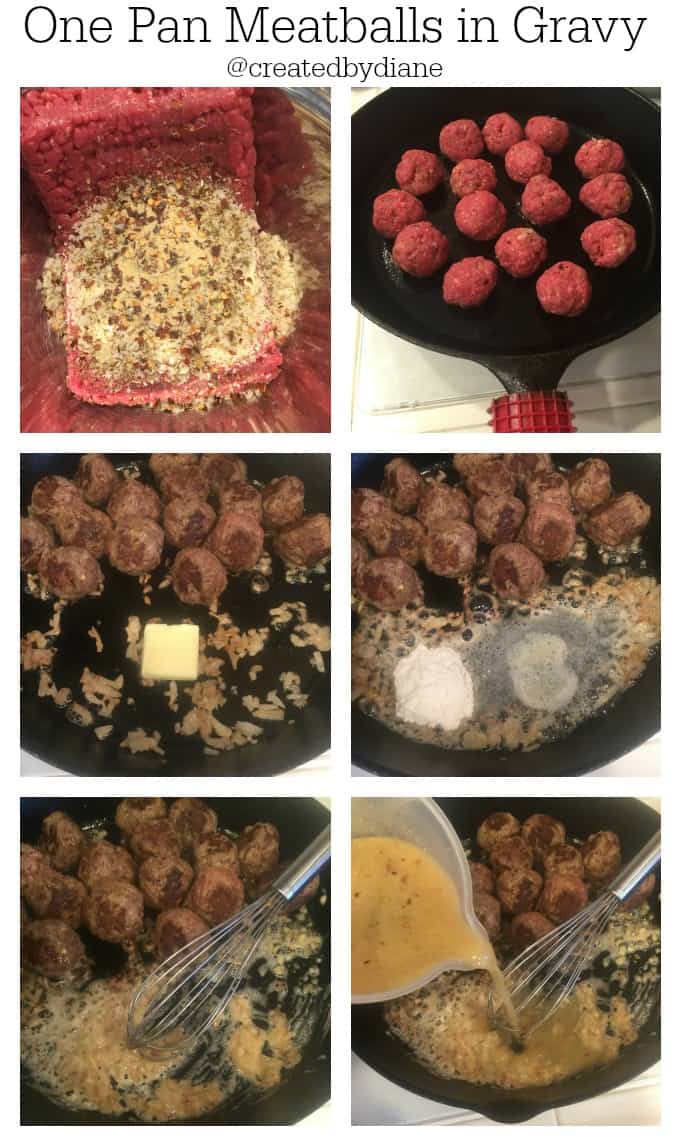 Sure you could put these over some rice, egg noodles or on a sub roll, that is if everyone doesn't devour them!
Spicy Beefy Meatballs with Onion Gravy
Ingredients
1 lb ground beef (I used 90% lean)
1 + 1/2 cup panko bread crumbs
1 egg
1 clove minced garlic or 1 teaspoon garlic powder
1/2 teaspoon dry oregano
1/2 teaspoon + 1/4 teaspoon crushed red pepper flakes
1 tablespoons oil
1 tablespoon butter
1 tablespoon flour
1/4 cup diced onion
1 1/2 cup water
2 teaspoons chicken bouillon
2 teaspoons beef bouillon
* add as much or as little bouillon as you prefer, these amounts worked for me
Instructions
In a medium bowl mix beef with 1 cup breadcrumbs, egg, garlic, crushed red pepper, and oregano.
Shape in two tablespoon size meatballs.
Roll meatballs into the remaining 1/2 cup bread crumbs.
Heat skillet on high and place a tablespoon of oil in the pan.
Place meatballs in pan and cook on all sides until they reach an internal temperature of 145 degrees.
Near the end of the meatballs cooking, add the onion to the pan and stir to cook the onion.
Mix water with beef and chicken bouillon with a whisk to combine it together.
Move meatballs to one side of the pan, place butter in pan and flour, whisk until combined then pour
then pour in water with bouillon slowly while whisking over medium heat. Once you have poured in all the liquid, let the gravy come to a simmer (small bubbles while boiling) then turn the temperature to low and roll all the meatballs to coat them in gravy.
Notes
Serve with bread, over rice or egg noodles. These make great sliders too.