I love Mediterranean food, all those delicious fresh flavors always taste so amazing. Just wait until you try these Greek Chicken Meatballs.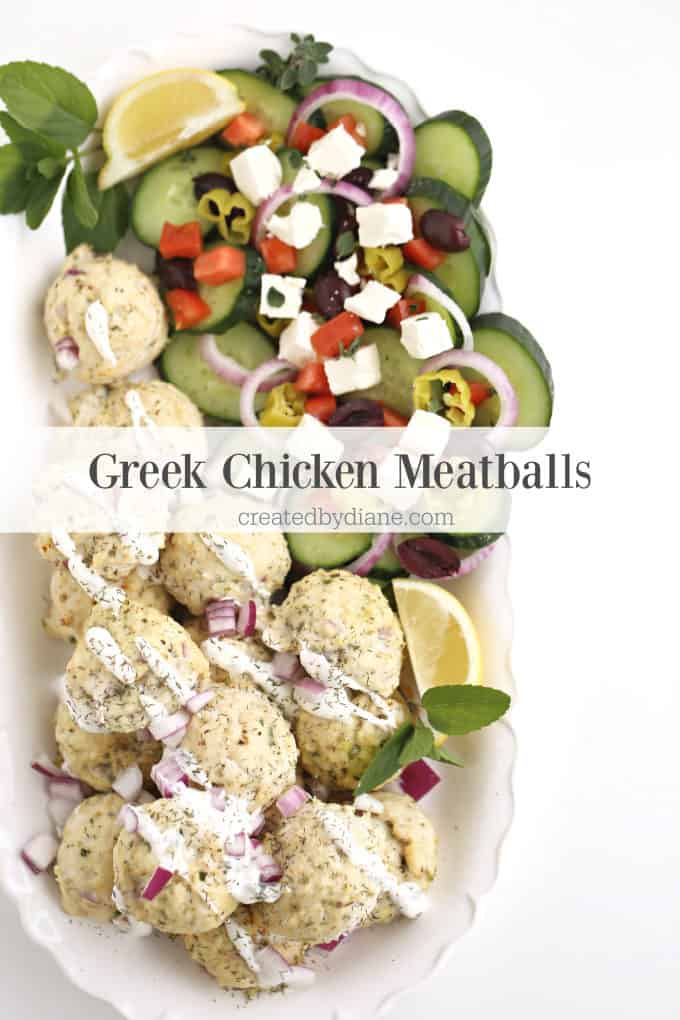 I love how easy this recipe comes together with ground chicken and how quickly they cook too.
Just imagine in about 30 minutes digging into the plate of deliciousness!
The meatballs themselves have a great flavor… I serve them with an easy cucumber salad and top it with some tzatziki sauce and POW…  a healthy meal that is ready fast.
There are many items that you could serve this with like this delicious Hummus or this White Bean Hummus.
I baked these meatballs, you can cook them in a skillet, I'd recommend a nonstick skillet as ground chicken tends to stick easily in a pan.
Other easy ground chicken recipes: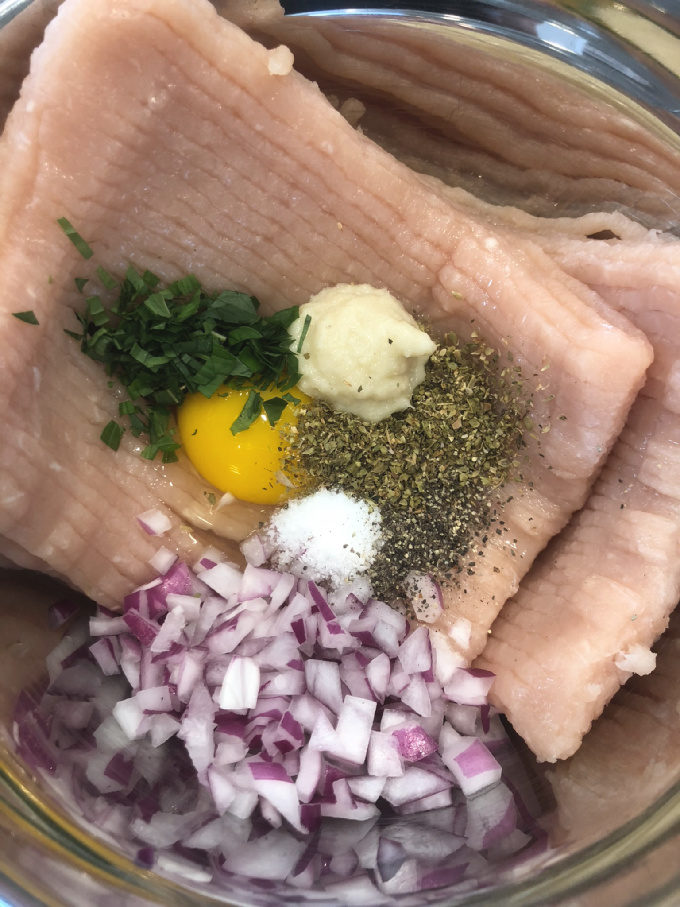 Meatballs come together so quickly and easily just place all the ingredients in a bowl, mix to combine then start rolling into balls.
Place them on a baking sheet and bake them. Check with a thermometer and bake until they reach an internal temperature of 165°.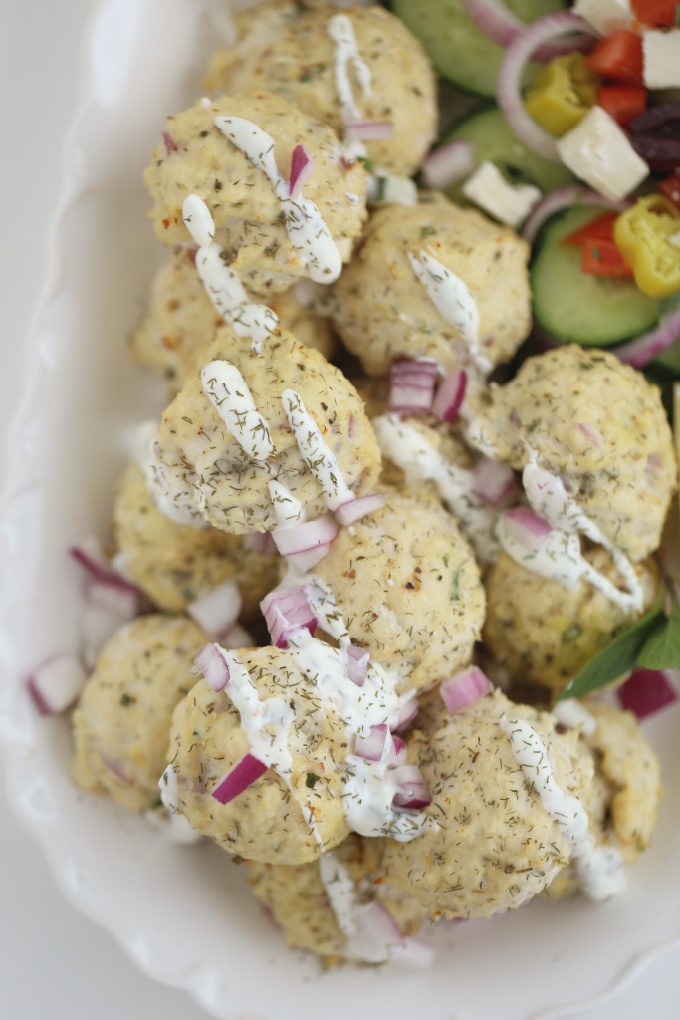 I've made tzatziki at home, but it's so readily available now, I most often just purchase it.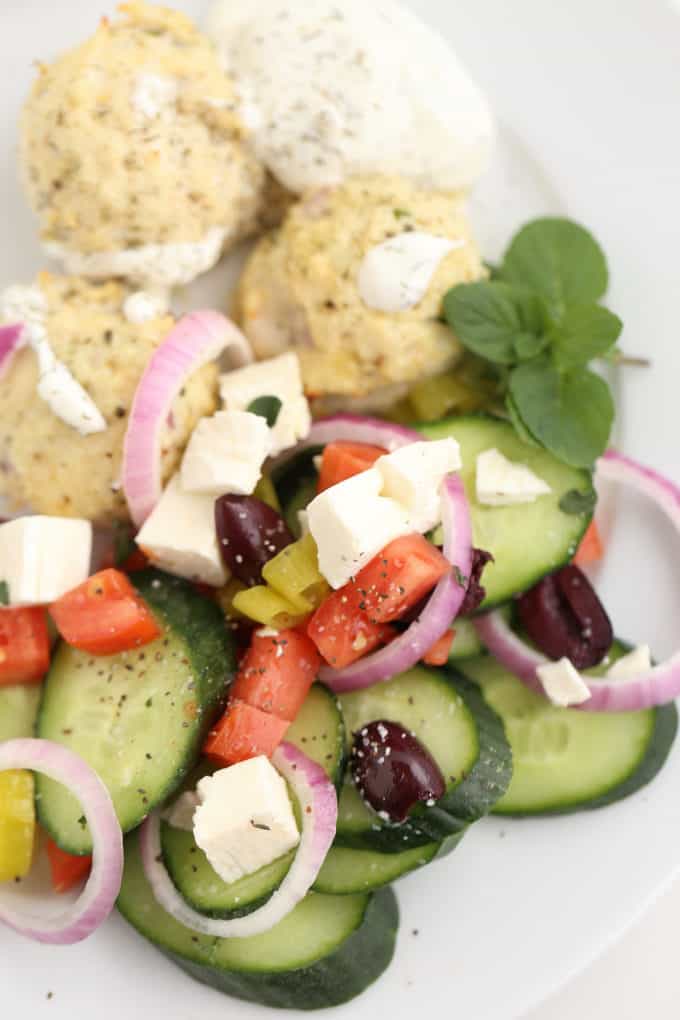 The fresh flavors and amazing color combinations make this a truly appetizing meal!
Greek Chicken Meatballs
Ingredients
2 lb ground chicken
1/3-1/2 cup diced red onion
1 egg
1 tablespoon garlic paste
1 tablespoon chopped fresh mint (or 2 teaspoons dry)
1 teaspoon oregano
1 teaspoon salt
1/4 teaspoon black pepper
Instructions
In a medium bowl mix, all ingredients together
Roll into 2 tablespoons sized balls and place on a baking sheet ( I usually use a nonstick foil on the pan to help them from sticking)
Bake at 350 degrees for 20-25 minutes or until the internal temp reaches 165° don't overbake or they will become dry (as ground chicken is very lean)
Notes
top the meatballs with tzatziki sauce, chopped red onion and dill.
Greek Salad
Ingredients
cucumbers, sliced
red onion, rings
pepperoncini, slices
kalamata olives cut in half
tomato, diced
feta cheese, cubed
olive oil
lemon, juiced
Instructions
Place items on the plate and drizzle with olive oil and lemon.
delicious with salt, pepper, oregano, mint, and dill.