Red, White and Blue Cake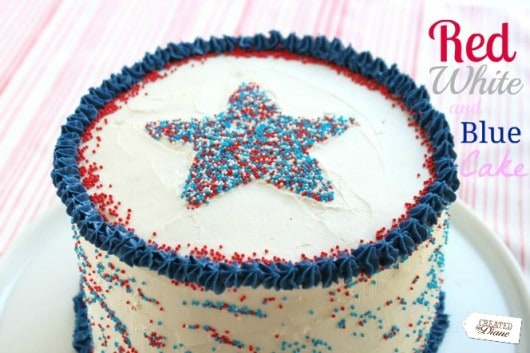 Summer seems to be in full swing here, we were at 100 degrees this week and I'm sure it will get even hotter.
Summer fun seems to kick off at Memorial Day, but the 4th of July is always a fun summer celebrating time with all the Red, White and Blue, fireworks and of course yummy food, BBQ's and get togethers and days spent at the pool and beach. I LOVE summer!
I still have no idea what we are doing for the 4th but by the end of the day I think we'll iron out our plans and I'm sure I'll be making another one of these cakes.
I love multi colored cakes and tried it a bit different this time. Instead of adding all the colors at different times into the baking pans I decided to layer two colors and see how they would bake up.
It all started like this: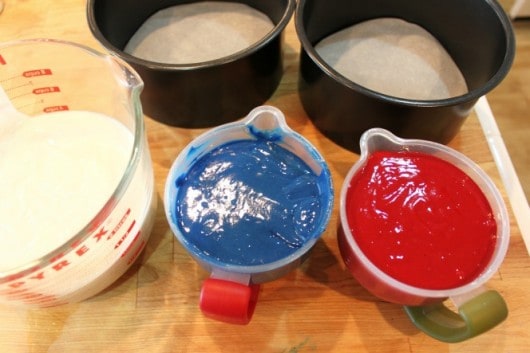 I prepared two boxes of white cake mix according to the directions.
One batch remained white (4 cups)
To the second batch, I split it in half (2 cups each) and tinted one with Red Americolor food coloring and the other with Blue Americolor food coloring,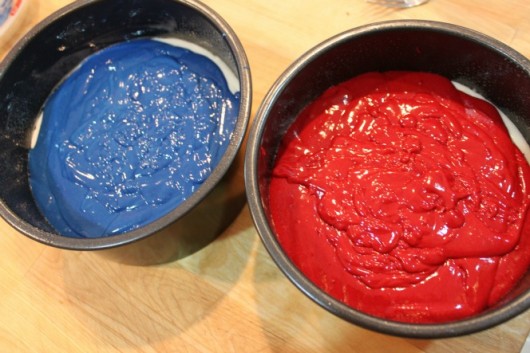 I placed 2 cups of white cake mix in the bottom of each 7×4 cake pan lined with parchment and sprayed with Bak-klene. Then added 2 cups of blue to the top of one, and 2 cups of the red batter to the other. I gave each one a gentle stir, but didn't completely fold the white into the colored batters. I imagined the white surrounding each color when baked, but wasn't really sure how they would turn out. Multi colored cakes are somewhat of a surprise and I like that!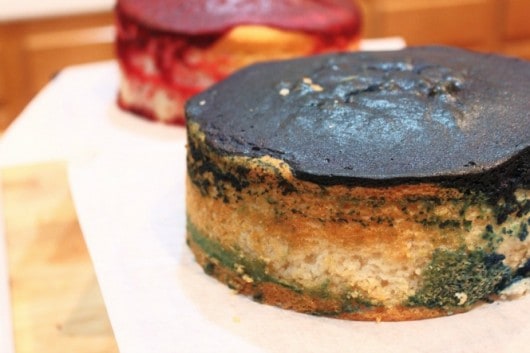 Once the cakes were cooled and removed from the pans. I placed them in the refrigerator so they would be easier to trim the tops off of and layer together and frost.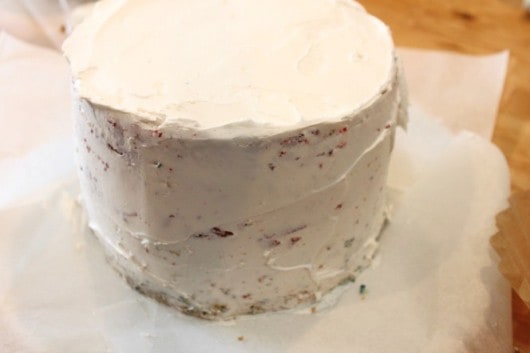 And frost I did. I placed white buttercream frosting in between the two cakes with the red and white cake on top and the blue and white cake on the bottom. I wanted the buttercream bright white so I used all shortening and added some bright white Americoloring to it. I gave the cake a thin coat of buttercream and put it in the fridge to chill it for the final coat.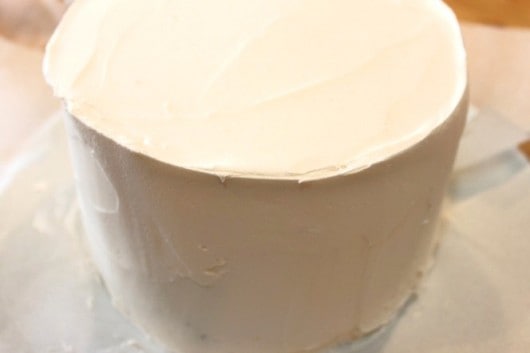 I smoothed the frosting around the cake with an offset spatula.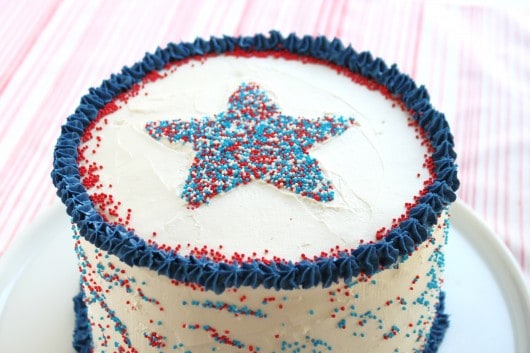 Ta Da!
A few sprinkles and blue frosting and there you have it. A fun and easy Red, White and Blue Cake.
Oh yes, the inside….
well I thought the white would surround the colors a bit more, I guess I could have swirled them more.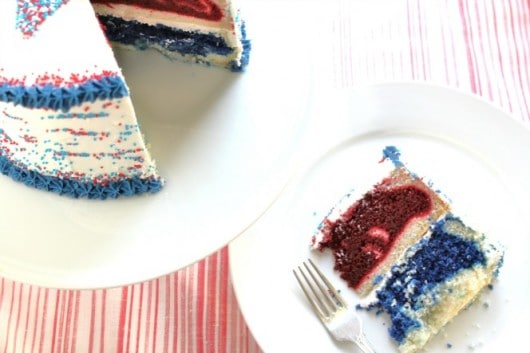 Sliced the colors looked good,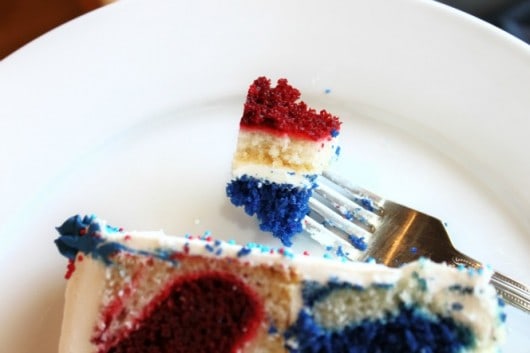 see how fun cakes can be!
You will find instructions on how to make apply the sprinkles in a design on top of a cake HERE.
More fun multi-colored cakes: