Red Velvet Frosting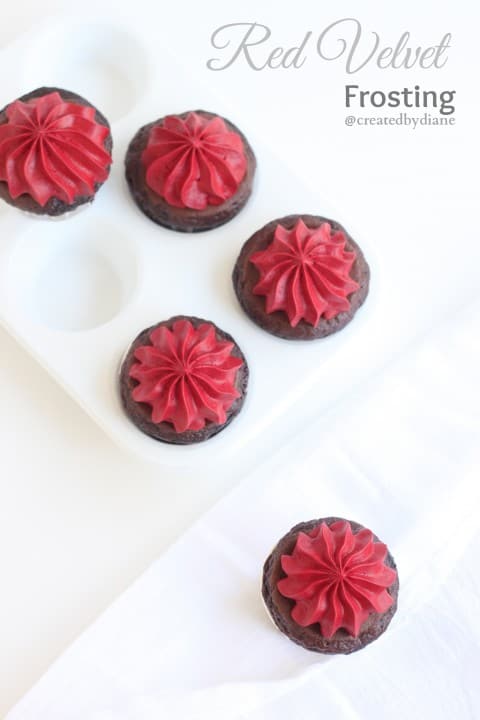 One quick look around my blog and I'm sure you would notice I like Red,
I like pink too, but really there is something so appetizing about red.
I've heard the color red alone makes you hungry, hence the red and white check tablecloths in restaurants and it's a very popular color in kitchens.
I'm in complete agreement, kitchens look great with red and red and white check tablecloths are a winner in my book.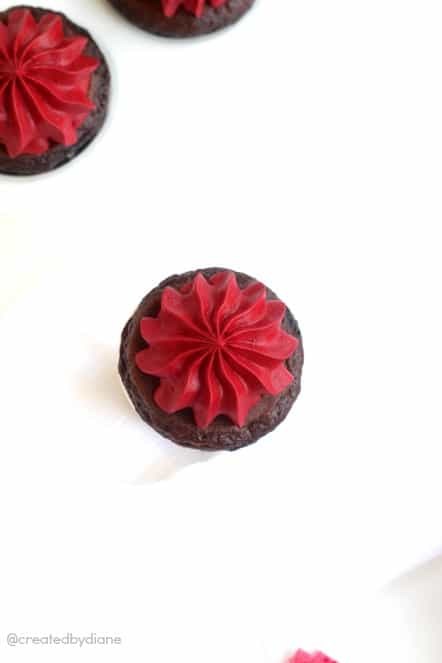 Red Velvet Frosting
Ingredients
1 cup butter
5 cups powdered sugar
1 tablespoon Red Velvet Emulsion
1 teaspoon dry buttermilk
2 tablespoon heavy cream
1 tablespoons unsweetened cocoa powder
2 teaspoons super red coloring
Instructions
Beat slightly softened butter with powdered sugar in mixer until fluffy.
Add in red velvet emulsion, dry buttermilk, heavy cream, cocoa and red coloring.
Beat until smooth and creamy.
Fit piping bag with 857 tip and fill bag with frosting and holding the piping bag straight pip frosting onto cupcakes. One squeeze per cupcakes is how I applied it, holding the tip close to the cupcake and releasing the pressure before pulling piping bag away before going onto the next cupcake.
Notes
The frosting will become darker over time. Add coloring accordingly.
This Red Velvet Frosting is wonderful on chocolate cupcakes here is my favorite
Chocolate Cupcake Recipe.
 If I am in a super hurry I mix up a box of devils food chocolate cake mix with a 3.4 oz package of instant chocolate pudding and while the cupcakes are baking there is plenty of time to do the dishes and mix up this pretty frosting to top them off with.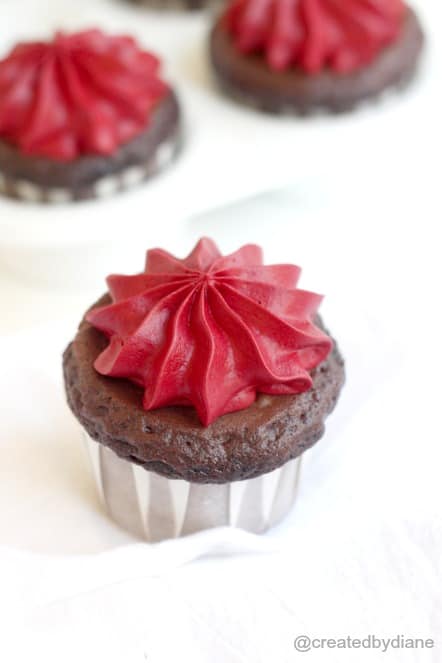 I decorated these cupcakes with a #857 tip on the piping bag. I just love this tip, it looks so pretty on cupcakes.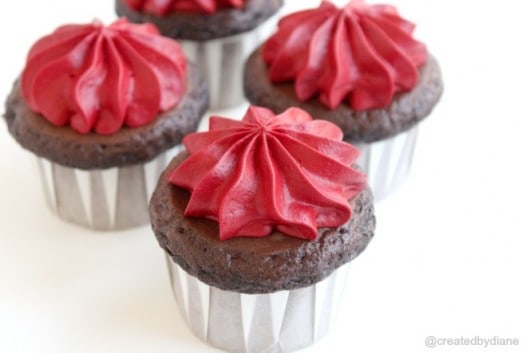 Do you like red as much as me?
Here are some fun red velvet items you may