Red, White and Blue Cupcakes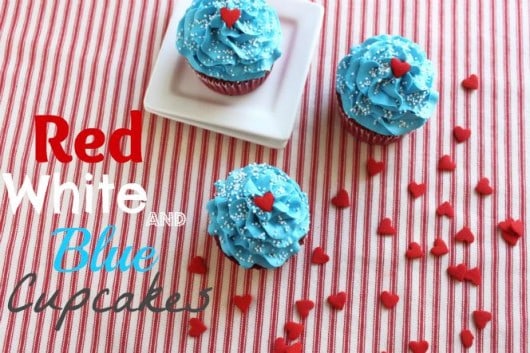 Red, White and Blue will never go out of style!
No matter what time of year it is.
These would be great for any occasion, but these will be perfect for the 4th of July.
There are so many wonderful Patriotic desserts, I just figured I'd make some to share with you the next week or so besides like I said they'll never go out of style.
I have a whole Pinterest board devoted to the 4th of July and all things Red, White and Blue take a look for some really fun ideas!
I'm not only sharing how to make these pretty cupcakes today, I'm going to share with you how to do them with no mess, and if you've worked with nonpareils and sprinkles I'm sure at one point you've found them messy.
Or is that just me?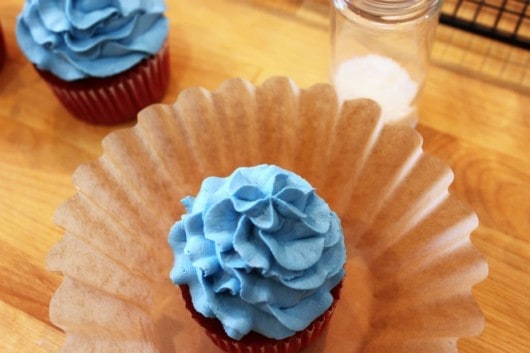 The non messy way I like to add sprinkles to cupcakes is to place each cupcake in the center of a coffee filter, then shake or pour sprinkles over the top of a freshly frosted cupcake and let the excess sprinkles fall into the filter for easy clean up and no waste.
How to pipe a swirl on cupcakes video
Red, White and Blue Cupcakes
Ingredients
Red Velvet Cake Mix (Dunkin Heinz)
three eggs
butter melted and cooled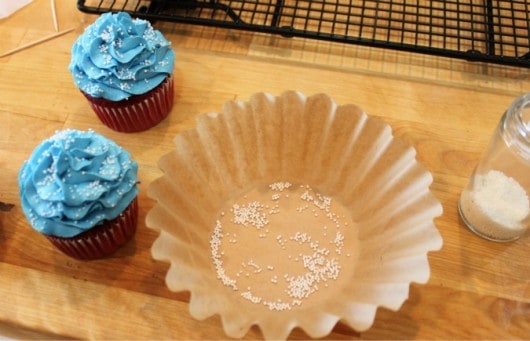 when your finished and all the sprinkles are in the coffee filter, just fold the sides of the filter to the center like a taco and pour the excess sprinkles back into you container or mouth, depending on how big of a sweet tooth you have.
If the nonpareils get stuck on the edge of the cupcake wrapper just flick them off with a toothpick. Toothpicks and coffee filters are handy tools to have around when decorating cupcakes and cookies.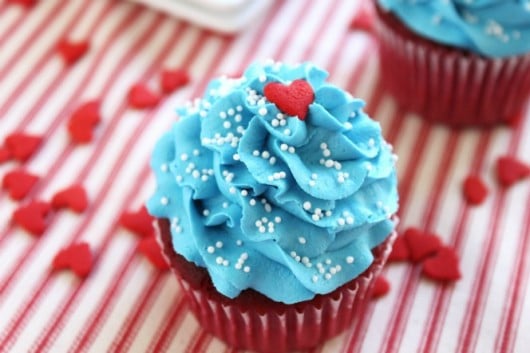 I love red, white and blue.
I didn't have large red stars, just small ones. I do really think the red hearts are totally cute on these! Are you surprised, I didn't think so…you know I love hearts!
Did you like my coffee filter tip?
Would you like to know another?
I'm going to look for the photos just in case you say yes and if you do I will post it.