Antipasto Appetizer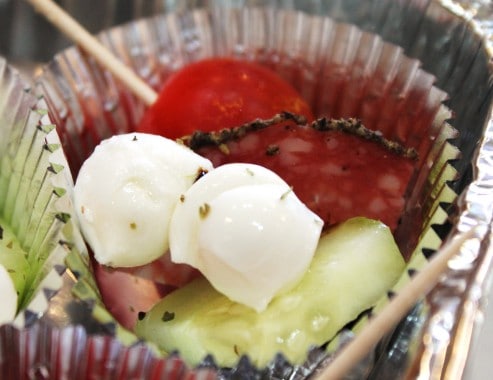 Summer is in full swing here and that means at the drop of a hat I will be whipping up some things to take with us with no advance notice, this Antipasto Appetizer is just perfect for times like that.
Antipasto (Antipasti-plural) means before the meal.
Perfect.
I just love snacking before the meal.
This is quick and easy to assemble, I used mini aluminum foil cupcake liners for these, I've also used small plastic cups, the type you get a to-go dressing in.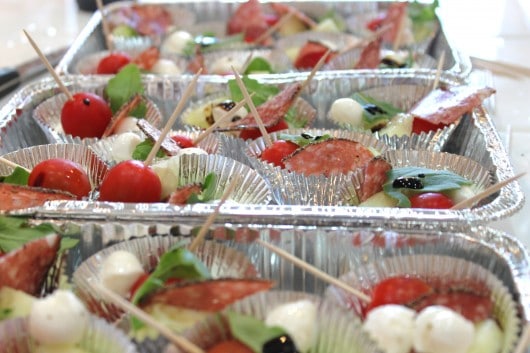 What you'll need to make this quick and easy Antipasto Appetizer:
Grape tomatoes
cucumber (peeled and cut into small pieces
fresh mini mozzarella balls
Pepper Salame-cut in quarters ( I use Columbus Salame just like I did in the pressed sandwich)
Arugula or basil (I used Arugula on these)
Balsamic Creme-a drop or two ( I use it on this goat cheese pizza too)
Aluminum or plastic cups and toothpicks.
(Sticking the toothpicks in the tomatoes made it easy to grab as the tomatoes are firm and the toothpick holds up in them.
You could add olives, pepperoncini if you prefer provolone cheese that would make a nice alternative also.
A great cold appetizer on a hot day that takes minutes to prepare.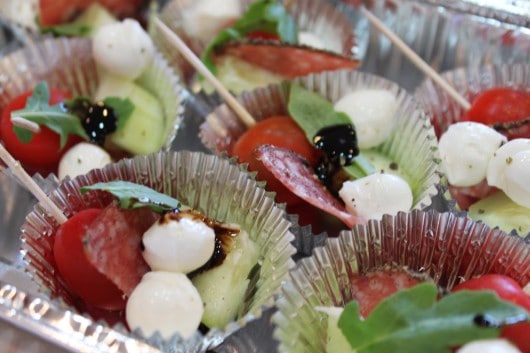 I've made appetizers kabobs that are skewered onto sticks,
I made some tortellini kabobs with salami, Italian parsley, provolone cheese, black olive and pepperoncini, and pepperoni.
I marinated the tortellini in Italian dressing I made overnight.
This is a great alternative and certainly easier to assemble. The addition of pasta is nice also.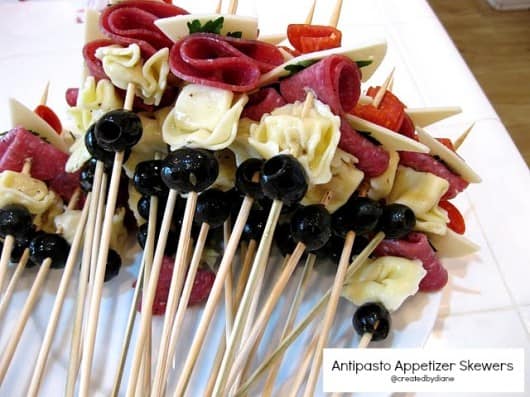 Here is another great appetizer.
I cooked tortellini then put Italian dressing on it and placed it in the fridge until I was ready to assemble the skewers (I made them the night before to save time)
I added black olives, salami, provolone cheese, parsley and pepperoni to the skewers.
These take some time to put onto the skewers so plan ahead, then put them all in the fridge until the party.
These are delicious and filling and enjoyed by all!