This pasta salad recipe is full of fresh flavors starting with fresh tomatoes and basil, and OMG the feta cheese makes it over the top delicious. Try this Feta Basil Balsamic Pasta Salad is a true WINNER!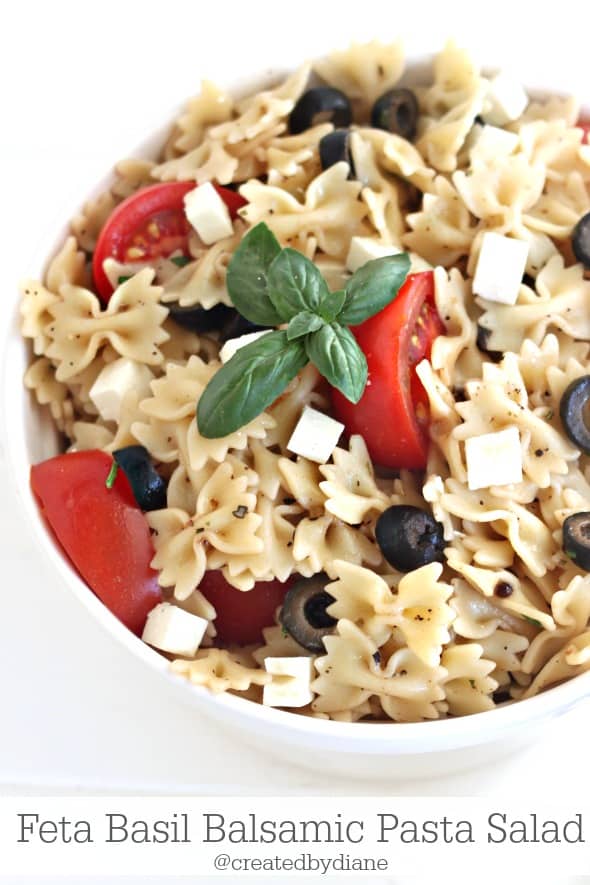 This cold pasta salad is like no other..
Years and years ago I walked into a deli and ordered a pasta salad.
From the moment the fork went in my mouth I knew I had found a new favorite.
It was a little different than this pasta salad, it was made with tortellini, but with the tortellini, three bites in and I felt it was too heavy.
The following week, I decided to make a version of what I had ordered, but I wanted to be able to enjoy it just a little longer, so I replaced the tortellini with bow ties, I also use penne for it.
For years this was my go-to pasta and I hope it will become yours too!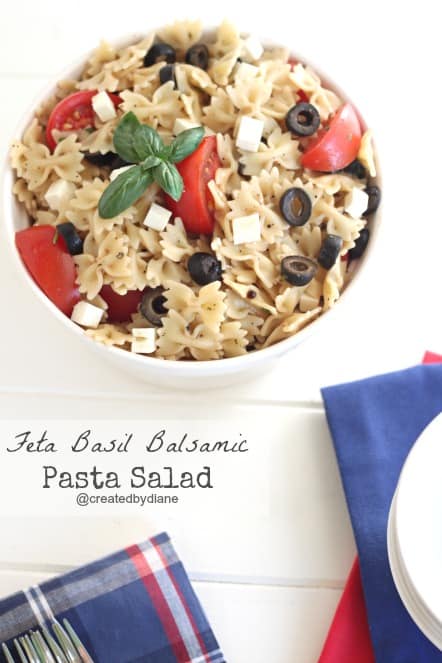 It all starts with individual bold flavors combined to give you a pasta salad fit for celebrating!
Ingredients you'll need to make this feta basil balsamic pasta salad
feta cheese, OMG I love feta, a little tangy and has a great texture. 
Fresh basil, with its minty flavor it goes great with all the ingredients especially the tomatoes
Speaking of tomatoes, you can use any variety, diced Romo tomatoes are my go-to for this dish, but halved grape or cherry tomatoes will be just as good.
black olives these give the dish a great flavor
balsamic vinaigrette, I typically use Newmans own balsamic vinaigrette but you can easily make your own dressing with oil, balsamic vinegar, dry oregano, salt, and a little mustard.
And the pasta, I use bow tie or penne usually, but rotini or another similar sized pasta will work as well.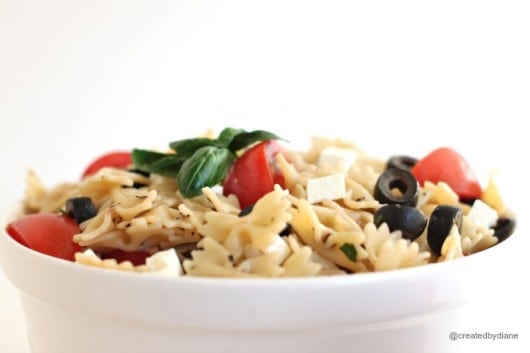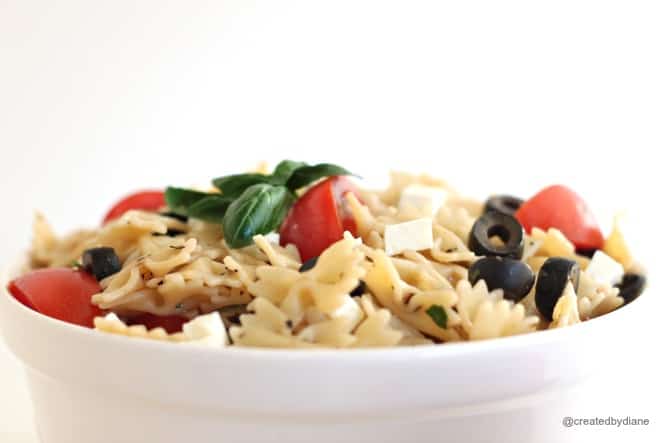 When we are heading to the beach and I always know THIS is the first thing I'll make to bring with us. 
Can you use another cheese?
Yes, you can use Cotija cheese as it has a similar texture and goes nicely with the other ingredients. Grated parmesan cheese is another option.
If you don't prefer olives there are options
simply omit them or you could add chopped walnuts or pine nuts.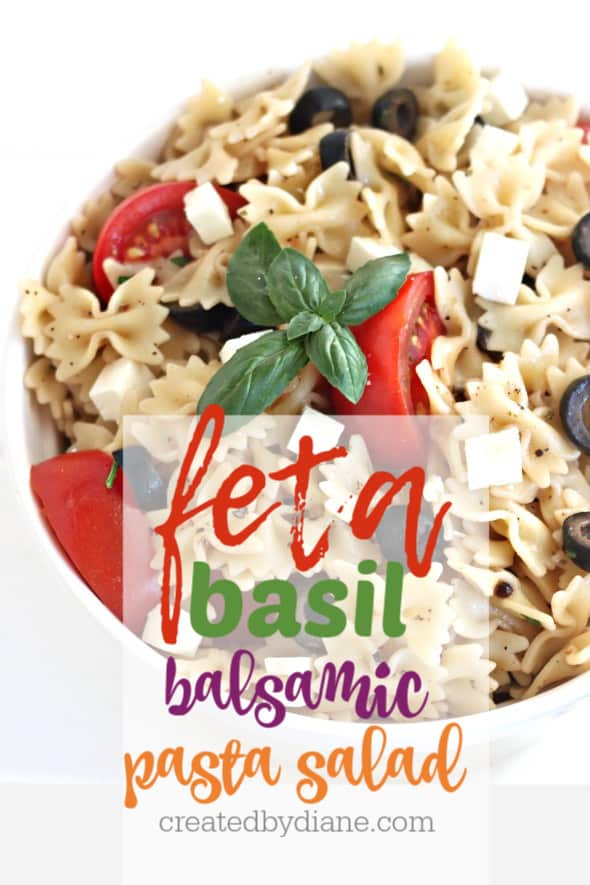 Other pasta salad recipes to try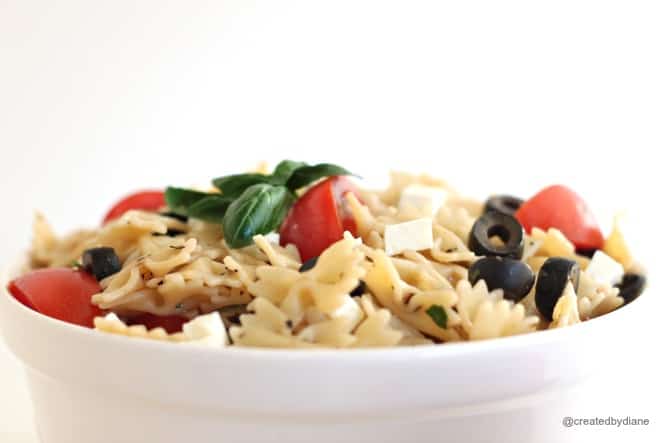 This pasta is perfect anytime really, but when you need food on the go, it ranks right up at the top. It won't spoil quickly, perfect for just about any occasion.
It's great with a loaf of crusty bread.
The other great thing is that this is not only great in the summer but can be made all year round!

Feta Basil Balsamic Pasta Salad
a great fresh flavored pasta salad with is perfect for days at the beach, luncheons, pot luck, and to have on hand for weekday lunches.
Author:
Diane Schmidt Created by Diane
Ingredients
1 lb pasta (bow tie or penne work well)
6 small tomatoes cut into wedges or 12 grape tomatoes cut in half.
1 can sliced black olives drained and rinsed
2 oz feta cheese diced small
8 basil leaves fined chopped
1/4 cup balsamic dressing (I use Newmans Own)
1/2 teaspoon dried oregano
salt and pepper
Instructions
Cook pasta according to directions.
Drain pasta, then add cold water and some ice cubes to bring the temperature of the pasta down quickly. Let it sit in the cold water for a few minutes. Change the water if it becomes warm.
Drain the pasta and place it in a large bowl with the tomatoes, olives, cheese, basil, dressing, oregano.
Mix really well.
Add salt and pepper to taste.