Smooth and creamy old fashioned baked custard, a classic dessert that is always delicious. This recipe makes the perfect individual desserts.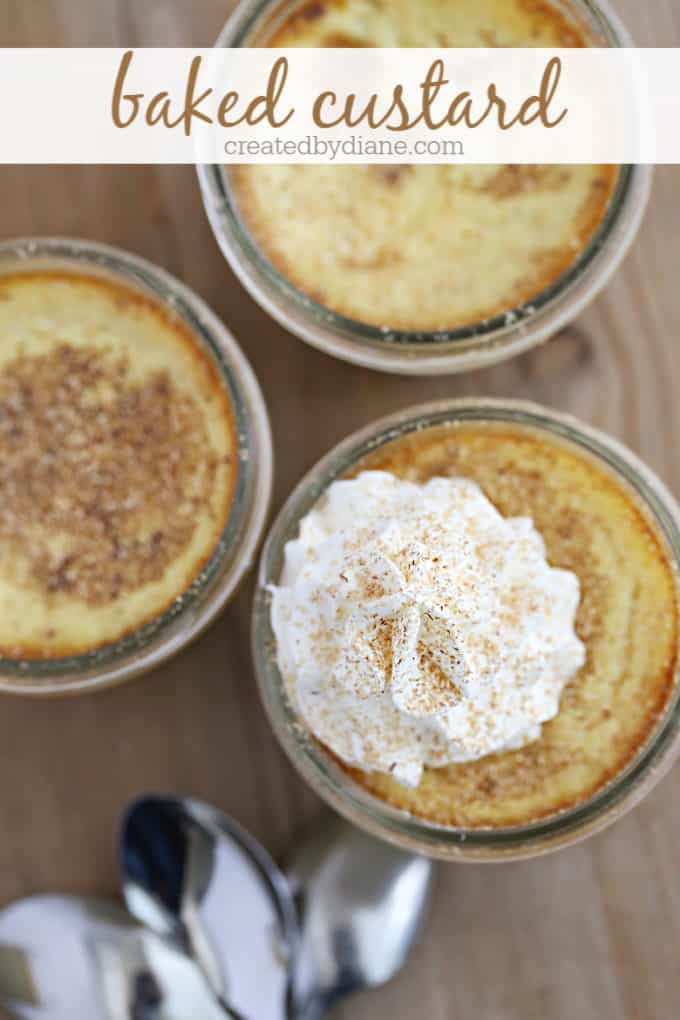 This week I"ve made so many of my childhood favorites and this is one I NEVER made before. 
It was one of those recipes I LOVED coming home to when I was a kid. I'm not sure how often my mom would make it but I think I remember every single time.
I would eat it s-l-o-w …
savor every bite.
It's rich and creamy with a great vanilla flavor and I find it irresistible.
It looked a bit intimidating baking it in a water bath…
and truth be told it was the one item I looked forward to having my mom made for me. There's a few more, I'm trying to tackle them one by one. 
This custard is also known as egg custard and tastes like Amish custard. It's a really simple recipe with minimal ingredients.
But…
don't be like me, waiting for someone to make you this yummy recipe. Give it a try, don't let the water bath intimidate you, just be sure you use a baking dish that has high sides, so you won't spill the hot water getting it out of the oven.
This recipe could not be easier, the ingredients are simple and it takes only minutes to prep.
The one thing to note is this recipe calls for a can of Sweetened Condensed Milk (not regular milk, and not evaporated milk as some people have made it with those items and messaged me it was watery, so be sure it's a can of sweetened condensed milk usually found in the baking aisle).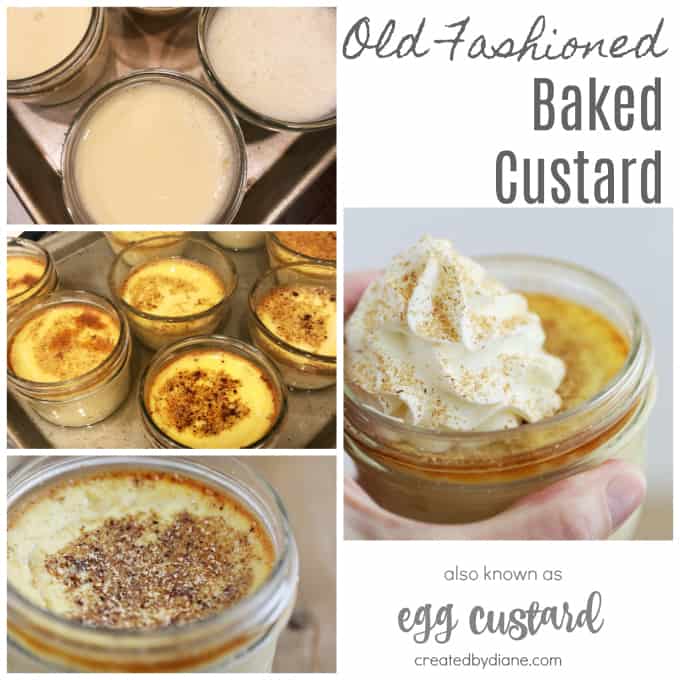 As soon as everyone took. bite of it… 
well, let's just say it now everyone's new favorite.
I didn't realize it had been so long since I had freshly baked custard. 
And I am positive it will be seen around here a LOT!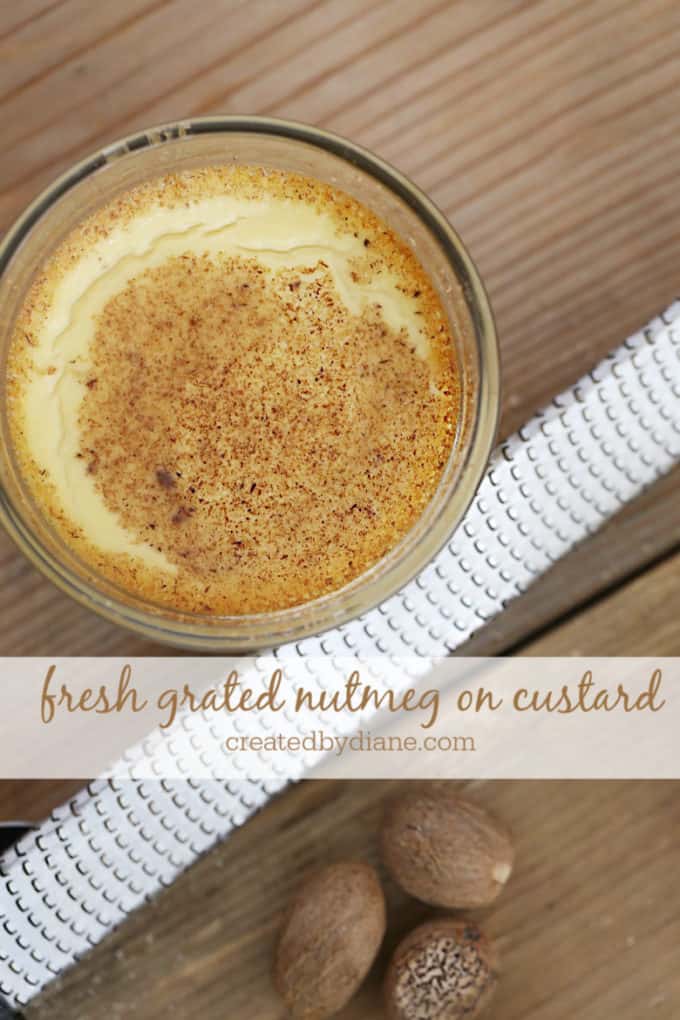 I just love fresh nutmeg, as soon as you grate it, the aroma just fills you with a warm feeling. 
If you don't have or can't find it, ground nutmeg will work well. Ground cinnamon is also another option, but I prefer nutmeg.
I like custard in individual dishes, but you can also bake it in a casserole dish. This recipe made about 10- 1 cup serving, you could alternatively use 1/2 cup servings. I use canning jars, they work well and I'm not afraid that they will break. Be sure to bake them in a water bath. Be sure whatever dishes you use are oven safe.
One of the best parts about this recipe
is I have the items to make it on hand, petty much at all times. I always keep sweetened condensed milk in my pantry and eggs in my fridge. Some may say I buy a lot of eggs. They are so versatile, it's no wonder I have at least 3 dozen eggs in the fridge. It's a rare day we don't have any.
Be sure to take a look at my other recipes that use Sweetened Condensed Milk
Recipe using EGGS
Baked Custard
silky smooth, creamy thick baked custard, baked to perfection, just about the most perfect thing to make with EGGS!
Author:
Diane Schmidt Created by Diane
Ingredients
1- 14 oz can sweetened condensed milk (NOT evaporated milk, or regular milk)
4 cups very hot water (boiling) plus additional for pan
5 eggs (6 eggs if they are on the smaller size, I use large eggs)
1 teaspoon vanilla extract
1/4 teaspoon salt
nutmeg (fresh grated or dry ground)
Instructions
Preheat oven to 325°
In a large bowl, place sweetened condensed milk and hot water and mix until combined.
In a medium bowl beat eggs until fluffy ( I use a hand held egg beater).
Then pour the eggs into the sweetened condensed mixture, stir in vanilla and salt.
Place the mixture in a casserole dish, or individual dishes.
Sprinkle nutmeg on top.
Place the dishes in a baking pan with high sides.
Place 1 inch of boiling water into the baking pan making sure you do not get any water in the dishes.
Bake for 1 hour, a knife should come out clean after being inserted into the baked custard.
If it's baked in 4 oz jars 45-50 minutes (don't overbake or it will weep as it sets up)
Allow the dishes to cool enough to touch them, then place them in the fridge to completely cool.
You can eat it warm, but I prefer it cold. (If you want creme brulee, add granulated sugar and torch until the sugar carmalizes)
This makes approximately 10- 1 cup servings.