Give me all the savory breakfasts! This baked Savory French Toast is not only easy but delicious and perfect around the holidays with all the typical sweets around this is a welcome change.
I love savory items for breakfast, which are not always popular or easy to find as a bowl of cereal, items smothered in maple syrup.
Pancakes, waffles, traditional french toast are all often served with syrup and fruit.
I love bagels with cream cheese, with sliced red onions and tomato topped with salt and pepper, no jelly for me.
My other go-to is avocado toast, topped with an egg or some slices of bacon.
Along comes this unexpected Savoury French Toast recipe that is a welcome heart warming dish to the usual sweet breakfasts.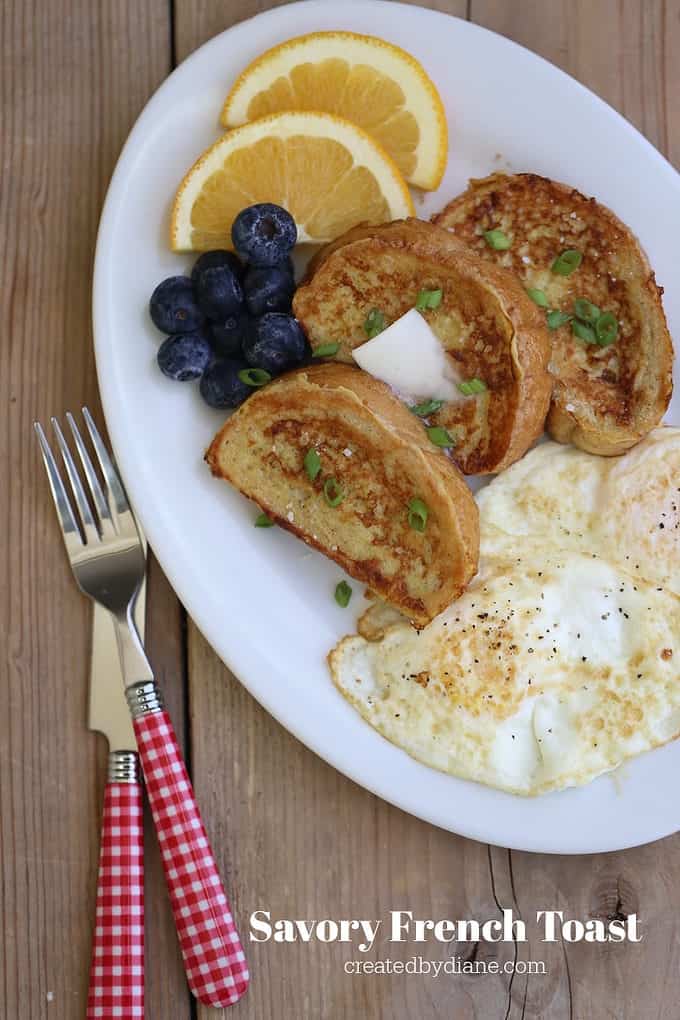 One of the best tips I can give you for perfect french toast:
is to dry out the French Bread(the only alternative I would suggest is Texas Toast as it's thick and will work well in this recipe).
Now, make it stale…
hear me out on this one,
like stuffing, the texture will be better than soggy bread soaked in eggs, then cooked.
The bread can be sliced a day ahead, or you can do what I do is slice it and place it on a baking sheet, then bake it until it's dry.
I stand my slices on end, so each side dries out. If you can't or they fall, lay them flat, then turn them over halfway through baking so both sides are dry.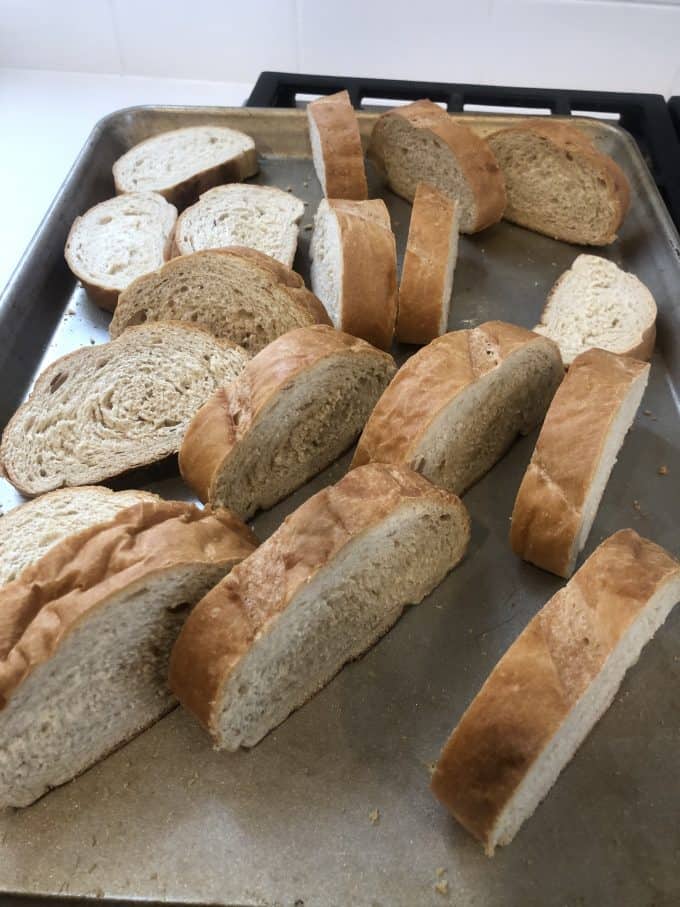 You can almost see the crispiness from here, right!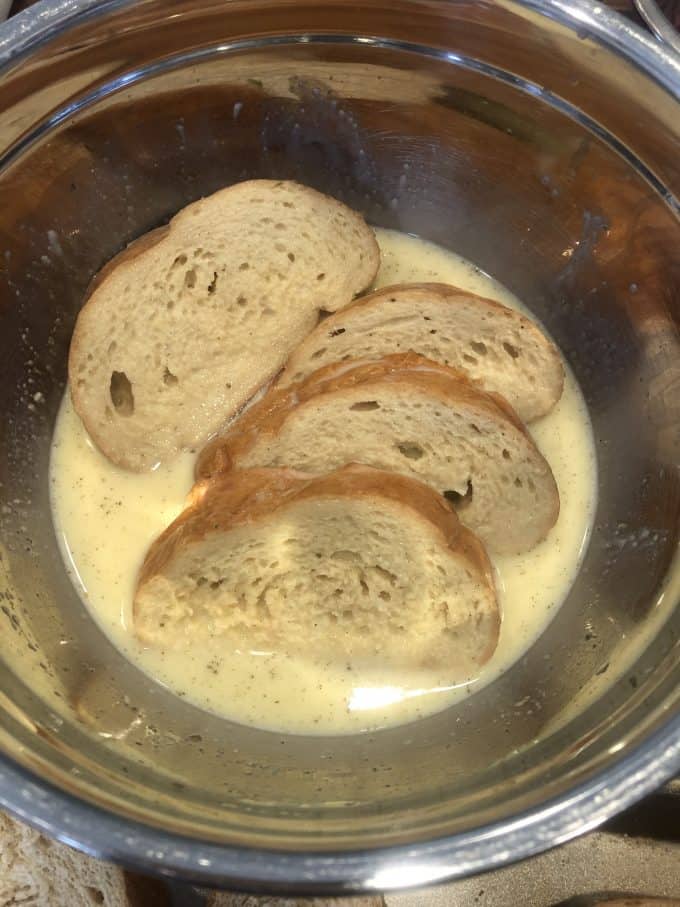 Then soak them in the egg mixture.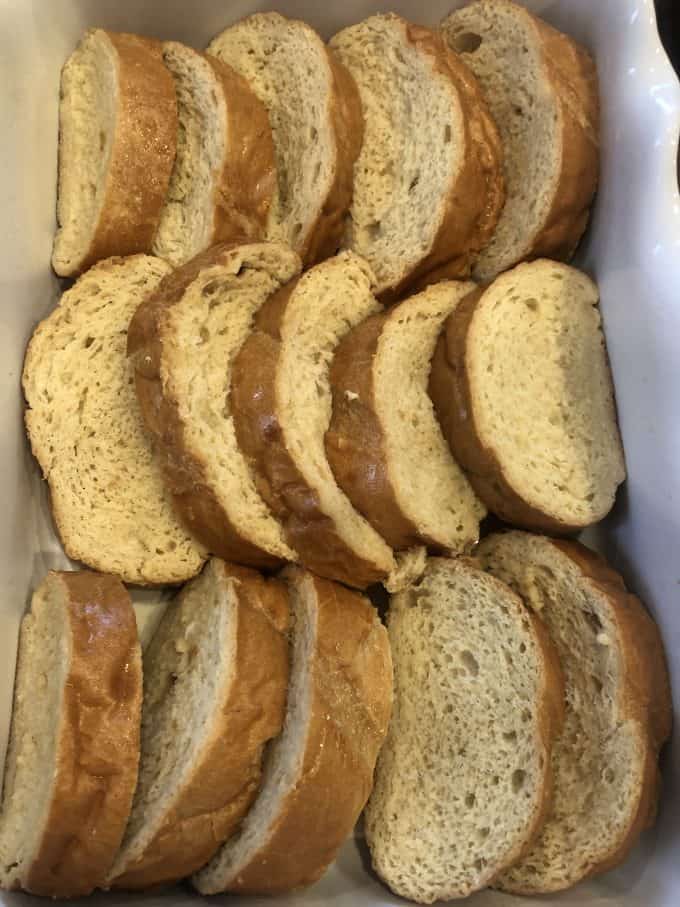 Line up all the soaked slices and then top them with a little grated Romao or Parmesan Cheese… oh so yummy, then cover the dish with foil and bake it.
Remove the foil the last few minutes to give it a nice golden brown color and serve.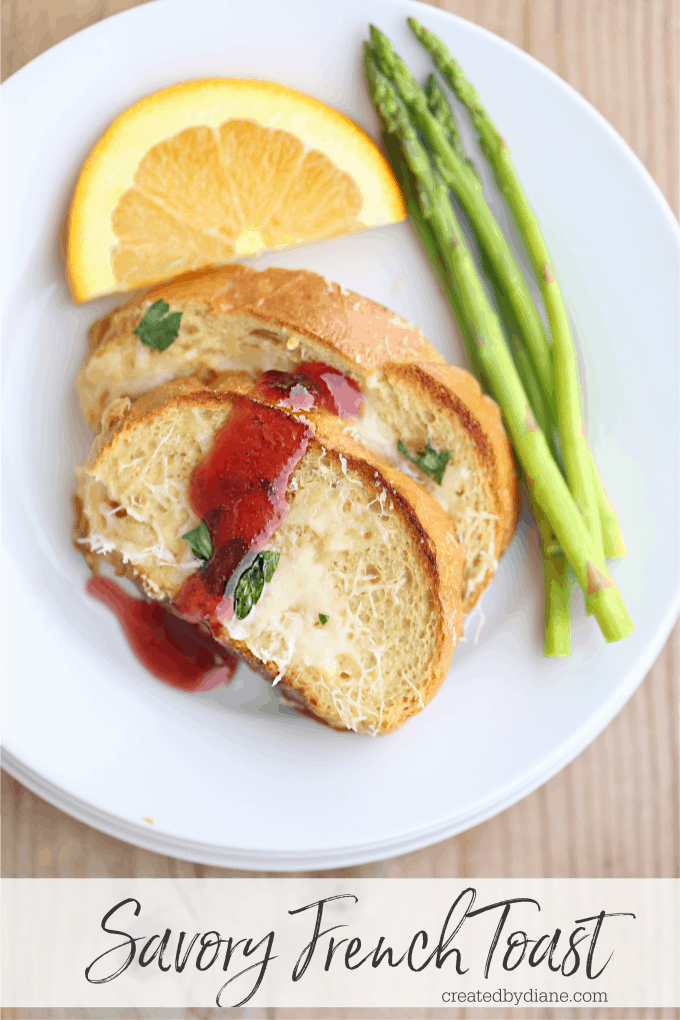 You may want to serve it with some delicious cranberry syrup, or your favorite… how about some blueberry syrup.
You can follow the instructions to make the smooth cranberry syrup by just substituting cranberries in the blueberry syrup recipe.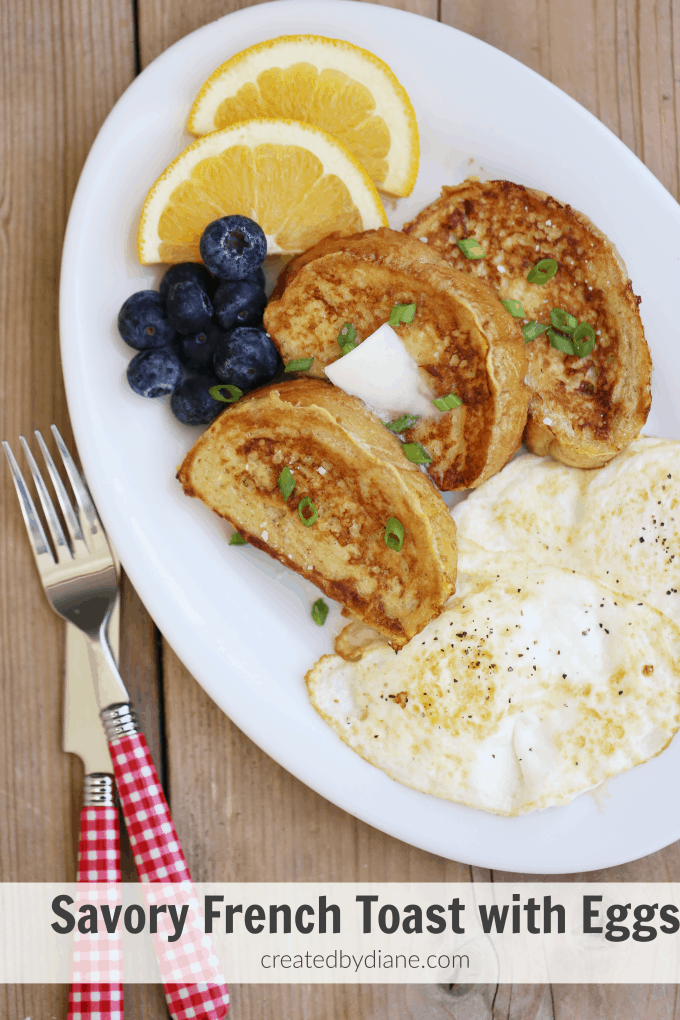 Keeping the meal truly savory add some eggs for a dynamic duo!
Truly a savory breakfast… so warm and delicious and perfect for holidays and beyond, great on weekends and you'll be surprised how many sweet eaters will love it too.
If you are looking for more breakfast options be sure to take a look at my Toast Overload Post,
full of quick easy toast ideas, and keep scrolling below the recipe box below as there are many items I listed there as well.
Savory French Toast
This savory breakfast can be baked in the oven or cooked in a skillet on the stove. A great accompaniment to eggs and a great breakfast or brunch to serve to anyone who likes savory recipes.
Author:
Diane Schmidt, Created by Diane
Ingredients
1 lb loaf French Bread, or similar (sliced 1" thick)
4 eggs
3/4 cup milk
3/4 cup chicken broth
1/2 teaspoon chicken bouillon, (for extra flavor) if you don't use you may want to add a pinch of salt
pinch or 1/8 teaspoon poultry seasoning
1/4 cup grated Romano or Parmesan Cheese
Cranberry Maple Syrup
1/4 cup cranberry sauce
1/4 cup maple syrup
Instructions
Preheat oven to 350°
Butter a 13x9 casserole dish or similar, or have a skillet ready to heat and add butter just after heating it.
Place sliced bread on a baking sheet and bake for 10 minutes, turning it over after 5 minutes so each side gets a chance to dry out a bit and crisp up. This will help the egg mixture soak in nicely without the bread being soggy.
In a shallow bowl mix the eggs, milk chicken broth, chicken bouillon, and poultry seasoning with a fork or egg beater until mixed well and fluffy.
Dip each piece of bread into the egg mixture, so all sides are coated but don't let them sit in it to get soft and soggy, then place the pieces into a casserole dish.
Top with grated cheese.
Cover with foil.
Bake the casserole dish for 20 minutes covered, then 10 minutes uncovered.
Or cook the sliced on a heated and buttered skillet until golden on both sides and cooked through.
Cranberry Syrup
Place cranberry sauce in a strainer so it's thin and smooth, mix with maple syrup.
The syrup can be served heated or cold.
Check out these other BREAKFAST RECIPES: