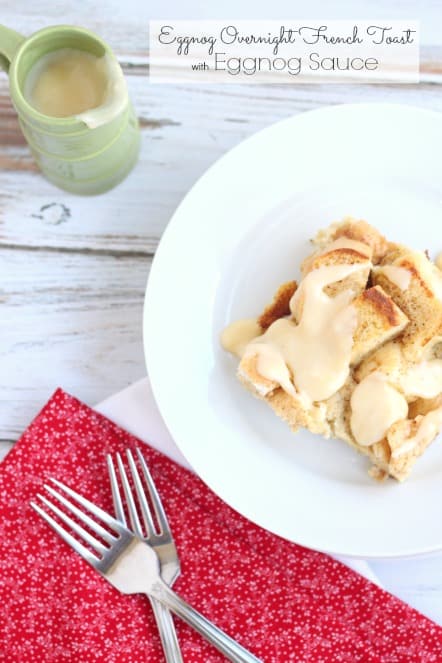 There always seems to be a big debate over eggnog.
People either love it or hate it.
I loved it as a kid, rich and creamy…mmm….
Now I find I don't drink it as much as I LOVE it in baked items like,
My kids LOVE eggnog and said this was so great that they want to know if I can make it all the time for them.
The eggnog sauce, well that in itself will go with anything….a scone, cake, toast, ice cream, the possibilities are endless and right off the spoon well, that might be the best!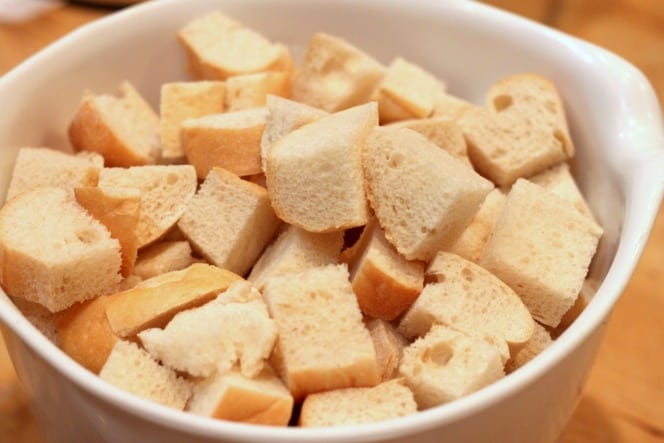 Cube up bread, I used 4 six inch rolls. About 12 cups.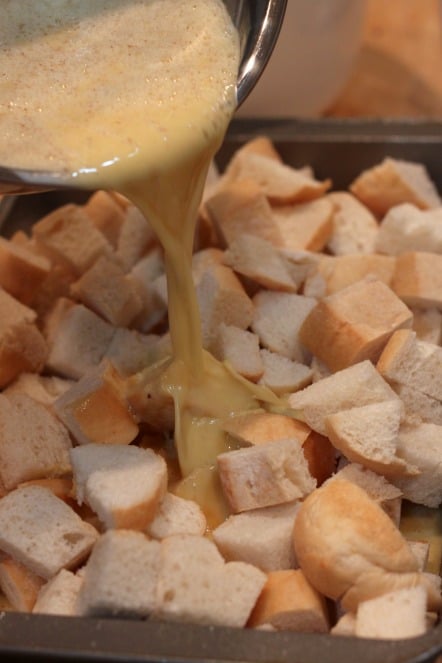 Mix eggs, eggnog, milk, sugar, rum and vanilla extract and pour over cubed bread in a 9×13 pan. Turn bread over gently with a spatula in pan so it's all coated.
Cover with foil and put in fridge overnight.
This is a GREAT breakfast for Christmas Morning. While everyone is opening their presents this can be baking in the oven. I also make a stuffed french toast recipe that I have been making for YEARS, if you are not the biggest eggnog fan maybe this Stuffed French Toast will be more to your liking.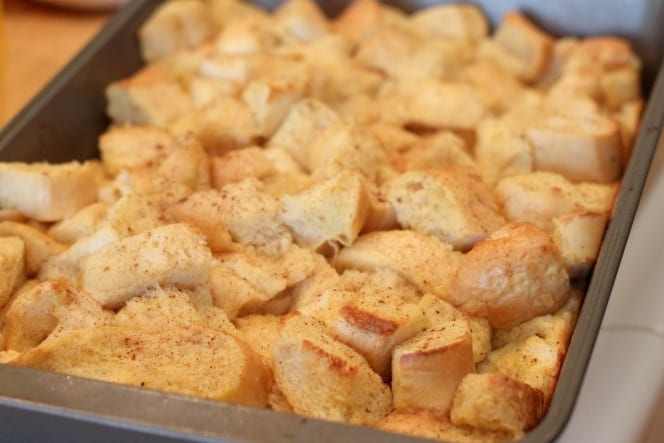 Uncover the last 5 minutes to brown the edges a bit.
While that edges are browning, prepare the eggnog sauce. It's so delicious, I'm not thinking all french toast needs a special sauce!
Eggnog Overnight French Toast with Eggnog Sauce
Ingredients
12 cups cubed bread (I used 4 six inch rolls)
6 eggs
1 cup eggnog (I used low fat)
1 cup whole milk
¼ cup sugar
1 teaspoon vanilla extract
1 teaspoon rum extract
½ teaspoon ground nutmeg
Instructions
Cut Bread into cubes, stale-ish bread works well.
Prepare a 9x13 pan with baking spray.
Place bread into pan.
Mix eggs, eggnog, milk, sugar, vanilla and rum extract together and pour over bread.
Gently turn bread over so it's all coated.
Sprinkle with nutmeg.
Cover with foil and place in refrigerator overnight (or 10-12 hours) so the bread has time to absorb the liquid.
Bake at 350 degrees for 40-45 minutes or until the center is cooked throughly. You can uncover the pan the last 5 minutes to brown the edges lightly.
Eggnog Sauce
Ingredients
1 cup eggnog
½ cup milk
2 egg yolks
½ teaspoon rum extract
½ teaspoon vanilla extract
1 tablespoon butter
Instructions
Whisk eggnog and milk and egg yolks together and cook over medium in saucepan, stirring constantly about 5 minutes or until thick. Remove from heat and stir in extracts and butter.
Serve warm over Eggnog French Toast.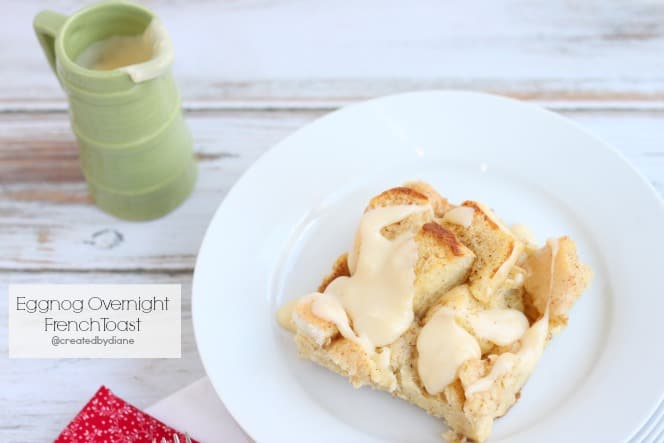 I sent my mom home one day with a piece of this and she called the next day and said, WHAT did you put in that? IT was SO delicious! Makes me so happy to see the person who I think cooks and bakes so wonderfully to enjoy what I make 🙂
I did a little happy dance! Getting moms approval is always the best.