There are so many things I just LOVE about toffee,
you can change the nuts to your liking if you prefer walnuts, almonds, or even pistachios.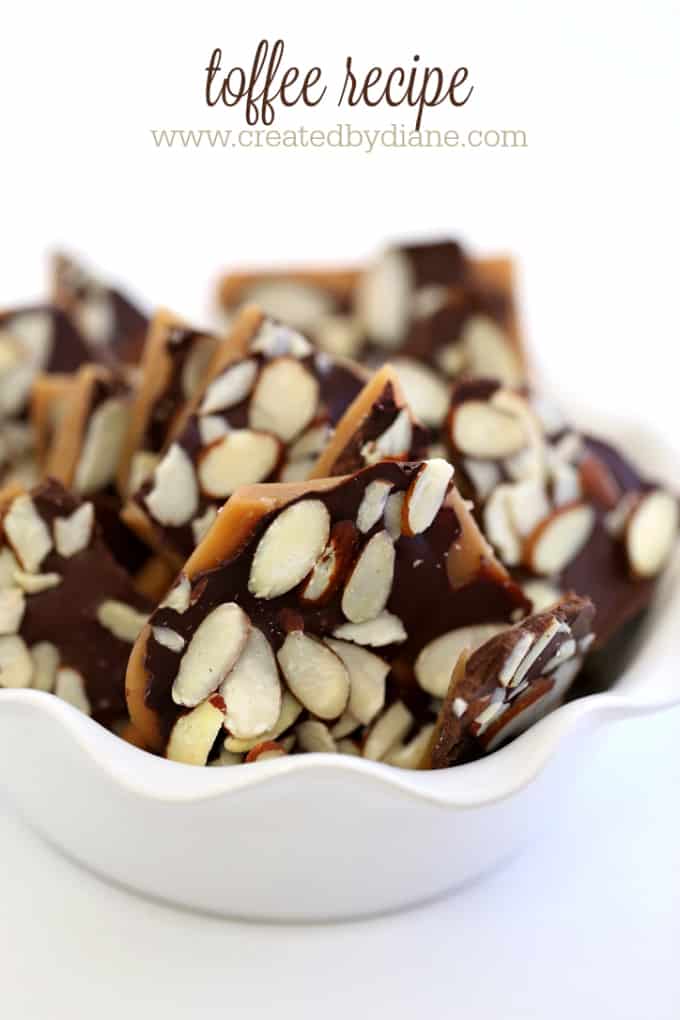 So many options…
You can use milk chocolate, dark chocolate, or semi-sweet chocolate. I like dark 60% cacao or semi-sweet.
It does not take a long time to make toffee. Which is just one of the very best things about it, but there are more…
like the buttery sweet flavor that has you coming back for another piece. I find toffee irresistible, and after you make it you'll see why!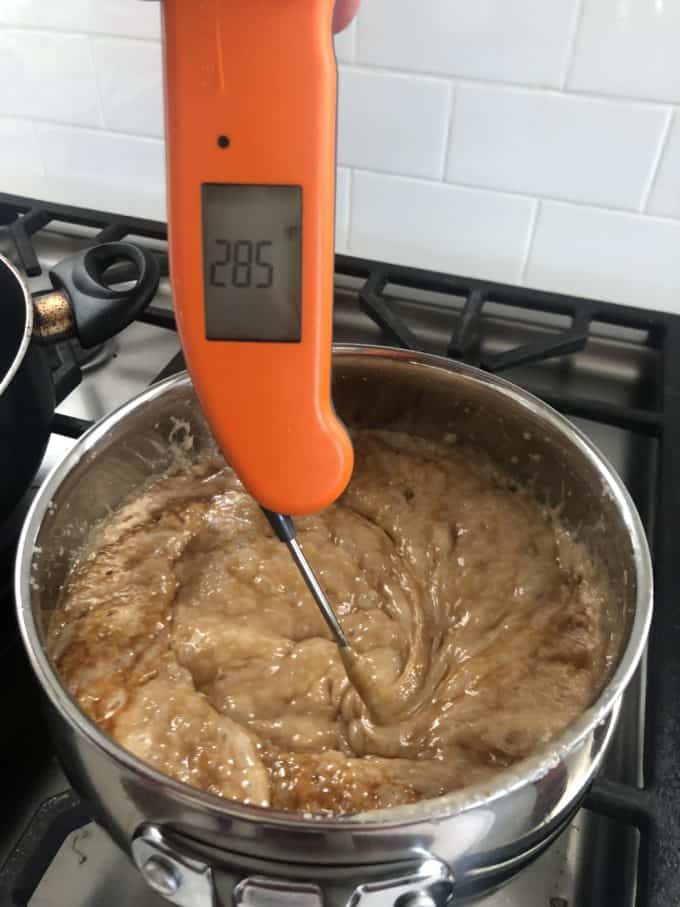 How can I be sure the toffee is cooked to the proper temperature.
I find it's the easiest way to make toffee is to make it with a thermometer. You can guess at the temperature, but that can be problematic, if you're into guessing the color of the toffee should look like a brown paper bag, you can smell when it's caramelizing as well, you do not want to burn it, you do not want it undercooked, it'll stick to your teeth.
The other way to test toffee if you don't use a thermometer you can drop some into a small bowl of cold water and when it forms a ball that hardens it's ready and again…
look for the color of a paper bag, that is the easiest way to describe the proper shade of toffee.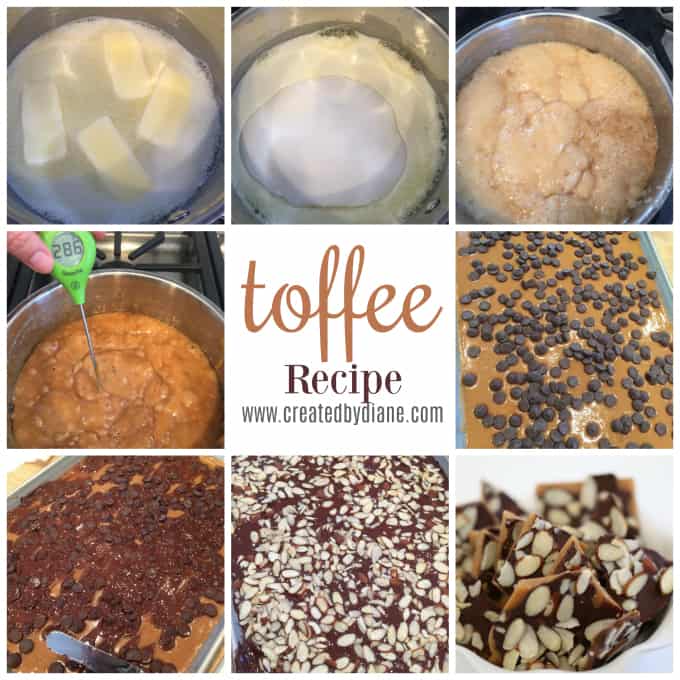 How do you make toffee?
Start by using a thick-bottomed 2 quart or larger saucepan, heat the butter and sugar.
Bring it to a boil and when it comes to 285°
Stirring consistently, yes it's time-consuming but so worth the effort.
Pour the toffee onto a baking sheet,
spread it out with an offset spatula.
Wait a minute or two for the top to barely set up.
Then add the chocolate chips, they will begin to melt, don't try to spread them until they are softened or you will move the toffee.
Spread the chocolate over the toffee with an offset spatula, covering all the toffee in chocolate.
Add the chopped nuts.
Allow the toffee to cool at room temperature or put it in the fridge until it's chilled completely.
Break the finished toffee into pieces.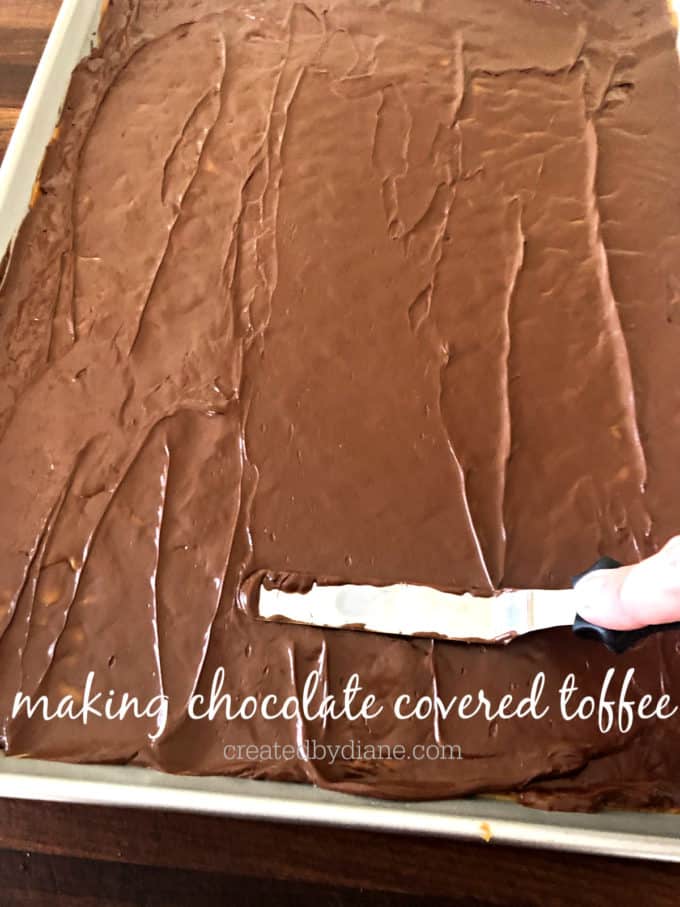 If you're giving this as a gift it's great to use cellophane bags and a twist tie to wrap them.
 Buttery and sweet, toffee is irresistible!
The possibilities are endless, you can use a variety of items to make this great for all occasions, colored sprinkles for birthdays, red and green sprinkles for Christmas, different flavor nuts or dried fruit, coconut is another delicious option.
Toffee is a great item to bring to parties, give as holiday gifts, and to enjoy anytime.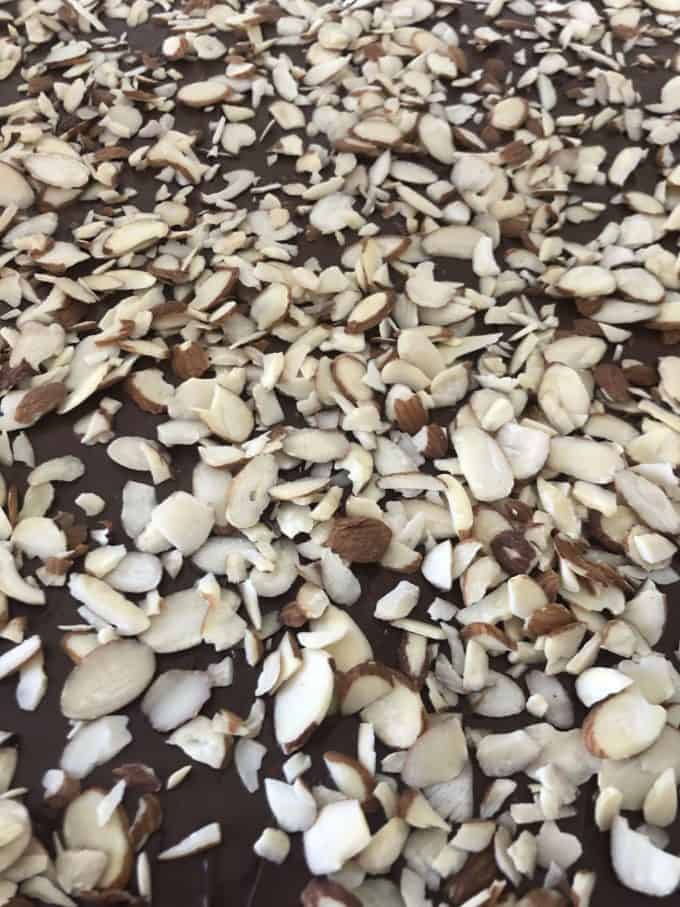 I love that my daughter wants to make this with me every year, we've been making it together for YEARS!
Toffee Recipe
delicious buttery sugary toffee, the perfect candy to make for the holidays, and everyday celebrating. Toffee slathered with chocolate and topped with sliced almonds.
Author:
Diane Schmidt Created by Diane
Ingredients
1 lb butter (I use salted butter)
2 ¼ cups sugar
2 cups chocolate chips (I use semi-sweet or dark chocolate)
1 cup chopped nuts (almonds, walnuts or your favorite nuts)
Instructions
In a heavy bottom saucepan over high heat melt the butter
then add the sugar and bring it to a boil
stirring constantly for the next 10 minutes or until it reaches a light caramel color. (285 degrees)
test by dropping a spoonful into cold water until it reaches hard crack candy stage (forms a ball easily and hardens) sounds more difficult than it really is and it's a perfect time to see the real color. Undercooked and the toffee will stick to your teeth for days, overcooked will taste burnt.
Pour directly onto a baking sheet with edges wait until it firms up but is still hot (3-4 minutes or so) then pour on an entire package of chocolate chips give them a few minutes to start to melt then spread the chocolate to the edges like you are icing a cake.
sprinkle on chopped nuts and allow to harden I let it cool on the counter for a 1/2 hour then put it in the fridge for 20-30 minutes and then bread into pieces.