One bite of the peanut brittle and memories of being a kid come flooding back FAST!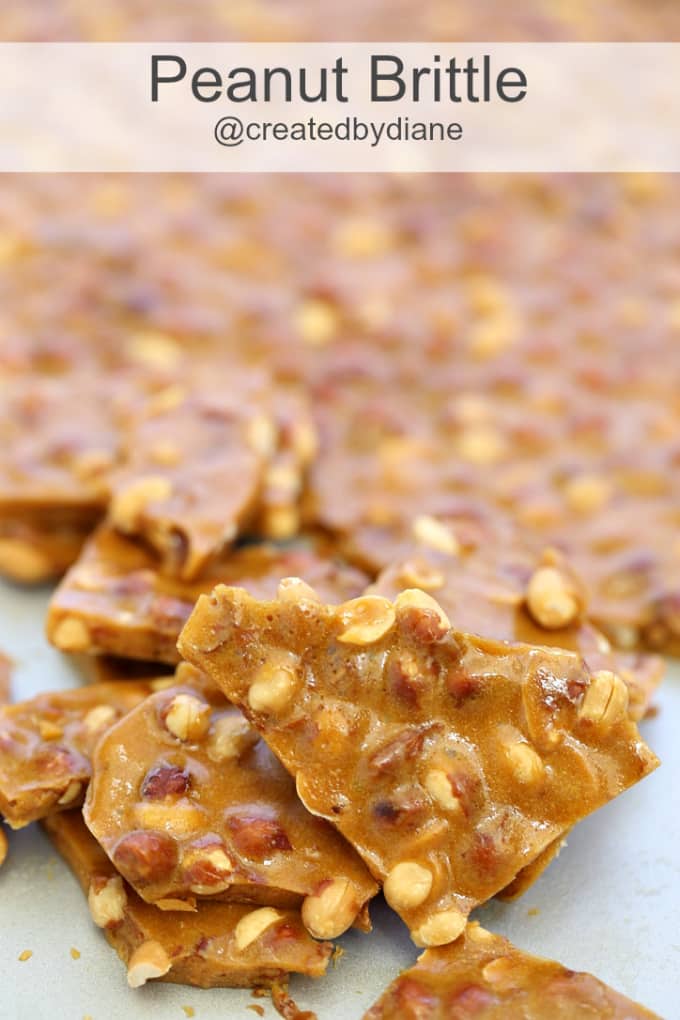 Where I grew up there was a candy store,
it was THE candy store.
They were FAMOUS for their peanut brittle, I could remember getting a can of it at Christmas almost ever year.
They sold giant chocolates, bunnies around Easter, and oh the variety of candies was always impressive as I walked through the shop.
Peanut brittle remains one of my families favorites.
It's buttery and delicious and salty and sweet and just about one of the most perfect candies, every bite of hard candy is embedded with peanuts!
I love a salty-sweet combo, but you probably already know that if you 're read other posts of mine, like these Oatmeal Maple Bacon Cookies.
This recipe comes together quick, so it is PERFECT for last minute gift giving is you need a fun recipe.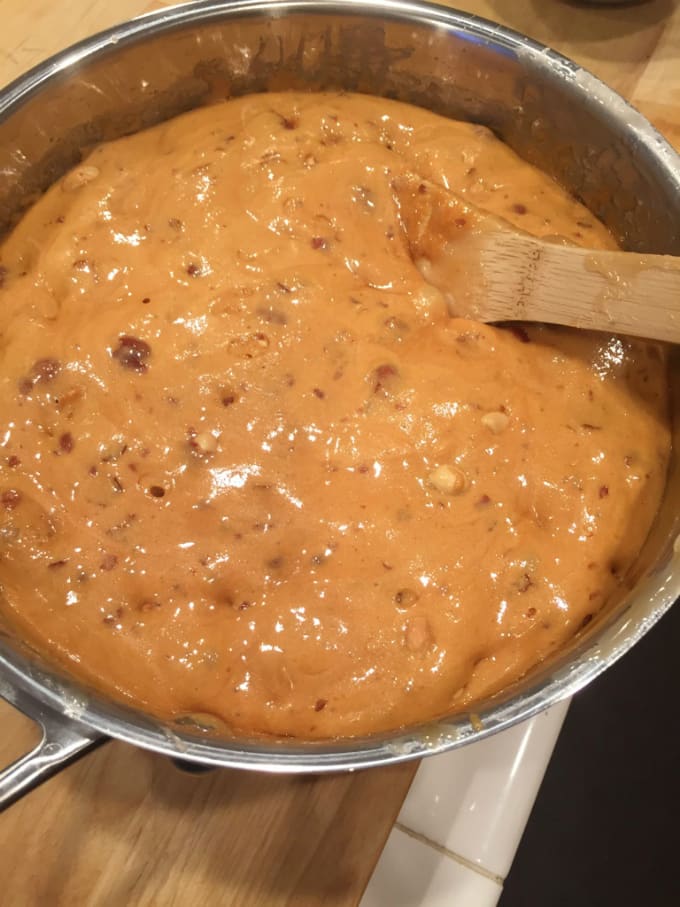 Boil up the mixture and then spread it on a half sheet (18×13) rolled edge pan and let it cool.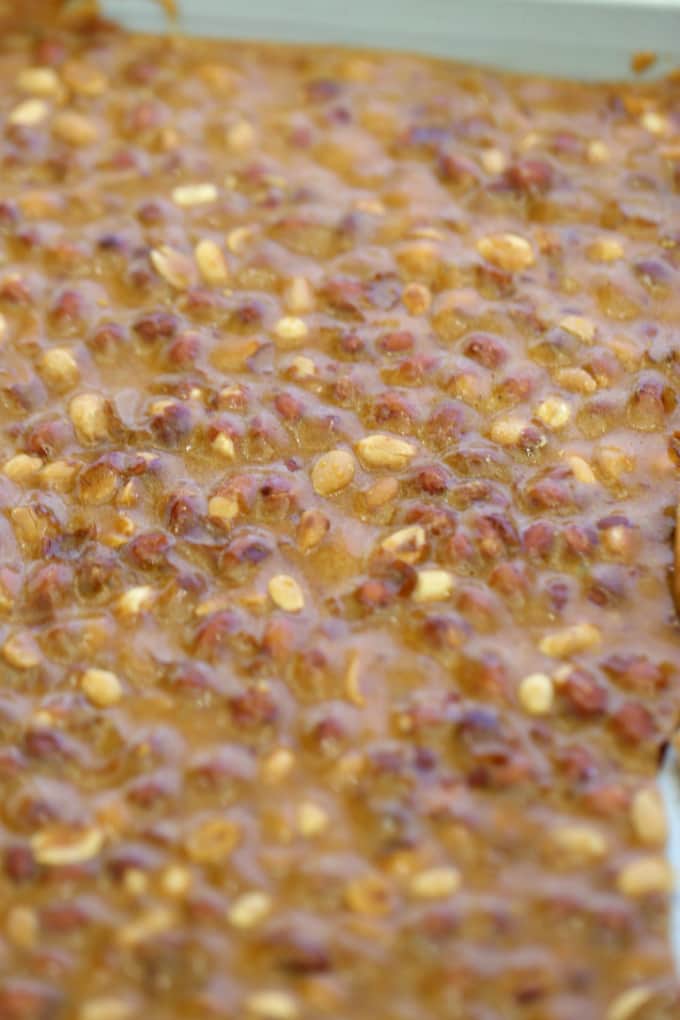 Once the peanut brittle is all cooled you break it up into pieces and ENJOY!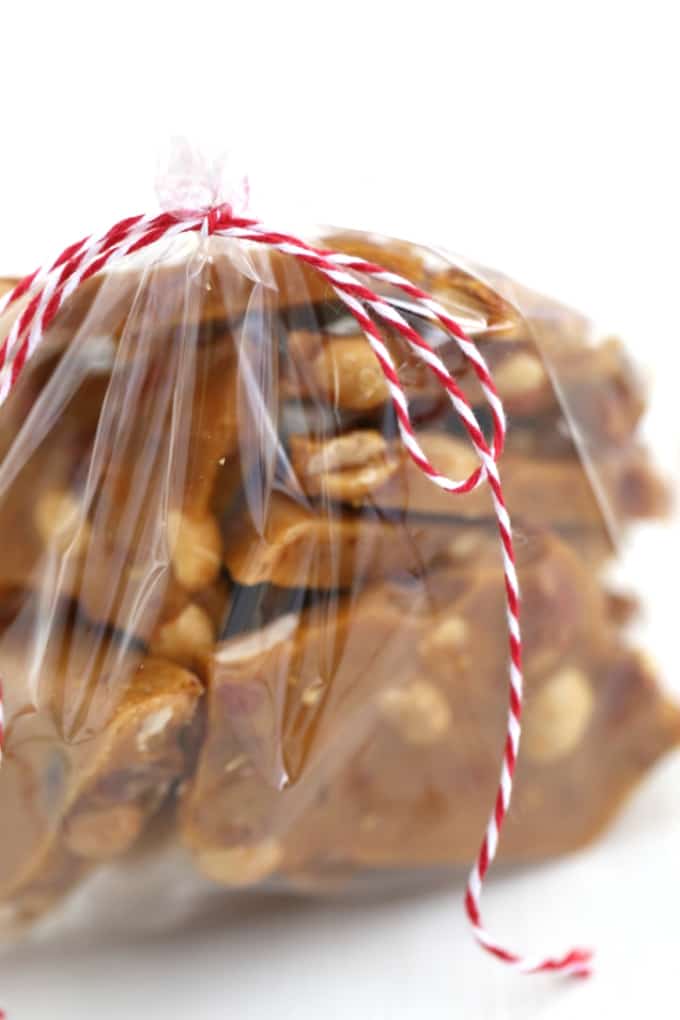 No need to wait until the cold weather hits to make this, it's  a welcomed gift all year long!
It's funny how memories are, peanut brittle always reminded me of the can of nuts that had the springy snake that would jump out when you opened it, I'm sure it was because they both came in cans, and look similar. I never really wanted to open the "joke" can of nuts, I just wanted the salty sweet peanut brittle, but the can of nuts joke never got old, it even had some kind of rattle at the end of the can to sound like there were some nuts in the can when you shook it! I haven't seen one of those in year, I guess everything is so "digital" now, most probably wouldn't find it as entertaining as we did as kids years ago.

Peanut Brittle
Ingredients
2 cups sugar
1 cup light corn syrup
1/2 teaspoon salt
1/2 cup water
2 cups salted Spanish peanuts
1/2 cup butter cut into pieces
1 teaspoon baking soda
Instructions
In a 3 qt. heavy bottom saucepan over medium high heat bring sugar, corn syrup, salt and water to a boil, Stirring occasionally.
When the mixture reaches 300 degrees on a candy thermometer, remove from stove.
Stir in butter and peanuts.
Stir in the baking soda, be careful it may bubble up. But will become more creamy in texture.
Pour into a rolled edged 1/2 baking sheet. My sheets have a slightly non-stick coating, so I don't butter the sheet, if you pan is not nonstick very lightly butter it so the candy doesn't stick.
Spread mixture evenly over pan, and allow to cool completely.
Break into pieces and enjoy.
Notes
adapted from https://allrecipes.com/recipe/15987/moms-best-peanut-brittle/