There is nothing better than a loaf of fresh baked bread and this Artisan Bread Recipe is OUTSTANDING!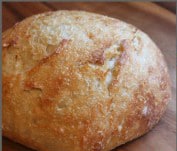 I've baked over 12 loaves of this bread and each time it comes out exactly the same, delicious with a crusty outside and chewy inside.
Now to slather on the bread I've made some compound butter I think you'll enjoy.
These are great for gifts giving too!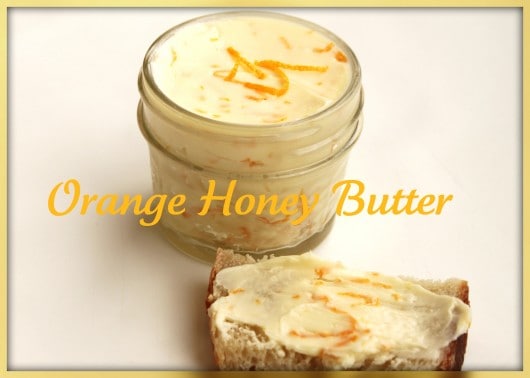 Just about this time every year, the question gets asked, "What gift are you giving?" whether it's for a teacher, friend, neighbor. This is a wonderful gift. If you don't believe me, make some… send it to me and see if I complain…at all.
If you don't believe me, make some… send it to me and see if I complain…at all.
Three great things about this gift:
1. it's easy to make
2. it's not expensive
3. its butter, need I say more

Yes, these items can turn into the perfect gift. Bake a fresh loaf of bread using this AMAZING recipe from Alice of Savory Sweet Life.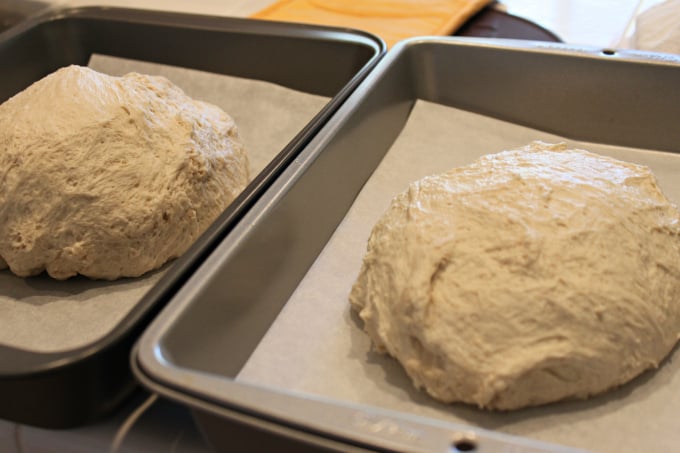 You can bake the bread in parchment-lined baking pans, dutch ovens or anything you like, you can bake them covered with foil or a lid for the first 30 minutes then you'll remove the "lid" for the remaining 30 minutes.
YOU DO NEED TO MAKE THE DOUGH THE NIGHT BEFORE, please don't think you'll have this bread baking up in an hour. You need to let the dough rise OVERNIGHT. It's totally worth it and so easy and no kneading involved.

Artisan Bread Recipe (rise overnight)
Ingredients
3 cups all-purpose flour
2 teaspoons kosher salt
¼ teaspoon instant yeast
1½ cup lukewarm water
Instructions
In a medium bowl or Mixer bowl, combine the flour salt and yeast.
Add water and mix with a spoon or mixer, until all ingredients completely combined.
Cover bowl and allow it to rest overnight.
Line baking pan or Le Creuset Pot with parchment paper.
Flour your hands and scoop the dough into a ball and place it in the baking pan. No kneading necessary.
Cover the dough with foil or lid if using a Le Creuset Pot.
Do not preheat the oven.
You turn the oven on as you are putting the dough into the oven at 450 degrees for 30 minutes.
Then remove lid and bake another 30 minutes.
Allow bread to rest 5-10 minutes or the steam inside will make the bread seam soggy when sliced.
I'm hooked on this bread. I'm not sure I want to divulge just how many loaves of bread I've made an eaten in the past two weeks. I'll just say it's over a dozen 🙂 The bread recipe is very simple. It only takes about a minute to put together, then you let it rest overnight and bake it the next day. No kneading, no double proofing, it's so easy you just have to make some just so you can say. Wow, it is easy. I love the texture of this bread, it's like those delicious rustic bread you see in the specialty section of bakeries.
If you aren't a baker and don't want to make bread, you can buy a nice loaf of that specialty bread I just mentioned to go along with the butter, or you could just give the gift of butter.
This is no ordinary butter, it's really delicious. Have you been to a restaurant and been served honey butter with bread before your meal? You know the butter you can't stop eating. Well, that happens to me, I just figure it happens to everyone.
An orange and honey. You'll need the zest of the orange and a Tablespoon of the juice along with a tablespoon of honey to create this delicious butter.
Orange Honey Butter
1/2 cup butter
1 orange, zested
1 Tablespoon orange juice
1 Tablespoon honey
Whip room temperature butter until it's smooth and creamy.  Add to it the orange juice, zest and honey. Place in 4 oz. glass canning jar and secure with lid. Write on parchment paper the flavor of butter with a permanent marker.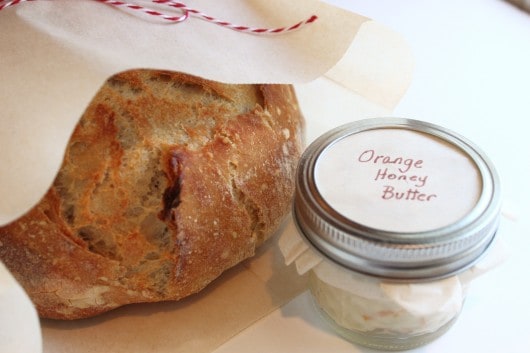 Really if you hand someone this, they won't be thinking anything but " How long do I have to wait to eat this?"
I made two other varieties of butter, for some other ideas. Of course feel free to put anything you like into the butter, favorite fruit, herbs or seasonings.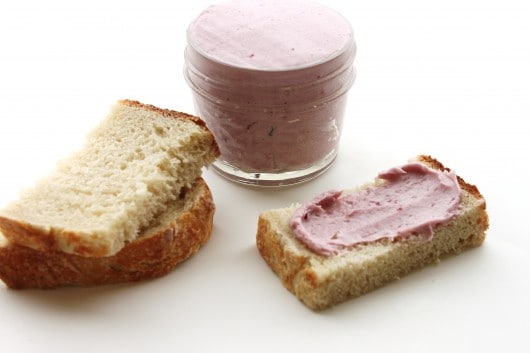 Blackberry Butter
1/2 cup butter
6 Blackberries
1 Tablespoon honey
Puree and strain blackberries, so there are no seeds. (I ended up with 1 Tablespoon blackberry puree) Whip butter and add the blackberry puree along with honey. It's such a pretty color!
Place in 4 oz. glass canning jar and secure with lid. Write on parchment paper the flavor of butter with a permanent marker.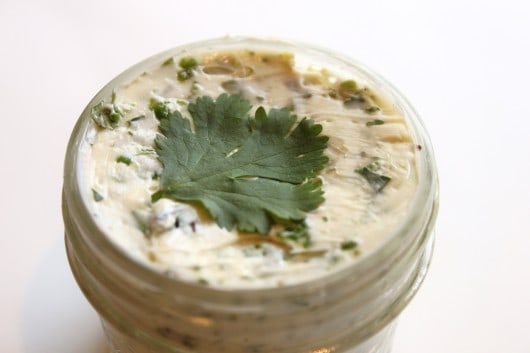 Jalapeño Cilantro Lime Butter
1/2 cup butter
1 jalapeño (roasted and diced)
1 Lime, zested
1 Tablespoon lime juice
1 Tablespoon fresh chopped cilantro
whip butter until smooth, add to it the diced roasted jalapeño, cilantro, lime zest and lime juice.
Place in 4 oz. glass canning jar and secure with lid. Write on parchment paper the flavor of butter with a permanent marker.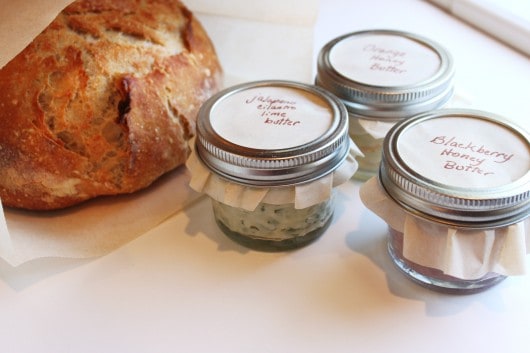 I used Smart and Finals butter for all my gifts and plan on making more. I'll be saving the Real California Seal for their, Help our Teachers, Help our Kids Program.
The California Milk Advisory Board and Smart and Final have teamed up with the Help our Teachers Help our Kids Program. Cut the "Real California Milk" Seal from select First Street Products like milk, butter, sour cream and ice cream, then teachers submit seals. Each seal counts as one sweepstakes entry. Teachers who submit 100 seals get 25 Scholastic books or $25 school supply gift card. Each teacher entrant gets one Scholastic book. #SmartFinalSupportsSoCalSchools #casealappeal
If you visit the California Milk Advisory Boards website I see there are printable coupons, don't miss out on those.
This project has been compensated as part of a social shopper insights study for collective bias  all opinions are my own, those are priceless.