Now, this is just about the most perfect cookie recipe EVER!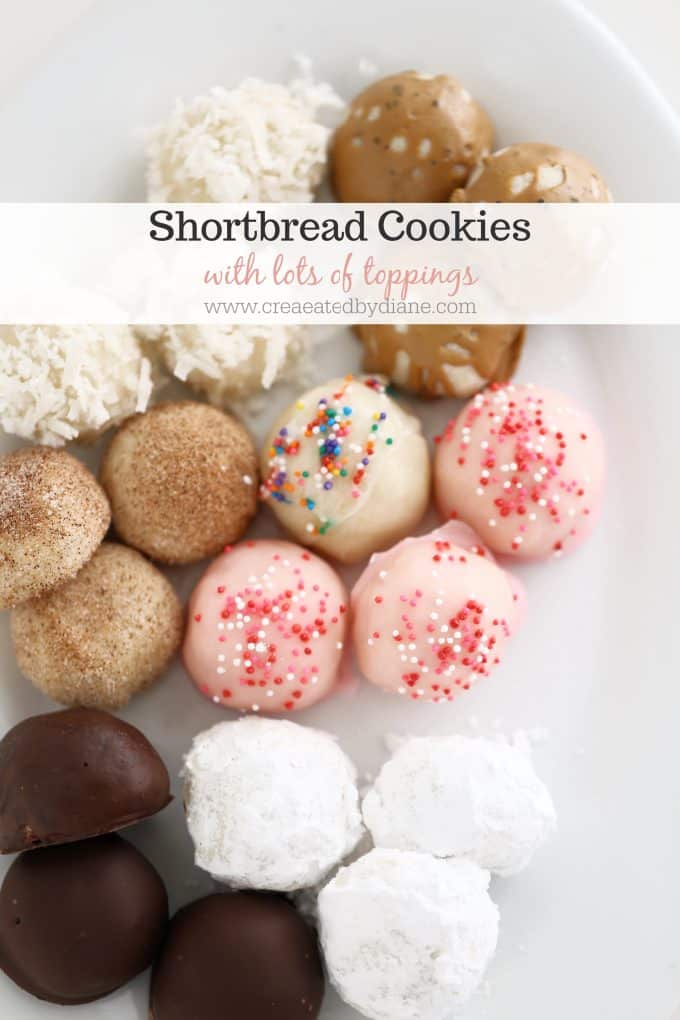 I'll never get tired of making them or eating them,
there are so many options for this cookie it's CRAZY!
Let's begin with the cookie dough itself…
I made batch after batch of shortbread until I got it just right. Eating lots and lots of cookie for quality control is a tough job, but I knew I could do it.
I just LOVE shortbread, and some batches ended up being fussier than others and would just be good to press in a pan but took forever to roll into balls. Some were too soft and spread when baked and I wanted the perfect balls that would be great with tons of toppings added.
1 batch makes about 40 balls.
LOVE that!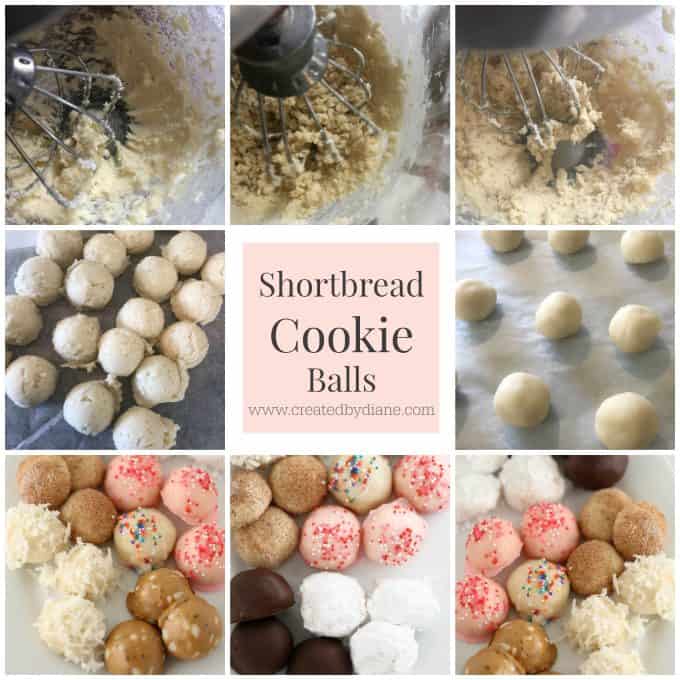 The dough easily comes together,
and its a breeze to roll, it only takes a slight swirl after scooping out dough with a cookie scoop.
You then bake the cookies and top with later with anything you like:
I topped mine with cinnamon and sugar, glaze icing then coconut, glaze icing then sprinkles, the pink glaze is flavored peppermint, and some got drenched in dark chocolate, some got rolled twice in powdered sugar when they were warm (all the rest were completely cooled first before topping them) And the golden cookies are glazed with an espresso glaze, OMG those are so yummy.
They all are!
You can also glaze them and roll them in chopped Oreo crumbs, graham cracker crumbs, chopped nuts, toasted coconut, and you can add any food coloring to the glaze to make it match any occasion as well as any type of sprinkles.
If by chance you're looking for Mexican Wedding Cookies, Russian Tea Cake or whatever else you call the nutballs rolled in powdered sugar, that recipe can be found HERE.
This recipe does not have nuts in them.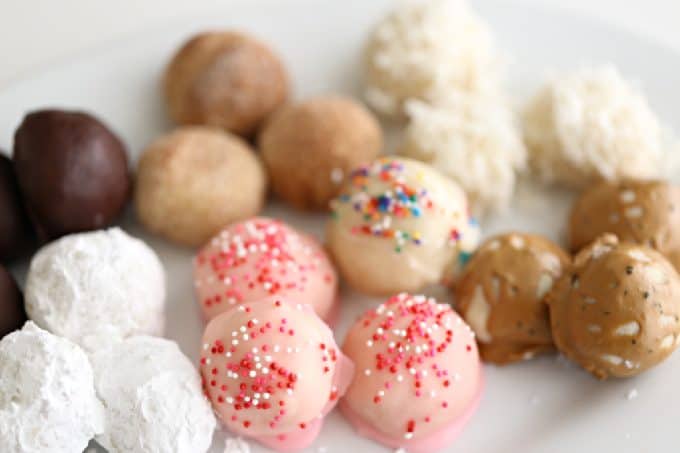 Which one would you grab first? I always go for the powdered sugar first, then a chocolate one! But oh the espresso is a real winner. So hard to choose.
Shortbread Ball Cookies
Ingredients
1 cup butter (I use salted)
1 cup powdered sugar
1 teaspoon vanilla extract
2 cups flour
1 tablespoon heavy cream (or milk)
Instructions
In a large mixer bowl beat butter until whipped.
Then add in powdered sugar and vanilla and mix on medium until it blends together.
Add in flour and heavy cream and mix on medium-high until it's all combined.
It takes a little bit of time to come together, but as soon as it does, stop mixing.
I place a towel over the top so nothing flies out as I mix.
Use a small 1 tablespoon scoop to portion out the cookie dough.
Roll the cookies into smooth balls.
Place on a parchment lined baking sheet.
Place in fridge until they are cold about 30 minutes
*(If you don't refrigerate the cookie dough they will flatten slightly when baked and not stay in a ball shape)
Make sure you preheat your oven well at 325° I use an additional thermometer to be sure my oven is holding the correct temp while baking.
Bake at 325° for 15-17 minutes.
If you're rolling in powdered sugar, do it while the cookies are warm so the powdered sugar sticks, roll them twice to coat them well.
If you're adding glaze be sure they are completely cooled.
glaze icing 2 cups powdered sugar,2 tablespoons water (or more so it's to your liking of thinness)1 teaspoon clear vanilla ( and you can add a tablespoon of corn syrup I often do.)
now is the time to add other flavors to a portion of the icing, or colors,
if the icing gets too thin add a tablespoon at a time of powdered sugar, alternately add a few drops of water to thin it out if it's thick.
It should drizzle off cookies easily as it does on donuts 🙂
If dipping in melted chocolate, add a small amount of coconut oil so it is smooth and don't overheat the chocolate or it will be grainy.