Whatever your whisky preference this whisky fudge will surely become your new favorite. For me, I often choose bourbon, so bourbon fudge is my go-to. But there are many options for this boozy fudge, it can be made with Bailey's, Kahula, Amaretto, Southern Comfort, or Fireball. Choose your favorite and this delicious creamy fudge recipe will become your right-hand recipe.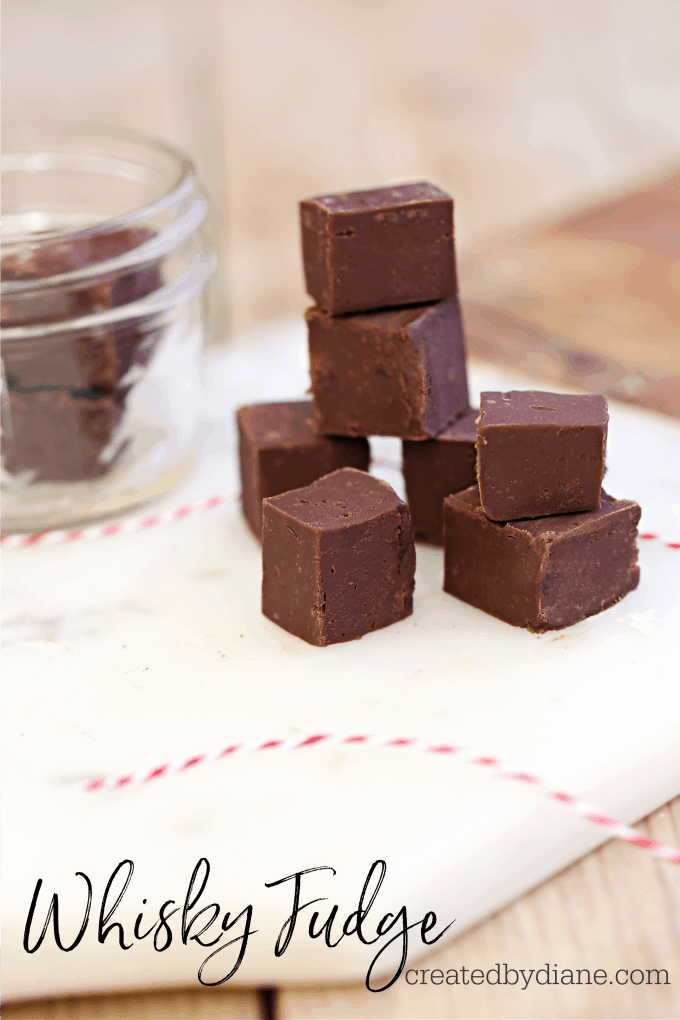 It's no secret I love chocolate and like any true chocolate lover, 
fudge is always a good idea.
Now, this fudge is something special…
it's really easy to make,
uses minimal ingredients, and makes a nice amount for sharing if you're into that sort of thing… Wrap it up for a gift for any occasion.
I wanted to make a recipe that was smooth and creamy,
had a great tooth feel without being gritty,
had a great boozy flavor,
is easy and that I don't need to run to the store to get anything special when I want to make it, I keep sweetened condensed milk on hand… and no marshmallow fluff needed.
the simplified recipe doesn't require boiling sugar to a certain temperature.
I used semi-sweet chocolate for this recipe (47% cacao) specifically I used Nestle mini chocolate chips, the large bag (20 oz. which is 1 lb 4 oz).
I typically prefer 60% chocolate but sometimes like with fudge too rich is not always necessary… especially if you're like more than one piece. I have yet to make this recipe with 60%, but I will and report back to you in this post when I do.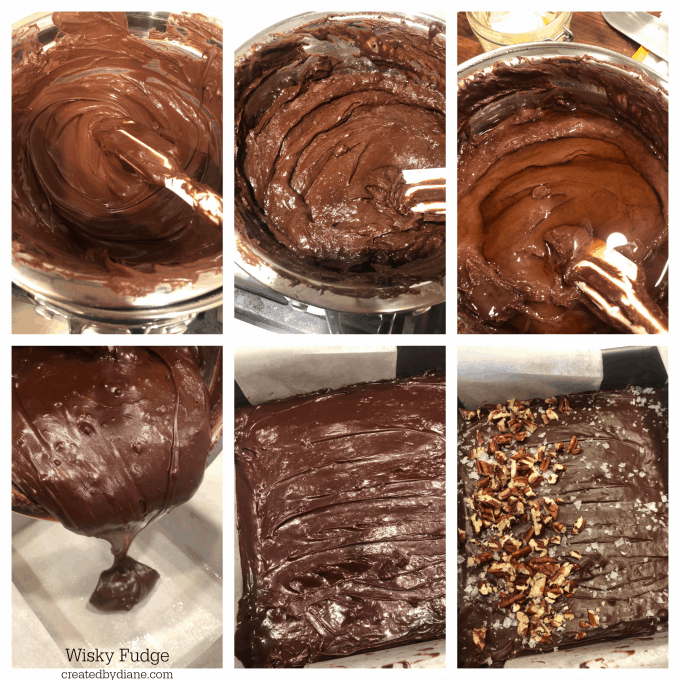 The method for melting the chocolate is pretty straight forward, it's best to use a double boiler. You'll use a heavy bottom saucepan, with an inch of water, and on top a stainless bowl to melt the chocolate in while the water simmers.
The water should not be touching the bottom of the bowl.
The water should be at a simmer, (small bubbles) a rolling boil not necessary.
The fudge will go through a few stages of creaminess, then as you add ingredients it'll change a bit the final result is rich, thick, and creamy.
How to prepare the pan to pour the fudge into:
I use an 8×8 square pan lined with parchment paper, then sprayed with a baking spray.
I cut a 16×20 parchment sheet, so it'll fit the 8″ across, with excess on each side to lift out easily. Then I place the strip I cut off to lay in the opposite direction, this isn't necessary, but I didn't throw the remaining parchment away. If you don't have parchment, wax paper will work, also a pan sprayed with a nonstick baking spray will work, but is more difficult to lift out of the pan.
The bumps in the fudge, are air bubbles. After you pour and spread the fudge into the pan, gently bang the bottom on the counter to remove the air bubbles. I did this twice and the result was very little air bubble when I sliced the fudge.
If you want to add some nuts you can stir them in before pouring or just sprinkle them on top as soon as you're done pouring the fudge in it. It sets up quickly. I have made this fudge with 1/2 chopped pecans and then sprinkles large flakes of salt specifically Maldon Sea Salt Flakes, the flakes are delicate but give a great contrast in the rich fudge.
You can leave the fudge plain if you prefer.
If you add salt on top of the fudge, be careful not to cover it and trap in the moisture as the salt and moisture in the fudge will get" wet" on top. I just place the tray of fudge in the fridge or wrap it in a bakery-style box with parchment or wax paper. Salt pulls the moisture out of the chocolate, but it's so delicious with salt flakes on top.
Sometimes it best to keep fudge stored in a box, like a pastry box. 
Nuts will not pull the moisture out of the fudge.
Fudge is best served at room temperature (out of the fridge for 30 minutes)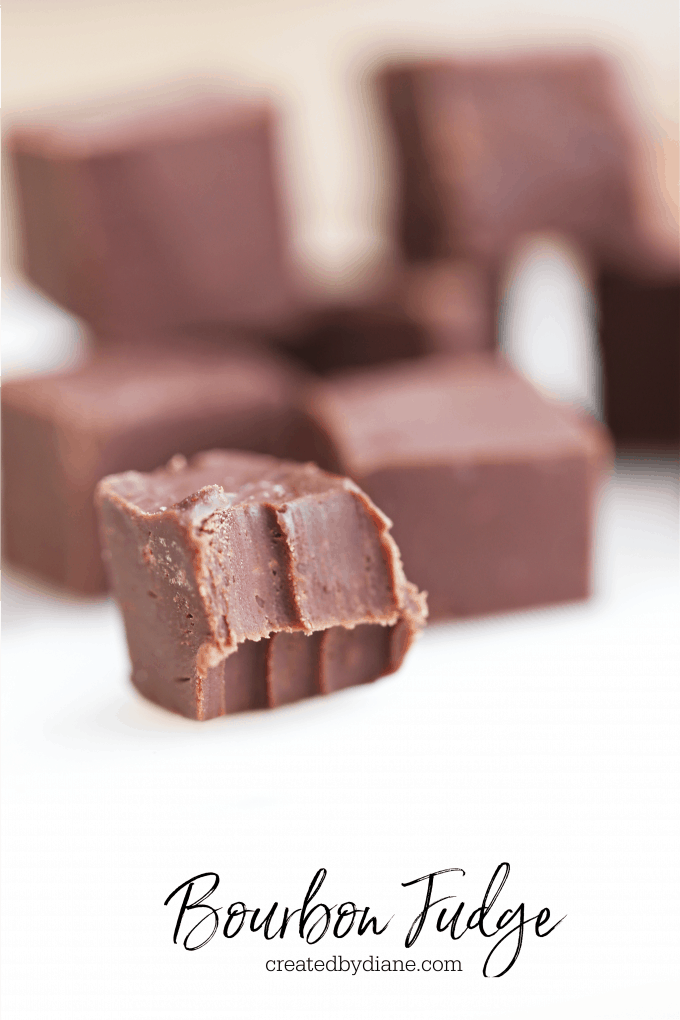 I love Bourbon in it, specifically, I used Angels' Envy Bourbon my other favorite is Bullit Bourbon. If you like bourbon give one of these bourbon drinks a try Strawberry Bourbon Lemonade and my Kentucky Dirty!
Other cutting options:
100 small bite-sized pieces (10 rows wide and 10 rows across)
64 pieces (8 rows wide and 8 rows across)
you can cut the fudge into any size you prefer.
Whisky Fudge
Fudge, a creamy, rich, and delicious candy that is kicked up with some whisky for this boozy fudge. The perfect sugary snack or gift to give someone.
Recipe type:
Dessert, Chocolate, Candy
Ingredients
20 oz chocolate (I used Nestles semi-sweet mini chocolate chips which is 47% cacao, mini chips melt easily that is why I chose them) If you use other chocolate and large, chop it small before melting.
1-14 oz can sweeten condensed milk (not evaporated milk)
1/4 cup butter
1/4 teaspoon salt
1 teaspoon vanilla extract
1/4 cup bourbon, whisky, or liquor
Toppings
Large flake salt (I use Maldon Sea Salt)
chopped nuts (pecans go well with bourbon, but any nut will be great)
Instructions
Prepare an 8x8 pan with parchment and a nonstick baking spray.
In a bowl on top of a pot of simmering water (double boiler)
Heat the chocolate until fully melted and smooth.
Add in the sweetened condensed milk and butter and continue heating for 2 minutes. It will be thick when you stir it and smooth, the butter will be completely melted and the condensed milk will be all incorporated as you stir it.
Remove from heat.
Add in the salt, vanilla extract, and bourbon or whisky and mix until all incorporated and smooth.
If you want nuts added to the fudge stir them in now.
Pour into prepared pan, smooth the top with an offset spatula and immediately top with salt or nuts.
Tap the pan on the counter gently once or twice to remove any air bubbles is necessary.
Place the pan in the refrigerate to completely chill and set the fudge for 2 hours.
When the fudge is completely cold, remove it from the pan by lifting the parchment paper out so the fudge removes easily.
Slice the fudge with a smooth knife. (running the knife under warm water then drying it will allow the fudge to slice smoothly)
Fudge is best served at room temperature (out of the fridge for 30 minutes) for best flavor and texture.