If you like almonds you will LOVE these cookies, they didn't last long and a few barely made it into the cookie jar.
Some were eaten off the baking sheets, others were grabbed as soon as they were glazed.   
I'm lucky I grabbed some for photos!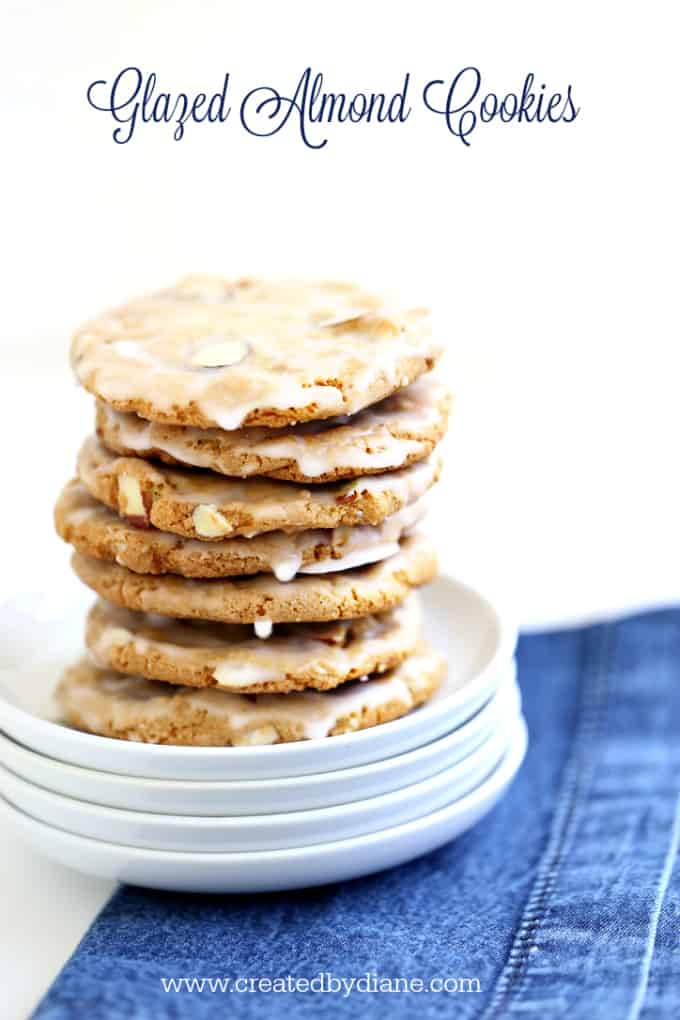 These cookies are slightly crunchy and have a great chewiness,
the almond flavor of these is wonderful.
These are full of sliced almonds, have an almond flavor in the dough, are topped with more almonds and have a glorious almond glaze on top!
We really are cookie monsters in our house and great cookies don't long and these are THOSE cookies!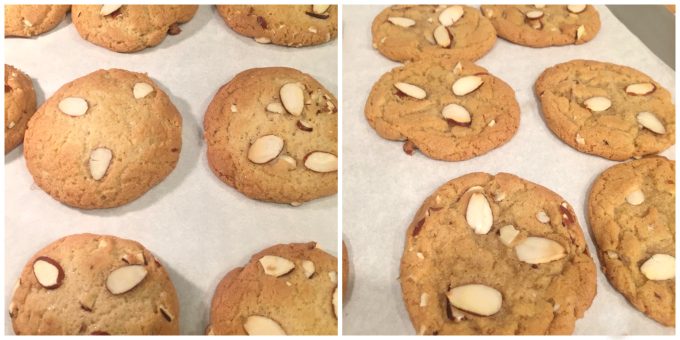 When the cookies are done baking and removed from the oven they look like the cookies on the left, they are blonde in the fridge, golden on the edges and bottom. As the cookies cool on the baking sheets they will flatten and have a bit of a "crackle" to them.
When the cookies are completely it's then time to put on the almond glaze.
I used a silicone brush to slather the cookie with the glaze and allowed it to drip to the edges.
You'll want the consistency of the glaze to be thin enough to move when brushed on, but thick enough to stay on the cookies. If you glaze the first cookie and need to adjust it, add a few drops of warm water or a tablespoon of powdered sugar and try again.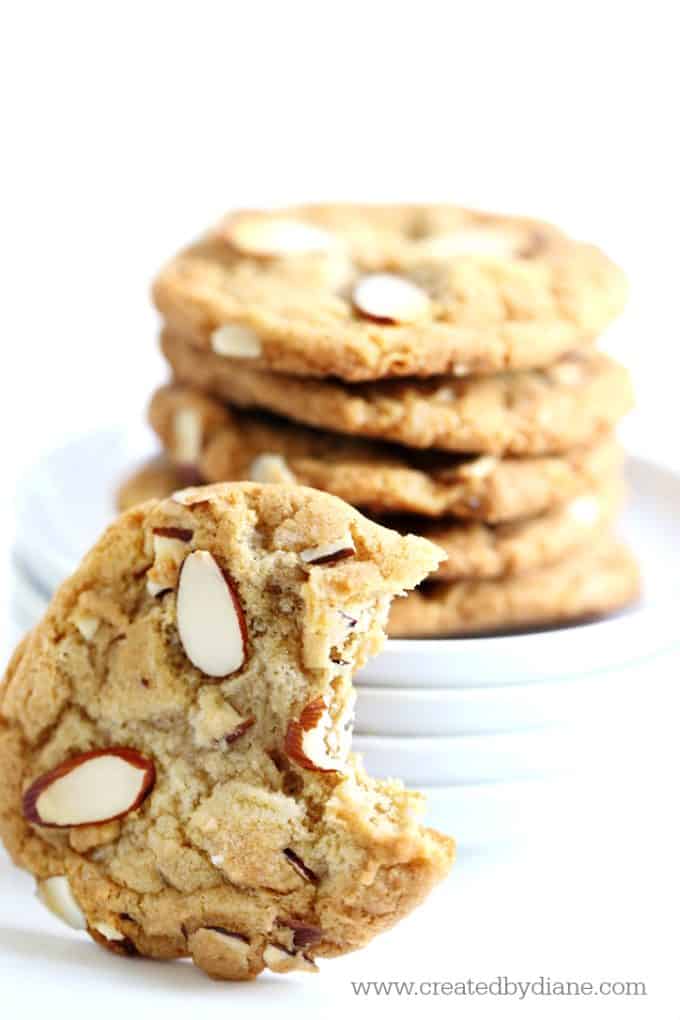 You can serve them unglazed, but in my opinion, they are OVER-THE-TOP fantastic with the glaze! If you are not a glaze/icing person then leave it off. The cookies on their own taste wonderful.
Glazed Almond Cookies
Ingredients
1/2 cup butter
1/2 cup sugar
1/2 cup brown sugar
1 egg
1 1/4 teaspoon almond baking emulsion or almond extract
1 1/4 cups flour
1/2 teaspoon baking soda
1/2 teaspoon cornstarch
1/4 teaspoon salt
1 cup sliced almonds (3/4 cup to mix into cookie dough, 1/4 cup to place on top of cookies)
Almond Glaze
1 1/2 cups powdered sugar
1 teaspoon almond emulsion/extract
1 tablespoon corn syrup
2 tablespoons warm water
Instructions
In the bowl of a mixer beat butter with sugars.
Add the egg and almond flavor and mix on low until combined.
On medium-low mix in the flour, baking soda, cornstarch, and salt.
on low-speed mix 3/4 cup almonds.
Scoop out 2 tablespoons dough onto parchment lined baking sheets 2 inches apart.
Place 4 sliced almonds on top of each cookie.
Bake cookies at 350° for 10-12 minutes.
Remove cookies from oven when centers are blonde, edges are golden they will be slightly raised and will flatten and crackle as they cool on the baking sheets.
Almond Glaze
Mix all ingredients together until really smooth, adjust the consistency of the glaze if need with a little more powdered sugar or a few drops of water to thicken or thin glaze. Use a silicone brush to slather the glaze over the cookies and allow glaze to dry completely before stacking cookies.
Don't miss my FREE Cookie Tips Guide