Cinnamon and Sugar are always a good idea! 
These cookies are just about the most perfect cookie,
no fancy decorating needed,
just "ice" them with a simple glaze icing and then sprinkle on some cinnamon and sugar.
The cookies themselves have a great cinnamon flavor so if you don't want to ice them, you don't have to.
But I'm ALL about the glaze icing: I wish I had a dollar for all the batches of glaze icing I've made.
I glaze scones, cookies, cakes, donuts, and well just about anything…
even my peppermint brownie cookies and this yummy espresso version and well the possibilities are endless when flavor and color options when it comes to glaze icing.
I also just posted a great shortbread cookie and with a glaze icing, holiday cookie baking couldn't get any easier.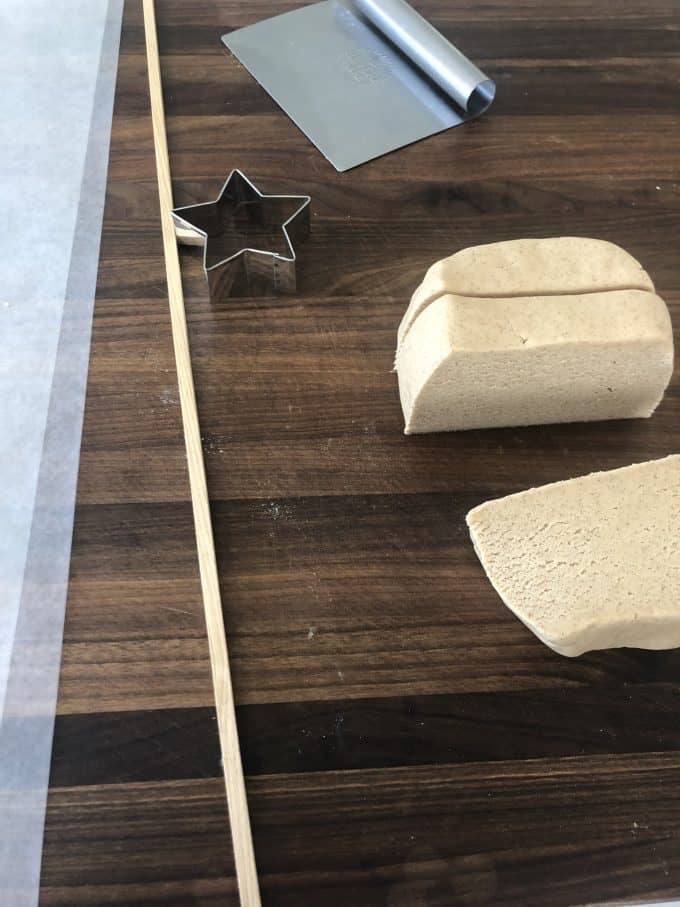 Use wax paper to roll the cookie dough in between, you won't need to add flour and the dough will stay nice and soft versus drying out with too much flour. I use 1/4″ wood dowels to roll my dough evenly by rolling the rolling pin over the wood dowels on each side of the wax paper.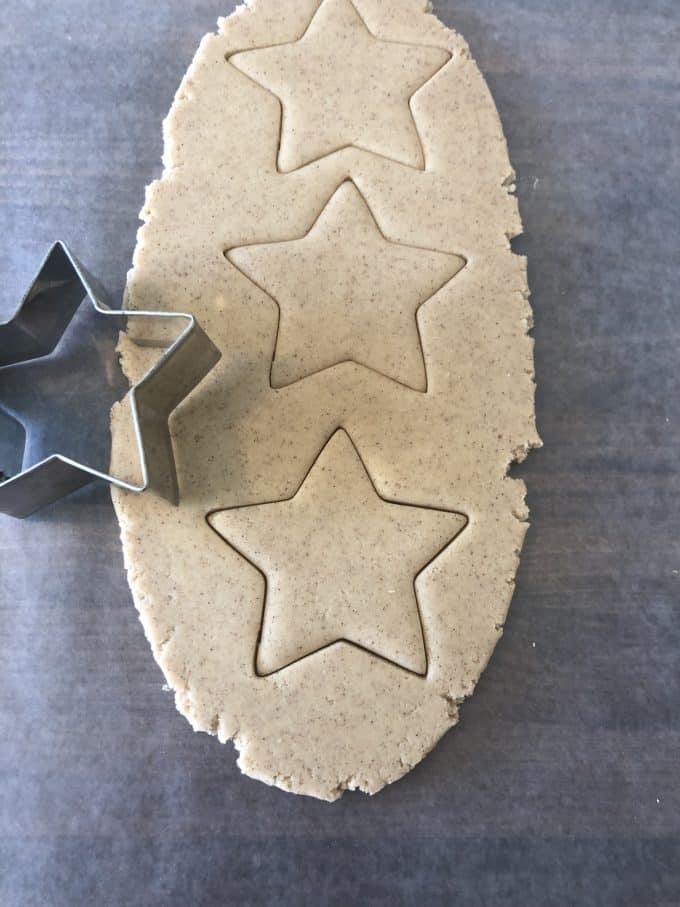 This dough is so great to work with. If your cookie cutter sticks to the dough dip it in a little flour so it cuts the cookie dough smoothly.
Use a small offset spatula or mini brownie type of spatula to transfer the cookie dough to the parchment-lined baking sheets.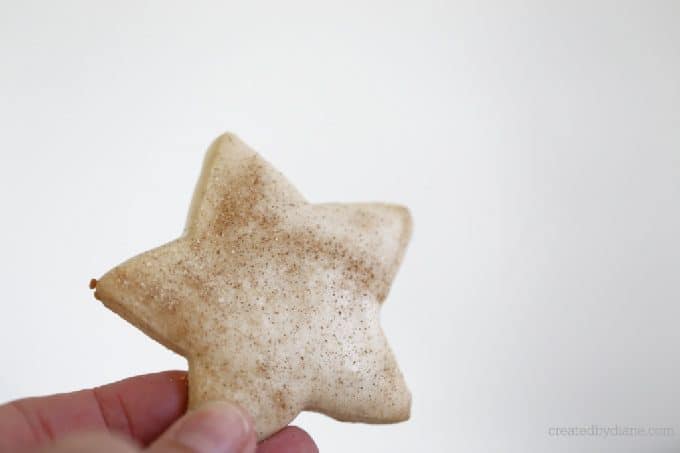 One whiff of these cookies and all sorts of great food memories come flooding back,
like as a kid when I wanted something fast and yummy my mom would make me a piece of cinnamon sugar toast… oh yes that is how yummy these cookies taste.
Or a fresh cinnamon donut…
Oh, these are a must make! Trust me they are being devoured as I type this!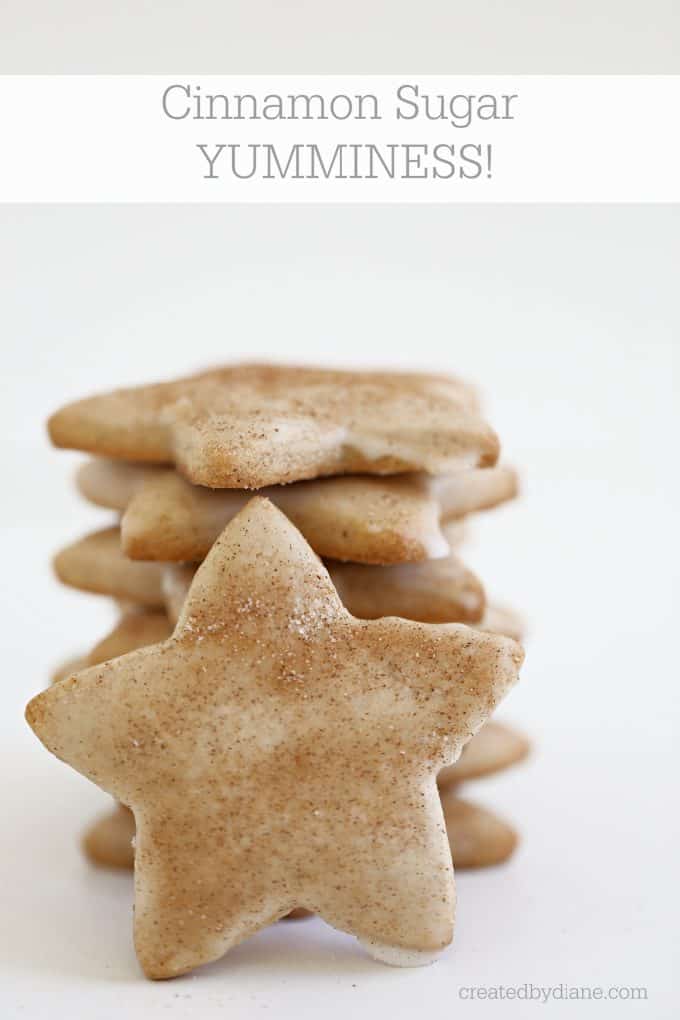 These really are a must make cookie, the flavor is amazing.
They stay fresh for days at room temperature. Just cover them on a baking sheet with wax paper and then place a towel over the top of them. You can put them in an airtight container but often the moisture can goof up the cinnamon and sugar, so I prefer them on a baking sheet covered.
Cinnamon Sugar Star Cookies
Ingredients
1 cup butter
1 1/2 cups powdered sugar
1 egg
1 teaspoon vanilla extract
2 teaspoons ground cinnamon
3 cups all-purpose flour
2 teaspoons baking powder
1 teaspoon salt (omit if you used salted butter)
Icing recipes is in the notes and you'll need to mix some cinnamon and sugar to top cookies with also, about 1/4 cup sugar and 1-2 tablespoons cinnamon.
Instructions
In a large mixer bowl beat butter until smooth.
Add in powdered sugar and mix until well blended.
Beat in egg, vanilla, and cinnamon.
Add in flour, baking powder, and salt.
Mix until the dough comes together and pulls away from the side of the bowl and is well mixed.
Roll out cookie dough in between two pieces of wax paper (I use 1/4" wood dowels to be sure the cookies are evenly rolled)
Then cut them with the desired cookie cutter.
Place cookies onto parchment lined baking sheets.
Bake at a well preheated 400° oven for 7-9 minutes.
Remove baking sheets from oven and allow cookies to cool completely before icing cookies. (as the cookies cool they are still baking, so don't let them brown in the oven or they will be dry.
Notes
Glaze Icing
2 cups powdered sugar
2 tablespoons water
1 tablespoon corn syrup
1/2 teaspoon clear vanilla extract
Mix all the ingredients together in a bowl
dunk the tops of the cookies into the glaze, or brush it on with a silicone brush and then sprinkle on some cinnamon sugar mixture (mix cinnamon and sugar together in a bowl to make it easy to pinch and add to the tops of the cookies)
Allow glaze to firm up before stacking cookies, usually a few hours at least.
Be sure to check out my other posts on COOKIES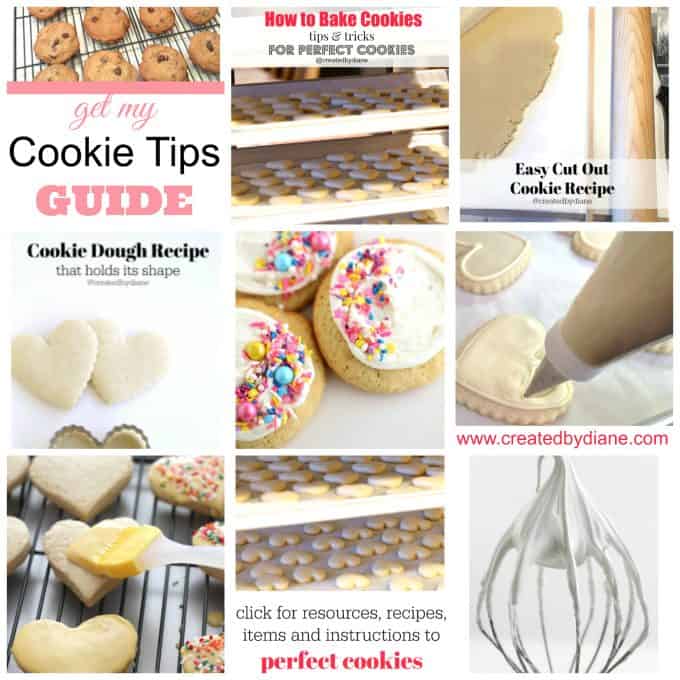 cookie tips guide https://www.createdby-diane.com/cookie-tips
how to bake perfect cookies https://www.createdby-diane.com/2017/09/how-to-bake-perfect-cut-out-cookies.html
Easy Cut Out Cookies https://www.createdby-diane.com/2011/07/sugar-cookie-recipe.html
Cookie Dough Recipe that holds it's shape https://www.createdby-diane.com/2011/07/sugar-cookie-recipe.html
Soft Sugar Cookies and Frosting https://www.createdby-diane.com/2017/05/soft-sugar-cookies.html
How to ice cookies with a piping bag https://www.createdby-diane.com/2017/07/how-to-ice-cookies-with-a-piping-bag.html
Brush on glaze icing https://www.createdby-diane.com/2014/08/lemon-italian-cookies-with-lemon-icing.html
resources, recipes, items and instructions for baking perfect cookies https://www.createdby-diane.com/2017/09/how-to-bake-perfect-cut-out-cookies.html
royal icing recipe https://www.createdby-diane.com/2013/10/royal-icing-googly-eyes.html